IELTS or International English Language Testing System is a jointly managed test by the University of Cambridge ESOL Examinations, British Council and IDP Education Australia. The IELTS exam pattern consists of 2 formats-
A) IELTS Academic
B) IELTS General Training.
IELTS or International English Language Testing System assesses your proficiency in English with respect to the following four components:
Listening
Reading
Writing
Speaking
The tests of the IELTS pattern can be taken in a paper-based way or a computer-delivered way.
The Listening and Speaking components are the same for both the formats. However, the Reading and Writing components differ in terms of the topics covered by (subject matter of) the questions and the required approach of your answers.
IELTS is available at more than 1,600 locations worldwide.IELTS scores are accepted by over 10,000 organizations in more than 140 countries globally. These include universities, schools, colleges, training organizations, government departments and immigration authorities.
What is IELTS Exam Pattern?
In brief, there are 4 components (4 IELTS exam pattern papers) in each format as already mentioned.
Listening : 30 mins 4 sections, 40 items
Reading : 60 mins 3 sections, 40 items
Writing : 60 mins 2 tasks
Speaking : 11-14 mins 3 parts, one-on-one conversations
Total exam duration is 2 hours 45 mins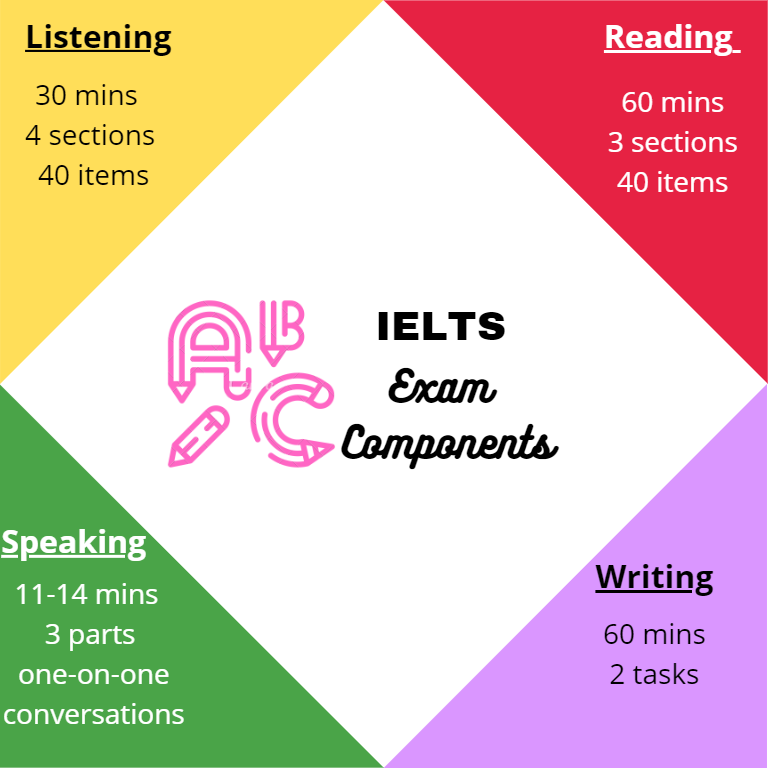 Salient Features of the IELTS Exam Pattern
There are 2 types of IELTS patterns: Academic and General Training.
IELTS Academic
This format is for people applying for higher education or professional registration in an English speaking environment. It reflects some of the features of academic language and assesses whether you are ready to begin studying or training.
IELTS General Training
This format is for those migrating to English speaking countries like Australia, Canada, New Zealand or the UK, or applying for secondary education, training programs and work experience in an English-speaking environment. This test format focuses on basic survival skills in broad social and workplace contexts.
Important Aspects and Order of Sections
Speaking section may or may not already have been attempted earlier.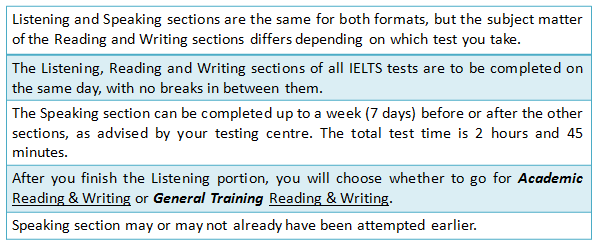 So, the order of your IELTS papers will be like:
Listening (30 minutes) – >Academic Reading or General Training Reading(60 minutes) – >Academic Writing or General Training Writing (60 minutes) – > Speaking (11-14 minutes, if you have it not attempted earlier)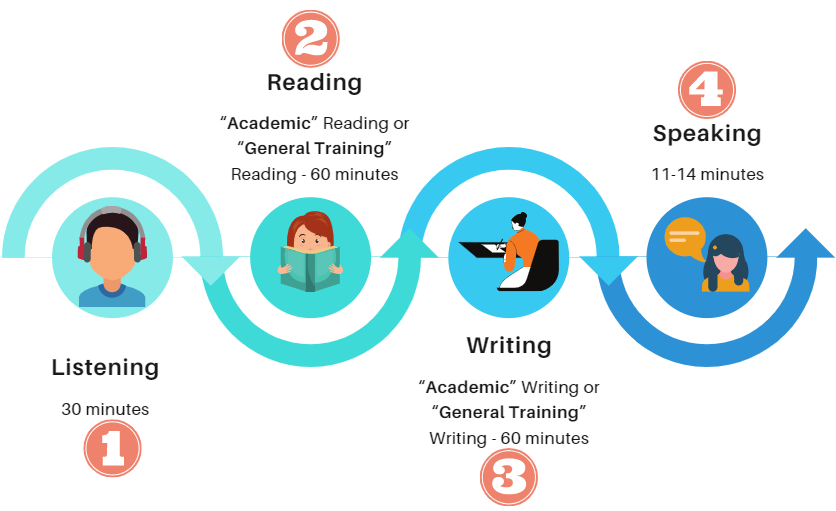 This means, there are basically 2 paths you can take while appearing for IELTS exams:
Listening (common) ->Reading (General Training) ->Writing (General Training) ->Speaking (common)
Listening (common) ->Reading (Academic) ->Writing (Academic) ->Speaking (common)
We will now discuss the papers at length and every task that is involved in each paper. We will take the papers in this order:
Listening
Academic Reading
General Training Reading
Academic Writing
General Training Writing
Speaking
Remember, after completing your Listening paper you will appear for only one Reading &one Writing paper. Either in the Academic format or the General Training format.
IELTS Exam Pattern Papers – Listening
This section is common to both IELTS General Exam Pattern and IELTS Academic.
You will listen to 4 types of recordings of native English speakers and then write your answers to a series of questions.
A conversation between two people set in an everyday social context
A monologue set in an everyday social context, e.g. a speech about local facilities
A conversation between up to four people set in an educational or training context, e.g. a university tutor and a student discussing an assignment
A monologue on an academic subject, e.g. a university lecture

Examiners will be assessing your ability to understand the main ideas, the opinions & attitudes of speakers, the purpose of speechthat you hear and evidence of your ability to follow the progression of ideas.
All recordings are heard only once. They include a range of accents, including British, Australian, New Zealand, American and Canadian.
List of 6 Task Types of IELTS Exam Paper Listening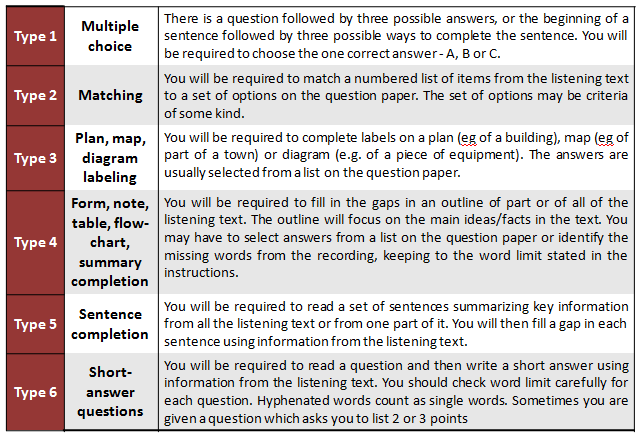 IELTS Exam Pattern Papers – Academic Reading
This includes 3 long texts. They may be descriptive, factual or analytical and are taken from books, journals, magazines and newspapers. They are appropriate for people entering university courses or seeking professional registration.
List of 11 Task Types of IELTS Exam Paper Academic Reading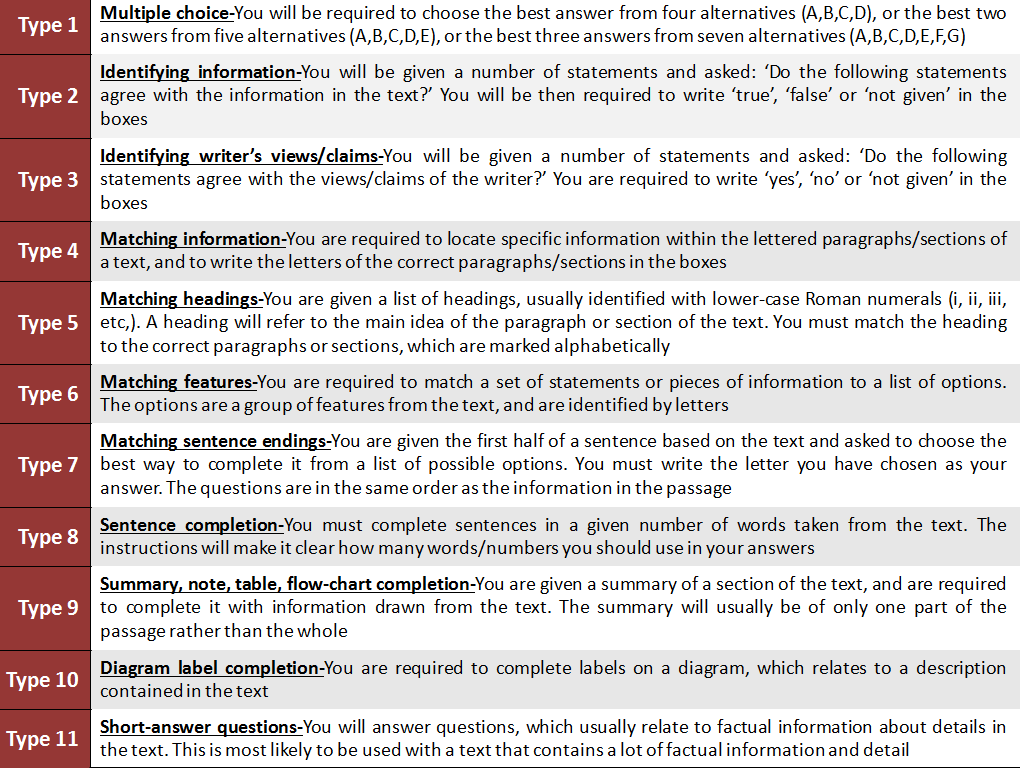 IELTS Exam Pattern Papers – General Training Reading
The General Training Reading paper of the IELTS pattern includes extracts from books, magazines, newspapers, notices, advertisements, company handbooks and guidelines. These are materials you are likely to encounter on a daily basis in an English-speaking environment.
There are 3 sections.
Section 1 may contain two or three short texts or several shorter texts.
Section 2 comprises two texts.
In Section 3, there is one long text.
List of 11 Task Types of IELTS Exam Paper General Training Reading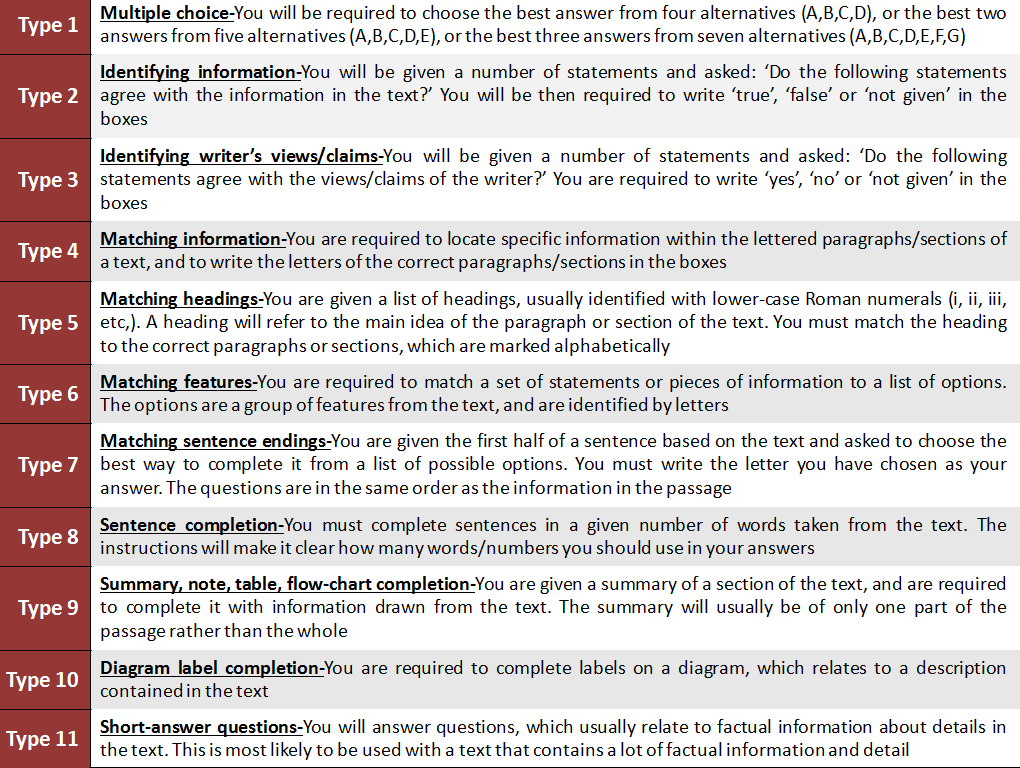 IELTS Exam Pattern Papers – Academic Writing
Topics are of general interest to, and suitable for, aspirants wishing toenter undergraduate and postgraduate studies or seeking professional registration.
There are 2 tasks and BOTH must be completed:
List of 2 Task Types of IELTS Exam Paper Academic Writing
Task 2 contributes twice as much to the final Writing band score as Task 1. Therefore, if you fail to attempt to answer Task 2, you will greatly reduce your chance of achieving a good band altogether.
Task 1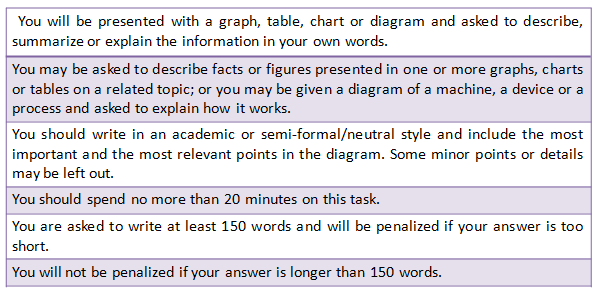 Task 2

IELTS Exam Pattern Papers – General Training Writing
Topics are of general interest. The situations you are asked to write about are common, everyday ones.
There are 2 tasks:
List of 2 Task Types of IELTS Exam Paper General Training Writing
Task 1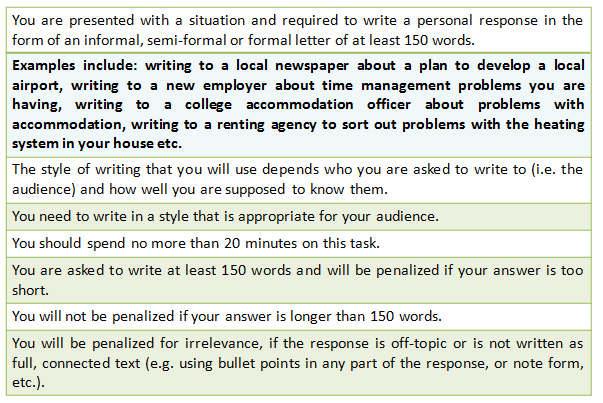 Task 2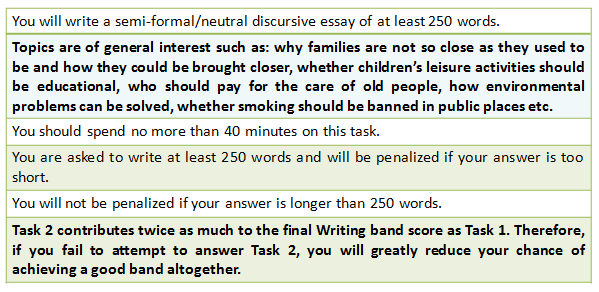 IELTS Exam Pattern Papers – Speaking
This section is common to both IELTS General Exam Pattern and IELTS Academic.
This section assesses your use of spoken English. Every test is recorded. This is kind of an oral interview between you and your examiner.
This module contains 3 parts.
Part 1 – Introduction & interview
In this part, the examiner introduces him/herself and checks your identity. They will then ask you general questions on some familiar topics such as home, family, work, education, and your interests. To ensure consistency, questions will be taken from a script.
This1stpart takes the form of an interview during which you may be asked about your hobbies, interests, reasons for taking IELTS exam as well as other general topics such as clothing, free time, computers and the internet or family.

Part 2 – Long turn
Part 2 is the individual long turn. The examiner will give you a task card which asks you to talk about a particular topic, includes points to cover in your talk and instructs you to explain one aspect of the topic.
You are given 1 minute to prepare your talk, and are given a pencil and paper to make notes. The examiner will ask you to talk for 1 to 2 minutes, will stop you after 2 minutes, and will ask1 or 2 questions on the same topic.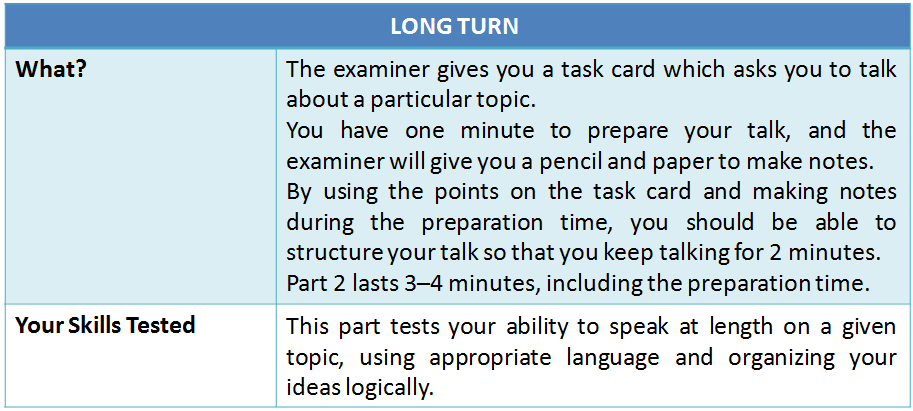 Part 3 – Discussion
In Part 3, the examiner will discuss with you issues related to the topic you were given in Part 2, in a more general and abstract way and also in greater depth.
This part of the test focuses on your ability to express and justify opinions and to analyze, discuss and speculate about issues.
This 3rd part involves a discussion between the examiner and you, generally on questions relating to the theme which they have already spoken about in section 2. This last section is more abstract and is typically considered the most difficult.

What is IELTS Exam Pattern'sScoring Mechanism?
IELTS uses a 9-band scale to clearly identify levels of a candidate's proficiency in English. A score will be firstassigned for each test component – Listening, Reading, Writing and Speaking. The individual scores will then be averaged and rounded off to an Overall Band Score(OBS).
OBS is an average of the 4 component scores which is rounded off to the nearest whole or half band. All component scores are weighted equally.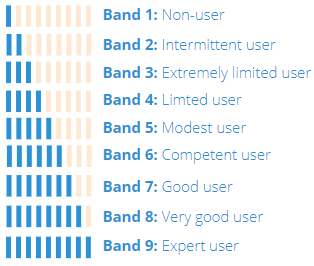 Look at the table above. If the average of the 4 components ends in .25, the OBS is rounded off to the next half band, and if it ends in .75, the OBS is rounded off to the next whole band.
IELTS is available at more than 1,600 locations worldwide, including more than 50 locations in the USA.
IELTS Pattern: Test Day Facts
On the day of the test, the 3 components will be taken in the following order: Listening, Reading and Writing.
After completing the Listening section, you may proceed to the Academic or General Training format for the Reading & Writing sections.
You may take the Speaking test 7 days "before or after" the other sections. This choice will depend on your testing centre.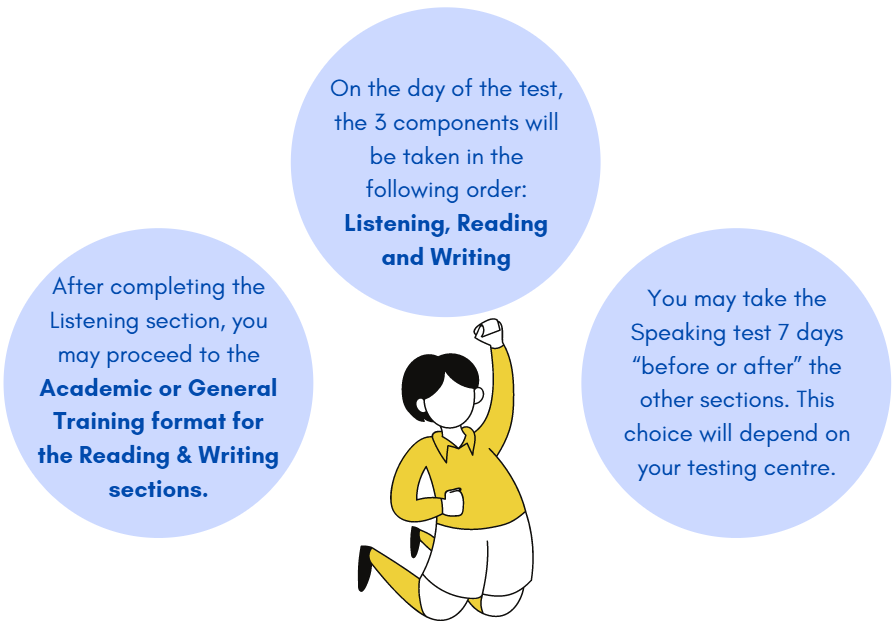 IELTS Exam Pattern 2023: Essential Tricks to Success
Listening
Develop vocabulary – this is one of the key determinants of your performance in IELTS. This is not just about learning the meaning of words. It is also equally important to know when and when not to use the same word. You should write down word lists and choose from the lists while practicing.
Create an outline of the information presented while listening. Write main ideas, major points, and important details.
Identify relationships between ideas: cause/effect, compare/ contrast, and steps in a process.
Anticipate what a person is going to say (as a way to stay focused). Listen to recorded material and stop the recording at various points to assimilate what you've heard. Predict what information/ idea will be expressed next.
Try and assess the purpose of a speech/ conversation whether it is an apology, a complaint or a suggestion etc.
Notice if language or narration of various recordings is formal or casual. Pay attention to speaker's voice and tonality (calm or emotional, degree of speaker's certainty etc.).
Observe the way stress or intonation patterns are being used to convey meaning
Reading
Practice skimming through information – you need to be able to skim & scan passages. Skimming is reading to get a general idea of the content provided. You needn'ttry & understand the passage. It's just about getting a sense of the topic & layout. At the same time, try to underline / highlight any keywords that come to your notice.
You should learn to spot keywords. You must also know how to use them correctly. Each question will have keywords to help you locate the information from the passage & spot the right answer.
Develop skills for each type of question: there are around 11 types. Find a strategy to tackle each one. Practice makes perfect. Most struggle with the "True False Not Given (TFNG)" type of answers. Find more time for TFNG type.
Practice reading for making a gist and develop speed in locating information
Do mock tests, not under exam conditions, so you can work on skills
Do mock tests, under exam conditions, so you can test your score and improvement
Practice reading for main ideas, understand logical arguments but do not try to understand the full passage – this section has a strict time limit. Your ability to answer questions in time will be challenged heavily. You must develop speed reading skills. Scan a passage quickly to locate information. Most questions test your ability to locate specific information so wasting time for the whole content is not advisable. The only 2 types of questions that require a detailed understanding are "Matching Headings" and "Choosing a Title". Rest of the questions does not. All the rest are based on locating information.
Writing
Learn to find synonyms with ease
Make a list of familiar topics and practice writing about the. State an opinion or a preference for each topic and then support it with evidence
Practice planning and writing at least one essay on each topic
Use signal words and phrases such as, "on the one hand", "in conclusion", to create a structure for your response
Learn grammatical structures so well that you are able to use them naturally while writing
Learn the conventions of spelling, punctuations, and layout (e.g. paragraph styling)
Read articles that are 300-400 words long. Make outlines including major points and essentials details of those articles
Use these outlines to write a summary of information presented in the articles
Make summaries brief which can clearly communicate only the major points
Be sure to use paraphrasing using different words and grammatical structures. Paraphrasing involves restating something from a source material in your words.
Speaking
Find listening & reading materials on a single topic on the Internet or books or anywhere. These materials may provide similar or dissimilar viewpoints. Take notes on the written and spoken portions. Summarize the information & ideas.
Synthesize the information and find how the written and spoken parts relate
Try explaining how the ideas are similar, how one idea expands over the other or how some ideas contradict each other.
Useful Links
Where can you sit for the tests? Check a suitable Indian location for yourself here.
Conclusions
Good to have you, finally, on this other side! Looking forward to getting admission in an esteemed institution of global repute? Hope we've been able to help you with most of the knowledge that you were asking for. Your mind must be brimming with all the details of the IELTS pattern and every task type of the IELTS exam pattern papers. Nevertheless, how about some handholding to get you through this? Try a discussion with our expert career counselors with decades of experience concerning study abroad.Thanks!
ALSO READ: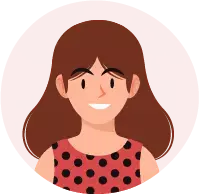 With a Master's in Biophysics-Biostatistics, Sreenanda acquired professional experience in computational proteomics of human molecules. She is currently working with the Research and Data Team at iDreamCareer.