Did you know you can pursue MBA in Singapore even if you don't have any prior work experience? Singapore has a global reputation for high standards of education, research opportunities, and innovative teaching and learning. Singapore has a diverse student population and the official language is English, which doesn't limit your study options.
With top universities in Singapore offering Master of Business Administration (MBA) programs, Singapore is one of the most preferred destinations for MBA applicants. High competition and a well-developed economy and the availability of many job opportunities are some of the reasons why many students from all over the world apply for an MBA in Singapore. MBA in Singapore will have the opportunity to learn from the best, and Singapore business schools offer a range of MBA specializations in finance, marketing, strategy and organization, real estate, healthcare management, and more.
So, if you want to study in Singapore for an MBA program, you are making a smart choice!
What all is covered in this post?
To make it easier for you, we have created a quick guide to everything you need to know about studying MBA in Singapore.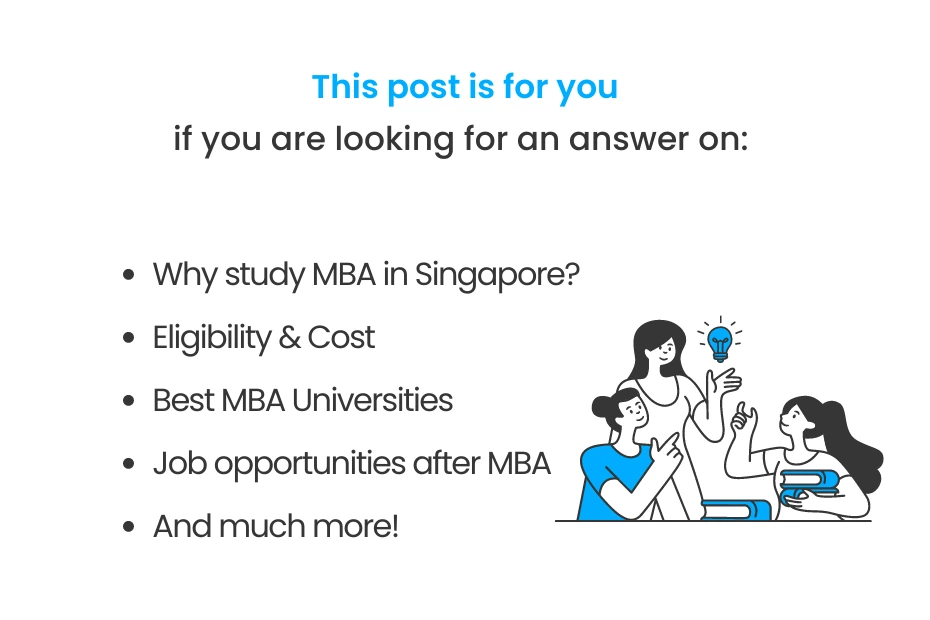 Why MBA in Singapore?
Here are some of the reasons why studying MBA in Singapore is the best choice for students:
Singapore is a country that places great importance on the education sector: 19.96% of the total expenditure is on education, of which 35.28% is on higher education.
Students can boost their careers by opting for an MBA in Singapore.
Singapore offers a Master of Business Administration degree in a variety of fields.
An MBA in Singapore offers various opportunities when switching to a new organization and industry.
Students gain access to corporate professional networks.
Universities in Singapore offer great infrastructure and are renowned.
MBA in Singapore inculcates analytical, reasoning, graphical interpretation, and so on in students.
Research states that in 2019, MBA enrollment in Singapore business schools reached 3,531 students from overseas students from China, Vietnam, and India.
Many universities in Singapore have links with foreign universities, inviting students from 30 countries around the world.
Eligibility of MBA in Singapore for Indian students
When planning to study in Singapore, an applicant must meet certain requirements for successful admission to popular business schools. Eligibility for an MBA in Singapore includes basic criteria that every applicant must meet for most business schools and universities. The latter mainly relates to the specific score requirements for an MBA at a specific business school in Singapore.
Bachelor's degree or equivalent with 70%+
GMAT is a prerequisite for ALL top business schools in Singapore, while there are a few that do not require GMAT.
Most business schools in Singapore recommend a minimum of 2-3 years of work experience for MBA admission.
Successful candidates are invited for an interview prior to final selection.
Students will need to submit their essays, LORs, predicted marks, and mark sheets from previous classes to apply.
Now the question is what's the required GMAT score for pursuing MBA in Singapore? Here is the answer;
GMAT score for MBA in Singapore
National Universities in Singapore viz. The National University of Singapore (NUS), Nanyang Technological University (NTU), and Singapore Management University require a high GMAT score. We suggest that the GMAT score should be above 650. Most business schools in Singapore take the score as the main criterion for selecting their prospective students.
Some overseas institutions in Singapore such as James Cook University, EASB Institute of Management, and others do not require a GMAT for an MBA degree. Some of these schools have their own entrance exams, while some schools place more emphasis on work experience or past academic performance.
Best universities in Singapore for MBA
The Master of Business Administration (MBA) is an internationally recognized diploma course that teaches you the skills you need to manage and administer a business. MBA programs offered by universities in Singapore are structured in such a way that the student can get to know the business market, with various internships, seminars, and talks that help them apply their theoretical knowledge in the practical world
The top business schools in Singapore that offer MBA are listed in the table with Tuition fees:
| | |
| --- | --- |
| University | Tuition Fees (USD) |
| Amity Global Institute | 15,491 |
| ESSEC Business School | 48,652 |
| INSEAD Asia Campus | 90,910 |
| James Cook University | 27,569 |
| Nanyang Institute of Management | 28,027 |
| Nanyang Technological University (NTU) | 45,751 |
| National University of Singapore (NUS) | 59,114 |
| PSB Academy | 19,302 |
| Singapore Management University (SMU) – Lee Kong Chian School of Business | 49,435 |
| SP Jain School of Global Management | 29,438 |
Cost of MBA in Singapore
In this section, we will give you a brief of cost of studying and living in Singapore.
Tuition fees in Singapore for MBA
The cost of an MBA in Singapore ranges from US$15,000 to US$90,000 depending on the university. A recent survey by the Singapore Business Review shows that on average, an MBA in Singapore can cost around US$100,000, including tuition, accommodation, food, and entertainment.
Higher fees do not mean a higher quality of education. Many low-paying colleges provide very high-quality education and vice versa. So, don't judge any course or university based on the fees.
Pre-Arrival cost
The pre-departure fee is the fee that the student must pay before traveling to Singapore. And the post-departure cost is the cost that occurs after the destination is reached.
So, to know the costs before arrival, let's check the list below:
Application Fee – SGD 100
Flight Tickets (One- way) – SGD 232- 286
GMAT Fees – SGD 341
GRE Fees – SGD 279- 314
IELTS Fees – SGD 252- 259
TOEFL Fees – SGD 218- 341
Singapore Visa Application Fees – SGD 60
Post-Arrival Cost
The cost of studying for an MBA in Singapore upon arrival includes living expenses, meals, and health insurance. To know these costs, let's discuss in detail:
Meals – S$2,600
Off-Campus Accommodation – S$ $ 1,100 – 3,300
On-Campus Accommodation – S$2,800- S$5,500
Personal Expenses – S$2,600
Health Insurance – International health insurance provides medical coverage in a specific country or region, or even worldwide, depending on the terms of the plan. There are various health insurance plans for international students studying in Singapore
MBA jobs in Singapore
Students with an MBA degree have many career prospects in various sectors. You will need a Singapore work visa to plan your career after graduation. An MBA graduate in Singapore is mostly awarded various management positions. Some of the popular jobs offered in Singapore for MBA graduates have been discussed below:
Accounting Manager
Asst. Business Development Manager
Business Consultant
Business Development Manager
General Manager
Manager
Product Manager
MBA salary in Singapore
MBA students in Singapore are offered an interdependent ecosystem that gives them the opportunity to learn in the booming digital economy and work in an interconnected world. Fast emerging as one of the leading MBA destinations in Asia and globally, Singapore is gaining popularity for its MBA courses due to its low investment and lucrative employment opportunities.
Business schools in Singapore feature in the QS World MBA rankings and attract people from all over the world. The more than 37,000 international companies operating in Singapore, as well as startups from the three unicorns, together account for a quarter of total technology investment in Southeast Asia in 2019. With MBA jobs in Singapore, students can expect an average salary of SGD 51,000 (Rs. 27.98 lakhs).
In Conclusion
Now, to put all those existing doubts at the back of your mind to rest, why not ask expert professionals? Call us to gear up now! Take action!
iDreamCareer is on a mission to reach every state and every child in order to ensure that talent is appropriately delivered to the industry.
Talk to our study abroad experts who have 20+ years of experience to know yourself in and out! We have helped several brilliant but confused minds with the aim to select their most-suited career choices. Hear the success story of Aayush who got an offer from the top 3 universities and is now studying at a University in Ottawa in Canada after getting career guidance from our industry experts!
Also, read;
FAQs
Is MBA in demand in Singapore?
After completing your MBA in Singapore, you will have access to many career opportunities. Singapore is a country with a booming economy with a high demand for skilled professionals.
Is an MBA in Singapore good?
With some of the top-rated business schools offering Master of Business Administration (MBA) programs, Singapore is one of the most preferred destinations for business administration aspirants.
Which MBA field has the highest salary?
Investment banking is one of the highest-paying MBAs in India. MBA graduates who wish to pursue this career will need to choose their subjects with an emphasis on finance.
How long is an MBA in Singapore?
The duration of an MBA program varies from university to university. Some B-schools have a course duration of 2 years (24 months), while others offer a 16-month accelerated MBA course. If you are applying for an MBA degree, the duration will be a minimum of one year.

Anushree has 5 years of experience in the career counseling industry as a Senior Content Writer. She has also worked as a Social Media Marketing Expert for a startup and Content Quality Analyst for the Publishing and E-learning Industry. She has done her Master's in Commerce and PGDM in Finance & Trade and Marketing & HR, but she is currently following her passion for writing.