"Malujah Singapura", Singapore has acted true to these words from its national anthem, which means 'Onward Singapore'. This country has shown remarkable growth in the last two decades and has secured a prominent position globally. Singapore is counted among the world's best countries when it comes to the standard of living, cultural diversity, modern urban life, and financial success. Thinking why we are talking about all this? Okay so do you want to study in Singapore? Want to know about the procedure for obtaining a student visa to Singapore? Well, you are in the right place.
Do you know?

Chewing gum is illegal in Singapore, and if they find you wearing it, you will have to pay a fine of around $1,000. In addition, smoking in public places is considered unacceptable behavior. And yes, if you do, you will have to pay a fine of between $152 and $760!
Ohhh! But that's okay, after all, it's Singapore! It has also registered steady growth in the education sector and is considered the best study destination in Asia and the 4th best in the world. Indian students find it a good abroad education option due to its proximity and affordable education cost. There has been a steady growth of 20% in the number of Indian students enrolling in Singapore.
Without further ado! Come along…
Highlights of student visa in Singapore
According to the Immigration Regulations, international students must obtain a student visa to continue their studies in Singapore. To simplify the process of obtaining a Singapore student visa, also known as a Student Pass, the ICA (Immigration and Checkpoints Authority) has divided the requirements into six categories based on the type of institution:
Approved private educational organization
Institute of technical education
Institute of higher education
Schools of the foreign system
Government / Public support / Independent schools
Children's centers
Of these, Higher Education Institutions include all 34 universities in Singapore that international students, especially Indian students, want to study at. Applicants applying for a Singapore student visa must be accepted to a full-time program in Singapore. If you are approved, start the student visa application process at least two months before your trip. For Indian students, the cost of a Singapore student visa is around S$90 (INR 4,910) as they have to submit S$30 (INR 1,635) at the time of application and S$60 (INR 3,275) at the time of issuance.
Types of student visas in Singapore
There are four types of student visas in Singapore:
Training Employment Pass – It's for Foreign specialists who are earning around S$3,000 per month and who are doing practical training in Singapore.
Work Holiday Pass (under the Work Holiday Pass program) – This is particularly for students and graduates aged 18 to 25 who want to work and rest at the same time for 6 months.
Work Holiday Pass (under the Work and Holiday Visa Program) – The visa is for Australian students and graduates between the ages of 18 and 30 who wish to simultaneously work and holiday in Singapore for 1 year.
Training Work Permit – It's for semi-skilled foreign trainees or students who are doing an internship in Singapore for up to 6 months.
Also, read: Singapore PR
How to get a student visa in Singapore?
To apply for a Singapore student visa, international students are encouraged to apply for their student card at least one month (also no more than two months) before the start of their chosen program. Applications must be made online by the instructions below:
Step I
Click on the International Students icon and read the instructions. Post this login by entering your details-
SOLAR (Student's Pass Online Application & Registration) number
Name
Date of birth
Sex
Nationality
Step II
Click on the 'Submit e-Form 16' button and fill the form by entering required details like
Travel documents: passport number and expiration date
Residential address in Singapore: Full address with postcode (optional)
Travel history: A list of countries you've been in for more than a year
Applicant's Predecessor: Answer Yes or No. Reasons for answers marked "Yes"
Have you ever been refused entry to or deported from any country, including Singapore?
Have you ever been convicted by a court in any country, including Singapore?
Have you ever been denied entry to Singapore?
Have you ever entered Singapore with another passport?
Step III
Tick the box "I have read and agree to the declaration" and click "Next".
Step IV
Upload a photo for which recommendations are available
Should be taken within 3 months
Personal features should be visible
The file resolution should be 400X514 pixels
Must be in JPEG format and no larger than 60KB
Once you have completed the application form, you can proceed to pay the application processing fee of SGD 30 (INR 1635). Generally, the immigration office takes up to 10 working days to process your Singapore student visa application.
Note: Some applications take longer to process during peak times in July and August.
Documents required for Singapore Visa
Applicants will need to bring the following documents with them to the visa center for a study pass in Singapore. These include: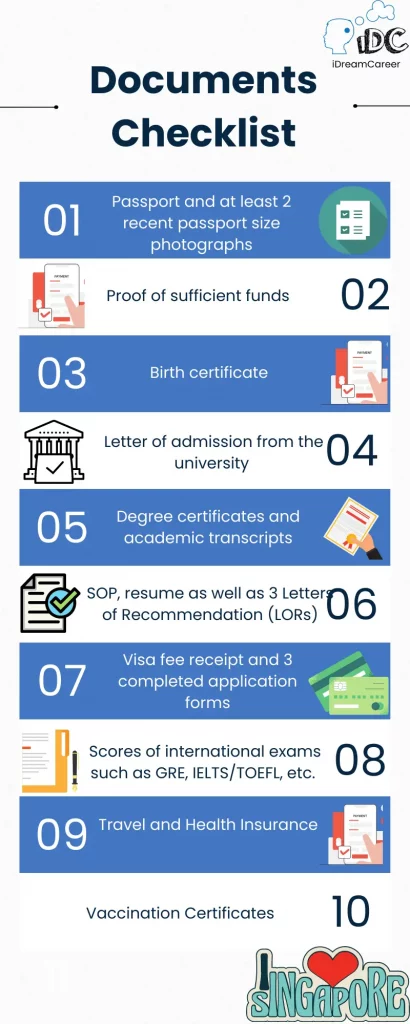 Epilogue
Just 90 hour's drive from Delhi, Singapore is the best study destination near India. It has the right infrastructure and environment to give you the best career opportunities. Although, there is high competition for getting enrolled in Singapore Universities, with determination, hard work, and precise planning you can secure a place for yourself and take the first step toward a great career.
iDreamCareer is on a mission to reach every state and every child to ensure that talent is appropriately delivered into the industry. Talk to our study abroad experts to know yourself in and out! We have helped several brilliant but confused minds to select their most-suited career choices. Hear the success story of Tapan who got an offer from the top 4 universities and is now studying at DePauw University after getting career guidance from our study abroad experts! And not only this he has also received a scholarship of Rs. 1.3 crore.
Useful links
FAQs
What is the success rate of Singapore student visas for Indians?
The success rate of obtaining a visa is above 90%. Every year, many students from India move to Singapore to pursue higher education abroad. The whole process is long and involves many steps. One of them is to apply for a Singapore student visa. Submitting a visa application does not mean that it will be accepted. The authorities have the right to refuse or refuse an application for a Singapore student visa. So far, the chances are less, but you can refuse. Some of the few reasons for rejection are incomplete documents, failure to meet academic requirements, English scores, etc.
What is the rejection rate for a Singapore student visa?
Compared to other countries, the success rate of obtaining student visas in Singapore is good. Here are some points to look out for when applying for a Singapore student visa to ensure success. Academic certificates, employment information, financial documents, passport-size photos, etc.
What is the Singapore student visa processing time?
The processing time for a student visa to Singapore can vary from a minimum of 10 days to a maximum of one month. Once the visa is processed, it can be collected from the embassy or sent to the student by courier. Therefore, it is advisable to apply for a study visa to Singapore two months before the start of the academic session.
Can I work in Singapore with a student visa?
Yes, international students with a student ID in Singapore can work part-time for around 16 hours per week during term time and unlimited hours during holidays, only if they have a valid student ID and must be at least 14 years old.

Anushree has 4+ years of experience in the career counseling industry as a Senior Content Writer. She has also worked as a Social Media Marketing Expert for a startup and Content Quality Analyst for Publishing and E-learning Industry. She has done her Master's in Commerce and PGDM in Finance & Trade and Marketing & HR, but she is currently following her passion for writing.