Studying abroad can be a life-changing experience, offering the opportunity to learn in a new cultural setting, make new friends from around the world, and gain valuable life skills. Are you planning to study in another country after completing 12th in your home country? Don't know where to start? Don't worry, you are not alone. Many students in the world choose to study in a different atmosphere and environment to gain a unique experience. Not just 1 or 2, there are many options for you all over the world.
Do you know?

According to Business Standard; by 2024 the count of Indian students going abroad for studies will increase by 1.8 million.
Abroad has many magnets to attract the attention of millions of international students around the world, especially those who prefer to study abroad after the 12th. From providing various UG study abroad options to simplifying the study abroad procedure after class 12, the world here caters to every student's interests. Not only because of this but due to the limited number of seats in India's top institutes like IITs and NITs, students often find it difficult to get gainful opportunities after completing 12th grade that matches their grades. Well, sometimes we don't even consider applying to a college abroad, maybe because we don't even know how good an option it is.
Before we move on further, take a deep breath and relax we are all here to help you and we will elaborate on everything about it in detail!
How to decide on a destination country?
When deciding on a destination country for studying abroad, there are several factors to consider:
Cost of living: The cost of living in different countries can vary significantly. So it is important to choose a country that fits your budget. Consider factors such as tuition fees, housing costs, and the overall cost of living.
Language of instruction: Don't worry if you are not fluent in the language of the country you are considering. You may need to take language courses in addition to your academic program. This can be an added expense and may extend the length of your program.
Availability of scholarships: Many countries offer scholarships and financial aid to international students. Research the availability of scholarships in the countries you are considering to help offset the cost of your studies.
Quality of education: Research the reputation and ranking of universities in the countries you are considering. Look for universities with strong programs in your field of study and a history of producing successful graduates.
Job prospects after graduation: Consider the job market in the country you are considering. Are there opportunities in your field of study after graduation? Will your degree be recognized and valued in the job market?
Cultural and recreational opportunities: Think about the type of cultural and recreational experiences you want to have while studying abroad. Do you want to study in a city with a vibrant arts scene or in a more rural setting with outdoor recreational opportunities?
How to study abroad after the 12th? – Offline Mode
To study abroad after completing 12th, you can follow these steps:
Research and choose a destination country: Consider factors such as the cost of living, the language of instruction, and the availability of scholarships when choosing a country for your studies.
Find and apply to universities: Search for universities in your destination country that offer programs in your field of study. Start the application process early and gather all the required documents.
Take any required exams: Many universities abroad require applicants to take exams such as the SAT or ACT. Check the requirements of the universities you are applying to and start preparing for the exams as soon as possible.
Get a student visa: After you have been accepted to a university, you will need to apply for a student visa. This process can take several weeks or even months, so be sure to start it as early as possible.
Plan for your departure: Make arrangements for your travel, housing, and any other necessary arrangements before you leave. You may also want to consider purchasing health insurance and making sure you have all the necessary documents with you when you travel.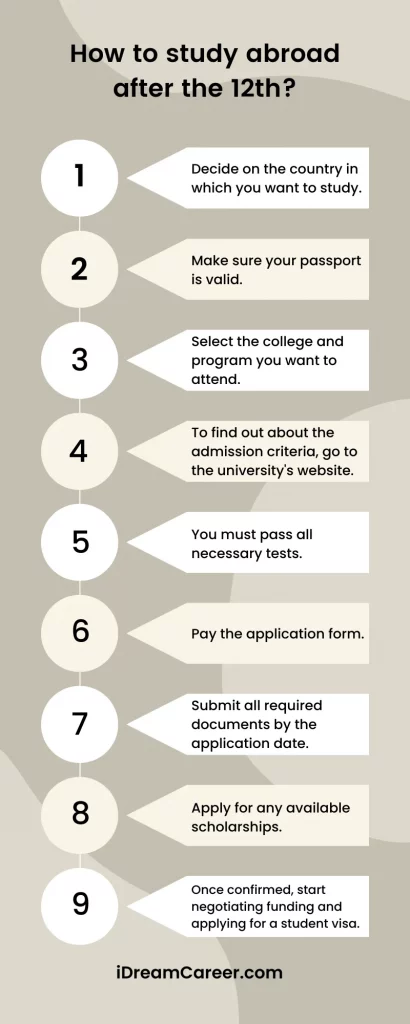 It is also a good idea to start saving money and researching funding options, such as scholarships and loans, to help pay for your studies abroad.
Know how to crack this out, explore other related aspects:
Procedure to study abroad after 12th – Virtually
There are several ways to study abroad virtually from India:
Enroll in an online degree program: Many universities around the world offer fully online degree programs, which allow you to complete your studies from anywhere with an internet connection. These programs may be a good option if you are unable to travel abroad due to financial or personal reasons.
Participate in a virtual exchange program: Virtual exchange programs offer the opportunity to take online courses with students from other countries and participate in cultural exchange activities. Many universities and organizations offer virtual exchange programs, which can be a good way to get a taste of studying abroad without leaving home.
Take online language courses: If you are interested in studying abroad in a country where the language of instruction is different from your own, you can take online language courses to improve your skills. This can help you prepare for studying abroad in the future or simply expand your language capabilities.
Join online communities and clubs: There are many online communities and clubs focused on international education and cultural exchange. Joining these groups can help you connect with students and educators from around the world and learn about study-abroad opportunities.
By considering these options, you can study abroad virtually from India and gain many of the same benefits as traditional study abroad programs, including cultural immersion, language learning, and academic enrichment.
Eligibility to study abroad after 12th
Choosing a university to study abroad after the 12th is one of the most important steps a student takes in going abroad. There is a common protocol that all universities follow, although this information varies from university to university. Here is a list of the requirements for studying abroad after the 12th.
Academic Transcripts
The university must obtain copies of all Indian students' academic transcripts, particularly their 12th-grade or diploma. Students who specialize in a particular course must have good results in the relevant subject.
LOR
The LOR, or letter of recommendation, is one of the many requirements when applying to study abroad. Students can find two or three people to showcase their skills, experience, accomplishments, and details. First of all, this is done by academic teachers.
SOP
SOP stands for Statement of Purpose. Students must write an essay explaining why they believe they are an ideal fit to study at the university. The primary purpose of the SOP is to ensure that students can communicate their educational goals and objectives to university administrators.
A valid passport
You must have a valid passport to apply and be admitted to any university abroad. Although you will need a valid passport, you should be aware that different countries may have different requirements for the validity of your passport. Some countries want you to be valid until the end of your course, even at the time of applying for a student visa. On the other hand, some may allow you to apply but require you to have a validity period beyond your intended stay in the country.
Proof of Funds (POF)
To enter foreign universities, you need to have enough funds. Many factors, including tuition, cost of living, and more, affect how much it will cost to study abroad. This information searches financing much more accessible. Students must provide evidence that they can pay not only tuition fees but also normal living expenses for the duration of their stay in the country. Some universities ask for the same, but only after they send you an offer of admission. Regardless of who is requesting the PoF, the fact remains that proof of means refers to the student's ability to bear the costs of studying abroad.
Age limit
Students must be at least 18 years old to apply to overseas universities after the 12th.
Exams required to study abroad after 12th
Entrance exams are important for the admission procedure for international study programs. There are several exams to study abroad and this might vary from university to university and country to country. A student has to go through the process of passing entrance tests for studying abroad in addition to passing 12th.
There are standardized language tests and assessments, including the SAT, GRE, GMAT, IELTS, and TOEFL. These tests are required for scholarships and international degrees.
It's a Wrap!
Studying abroad provides an opportunity to build an international network through events such as networking fairs and international internships. Deciding which university, a student will attend after the 12th is one of the most critical stages of a student's journey abroad.
After 12th, students should consider going abroad for a degree to be able to work and learn from the best minds in the industry. Did you enjoy reading this blog? If so, share your thoughts in the comments below.
Now, to put all of those existing doubts at the back of your mind to rest, why not ask expert professionals? Call us to study abroad! Take action! iDreamCareer is on a mission to reach every state and every child to ensure that talent is appropriately delivered to the industry.
Talk to our study abroad experts to know yourself in and out! We have helped several brilliant but confused minds to select their most-suited career choices. We have helped many students like Anjana Prasanna who was not very confident about her capabilities. Later with the help of career guidance and moral support from our study abroad experts, she got an offer from King's College London! We have also helped several brilliant but confused minds like Aayush, and Tapan to select their most-suited career choices.
Also Read:
FAQs
How can I apply for a study abroad program after 12th in India?
To apply for a study abroad program, you will need to research and choose a program at a university or institution in the country you wish to study in. Then, you can contact the school directly or go through a study abroad agency to start the application process.
How do I fund my studies abroad after 12th in India?
There are several ways to fund your studies abroad after 12th in India, including scholarships, grants, and student loans. You can also consider working part-time or interning while studying to offset some of the costs.
Can I work while studying abroad after the 12th in India?
This may depend on the country and program you choose. Some countries may allow international students to work part-time while studying, while others may not.
Can I study abroad if I have a criminal record?
It may be possible to study abroad if you have a criminal record, but it may depend on the country and program you are applying to. Some countries may have stricter policies for admitting students with criminal records. It is important to disclose any criminal history in your application and be prepared to provide additional documentation or explanations.

Anushree has 4+ years of experience in the career counseling industry as a Senior Content Writer. She has also worked as a Social Media Marketing Expert for a startup and Content Quality Analyst for Publishing and E-learning Industry. She has done her Master's in Commerce and PGDM in Finance & Trade and Marketing & HR, but she is currently following her passion for writing.