For students planning to study abroad, writing an SOP is an important part of the admissions process. Therefore, one should have a clear idea about the use, function, format, and importance of SOP (Statement of Purpose).
A Statement of Purpose (SOP) is a document written by an applicant about himself or herself that is intended to convince the admissions committee to accept that person. As part of the document package, it must meet the standards and meet all the writing requirements. This paperwork requires a clear mind, the ability to analyze, and the talent to tell a short but interesting story about your whole life.
Many students wonder what a statement of purpose is and do not pay enough attention to this document, writing it quickly before the deadline. In tight deadlines, students usually copy from online sources. This causes the test to fail. Someone might write a weak introduction or conclusion, use an informal conversational style or even slang, exceed the word count, use irrelevant information, write an impressive text, and not proofread or edit it. There are so many types of errors that leave no chance of passing the test.
How to properly design this paper and increase the chances of achieving the goal? The work may seem routine, but it is not as unrealistic as it may seem. This post introduces readers to its basic requirements and provides useful practical advice, warnings, and recommendations. Following these guidelines will help you write a brilliant paper and score well on the test.
Further ado… Come along…
What all is covered in this post?
To make it easier for you, we have created a quick guide to everything you need to know about SOP.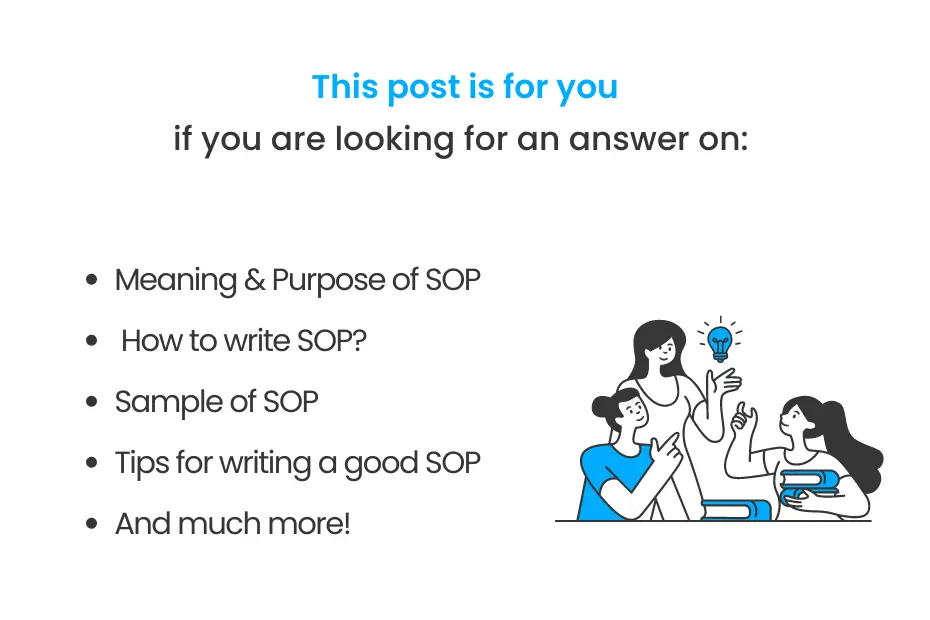 What is the meaning of SOP?
The full form of SOP is "Statement of Purpose". It is an application essay to be written by students who want to enroll in courses at international universities. The main purpose of the SOP is to present yourself, your academic background, career goals, and qualities that make you a worthy candidate for the chosen course. It is important to have a readable objective format.
The admissions committee and supervisors go through the statement of purpose to test your thought process and how well you can express yourself. This allows them to learn more about you through you. It also informs managers about your level of maturity and your plans for the future.
Applicants should highlight their strengths and achievements to impress faculty and committees. This is an important step for admission to foreign universities.
SOP consists of various elements ranging from academic qualifications to personal experience. However, the format of the SOP varies depending on the course, objectives, institution, and country. But the basics remain the same for all.
What is the purpose of SOP?
The SOP (Statement of Purpose) is the decision maker for the statement. This helps the admissions committee evaluate your life, your professional goals, beliefs, subject knowledge, and vision. In short, a well-written SOP describes your overall personality to universities. This is an opportunity to explain to the committee your purpose and the reasons why they should choose you over other candidates. A good SOP works well for weak academic profiles where you can compensate by showing your future goals and dreams. A well-written SOP also shows how well you can express yourself using your writing skills.
There are various key points of information that describe how to organize your SOP, from an effective introduction to a great premise and an encouraging conclusion.
Essential steps to writing an SOP
The main guide to an SOP statement is to understand what to include and how to create it. A statement of purpose, like every person, is different in many ways. Needless to say, your experiences and thoughts and ideas, and your dreams will be different and different. However, when it comes to writing them, there are a few rules that everyone should follow.
We'll cover them in these 5 essential steps to writing a great SOP.
Step 1: Make a list of your top achievements in school
What you have to provide at the undergraduate level is not three years of work experience or four to five years of study experience. Instead, you have about 12 years of growth. Take a look at the last 12 years; imagine the smallest pleasures and greatest teachers, challenges, and joys of success. Maybe it's your victory in the state volleyball tournament or your first victory in the intramural debate tournament in fifth grade. Regardless of whether you have 12 years of work experience. So, consider all the situations and if you remember them, there is a good reason to include them in your list.
Step 2: Don't search for items; instead, think about your lifestyle for that day
Compared to the five fundamentals of SOP writing, this is the only step that is completely invalid. In this case, we recommend that you refrain from any other thought than the story of your life. Basically, it's a platform where you can discuss all the work you've done and how you came to that decision. You are still exploring, deciphering and eager to learn. You have to cover everything, so don't start looking for leadership patterns or any specifics. You are still capable; be flexible in your SOP and refrain from choosing a specific example.
Step 3: Create your first project
At the UG level, we take this a step further and ask you to start it with writing. This is important even before you start whittling down your lists. We recommend that you start writing your copy as soon as possible before you even have a chance to review what you want to add.
Step 4: Discuss your list and a first draft
Talking to friends, family, and professors on good terms is a great way to start narrowing down your choices. Find out what they think of your writing, what event they prefer to leave you with, and what else you need to discuss. Ask for help to rate and ask for your ideas. Remember that they can look at your achievements from afar and find something more interesting than others.
Step 5: Complete your essay
Now it's time to finish your essay after discussing the copy and lists. We usually recommend writing a piece. When you're done, just rewrite your SOP statement. Remember what you want to include in your SOP for the UG course and clearly state your objective. When you're done, change the paper to remove any grammar or typing problems. Limit the number of times you can rewrite and rewrite your essay. We encourage you to keep reading it until you feel it is the same.
Elements of good SOP format
To begin with, you need to remember a few simple points. Be sure to include these in your SOP review checklist:
The purpose statement follows the paragraph format and follows the general rules associated with essay writing. Although the use of bullets is accepted, they should be avoided and minimized.
Unless otherwise noted, a standard statement of purpose is ideally two pages long, uses a maximum 12-point font, and is double-spaced in regular margins. So, depending on the font type, a standard SOP will be between 800 and 1000 words.
There should be no use of colorful text or images anywhere. The text should be plain black (not even gray).
Ideally, a statement of purpose should consist of 5-7 paragraphs of 150-250 words each.
How to write SOP?
A simple SOP format helps you gather different pieces of information into a consistent flow. It is divided into different paragraphs for better understanding.
A simple SOP looks like this:
1st paragraph: Introduction
This section is often confused with introducing yourself. However, you only need to submit your chosen academic field. You should state your future expectations for this course. Once you have chosen a course, you should gain some knowledge about that particular field.
In addition, you can discuss your long-term goals, relate your goals to the course of your choice, and describe your understanding of the course. You should also mention your interest in post-graduation work or training opportunities. For example, some candidates prefer to start working after completing the course, while some prefer to pursue higher education and research.
2nd paragraph: Education
You need to provide information about your school or college. If you don't have work experience, try to highlight published reports or achievements in any project or assignment.
3rd paragraph: Professional Experience
Students interested in studying abroad usually have some work experience. This can be part-time, study projects, internships, freelance or full-time. Share your skills along with your work experience.
4th paragraph: Reasons for pursuing a particular course
State the reasons why you want to pursue a particular course. Mention the course syllabus and explain the skills you want to improve. Explain how it will help you achieve your goals and benefit your plans.
5th paragraph: Career Goals
This is the most important section where you have to explain the profile of the job you will be working on. Don't mention anything that might make the supervisors feel that you want to study abroad so that you can settle in a foreign country.
You can talk about your desire to work in a top company or that you want to start your own business. You can also discuss your business ideas, goals, ethics, and what impact they will have on the industry.
6th paragraph: Why did you choose this particular university?
In this paragraph, you need to tell the academic committee why you are an ideal candidate for the university. You should also mention the names of the faculties, course curriculum, research work, and specific university activities that will help you raise your profile.
Concluding paragraph:
In the last paragraph, you should appear focused and prepared for the challenges that may arise in your study abroad journey. You must also show the panel that you are confident enough to succeed in your area of ​​interest and bring tangible change to the industry from a global perspective.
Sample SOP
In this section, we have drafted an SOP sample for your better understanding. Have a look:
I maintained good academic results from high school to college. With 95% in 12th standard, I was one of the few top names in my college. I also received merit-based awards that further encouraged my undergraduate studies.

As a business administration graduate with a specialization in marketing, I have always been inclined to believe that the rapidly globalizing world has created enormous opportunities for small and large businesses to expand and flourish. In the twenty-first century, at the zenith of social media and digital convergence, the new-age marketing arena has always attracted me and fueled my curiosity about how business intelligence and marketing can come together to help every business.

Throughout graduate school, I participated in events and clubs that partnered with local businesses, which helped me learn marketing at an early stage. I sought to strengthen my foundation and gain experience in various areas of the business world. With the development and changes in the business sector, understanding consumer behavior and patterns have become more important to increase production and sales.

I have participated in several contests and hackathons in my state and have won many awards and cash prizes. Along with my team of friends, I have also organized many such competitions in and outside my college.

Working in various creative industries such as business management and marketing has given me a greater understanding of the dynamics of wider societal perspectives. This led me to believe that the business sector is not primarily about finance and marketing, but also about analytical thinking and creativity. Fortunately, ____ University offers a specialized Business Intelligence program that can help me gain knowledge with the perfect combination of business knowledge and required skills.

I am applying to this university because it has a proven track record of producing some of the best business intelligence professionals in the world. Also, your practical teaching methods and updated study modules will give me a new learning experience.

I am deeply interested in sustainable development, green energy, and healthcare technologies. I want to contribute to these areas with my knowledge and skills.

I hope that you will give me the privilege of pursuing a master's degree at your prestigious university. I look forward to your reply and wish to join this fruitful association.

Thank You
XXXXXX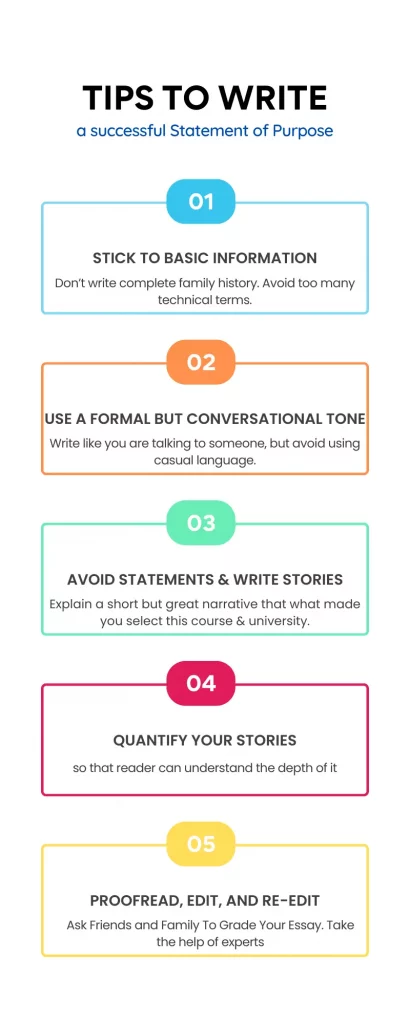 Tips for writing a good SOP
It is very difficult for students to write an SOP that sounds original and gives them an edge over other candidates. The best way to do this is to write the answers to the questions in a way that the admissions committee wants. They may not ask directly, but there are some questions that you should answer competently. They are:
Avoid sensitive financial details. If you are applying for a scholarship, a separate document is required.
Avoid too many technical terms.
Avoid using creative fonts or colored paper
Be a circle; do not flatter with your tongue.
Be careful with humor, it can backfire!
Connect to basic information and general description. Do not write a complete family history.
Do not exceed the given word limit.
Do not write that the institution was not your first choice.
Don't lie in your SOP, dishonesty can lead to rejection.
Professional details. Talk about learning experiences, not cold conversations.
Epilogue
Now that you are armed with this information, we hope you're ready to make your next big career decision! Still confused? Do dial us up.
iDreamCareer is on a mission to reach every state and every child to ensure that talent is appropriately delivered to the industry.
Talk to our study abroad experts to know yourself in and out! We have helped several brilliant but confused minds to select their most-suited career choices. We have helped many students like Anjana Prasanna who was not very confident about her capabilities. Later with the help of career guidance and moral support from our study abroad experts she got an offer from King's College London! We have also helped several brilliant but confused minds like Aayush, and Tapan to select their most-suited career choices.
Also, read:

Anushree has 4+ years of experience in the career counseling industry as a Senior Content Writer. She has also worked as a Social Media Marketing Expert for a startup and Content Quality Analyst for Publishing and E-learning Industry. She has done her Master's in Commerce and PGDM in Finance & Trade and Marketing & HR, but she is currently following her passion for writing.