Want to study abroad in 2023? Have you been looking for a guide on studying abroad in 2023 to help you understand the process of applying to international schools for a bachelor's or master's degree? This blog will help you understand the complex process of applying to international universities in a simplified way.
Studying in another country is not just about learning or wanting to improve your career prospects. It's also about gaining life experience by living in a diverse culture in a foreign country. Since Indian universities offer only one "intake" per year. But studying abroad can offer you two intakes in a year that start in June or July and ends in May or June of the following year. Therefore, you can always apply for the next intake if you miss the deadline for the current one.
So, are you ready to study abroad in 2023? We are here to help you ease the process of planning and submitting documents to international universities. Let's dive in!
What all is covered in this post?
To make it easier for you, we have created a quick guide to everything you need to know about studying abroad in 2023.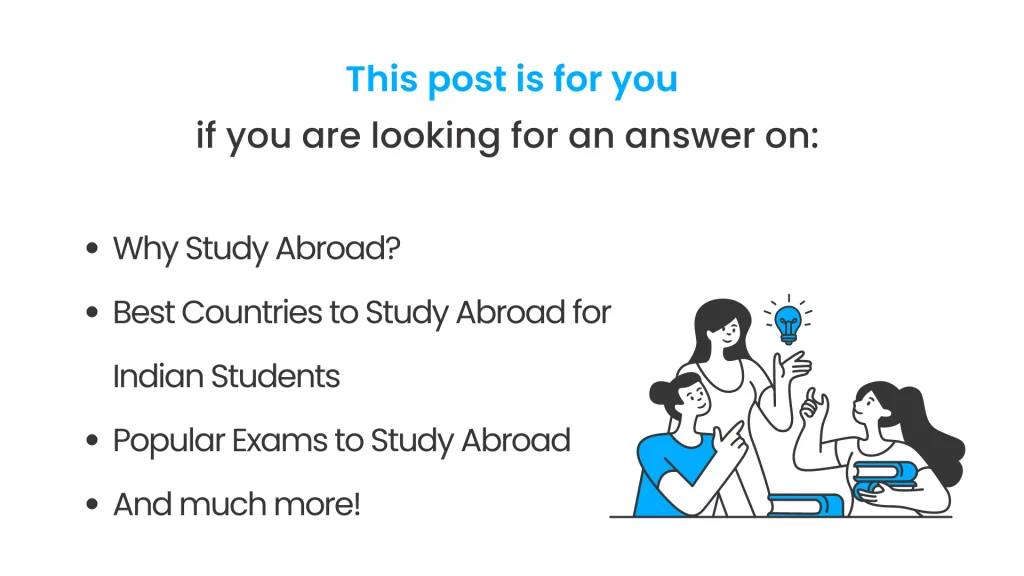 Why Study Abroad?
Before moving ahead further, let's first understand why studying abroad in 2023 could be the right choice for you. There are many more apart from these simple & popular rewards:
Your perspective widens
Cross-cultural environment
Self-reliance
A global outlook
Advanced infrastructure and pedagogical (teaching) methods
Universal work opportunities
Higher rates of compensation (salary)
You need to …
…carefully assess your strengths & weaknesses and then consult with professional counselors, parents, or teachers. Although studying abroad will be financially draining, there are many scholarships available for students interested to study abroad.
You not only need a consultant who can help you with admissions in international universities but also counselors who can tell you what to study BEFORE YOU START FILLING UP THOSE FORMS!
These counselors are called career counselors who can help you select a best-fit course for you and then tell you which universities to choose from. They are counseling professionals as well as global student mobility experts rolled into one!
Now let's get started without further ado…
5 Best Countries to study abroad for Indian students
Here is the list of best countries to study abroad for Indian students:
Australia
Australian universities fall under the QS World Ranking System, which is the highest form of ranking for the quality of education in any country. All colleges and universities are part of the higher education system in Australia. This indicates that educational institutions adhere to the Australian Qualifications Framework [AQF], which stands for the validity of degrees awarded to students.
Cost of Studying Abroad in 2023 in Australia: To study in Australia, you should be ready to spend a minimum of 15 lakhs for a bachelor's and 25 lakhs for master's. For business programs or medical programs, the cost will go up – you can expect to spend more than 30 lakhs for each program.
Top Universities in Australia: Australian National University (ANU), University of Sydney, University of Melbourne, University of New South Wales (UNSW), University of Adelaide, etc.
Canada
Canada's education system is very popular among international students due to several admission seasons.
Cost of studying in Canada: According to the statistics given by 'Universities Canada,' a collective institution of 97 Canadian Universities, the average tuition fees, and living expenses can range between 15000 Canadian Dollars (7.5 lakh INR) to 30,000 Canadian Dollars (15 lakh INR) annually.
Top Universities: University of Toronto, McGill University, University of British Columbia, Université de Montréal, University of Alberta, etc.
Singapore
Not only in Asia but throughout the world, Singapore's education system is considered world-class. It has a wide range of academic talent from around the world.
Cost of studying in Singapore: Generally, the subsidized tuition fee is around S$8000 which is around 4 to 5 lakhs in Indian currency.
Top Universities: National University of Singapore (NUS), Nanyang Technological University (NTU), and Singapore Management University, etc.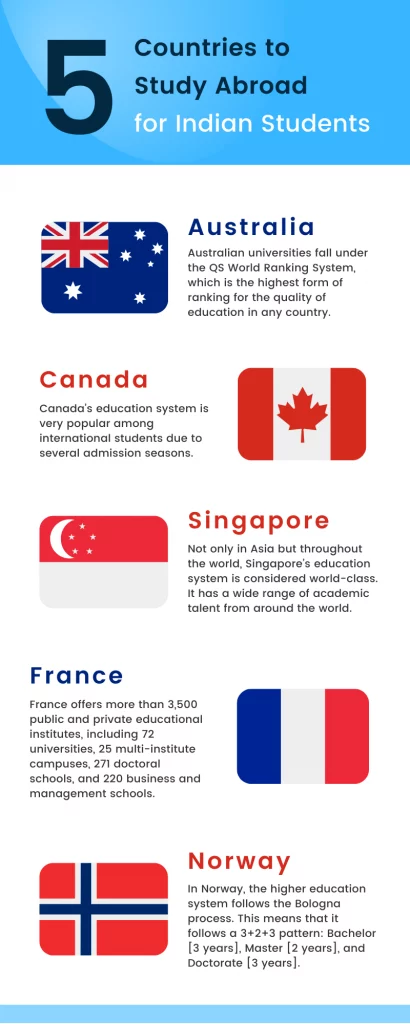 France
France offers more than 3,500 public and private educational institutes, including 72 universities, 25 multi-institute campuses, 271 doctoral schools, and 220 business and management schools. In addition, the country has 22 schools of architecture and more than 227 engineering schools.
Cost of studying abroad in 2023 in France: You can expect to pay around 2,770 Euros per year for a Bachelor's degree and 3,770 Euros for a Master's degree, which comes to around 3 to 4 lakhs per year.
Top Universities: Université PSL (Paris Sciences & Lettres), Ecole Polytechnique, Sorbonne University, CentraleSupélec, Ecole Normale Supérieure de Lyon, etc.
Norway
In Norway, the higher education system follows the Bologna process. This means that it follows a 3+2+3 pattern: Bachelor [3 years], Master [2 years], and Doctorate [3 years]. You will find both private and public institutions in Norway.
Cost of studying in Norway: Tuition fees at private institutions in Norway usually range from 7,000 to 19,000 euros per year.
Top Universities: the University of Oslo, Norwegian University of Science and Technology (NTNU), University of Bergen, Norwegian University of Life Sciences (NMBU), etc.
Also, Read: Study in Hungary
Top Courses to study abroad for Indian students
According to the Ministry of Foreign Affairs 2022 report, 13,24,954 international students are currently studying in 79 countries, contributing to one of the world's largest foreign diasporas. Such a huge number of students studying abroad shows their desire for unlimited opportunities, a high standard of living, and, most importantly, better career prospects and a high return on investment.
The most popular courses that top the list of Indian students are broadly divided into STEM courses and finance and business-related studies. Following are some of the best courses to study abroad in 2023 for Indian students:
Robotics & Artificial Intelligence
Engineering courses
Healthcare courses
Climatology & Energy Management
Business Studies
Popular Exams to study abroad in 2023
All excited to fly overseas for higher education but the questions of when, where, and how confusing you? Once you are done with all decisions, you will wish to buy air tickets and hop on a flight.
Alas! It's not that easy. A lot is still to be done after shortlisting your international education destination. Entrance exams, College applications, and Visa procedures to study abroad can be quite overwhelming. Apart from these prerequisites, there are a few more questions to be answered. You'll have to shortlist universities, understand the culture of the campus and find the college of the university where you can not only adapt but also flourish.
Here is the list of popular exams to study abroad for Indian students:
TOEFL (Test of English as a Foreign Language)
IELTS (International English Language Testing System)
PTE (Pearson Test of English)
SAT (Scholastic Aptitude Test)
ACT (American College Testing)
GRE (Graduate Exams)
GMAT (Graduate Management Admission Test)
MCAT (Medical College Admission Test)
Note: To know more about these exams refer to our "Exams to Study Abroad" post!
Best Universities to study abroad in 2023
Every year, academic circles look forward to the QS World University Rankings, the annual publication of Quacquarelli Symonds (QS) university rankings, which is considered one of the three most widely read university rankings in the world.
The QS World University Rankings 2023 includes more than 1,500 universities from around the world, which are evaluated on six indicators, including academic and employer reputation, faculty-to-student ratio, and research citation.
This year's ranking contains two new indicators – International Research Network and Employment Outcomes – which are not weighted, meaning they do not affect the university's overall score or ranking.
Here are the top 10 universities/educational institutions in the world:
Massachusetts Institute of Technology (MIT, USA). Overall score: 100
University of Cambridge (UK). Overall score: 98.8
Stanford University (USA). Overall score: 98.5
University of Oxford (UK). Overall score: 98.4
Harvard University (USA). Overall score: 97.6
California Institute of Technology (Caltech, USA). Overall score: 97.0
Imperial College London (UK). Overall score: 97.0
University College London (UCL, UK). Overall score: 95.0
ETH Zurich – Swiss Federal Institute of Technology (Switzerland). Overall score: 93.6
University of Chicago (USA). Overall score: 93.2
Also, Read: Study in Malta
Scholarships to study abroad for Indian students
The importance of education can be well summed up in the following quote by Nelson Mandela: "Education is the most powerful weapon that can be used to change the world." This simple sentence sums up the importance of education in the lives of not only individuals but also nations. This is the exact reason why many organizations have started offering scholarships to deserving and outstanding students. Now, with study abroad scholarships available for almost every course, deserving students can continue their studies at the university of their choice.
However, many Indian students do not know how to get scholarships in India to study abroad and thus many deserving candidates miss out on the opportunity to study at some of the world's leading universities.
So, to have a look at the top scholarships to study abroad in 2023, we would suggest you check our scholarships to study abroad post.
In conclusion
After all of that mind-bender, you must be full of facts now. If you've been endlessly looking for extensive knowledge about studying abroad in 2023, we've served you much, isn't it? Now, to put all of those existing doubts at the back of your mind to rest, why not ask expert professionals? Call us to study abroad! Take action!
iDreamCareer is on a mission to reach every state and every child to ensure that talent is appropriately delivered to the industry.
Talk to our study abroad experts to know yourself in and out! We have helped several brilliant but confused minds to select their most-suited career choices. We have helped many students like Anjana Prasanna who was not very confident about her capabilities. Later with the help of career guidance and moral support from our study abroad experts she got an offer from King's College London! We have also helped several brilliant but confused minds like Aayush, and Tapan to select their most-suited career choices.
Also, read: Study in Portugal
FAQs
What is the best age to study abroad?
Traditionally, students fly abroad to pursue a bachelor's/master's, or doctorate degree after completing high school or the required education in their home country. Therefore, the average age for joining a course abroad is between 18 and 27.
Can a middle-class student study abroad?
Most Indian students dream of studying abroad. More than 60% of Indians belong to middle-class families. If you are one of them and are giving up on your dream, let me tell you that it is possible to study abroad on a reasonable budget. You can live according to your plan without worry.
Can you be denied study abroad?
Although most students are approved, there are times when some students are denied study abroad. If this is the case and you want to understand why you can make an appointment with the Director of International Programs to discuss the solution.
What prevents students from studying abroad?
Why students do or do not participate in study abroad is probably one of the most studied issues in the field. Commonly reported barriers include financial reasons, concerns about academic delays, discrepancies between academic calendars, poor language skills, and family ties.

Anushree has 5 years of experience in the career counseling industry as a Senior Content Writer. She has also worked as a Social Media Marketing Expert for a startup and Content Quality Analyst for the Publishing and E-learning Industry. She has done her Master's in Commerce and PGDM in Finance & Trade and Marketing & HR, but she is currently following her passion for writing.