An MBA degree can open you up to many opportunities, so an MBA abroad for Indian students is always a good idea. But every MBA aspirant has to deal with questions like – Which is the best MBA country for Indian students? What are the best MBA courses abroad? How to get an MBA from abroad?
Do You Know?

According to the Graduate Admissions Council (GMAC) 2020 survey, 81% of Indian students want to study abroad in 2022, up from 76% previously. 
International students can find high-quality MBA degrees in countries such as the US, UK, Canada, Germany, Australia, Singapore, and more. But to decide which country is best for you, you should consider factors such as the type of university, MBA program, cost of living, the standard of living, and employment prospects. If you are a student from India and want to study abroad, here are some things you need to consider before taking the plunge.
What all is covered in this post? 
To make it easier for you, we have created a quick guide to everything you need to know about MBA abroad for Indian students.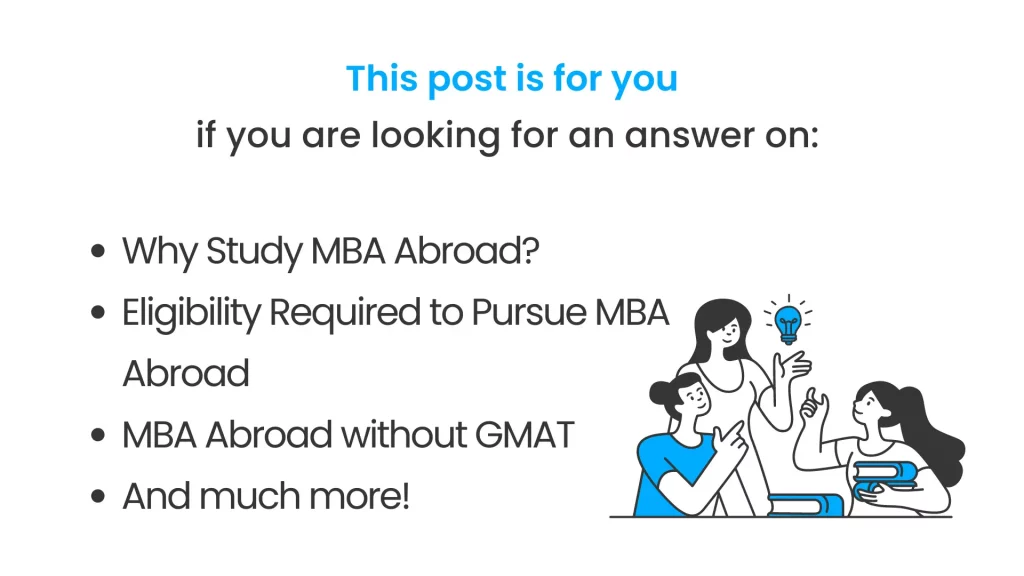 Why study MBA abroad?
There are several key points to consider when deciding to study for an abroad MBA:
Global perspective: An MBA abroad will expose you to different cultures and ways of doing business, giving you a more diverse and global perspective on the world of business.
Networking opportunities: Studying MBA abroad can provide you with valuable networking opportunities and help you build an international professional network.
Language skills: Improve your language skills while studying abroad, a valuable asset in today's global business market.
Top-ranked business schools: Many of the top business schools in the world are located abroad. Studying at one of these schools can give you access to a highly respected degree that can open doors to career opportunities.
Personal growth: In addition to professional development, studying abroad can also be a great opportunity for personal growth as you adapt to living in a new country and culture.
With these key points in mind, pursuing an MBA abroad can be a great investment in your future career and personal development.
Eligibility required to pursue MBA abroad
Now you must be wondering how to do MBA from abroad. What is the eligibility to pursue MBA abroad? Don't worry you will get your answer in this section!
A degree in business or management is not a requirement to apply for an MBA in the UK or USA. But there are a few requirements you should consider before securing a place at a business school:
Bachelor's degree certificate
Work experience (depending on the school)
Letters of recommendation from previous educational institutions and places of employment
After approval of these documents by the admission committee, candidates are invited to the business school for a personal interview.
Visa
As an international student, you will need to obtain a visa to study in the new country, which will also entitle you to other benefits as a student registered in that country.
MBA abroad without GMAT
There are some business schools that have waived the GMAT score requirement. It's best to check the admissions criteria for each to see if significant work experience is required or if you'll need to submit additional application documents.
Here are some examples of business schools that do not require GMAT or GRE scores:
In lieu of the GMAT assessment, the Foster School of Business (Washington) allows students to take an "Optional Summary Test" and answer two questions about their analytical and quantitative skills from previous experience. The tuition fee for international students is $56,127.
Similarly, the Eli Broad College of Business accepts applications from applicants without test scores to attract a diverse mix of students. The tuition fee for international students is $54,616.
Options for European business schools include Birmingham Business School. The GMAT score will be considered along with other evidence submitted in your application, but it is not essential. The tuition fee is £31,500 ($37,948) for local and international students.
The IESEG School of Management in France also waives the requirement for students to submit a GMAT or GRE score. The MBA program costs €39,000 ($39,628) for domestic and international students.
MBA abroad without work experience
Likewise, if you are concerned that you may not have enough work experience, the following institutions accept applications from candidates without a significant work history. The tuition fees for each can be found in the table below.
Work experience is not required for admission to Stanford Graduate School of Business, as they are more interested in candidates' impact in the workplace.
Although the average student will have a fixed or six years of professional experience before applying to The Wharton School, the MBA program accepts early career candidates with limited or no experience who demonstrate strong managerial and professional potential.
The hiring team evaluates experience not by years, but by the depth and breadth of a person's position, his or her contribution to the work environment, and level of responsibility and progress.
While the London Business School also attracts candidates who normally have at least five years of work experience, admission may be granted to candidates with less than three years of work experience if they can demonstrate excellent academic credentials and truly outstanding evidence of leadership through professional and personal experience.
Popular exams for studying MBA abroad
There are several popular exams that are commonly required for admission to MBA programs abroad. These exams are designed to assess the aptitude and potential of applicants and are often used as part of the admissions process to select the most qualified candidates.
Here are some of the most popular exams for studying MBA abroad:
Management Aptitude Test
To study for an MBA abroad, you will need to prove your caliber and intelligence. Your Aptitude Test score is a measure of your ability in top B schools.
GMAT
GRE
Language Proficiency Test
Language tests are intended to measure your language proficiency, regardless of how you speak the language. Most universities ask for your English proficiency test to enroll in English courses. However, you can choose the test you prefer to take, provided the university you are applying to accepts the test results.
IELTS
TOEFL
PTE
Duolingo
German Language Proficiency Test
French Language Proficiency test 
Cost of MBA in Abroad
The fees of studying MBA in foreign countries can vary significantly depending on the country and the business school you choose. Here are some estimates of the cost of studying MBA abroad for Indian students in some popular countries:
| | | |
| --- | --- | --- |
| Country | Public University | Private University |
| United States | $40,000 per year | $100,000 per year |
| United Kingdom | £18,000 ($24,000) per year | £40,000 ($52,000) per year |
| Canada | C$20,000 ($15,000) per year | C$60,000 ($45,000) per year |
| Australia | AUD 40,000 ($30,000) per year | AUD 80,000 ($60,000) per year |
| Europe | €10,000 ($12,000) per year | €50,000 ($60,000) per year |
Note: It is important to keep in mind that these are just estimates, and the actual cost of studying for an MBA abroad will depend on a variety of factors including the country, business school, and program you to choose.
List of scholarships for MBA abroad for Indian students 
Studying courses like an MBA in foreign countries like the USA, UK, Canada, Australia, etc. can seem challenging in terms of getting funds for any foreign student. But no one needs to worry as there are many MBA scholarships available to study MBA abroad.
Some of the popular MBA Abroad scholarships for Indian students are mentioned below along with the reward amount: 
| | |
| --- | --- |
| Scholarship Name | Reward (INR) |
| Australia Awards Scholarship | Variable |
| BrokerFish International student scholarship | 75,690 |
| Debesh Kamal Scholarship | 1,05,329 |
| Forte Fellowship | 18,63,000 |
| Go Clean Scholarship | 2, 64,000 |
| GREAT Scholarship | 9,46,000 |
| Heinrich Boll Scholarships | Variable |
| Hubert H. Humphrey Fellowship Program | Variable |
| MBA Entrepreneurial Scholarship | Variable |
| Ontario Graduate Scholarship | 8, 23,000 |
Best MBA Colleges abroad for Indian students
There are many MBA colleges abroad that are popular among Indian students. These colleges offer high-quality business education programs that can help students develop the skills and knowledge they need to succeed in the global business world.
Getting an MBA abroad from an international country is a dream for many, but the dilemma arises when choosing the best country and university to study the program.
So, here are some of the best MBA colleges abroad for Indian students along with their locations:
| | |
| --- | --- |
| University Name | Location |
| Haas School of Business | United States |
| Harvard Business School | United States |
| HEC Paris | France |
| INSEAD | Singapore |
| Kellogg School of Management | United States |
| London Business School | United Kingdom |
| MIT Sloan | United States |
| Stanford Graduate School of Business | United States |
| The University of Chicago Booth School of Business | United Kingdom |
| The Wharton School | United States |
Conclusion 
After completing their MBA abroad, Indian students get placed in top-notch companies like Apple, Google, Facebook, JPMorgan, Deutsche Bank, etc. The average starting salary of an MBA graduate is Rs. 50 lakhs per annum and their future career path are skyrocketing with huge growth opportunities. You can get positions like Product Manager, Brand Manager, Marketing Research Analyst, Financial Analyst, Data Manager, Business Analyst, CFO, and the list goes on.
It should be noted that most B-schools abroad are also expanding online and part-time programs for working professionals. While these programs are uniformly excellent, the scope for networking, campus activities, and internships is limited.
To have detailed information on MBA abroad for Indian Students, connect with experts! iDreamCareer has 20+ years of experienced career counselors who will work with you one-on-one to help you create a plan to achieve your goals. With iDreamCareer, you can take advantage of a range of resources and tools to help you discover your strengths, interests, and career goals. 
We have helped several brilliant but confused minds with the aim to select their most-suited career choices. Hear the success story of Aayush who got an offer from the top 3 universities and is now studying at the University in Ottawa in Canada after getting career guidance from our industry experts!
Suggested Post: Which Country Is Best For MBA?
MBA Abroad for Indian Students: FAQs
What is the cost of an MBA abroad?
The cost of an MBA abroad can vary significantly depending on the country and business school you choose. But it could range somewhere around Rs. 40 lakhs to 90 lakhs. Also, it is advised to check with the university before applying for an MBA abroad program. 
How can I get an MBA seat abroad?
To secure a seat in an MBA program abroad, you will typically need to meet certain eligibility requirements, such as having a bachelor's degree and a strong academic record, and you may also need to take exams such as the GMAT or GRE. It is also important to research and compares the programs and curricula of different business schools to find the one that best meets your needs and goals.
How long does it take to complete an MBA abroad?
The duration of an MBA program abroad can vary, but most programs take between one and two years to complete on a full-time basis. Part-time and online MBA programs may take longer to complete.
What are the career prospects after completing an MBA abroad?
An MBA degree from a reputable business school abroad can open up a wide range of career opportunities in various industries and sectors. Graduates of MBA programs are often sought after by employers for their leadership and management skills and can go on to hold positions such as CEO, CFO, and other senior management roles.

Anushree has 5 years of experience in the career counseling industry as a Senior Content Writer. She has also worked as a Social Media Marketing Expert for a startup and Content Quality Analyst for the Publishing and E-learning Industry. She has done her Master's in Commerce and PGDM in Finance & Trade and Marketing & HR, but she is currently following her passion for writing.