It is easy to overlook Dubai's growing academic reputation amidst its splendor. The main part of the city's population, which is about 85% ex-pats, speaks English, which makes it even easier for you to navigate your daily life. If you decide to study in Dubai, you will also be encouraged by this fact.
Do you know?

Dubai is a developing country, so it may be more difficult for students to quickly access important information than in other countries such as the UK and Canada.
But don't worry! We are here to help you!
Dubai is known as an educational hub as it offers all the facilities for local and international students to study. The universities and colleges here have a real commitment to education. The campus atmosphere motivates students to learn and explore, as students from all over the world come here for higher education to interact with a multinational student community. Many campuses in Dubai offer education to international students, providing them with courses such as Science, Engineering and Technology, Architecture, Aviation, Management, Business, Economics, Media and Media, Computers and IT, Law, Natural Sciences, etc.
Let's get started…
What all is covered in this post?
To make it easier for you, we have created a quick guide to everything you need to know about studying in Dubai.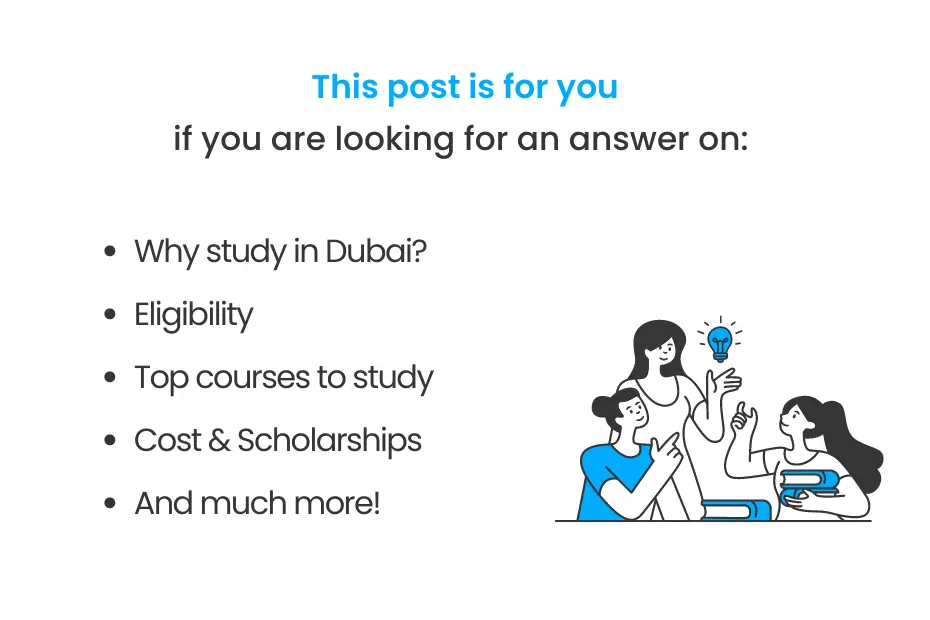 Why study in Dubai?
Apart from the glamour, Dubai is known for its academic excellence. Recently, universities have been attracting students from all over the world. In the coming years, many new projects are launched in the field of fashion design. This will lead to a dramatic increase in employment opportunities in these areas. So, students who are interested in design are encouraged to come here and learn more. Here, students have many program options. There is a lot of scope in building construction and interior design as well. Universities are very good at preparing students for the professional world they will enter after graduation.
Below are the reasons why students should study in Dubai:
Dubai universities have modern infrastructure.
Tuition fees and cost of living are less than in other countries like the UK, USA, European countries, etc.
It is considered one of the fastest-growing economies. This, therefore, leads to more future opportunities. Students can dream of getting a job after graduation.
As students from all over the world come here for higher education, they experience a multicultural environment that is very valuable across the industry sector.
Due to the extensive development of trade, commerce, and infrastructure, there are opportunities to find full-time employment.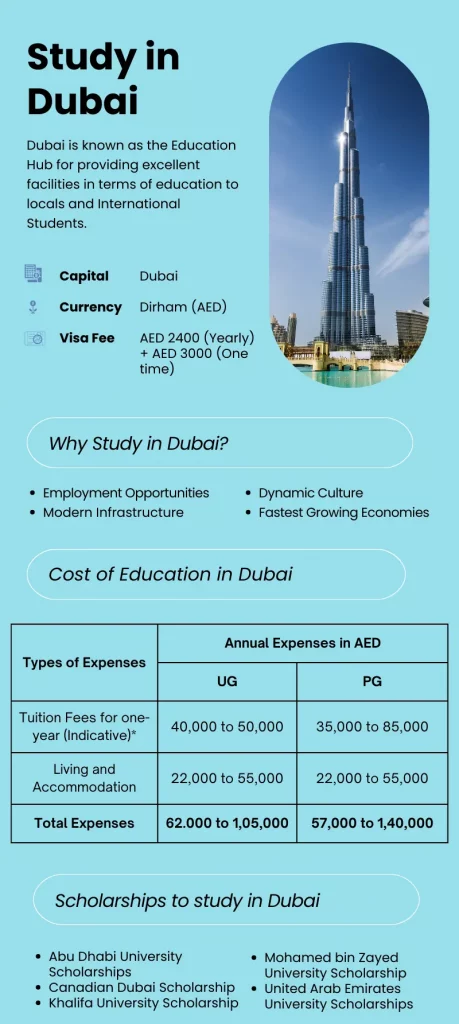 Eligibility to study in Dubai after 12th
Studying in Dubai offers a dual benefit: access to global campuses of world-renowned universities and employment opportunities in a growing economy. Institutions in Dubai partner with international universities, offer a wide range of programs to suit your academic pursuits, and have world-class teaching facilities.
Here are the eligibility criteria to study in Dubai:
For undergraduate students
IELTS/TOEFL scorecards.
Minimum of 12 years of education with a score of 60% or higher.
Some universities even have a minimum score criterion of 65%.
Students with a score above 75% may be exempted from submitting IELTS scores.
Some competitive universities require EmSAT for UG admission.
For graduate students
If you want to study at the Dubai branch of a foreign university, you will need to meet that university's eligibility criteria, similar to those in its own country.
A minimum score of 60% or higher in the Bachelor's degree.
TOEFL or IELTS scores.
MBA applicants must have 2-4 years of relevant work experience depending on the program and university applied for.
Also, Read: Doctor Salary in Dubai
Documents required for studying in Dubai
There are many universities and colleges where international students can choose to study, but they must meet the entry requirements. Students require a study visa to study in Dubai unless they are citizens of the United Arab Emirates or belong to any of the 5 Gulf countries, such as Bahrain, Kuwait, Oman, Qatar, and Saudi Arabia. Before a student visa is issued, students must complete all university formalities. Below are the documents required to apply for a student visa to Dubai:
A copy of the tuition payment receipt for the current year of study
A copy of the visa fee payment receipt for the current year of study
A valid passport
Acceptance letter received from UAE university
Four copies of the passport
Graduate students must provide proof of a bachelor's degree
If any of these test results are positive, the student will be deported, except for syphilis because it can be treated
Lease agreement. If the student does not have them, he must obtain a letter from the university if he will be living in university housing.
Once the student reaches Dubai, he must undergo a medical examination at an authorized medical center. Testing typically includes a physical and chest X-ray for HIV, hepatitis C, hepatitis B, leprosy, syphilis, and tuberculosis.
Student bank statement to verify funds
Twelve recent passport-size photographs with a white background.
Top courses to study in Dubai
Which course to take is a question students often have. We have compiled a list of the best courses in Dubai for international students who want to study there to help students with this. Students should take the time to review the prerequisites and eligibility requirements for each course before submitting their applications.
Following is the list of popular courses one can pursue in Dubai:
Accounts & Finance
Advertising, Public Relations & Media
Architecture
Aviation
Business Information Systems
Design
Engineering
Global social science
Information Technology
Psychology
Tourism & Hospitality
Cost of studying in Dubai
Due to the high cost of higher education in countries such as the United States and Australia, Indian students are benefiting from Dubai's growing popularity as a study-abroad destination.
In this section, we will discuss the cost of studying and living in Dubai for Indian students.
Tuition fees in Dubai
Dubai is undoubtedly the fastest growing study abroad destination for international students to further their education and pursue career options. It is one of the seven developed emirates with excellent infrastructure and modern technology.
Estimated tuition fees in Dubai:
An undergraduate program can cost around AED 40,000 to 50,000 per year.
Postgraduate programs in Dubai can cost anywhere from AED 35,000 to AED 85,000 per year plus living expenses.
In addition to reducing the cost of education, the Government of Dubai as well as Dubai Universities provide scholarships for international students.
Note: Tuition Fees are for general information only and may vary by course and university.
Living cost in Dubai
When it comes to living costs, choosing to live on campus is a great idea to save money, but if you plan to buy a shared apartment or live on your own, you can expect to pay AED 22,000-55,000 (4,53,000-11,33 000 INR). In addition, foreign nationals are issued an international student ID card to receive discounts on various essential and recreational services.
The total cost of obtaining a student visa in Dubai can be as high as US$1,020, excluding a refundable deposit of approximately US$270.
Scholarships to study in Dubai for Indian students
Usually offered to Dubai national students. There are also several universities here, such as the University of Wollongong-Dubai and Murdoch University, which offer scholarships to international students. Students may undertake an unpaid internship but must obtain permission from the university before commencing.
Here is the list of scholarships one can consider for studying in Dubai:
Abu Dhabi University Scholarships
Canadian Dubai Scholarship
Khalifa University Scholarship
Mohamed bin Zayed University Scholarship
United Arab Emirates University Scholarships
Conclusion
Studying abroad takes a lot of preparation, and once a place is chosen, a student will want to know all they can about it. Top schools, popular majors, and application procedures can all be included in such a document. As Dubai is a developing country, students may have difficulty getting instant access to relevant information than in developed countries such as the UK or Canada. Here we have compiled all the information students need to know to plan a successful education in Dubai.
If you are still in doubt! Do Dial us! iDreamCareer is on a mission to reach every state and every child to ensure that talent is appropriately delivered to the industry.
Talk to our study abroad experts to know yourself in and out! We have helped several brilliant but confused minds to select their most-suited career choices. We have helped many students like Anjana Prasanna who was not very confident about her capabilities. Later with the help of career guidance and moral support from our study abroad experts she got an offer from King's College London! We have also helped several brilliant but confused minds like Aayush, and Tapan to select their most-suited career choices.
Also, Read
FAQs
Which exam is required to study in Dubai?
International students studying in Dubai are not usually required to take English language tests such as IELTS, PTE, or TOEFL. This is one of the advantages of studying in Dubai. Students do not need to prove their knowledge of the English language, unlike colleges in the UK, USA, Australia, or any other country, which makes the admission process more accessible.
How much does it cost to study in Dubai?
In Dubai, undergraduate tuition costs between Dh37,500 and Dh70,000 per year, while postgraduate tuition costs between Dh55,000 and Dh75,000 per year. Generally, an additional AED 1,200 (US$330) per month should be considered for living expenses.
Should you study in Dubai?
Free tuition, affordable accommodation, and a frugal lifestyle are just some of the benefits available to international students in Dubai. Dubai is also known for its wide range of life experiences and excellent standard of living. Studying in this city exposes you to many other cultures that you may not be familiar with.
What is the highest-paying job in Dubai?
If you are looking for a high-paying job in the UAE, Chief Executive Officer or CEO is undoubtedly one of them. No corporation can function without a CEO because he or she makes the decisions.
Can I study in Dubai for free?
In the United Arab Emirates, public colleges are allowed to set their own tuition rates. International students must allocate between €5,000 and €27,650 for tuition and fees each academic year. There are some less expensive and sometimes even free training programs, but they are few and far between.

Anushree has 4+ years of experience in the career counseling industry as a Senior Content Writer. She has also worked as a Social Media Marketing Expert for a startup and Content Quality Analyst for Publishing and E-learning Industry. She has done her Master's in Commerce and PGDM in Finance & Trade and Marketing & HR, but she is currently following her passion for writing.