Marhaba, Kaeefhalak (Hello, how are you?)! Are you planning to expand your career in Dubai? Want to build your management skills by pursuing MBA in Dubai? Have you ever wondered why MBA degree holders earn high salaries? And also, jobs in Dubai that pay a high salary for MBA holders. No worries, by the end of this post you will have all your answers!
Dubai has emerged on the world stage as a city with a huge influx of business, wealth, and influence, and an MBA in Dubai can position a graduate for success, no matter what MBA specialization they prefer. Known for its sand dunes, skyscrapers, world-class shopping malls, and oil reserves, Dubai is slowly but steadily becoming a study-abroad destination for international students.
Want to know more? Come along…
What all is covered in this post?
To make it easier for you, we have created a quick guide to everything you need to know about studying MBA in Dubai.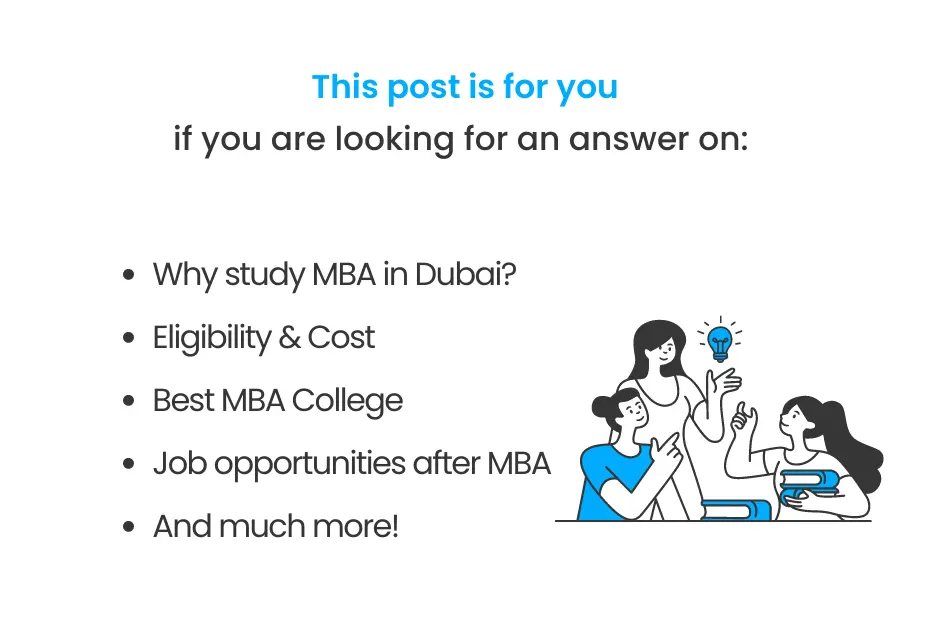 Why study MBA in Dubai?
Among the best courses to study, MBA is the most preferred by foreign students, especially since the city boasts some of the best international business schools that offer a wide range of management specializations such as marketing, engineering management, PR, and communications, among others.
Here are some of the reasons why studying MBA in Dubai is one of the best choices:
One of the main advantages of studying in an MBA program in Dubai is the large number of international campuses located in the city. The city is home to some of the best international university campuses such as London Business School, Manchester Business School, and Manipal University to name a few.
Dubai is one of the fastest-growing economies in the world, thanks to the UAE government's investment in various sectors such as education, healthcare, trade, and commerce. Thus, the city with oil reserves today enjoys a new status as a world business center.
One of the main advantages of studying for an MBA in Dubai is that you are going to meet many people from different nationalities. You'll be happy to know that the majority of Dubai's population are ex-pats, so as an international student you can expect to be exposed to different cultures and learn something new every day.
Another advantage of studying for an MBA in Dubai is that Dubai universities are mostly located in the Dubai Knowledge Village, which means you can easily mingle with other students from other colleges. This will help you strengthen your network and make it easier for you to live away from your home country.
Top MBA specializations in Dubai
Students looking to study an MBA in a foreign country may not think of the UAE, however, it is a place you cannot ignore. The UAE follows an education system that is heavily influenced by Western methods of higher education, meaning that at the end of the semester candidates will graduate with an internationally recognized degree. Programs taught in the country and businesses conducted are in English to cater to Dubai's incredibly diverse population.
Here is the list of best MBA programs offered in Dubai:
Business Analytics
General Management
Healthcare Management
Human Resources
International Business
Project Management
Supply Chain
Eligibility of MBA in Dubai Universities
Applicants who want to study in Dubai must meet these basic requirements. Candidates are advised to go through the MBA admission procedure of specific universities in detail before applying.
Applicants who want to study MBA in Dubai must have an accredited bachelor's degree or equivalent with a minimum GPA of 2.5 (out of 4.0)
To get an MBA in Dubai, candidates must have a sufficient level of English and students must pass English language tests such as IELTS or TOEFL.
Most universities require GMAT/GRE scores for admission
Applicants must also have at least 2-3 years of work experience (depending on the university's admission criteria) to apply for MBA programs at all Dubai universities.
Pursuing programs such as the Full-Time MBA, Executive MBA or Global MBA will require work experience as part of the admissions process.
Best MBA colleges in Dubai
An MBA in Dubai is a 1–2-year (full-time) course offered both at home universities and at the country's many international campuses. Ahead of global rankings, Dubai universities are now attracting large numbers of international students and becoming an expanding educational and research hub.
MBA in Dubai with international campuses of universities like LBS, University of Wollongong, University of Middlesex, etc., the course offered is cheaper than studying at the home campuses of these universities.
Here is the list of best MBA universities in Dubai along with the fees structure:
| | |
| --- | --- |
| Name of the University | Tuition Fees (AED) |
| London Business School, Dubai | 388,872 |
| Manchester Business School, Dubai | 148,400 |
| Cass Business School, Dubai | 205,404 |
| American University in Dubai | 154,224 |
| University of Wollongong | 115,167 |
| Hult International Business School | 289,000 |
| BITS Pilani, Dubai | 30,965 |
Cost of MBA in Dubai
Dubai, one of the most luxurious destinations of the 21st century, is famous for its skyscrapers, world-class shopping centers, and oil reserves. Recently, the glittering city has also become the business center of the Middle East. A booming economy, luxurious lifestyle, and top international campuses are what attract international students to Dubai.
Tuition fees for MBA in Dubai
Generally, top MBA colleges in Dubai have high tuition fees. The annual tuition fee at one of Dubai's top MBA colleges like Manipal University is AED 78,000, which is almost half of what you would pay in the US.
However, tuition fees for an MBA program in Dubai may vary depending on the university and its program. Some universities in Dubai do not offer full-time MBA programs but do offer Executive MBA or Part-time MBA programs. Surprisingly, the tuition fee for the EMBA program at the UK campus of the London Business School is AED 3,54,555, which is comparatively lower than the fee charged at the Dubai campus of AED 4,02,188. On the other hand, the tuition fee for the EMBA program at the Manchester Business School UK campus is AED 1,59,489, which is similar to the Dubai campus.
Living cost in Dubai
If you are planning to do your MBA in Dubai, you can also choose whether you want to stay in university-provided accommodation or on your own. The average rent for a one-bedroom apartment in the city is around AED 7,690 per month, while the rent for a 3 BHK apartment is around AED 15,114. However, if you share in a 3BHK flat, your rent may come down a few notches.
If you want to stay at the university itself, your cost can be between AED 9,000 and AED 14,000 depending on your accommodation and the university. For example, at the American University in Dubai, you have to shell out AED 8,500 for a shared room and AED 12,500 for a single during the fall and spring semesters. Summer sessions can cost you less, with fees dropping to AED 5,700 for shared rooms and AED 8,500 for single rooms.
MBA jobs in Dubai
Over the past two decades, Dubai has emerged as one of the leading cosmopolitan regions due to its rapid development, especially in the areas of infrastructure, trade, and commerce. Development has accelerated opportunities for full employment. Tax-free income is another important feature that has encouraged ex-pats from various countries to seek employment in Dubai, a booming economy.
International students with a full-time post-graduation job offer must change their university-sponsored visa to an employer-sponsored visa in order to work full-time in Dubai. Employer-sponsored visas are not issued for part-time workers in Dubai.
Some of the job opportunities an MBA student might explore after completion of the course in Dubai are
Marketing Executive
Digital Marketing Executive
Advertising Sales Executive
Digital Analyst – Performance Advertising
Marketing and Business Development Manager
Digital Marketing Assistant
Strategy Planner – Advertising
Brand Manager
Purchasing Manager
Quality manager
MBA salary in Dubai
An MBA in Dubai will open the door for you to a lucrative career in the Middle East and beyond. The UAE is also actively diversifying its economy beyond the oil sector, increasingly focusing on e-commerce, international finance, and real estate.
In Dubai, you will be able to get finance, technology, and consulting positions with leading MBA recruitment agencies such as HSBC, Amazon, or McKinsey, which have offices in Dubai. You can also find a job with a local company, such as real estate development firm DAMAC Properties, Uber subsidiary Careem or luxury hotel chain Jumeirah Group.
Through company visits, career seminars, and networking events, MBA students in Dubai can make strong professional connections and find opportunities in the Middle East's fast-growing markets, with impressive salaries to boot.
According to Glassdoor, a senior product manager at Amazon in Dubai can expect to earn around $124,000, while a business analyst at HSBC can earn around $118,000.
Graduates of the London Business School Executive MBA in Dubai can expect to earn 61% salary three years after graduation, indicating a strong return on investment.
MBA colleges in Dubai can help you unlock your potential and take your career to the next level, thanks to relatively affordable prices, extensive industry connections, and attractive prospects after graduation.
Also, Read: Doctor Salary in Dubai
Conclusion
Hey there! Finally, you've reached this end.
Now, to put all those existing doubts at the back of your mind to rest, why not ask expert professionals? Call us to gear up now! Take action!
iDreamCareer is on a mission to reach every state and every child to ensure that talent is appropriately delivered to the industry.
Talk to our study abroad experts to know yourself in and out! We have helped several brilliant but confused minds to select their most-suited career choices. We have helped many students like Anjana Prasanna who was not very confident about her capabilities. Later with the help of career guidance and moral support from our study abroad experts she got an offer from King's College London! We have also helped several brilliant but confused minds like Aayush, and Tapan to select their most-suited career choices.
Also, read;
FAQs
Is an MBA in Dubai worth it?
Doing an MBA in Dubai can be an extremely rewarding experience. Many people from all over the world move to Dubai to work and build a life for themselves. However, there are now a number of internationally accredited business schools in Dubai that offer MBA degrees.
How long is an MBA in Dubai?
MBA programs in Dubai typically last between 1 and 2 years, with several 1-year options. In addition, Dubai provides excellent career opportunities in terms of intercontinental experience.
When does recruitment start for MBA programs in Dubai?
Admissions for MBA programs take place in January, July, and September, of which September sees the largest intake of students for business schools in Dubai.

Anushree has 5 years of experience in the career counseling industry as a Senior Content Writer. She has also worked as a Social Media Marketing Expert for a startup and Content Quality Analyst for the Publishing and E-learning Industry. She has done her Master's in Commerce and PGDM in Finance & Trade and Marketing & HR, but she is currently following her passion for writing.