Unlike the single intake in the Indian education system, colleges and universities abroad have different intakes throughout the academic year. Therefore, if you apply for admission to universities in countries such as Australia, Canada, Ireland, New Zealand, the United Kingdom, and the United States, you can choose from several intakes each year. Students who wish to study abroad have the advantage of studying abroad several times.
Even if a student misses one study abroad, he/she can apply for another. For example, if you missed the spring intake this year, you can always try the next intake in January instead of waiting a full year. This gives a lot of freedom and opportunity to students who want to study abroad, as they don't have to wait an entire academic year in case they miss out on a certain intake.
Come along to find everything…
What all is covered in this post?
To make it easier, we have created a quick guide to everything you need to know about study abroad intakes in 2024: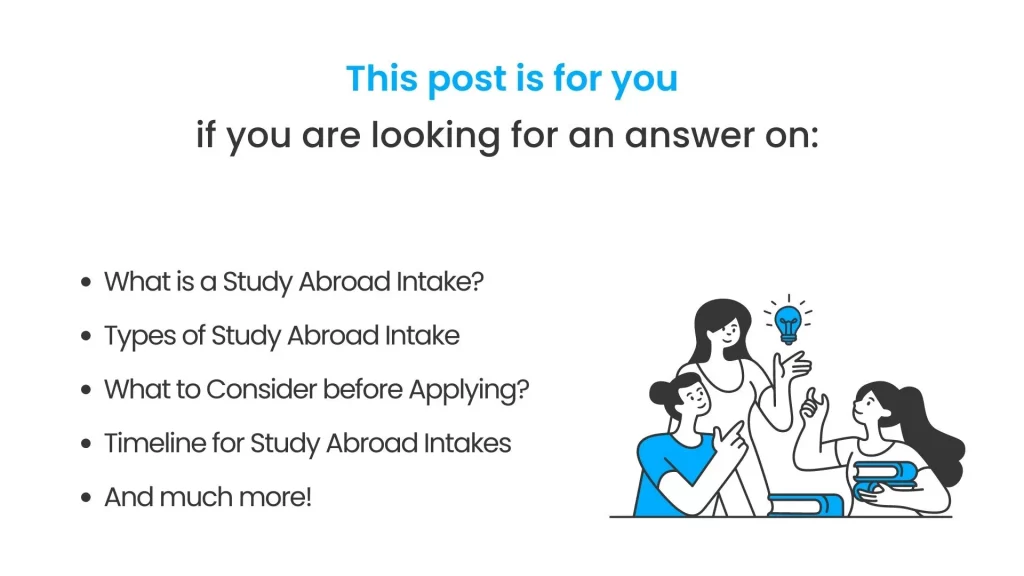 What is a study abroad intake 2024?
Studying abroad can be a life-changing experience for students, offering a unique opportunity to immerse oneself in a new culture, learn a new language, and gain a new perspective on the world. However, for students who are considering studying abroad, one of the most important factors to consider is the study abroad intake schedule.
A study abroad intake 2024 refers to the dates when a university or program begins accepting applications for international students. These dates can vary depending on the institution and the program, and students need to research and plan accordingly.
Know About Best Courses to Study Abroad
Types of Study Abroad Intakes 2024
Here are 3 major types of study abroad intakes in 2024:
| | |
| --- | --- |
| Intakes | Commencement Period |
| Fall Intake | Starts – Late August 2024 Ends – Late December 2024 |
| Spring Intake | Starts – January 2024 Ends – Early 2024 |
| Summer Intake | May 2024 |
Fall Intake- 2024
Fall intake admission begins in late August – early September and ends in the second half of December. Admission is available at almost all universities, including such prestigious ones as MIT, Harvard, Stanford, and others.
It attracts the largest number of applications because the academic years of many high school and undergraduate students end in April, making fall enrollment a popular choice for many students.
More competition and fewer prospects of admission, since there are more applicants for autumn admission. Comparatively speaking, the adoption rate is lower than the spring intake.
Most institutional awards are given on a first-come, first-served basis. For students applying for fall enrollment, the university has additional scholarship funding available.
Summer intake– 2024
Summer intake admission is a unique situation that is granted by several universities to a select group of students for certain courses, primarily for diplomas or other summer courses.
There are more opportunities to get an offer because institutions that accept applications for summer enrollment receive fewer applicants.
Spring intake– 2024
Spring admission begins in January and ends in early May. You may need to check with top institutions because some may not offer spring admission.
Since fewer students choose spring admission, there is less competition. Because fewer students apply in the spring, the acceptance rate is usually higher than when recruiting in the fall.
Most students enrolled in spring classes plan to work or intern after graduation and need the extra time to gain user experience and find a comfortable routine.
What to consider before applying?
When considering applying for a study abroad program, it is important to research the intake schedule and plan accordingly. Also, consider the following points before applying for the 2024 academic year:
Program availability: Not all programs are available during all intake periods. Be sure to research the availability of the program you are interested in.
Deadlines: Be sure to check the application deadlines for your desired program. These can vary depending on the institution and the program.
Financial aid and scholarships: Consider the availability of financial aid and scholarships for the intake period you are interested in.
Personal schedule and preferences: Consider your schedule and preferences when choosing an intake period. For example, if you prefer a more traditional academic calendar or if you want to experience different seasons, the fall or spring intake may be a better fit for you.
Your goals: Consider what you want to achieve from your study abroad experience, if you are looking to improve your language skills, you might want to consider a program in a country where that language is spoken. If you want to gain international experience in a specific field, you might want to look for programs that offer internships or other opportunities to gain practical experience.
Cost: cost of living and tuition fees vary depending on the country and the university, consider how you will be able to afford it, and if there is any financial aid or scholarships available.
Note:
It's also important to start the application process early to ensure that everything is for a smooth transition. This will give you enough time to gather all the required documents, take language tests if required, and make any necessary arrangements for accommodation, transportation, and insurance.
Timeline for study abroad intakes 2024
Below is the expected timeline for study abroad intakes in 2024
Pre-application
Do your research: Start researching different study abroad programs and universities to find the one that best fits your academic and personal goals. Determine the course that best suits based on your strengths and interests. See program length, course offerings, location, tuition, financial aid, and scholarship options, as well as application procedures and deadlines. Keep all research material ready. Start as early as possible, preferably 10-12 months before your intended start date. For instance, if you planning for the September 2024 intake, you need to start your research now.
If you need any assistance, please contact "Study Abroad Consultants in Kerala"
Take standardized tests: Almost all universities and colleges require scores from an approved English language proficiency test, such as IELTS. Some programs may also request a GRE, GMAT, or SAT score. Check the scores accepted by the institutions you intend to apply to. Start early by preparing the necessary tests, ideally 9-10 months before the planned start date. Keep some time aside in case you have to retake the exam.
Application Preparation
Shortlist universities: Once you have the points, shortlist universities based on your preferences, budget, and location. Prepare your application by gathering all the documents so that you have everything in place by the deadline. Start 7-8 months before your intended start date.
Admission decision
Receive acceptance letters from institutions that qualify you. Evaluate your options well before responding to acceptance emails. It is a good idea to discuss your options with an international education expert who can help you weigh your options better. Respond to your final acceptance on time, as your interview depends on it. Once you receive your final acceptance from the university, make a well-informed decision after discussing it with your advisor and deposit the minimum amount to confirm your admission. Apply for scholarships (if you're eligible) and other funding options to ease your finances. Start 3-4 months before your planned start date.
Visa preparation
Collect all the documents and start with the documents. Your consultant will help you with the necessary documentation. Most countries allow you to apply for a visa up to three months before your arrival date. Apply for your visa in time to avoid last-minute delays. Start 2-3 months before your planned start date. For instance, if you are planning for September 2024 month then you need to apply for visa application in May or June 2024.
Before departure
Provide health insurance and housing. Book your plane tickets in advance to avoid last-minute hassles. Also, if you're late, tickets will be more expensive. Get yourself an international debit/credit card to help you survive the early days. Gather all the documents and copies you will need upon arrival. Also, start packing to get ready in time. Start 1-2 months before your planned start date.
Study abroad intakes 2024 of popular countries
Study abroad intakes for popular countries can vary depending on the specific institution or program. Below is a general overview of the timelines for study abroad intakes for some popular study abroad destinations:
The United States of America
Intakes in the USA in most universities have two main intake periods: fall (August/September) and spring (January/February).
Deadlines for fall intake are usually in January/February and for spring intake in August/September.
Also, read: Fall Intake in the USA
United Kingdom

Also, Read: Doctor Salary in the UK
Know About MCAT Exam
Australia
The main intake in Australia is in February.
Deadlines for application are usually in October for the February intake.
Canada
New Zealand
It's important to note that many universities and programs have different deadlines and intakes, so it's always best to check directly with the institution or program you're interested in. Additionally, some countries have multiple intake periods throughout the year, so you may have more options.
Conclusion
By making the right decision to study abroad you can uplift your career, but the process of applying and getting accepted can be complex and time-consuming. By following the above-mentioned timeline and key details, you can make sure that you have all the necessary information and documents in place, and that you meet all the deadlines. The key to a successful study abroad experience is to start early and plan ahead. It's always best to seek guidance from experts in the field to help you navigate the process.
If you are looking for a career counseling platform that can help you with your study abroad aspirations, iDreamCareer is the perfect solution. With a team of experienced counselors, we provide personalized guidance to students at every step of the way. From finding the right program and university to preparing your application and building your profile (which is free of cost), iDreamCareer's experts will help you achieve your study abroad goals. If you are looking to study abroad, visit iDreamCareer.com today and take the first step toward your dream career.
We have helped several brilliant but confused minds intending to select their most-suited career choices. Hear the success story of Aayush who got an offer from the top 3 universities and is now studying at the University in Ottawa Canada after getting career guidance from our industry experts!
Study Abroad Intakes 2024: FAQs
What is a study abroad intake in 2024 and why is it important for students planning to study abroad?
A study abroad intake 2024 refers to the specific dates when universities and programs begin accepting applications from international students. It's crucial for students because it determines when they can start their educational journey abroad and experience a life-changing opportunity.
What are the different types of study abroad intakes in 2024, and how do they differ?
There are three major types of study abroad intakes in 2024: Fall, Summer, and Spring intakes. They differ in terms of their start dates, competition levels, and opportunities for financial aid and scholarships. Students can choose the intake that best aligns with their goals and preferences.
How does the competition vary between the Fall and Spring intakes for study abroad programs?
The Fall intake typically experiences higher competition due to the larger number of applicants, as many high school and undergraduate students complete their academic years in April. In contrast, the Spring intake usually has less competition, offering a higher acceptance rate.
What factors should students consider before applying for a study abroad program in 2024?
Before applying, students should consider factors such as program availability, application deadlines, financial aid, personal preferences, goals, and the cost of living. These considerations will help them make informed decisions about their study abroad journey.
How far in advance should students start planning for their study abroad journey in 2024?
To ensure a smooth transition and make the most of available opportunities, students should ideally start their research and preparation 10-12 months before their intended start date. Starting early is crucial for standardized tests, shortlisting universities, and financial planning.

Anushree has 5 years of experience in the career counseling industry as a Senior Content Writer. She has also worked as a Social Media Marketing Expert for a startup and Content Quality Analyst for the Publishing and E-learning Industry. She has done her Master's in Commerce and PGDM in Finance & Trade and Marketing & HR, but she is currently following her passion for writing.