If you decide to go to a UK university, it is the best decision of your life. Studying higher education in the UK has many advantages, including shorter course lengths, quality education, and more. However, you must follow the admission cycle if you do not want to miss the application deadline.
Intakes refer to the specific dates of the beginning of studies at a particular educational institution. These dates can vary depending on the level of study and the type of program: some universities and colleges start in September, while others may start in January or even later in the year. Prospective students need to be aware of these acceptance dates when applying to the program as they will need to ensure that they can start their studies at the appropriate time. Also, many universities and colleges have different application deadlines for each intake, so it's important to check those as well.
Suppose you also want to know more and enroll in a UK university. Then you are at the right place as this post explains everything about UK admissions, the admission process, and more valuable information that awaits you.
All set? Let's get started…
What is covered in this post?
To make it easier for you, we have created a quick guide to everything you need to know about intakes in the UK.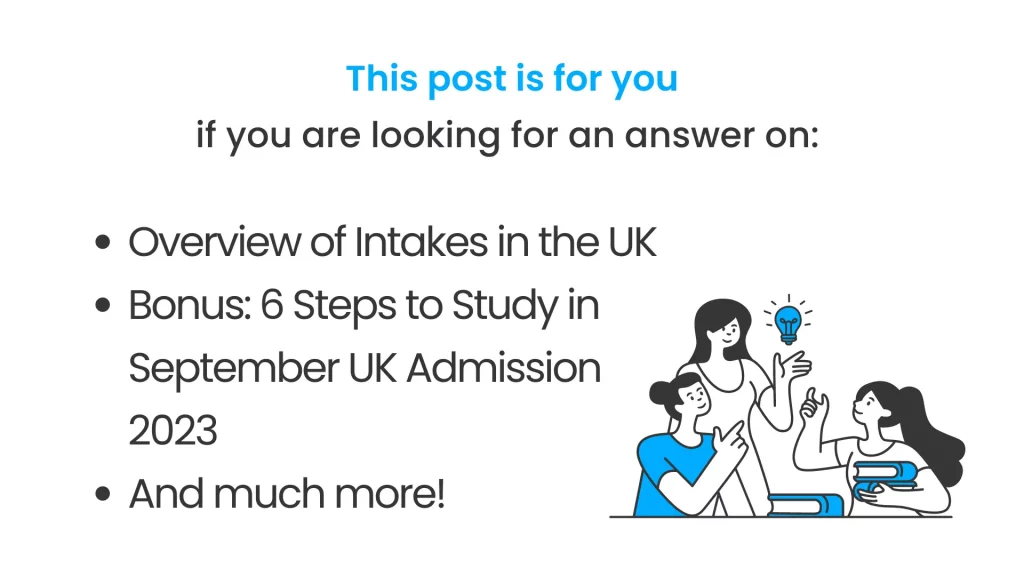 Overview of Intakes in the UK
Universities abroad have multiple intakes, unlike the Indian education system which has only one intake per year. Universities, especially the education system in the United Kingdom, have two or more intakes. Autumn intakes and spring intakes are the two most common intakes in the UK.
Autumn Intake
Autumn intake takes place in the UK between September and December. This is considered to be the highest intake of any UK university. It would also make the competition more difficult, as institutions receive many applications. The main reception in the UK is in September. In the United Kingdom, it is also known as autumn intakes.
Some of the institutes that offer admission in September
Aston University
Birmingham City University
Brunel University
Bucks New University
Coventry University
Kings College London
The Queen Mary University of London
The University of Cambridge
The University of Central Lancashire
The University of Derby
The University of Exeter
The University of Hertfordshire
The University of Liverpool
Spring intakes
Spring Admissions in the United Kingdom take place in January and February. This is a more secondary intake, not all courses are available. If you miss your primary appointment, you can consider this as an option. If you choose this option, keep the UK weather in mind and plan accordingly.
Not all courses will be available for spring and summer admissions. Therefore, before making a decision, always consult the institutions or contact our consultants. Also, remember that application deadlines for some intakes close a few months before the intake month.
Some of the universities offering intakes in January are:
Bangor University
Brunel University
Coventry University
Edinburgh Napier University
Kingston University
London Metropolitan University
London South Bank University
Middlesex University
Oxford Brookes University
The Queen Mary University of London
The University of Bath
The University of Bedfordshire
The University of Derby
Summer intakes
This is an optional set offered by some institutions. It happens in May. There is not enough information about admission to universities in May. However, you can also enroll in selected courses for the May intake.
Some of the universities offering intakes in May are:
BPP University
Coventry University
Keele University
Northumbria University
Richmond University of London
Salford University
Sheffield Hallam University
The Queen Mary University of London
The University of Chester
Ulster University
West of Scotland University
Bonus: 6 steps to study in September UK Admission 2023
If you are planning to go to study in the UK for undergraduate or postgraduate studies, the first thing you will need is an action plan. Here is the application schedule to give you an idea of ​​what to do and what month to do it!!!
Step 1 – Start Now…!!
Start at the beginning and by August make a list of 8-12 universities to which you will apply. Visit the university websites and note the application requirements, application deadlines, etc.
Before September, check out the options for bank loans and scholarships to support your studies.
Start by downloading admission brochures from university websites. Most brochures are published more than a year in advance.
Step 2 – Crack the Exams: January 2023 to February 2023
Prepare for required standardized tests such as GMAT, GRE, SAT, TOEFL, or IELTS based on course and university.
Register for the GMAT/GRE before June-July or three months before the exam date.
Register for TOEFL/IELTS at least one month before the test date.
Take the required tests around September and schedule a spare time in case you need to retake the test.
Step 3 – Application period: February 2023 to March 2023
Make a shortlist of universities and prepare to apply. Think carefully about what makes you unique as a job seeker and outline your strengths and self-worth.
Connect with professors and immediate supervisors to obtain the required 2-3 letters of recommendation. This should be done before the application deadline (at least 1 month).
Start writing your SOP and essay.
Apply before the deadline! The September 2021 intake in the UK will be around February to May.
Step 4 – What's Next: April 2023 to May 2023
Don't put off responding to college emails. Besides, there will be quite a few!
Appear for face-to-face/video interviews. They are scheduled for around January-March.
Once you receive your acceptance letters, make your decision as soon as possible.
Depending on the deadline, notify the university of your decision.
You will need to pay a non-refundable deposit to confirm your appointment.
Step 5 – Visa and Money Matters: June 2023 to July 2023
Find and start applying for external scholarships (if applicable).
Apply for a student loan after you receive your acceptance letter.
Collect the documents for a student visa to the UK. Check the visa prerequisites.
Apply for a UK student visa on time. Remember the visa processing time!
Step 6 – Prepare to fly: July 2023 to August 2023
Book airline tickets.
Arrange for an international debit/credit card.
Collect all documents and their photocopies to take with you.
Check the checklist before you leave!
Epilogue
The UK's education system offers flexibility in terms of intake dates, with the traditional September intake being the most popular among undergraduate students, while postgraduate students have more options. Alternative intakes such as January are becoming increasingly popular and provide an opportunity for students who missed the traditional intake or changed their minds. Prospective students need to be aware of these intake dates when applying for a program, as they will need to ensure that they can begin their studies at the appropriate time. Additionally, many universities and colleges have different application deadlines for each intake, so it is important to check these as well. Researching the intake dates and deadlines of the programs they are interested in and planning accordingly will help students to ensure they can begin their studies at the appropriate time.
Are you struggling to figure out your dream career? Look no further and connect with iDreamCareer, a premier career counseling platform. Our expert team of advisors will help you explore your options and find the path that is right for you. With personalized guidance and support, iDreamCareer makes it easy to turn your passions into a rewarding career.
We have helped many students like Anjana Prasanna who was not very confident about her capabilities. Later with the help of career guidance and moral support from our study abroad experts, she got an offer from King's College London! We have also helped several brilliant but confused minds like Aayush, and Tapan to select their most-suited career choices.
Also Read:
Intakes in UK: FAQs
How many admissions are there in the UK for international students?
There are two significant intakes – intakes in September/October (autumn) and intakes in January/February (winter). Apart from these two, some universities offer May recruitment with vacancies for a minimal number of courses.
When can I apply for UK Autumn 2024?
Applications for the fall 2024 intake will begin in September-December of this year. The application window usually opens in February or May.
Is IELTS required for the UK?
Most colleges and universities have IELTS scores as eligibility criteria for application. However, there are some universities where you can enter without these scores. Some universities are Swansea University, the University of Bristol, and the University of Birmingham.
Why is intake in September better than other receptions?
Autumn or September intake is the main one in the UK. Therefore, many universities open a huge number of applications for various courses. Moreover, once you complete the course, there will be fierce competition with increased internship and job offers.
Is June intake available in the UK?
No, it's not. UK universities and colleges do not have admissions in June as such. In the UK there is a summer intake which is also known as April/May.
Does the UK have winter consumption?
Yes! The UK certainly has winter consumption, which is the second highest consumption in the UK after autumn consumption. Winter intake is also known as January/February.

Anushree has 4+ years of experience in the career counseling industry as a Senior Content Writer. She has also worked as a Social Media Marketing Expert for a startup and Content Quality Analyst for Publishing and E-learning Industry. She has done her Master's in Commerce and PGDM in Finance & Trade and Marketing & HR, but she is currently following her passion for writing.