MBA students around the world take the GMAT entrance test to get into their dream universities. A good GMAT score can confirm your place in some of the most famous B-schools in the world. Scores on this standardized entrance test are widely recognized by top-ranked business schools around the world. A thorough and detailed understanding of the GMAT syllabus and exam pattern breakdown can increase your chances of scoring highly.
An MBA degree offers the most promising career after technology and medicine. Management studies have a wide scope both in India and abroad as all businesses require good managers to function effectively. Pursuing an MBA abroad opens several opportunities for international students. They also get the opportunity to find permanent residence in countries such as Australia, Canada, and the United States of America.
Do you know what will be included in the GMAT syllabus? What question you will be asked from which section? Don't worry! This post will give you a brief about the GMAT syllabus.
What all is covered in this post?
To make it easier for you, we have created a quick guide to everything you need to know about the GMAT syllabus.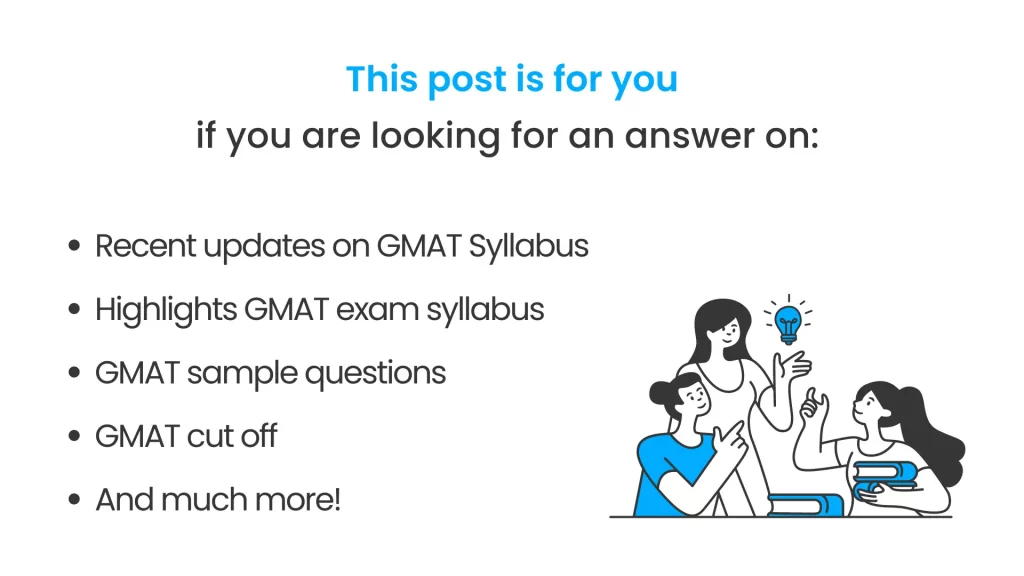 GMAT syllabus 2022 – Recent Updates
The GMAT 2022 Syllabus has some changes compared to the previous year's question patterns. We have highlighted the following points to help applicants understand the changes:
The GMAT math syllabus will include reflection questions;
Conversion questions will be added to the new GMAT syllabus;
Adding a question that is made up of terms like "both", "neither".
Availability of coordinate geometry in the GMAT Geometry section of the GMAT curriculum;
There have also been major changes to the GMAT Online Exam and curriculum, making it the "Enhanced GMAT Online Exam – Addition of the GMAT AWA Section."
Summary of the GMAT Question Paper
GMAT exam pattern comprises of:
Computer–adaptive exam, which means that upcoming questions get tougher if you keep getting answers right.
There is no negative marking in the GMAT exam pattern.
Your GMAT score shall be valid for a period of 5 years. 
Is approximate  3 hours and 30 minutes including 2 optional breaks of 8 minutes each.
You can select your preferred order before starting the exam. Recently, GMAC announced the Select Section Order provision which will enable you to select the order of the sections in which you want to write your exam.
| | | |
| --- | --- | --- |
| Sections | Number of Questions | Duration |
| Analytical Writing | Analysis of Argument | 30 minutes |
| Integrated Reasoning Section | 12 questions | 30 minutes |
| Quantitative Section | 37 questions (15 questions in Data Sufficiency and 22 in Problem Solving) | 75 minutes |
| Verbal Section | 41 MCQs (12 Critical Reasoning, 14 Reading Comprehension, 15 Sentence Correction) | 75 minutes |
NOTE: Sometimes an un-scored section is given as part of your test after AWA section. An identified research section that is not scored may be included, and it is always at the end of the test.
Highlights GMAT Exam Syllabus
The GMAT exam syllabus comprises 4 sections which can be referred to as the GMAT subjects, altogether. The entire GMAT syllabus for the MBA for each of the subjects will be discussed with you in this post. The 4 sections or subjects of the GMAT exam syllabus are:
Analytical Writing Assessment
Integrated Reasoning
Quantitative Reasoning
Verbal Reasoning
There is only one universal GMAT syllabus for MBA as well as other Master's courses including Master's in Finance, Accounting, Human Resource Management, Manufacturing Systems Technology, Sports Management or MS in Information Systems, etc. or even some Ph.D. programs such as those in Management-Marketing, Operations Management, Economics, Accounting, Finance, Agribusiness, Management Information Systems, etc. All GMAT subjects are detailed in the following sections.
GMAT Quant Syllabus
The quantitative section consists of two sections namely Data Sufficiency and Problem Solving. Data Sufficiency will have 18 questions and Problem Solving will have 18 questions. The questions will be of objective type and with multiple answers. In this section, you can expect questions on the following math syllabus:
Solving problems – 50% of the total number of questions in the GMAT Quantitative section is problem-solving. It measures candidates' ability to use logic and analytical reasoning to solve quantitative problems.
Data sufficiency – It measures candidates' ability to investigate a quantitative problem, determine what data is important, and determine at what point there is enough data to solve the problem.
GMAT Quant Questions
In this section, we will provide you with the sample question for each of the quant sections.
Problem Solving – while answering problem-solving questions, try and eliminate improbable answers first to increase your chances of finding the correct solution.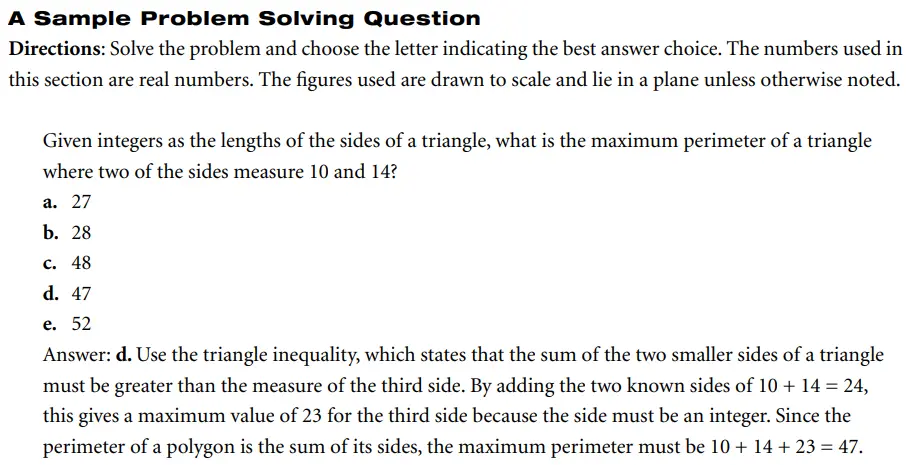 Data Sufficiency – you will have to be able to determine at what point there is enough data to solve a problem.
GMAT Verbal Syllabus
The GMAT Verbal section measures test takers' ability to interpret and read a given passage in order to answer the questions. This section is necessary to check the possible use of effective English.
The GMAT verbal questions consist of three types of questions:
Reading comprehension prompts to give you a short (200-300 words) or long (300-400 words) passage, and then answer three or four multiple-choice questions based on the inferences, respectively. You should be tested on the following reading skills: inference, application, main idea, idea support, logical structure, and style.
Critical thinking questions present arguments that you then analyze, which measure your ability to argue, evaluate arguments and formulate or evaluate a plan of action. There are eight different types of CR questions, all of which are multiple-choice.
Sentence correction problems present you with a sentence. Part of this sentence is underlined and you must decide if there is a grammatical problem. If so, you choose one of the four options for the underlined part.
Summary of GMAT Syllabus of Verbal Section
List of 26 Topics you must include in the GMAT syllabus for an MBA or other degrees are:
| | |
| --- | --- |
| Argument Construction | Redundancy |
| Argument Evaluation | The Subjunctive Mood |
| Formulating and Evaluating a plan of Action | Contextual Clues |
| Pronoun Agreement | Sentence Fragments |
| Pronoun Ambiguity | Parallel Construction Error |
| Idioms | Faulty Comparison |
| Misplaced Modifiers | Punctuation |
| Parallel Construction | Word Confusion |
| Verb Tenses | Adjective/Adverb Error |
| Subject and Verb Agreement/ Disagreement | Correct pronoun usage |
| Noun Agreement | Verb Tense Error |
| Comparison Words | Misplaced Modifier |
| Quantity Words | Incorrect Idiomatic Expression |
GMAT Reading Comprehension questions
Measures your ability to understand words and expressions, understand logical connections between important points, make inferences, and follow the development of quantitative concepts. Specifically, the following reading skills will be tested: main idea, supporting the idea, inference, application, logical structure, and style. Each reading comprehension passage is accompanied by questions that ask you to interpret the material, draw conclusions, or apply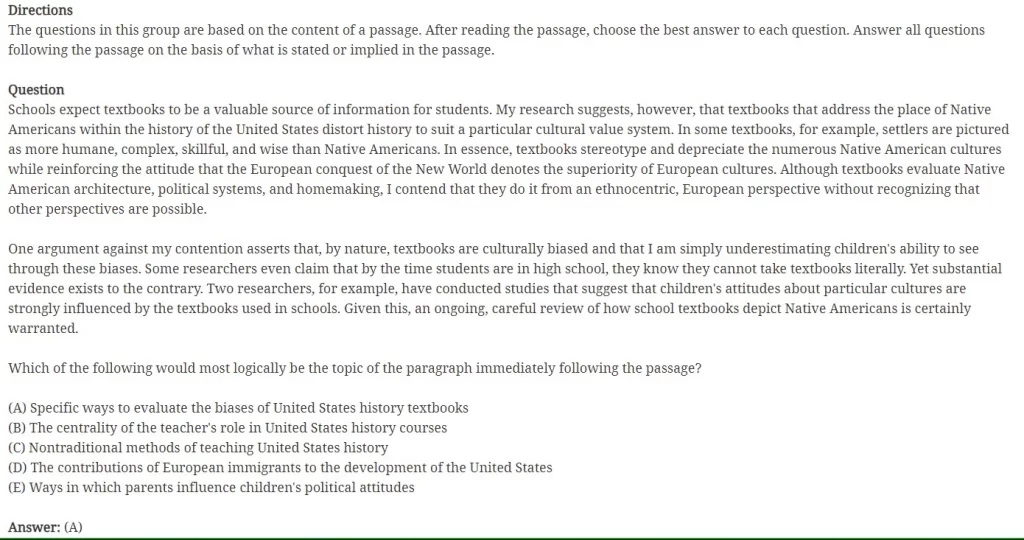 GMAT Sentence Correction questions
Measures two broad aspects of your language proficiency. First, correct pronunciation, means sentences that are grammatically and structurally correct. Second, effective expression, means sentences that express an idea or relationship clearly, concisely, and grammatically. Each Sentence Correction question is a sentence, part or all of which is underlined. Under the sentence, there are five ways of phrasing the underlined part. By paying attention to grammar, word choice, and sentence construction, you should choose the answer that creates the most effective sentence.

GMAT Critical Reasoning questions
Measures your ability to reason, evaluate arguments, and formulate or evaluate a plan of action. Critical thinking questions are based on a short reading passage, usually less than 100 words. Typically, a short text is followed by a question that asks which of the five answer choices strengthens or weakens the argument, shows why the argument is wrong, or strongly supports or hurts the argument.

GMAT Analytical Writing Syllabus
Here we will brief you about the GMAT syllabus for Part 1 Analytical Writing Assessment (AWA). We'll be discussing the kinds of topics you will be asked to write about and how you will be expected to write about those topics.
There may be two kinds of questions in AWA:
Analysis of an argument
Analysis of an issue
In the Argument Analysis (AWA) section, you will discuss how valid you think the argument is. To do this, you will analyze a line of reasoning and the use of evidence in an argument. Before you write, you'll want to take a few minutes to evaluate the argument and plan your response. Your ideas will need to be organized and fully developed. You want to leave time to re-read your answer and make changes, but remember you only have 30 minutes.
AWA essays are graded using a combination of trained and approved human graders and a machine algorithm. If there is a discrepancy between the algorithm score and the human score, the score will be reviewed by an additional rater and may be adjusted.
GMAT Analytical Writing Questions
According to the official AWA GMAT syllabus 2022, a short argument (1 paragraph, that is, 1 to 5 sentences long) will be presented to you. You will be given the task of critically assessing the reasoning behind that argument. In this essay, you should not waste time offering your opinion of the issue in the argument. Instead, your answer must offer an assessment of the argument by evaluating the logic (or lack thereof) of the claims.

GMAT Integrated Reasoning Syllabus
This section will brief you about the GMAT syllabus 2022 for Part 4 Integrated Reasoning.
There are 4 types of questions in the Integrated Reasoning Section:
Multi-Source Reasoning
Table Analysis
Graphics Interpretation
2-Part Analysis
Highlights of Integrated Reasoning Section 
Following are the highlights of the GMAT syllabus 2022 for the Integrated Reasoning section:
There will be 12 questions in the Integrated Reasoning section to be formatted in a variety of ways.
These will include tables and graphs to test how well you can apply reasoning skills to different scenarios.
You will have to use quantitative and verbal reasoning to solve a complex problem.
This section comprises text passages, tables, graphs, and other visual information from a variety of content areas in this section.
GMAT Integrated Reasoning Questions
For each Integrated Reasoning question type, you can select multiple questions using the links below and click the button at the bottom of the sample question screen to display the correct answer.
Multi-Source Reasoning – measures your ability to examine data from multiple sources, passages of text, tables, graphics, or some combination of the three—and carefully analyze each data source to answer multiple questions. Some questions will require you to recognize discrepancies between different data sources. Others will ask you to conclude, while still others may ask you to determine whether the data is relevant.
Spreadsheet Analysis – Measures your ability to sort and analyze a spreadsheet-like table of data to determine which information is relevant or meets certain conditions.
Graph Interpretation – measures your ability to interpret information presented in a graph or other graphical representation (scatter plot, x-plot, histogram, pie chart, or statistical distribution curve) to recognize relationships and draw conclusions.
Two-Part Analysis – Measures your ability to solve complex problems. They can be numerical, verbal, or some combination of both. The format is intentionally versatile to cover a wide range of content. It measures your ability to evaluate trade-offs, solve simultaneous equations, and determine relationships between two objects.
GMAT Sample Questions
Whether you're going to take the GMAT online or at a test center, or even if you're going to take the GMAT practice test, you should go through some GMAT sample questions beforehand.
Studying the structure of the GMAT exam, the different sections—Analytical Writing, Complex Reasoning, Quantitative Reasoning, and Verbal Reasoning—and the questions that come up are key to preparing for the GMAT.
You can find GMAT practice questions in the Official GMAT Guide and various GMAT prep books, as well as online. You can also find GMAT previous year question papers too on the official GMAT platform.
GMAT Cut-off
Each business school has its own set of GMAT for admission. Few business schools focus on the overall GMAT score. However, other business schools may set score requirements for individual sections from the overall GMAT score. The overall GMAT score is 800, and most top-ranked business schools around the world set the GMAT score around 700. So, a 700 would be a good GMAT score. Below are the scores required for top B schools:
The GMAT score for Harvard is 729
The Rotman School of Management GMAT cutoff score is not set. You will need to appear for the GRE or GMAT and this score must be submitted. Although you must have at least two years of experience in the financial sector.
Stanford's GMAT cutoff is around 720-740. Stanford's class of 2022 has the highest average GMAT score of 733 to date.
The Wharton GMAT cutoff is not specified. The average GMAT score for the class of 2022 is 722 and the median GMAT score is 730.
The NUS GMAT cutoff or GPA for the class of 2022 is 670. 90% of MBA applicants are international students.
It's a wrap!
Good to have you, finally, on this other side! Looking forward to getting admission to an esteemed business school of global repute? Hope we've been able to help you with most of the knowledge that you were asking for. We've just finished presenting to you all the details of the GMAT syllabus for MBA & other Master's courses, every question type of the GMAT subjects, and specific details about every topic covered in the GMAT exam syllabus. Nevertheless, do you need some handholding to get you through this? How about a discussion with our expert career counsellors to study abroad with decades of experience concerning education in this field?
Talk to our study abroad experts who have 20+ years of experience to know yourself in and out! We have helped several brilliant but confused minds with the aim to select their most-suited career choices. Hear the success story of Aayush who got an offer from the top 3 universities and is now studying at a University in Ottawa in Canada after getting career guidance from our industry experts!
Useful Links
Also Read
FAQs
Is CAT and GMAT syllabus the same?
The syllabus of the CAT and GMAT is almost the same. However, the difficulty of the Quant GMAT section is much less than that of the CAT exam. Likewise, there are more types of questions in the oral portion of the GMAT. As for the duration of the exam, you must be patient.
What is the syllabus of the GMAT?
The GMAT Syllabus consists of topics such as Quantitative, Logical, and Verbal Reasoning in sections – Verbal Reasoning, Quantitative Reasoning, and Complex Reasoning. The GMAT exam also includes an Analytical Writing Assessment section that is not featured in the CAT exam.
Has the GMAT syllabus changed?
Changes to the new GMAT format were made only to the Quantitative and Verbal sections (scored out of 800). The remaining sections – Analytical Writing Section (AWA) and Integrated Reasoning (IR) remain completely unchanged.
Is it possible to complete the GMAT syllabus in 3 months?
Yes, remember that GMAT preparation takes time. Plan to spend about two to three months and 100-120 hours reviewing the material and practicing regularly. Top GMAT scorers spend an average of over 120 hours preparing for test day over some time.
Is the GMAT easy or difficult?
More than 200,000 people take the GMAT each year, and only 6% of the total score is 720 or higher. From this data, we can understand that GMAT is a tough exam and efforts should be made to score 700+.

Anushree has 4+ years of experience in the career counseling industry as a Content Writer. She has also worked as a Social Media Marketing Expert for a startup and Content Quality Analyst for Publishing and E-learning Industry. She has done her Master's in Commerce and PGDM in Finance & Trade and Marketing & HR, but she is currently following her passion for writing.