GMAT is organized by the Graduate Management Admission Council (GMAC) throughout the year. This test is required for getting admission to MBA programs globally or for Masters in Finance& related courses as well as some PhD courses.
But do you what all will be included in GMAT syllabus 2022? What question you will be asked from which section? Don't worry! This post will give you a brief about GMAT syllabus 2022. Continue reading this post to know everything you should know!
Highlights of GMAT Exam Syllabus
The GMAT exam syllabus comprises 4 sections which can be referred to as the GMAT subjects, altogether. The entire GMAT syllabus 2022 for each of the subjects will be discussed with you in this post. The 4 sections or subjects of the GMAT exam syllabus are:
Analytical Writing Assessment
Integrated Reasoning
Quantitative Reasoning
Verbal Reasoning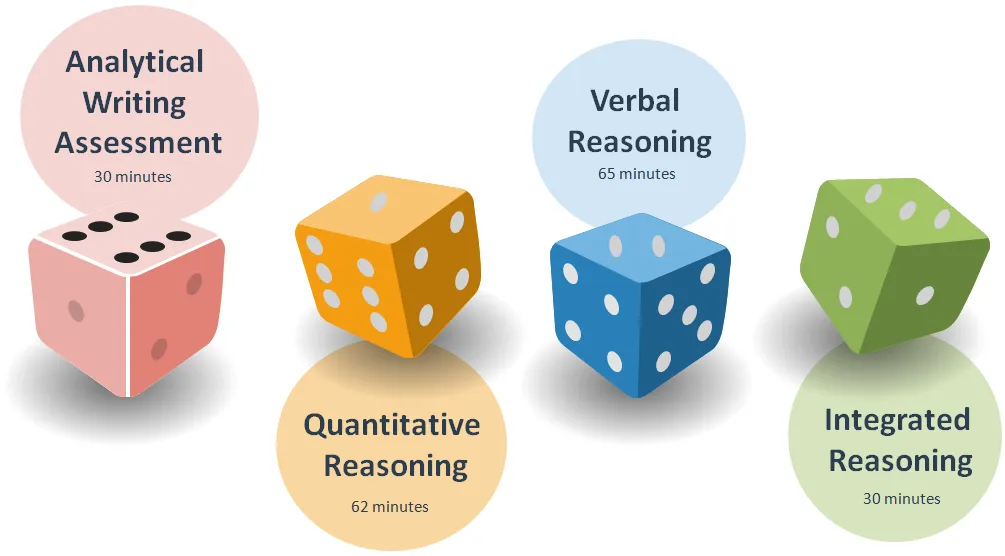 There is only one universal GMAT syllabus for MBA as well as other Master's courses including Master's in Finance, Accounting, Human Resource Management, Manufacturing Systems Technology, Sports Management or MS in Information Systems, etc. or even some PhD programs such as those in Management-Marketing, Operations Management, Economics, Accounting, Finance, Agribusiness, Management Information Systems etc. All GMAT subjects are detailed in the following sections.
Summary of the GMAT Exam Pattern
GMAT exam pattern comprises of:
Computer – adaptive exam, which means that upcoming questions get tougher if you keep getting answers right.
There is no negative marking in the GMAT exam pattern.
Your GMAT score shall be valid for a period of 5 years.
Is approximately of 3 hours and 30 minutes including 2 optional breaks of 8 minutes each.
You can select your preferred order before starting the exam. Recently, GMAC announced the Select Section Order provision which will enable you to select the order of the sections in which you want to write your exam.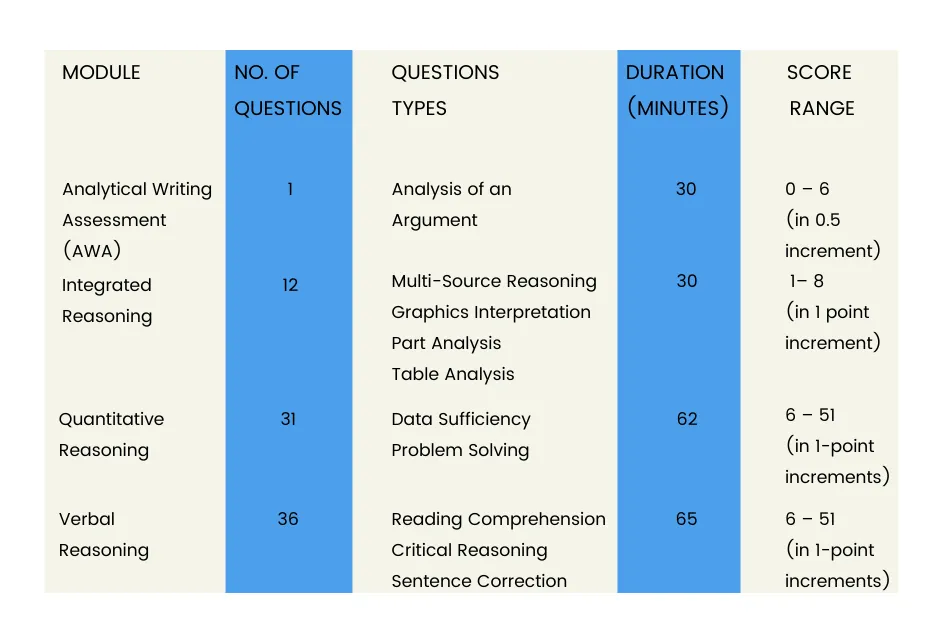 NOTE: Sometimes an un-scored section is given as part of your test after AWA section. An identified research section that is not scored may be included, and it is always at the end of the test.
GMAT Subjects 2022: What Each Paper Measures?
The GMAT syllabus for MBA helps in measuring different aspects such as:
| | |
| --- | --- |
| GMAT Subjects: Analytical Writing Assessment | measures your ability to think critically and to communicate your ideas |
| GMAT Subjects: Integrated Reasoning | measures your ability to analyze data and evaluate information presented in multiple formats |
| GMAT Subjects: Quantitative Reasoning | measures your ability to analyze data and draw conclusions using reasoning skills |
| GMAT Subjects: Verbal Reasoning | measures your ability to read and understand written material, to evaluate arguments and to correct written material to conform to standard written English |
Note: Please refer to the official link mentioned in the last section of this post for detailed GMAT syllabus and GMAT exam pattern.
GMAT Exam Syllabus Part I
Here we will brief you about the GMAT syllabus for Part 1 Analytical Writing Assessment (AWA). We'll be discussing the kinds of topics you will be asked to write about and how you will be expected to write about those topics.
There may be two kinds of questions in AWA:
Analysis of an argument
Analysis of an issue
On the day of the actual test, you will get only 1 essay and 30 minutes for it.
Here in the pretest we've tried to present both the types of questions for your practice. Take 30 minutes for each and not longer.
GMAT Subjects: AWA Assessment Pretest
Make every effort to write your essays on a computer with a basic word processor. The more practice you have composing and revising on the computer, the more comfortable you will be on the exam.
Read the second only after you have completed the first essay and are ready to begin the second.
Question 1- Analysis of an Argument
Example of Analytical Writing Question as per GMAT Syllabus is:

Directions: In your essay, be sure to analyze the argument's logic and use of evidence. Discuss how well-reasoned you find this argument. For example, you may need to consider whether alternative explanations or counterarguments would weaken the conclusion or whether the assumptions underlying the argument are sound. We would also want you to write about the kind of evidence you think will strengthen or refute the argument, what revisions would you want to make to the argument to make it more reasonable, or what missing information would help you better evaluate the argument. Complete your essay in 30 minutes.
Question 2- Analysis of an Issue:

Directions: Support your position with reasons and/or examples from your own experience, observations, or reading. Discuss whether you agree or disagree with this opinion and to what extent. Complete this in 30 minutes.
AWA Question Types: Analysis of an Argument
According to official AWA GMAT syllabus 2022, a short argument (1 paragraph, that is, 1 to 5 sentences long) will be presented to you. You will be given the task to critically assess the reasoning behind that argument. In this essay, you should not waste time over offering your opinion of the issue in the argument. Instead, your answer must offer an assessment of the argument by evaluating the logic (or lack thereof) of the claims.
AWA Question Types: Analysis of an Issue
As per official GMAT syllabus, a short statement (1 to 3 sentences) about an issue will be presented to you. You will have to clearly state your opinion and support that opinion with specific reasons and examples. You will be asked to take a position on the issue.
List of 6 Characteristics of a Great Essay
Did You Know?
You can complete an official practice AWA and have it scored by the GMAC for a fee of $20 in the same way your GMAT AWA will be scored.
Essay Structure in Three Parts
Introduction – State your thesis. Introduce to your audience what you're about to tell them
Body – Tell your Audience
Conclusion – Gist up what you've just told your audience. Finish up.
GMAT Syllabus Part II
Here we will brief you about the GMAT syllabus for Part 2 Quantitative Reasoning. The GMAT syllabus for MBA part 2 includes questions from arithmetic, algebra, and geometry.
The majority of the questions will need to be solved using arithmetic. This area of mathematics includes the: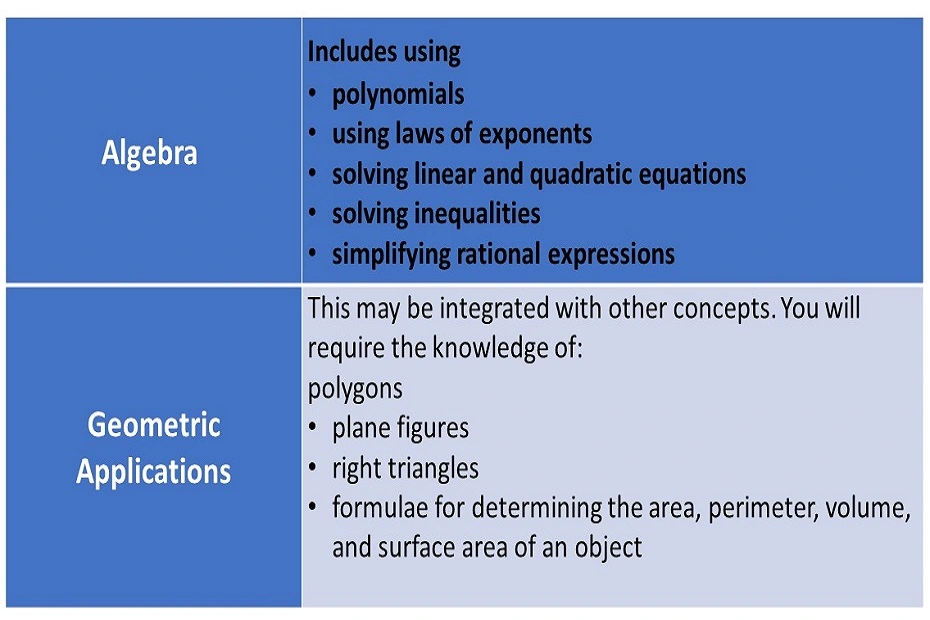 Quantitative Reasoning: Types of Questions
Problem Solving – while answering problem-solving questions, try and eliminate improbable answers first to increase your chances of finding the correct solution.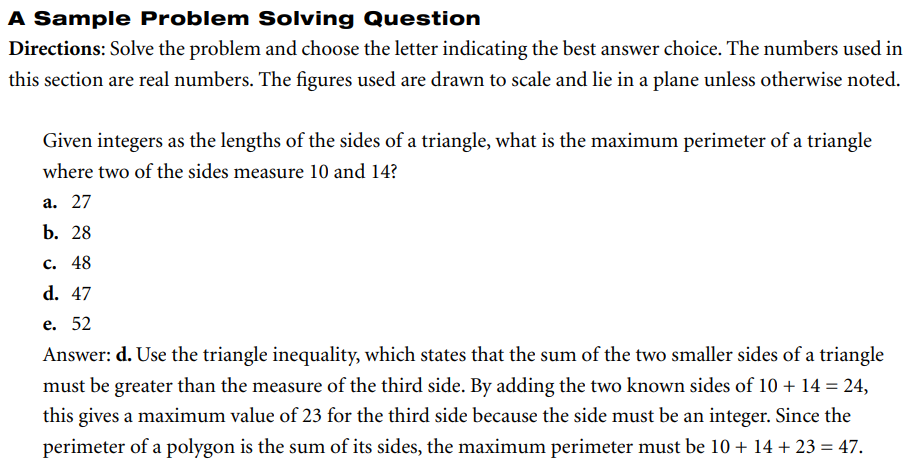 2. Data Sufficiency – you will have to be able to determine at what point there is enough data to solve a problem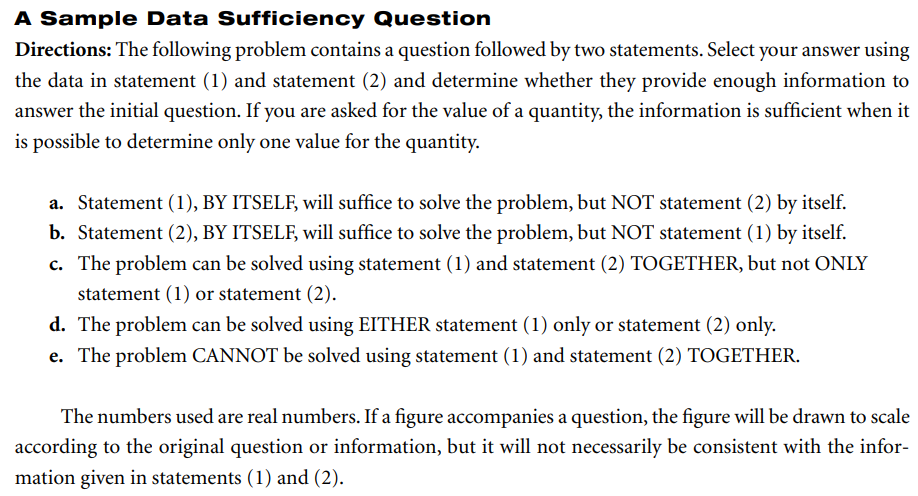 GMAT Syllabus Part III
In this section we will brief you about the GMAT syllabus for Part 3 Verbal Reasoning.
This section consists of 3 types of questions:
Reading Comprehension
Critical Reasoning
Sentence Completion
The 36 questions in the Verbal section are divided evenly among these 3 types.
Each category contains approximately 11—12 questions, and you will have 65 minutes to complete this portion of the test.
You will also find many concepts & skills to be common to the Verbal section and the Analytical Writing Assessment (AWA) section.
Summary of GMAT Syllabus of Verbal Section
List of 26 Topics you must include in GMAT syllabus for MBA or other degree are:
| | |
| --- | --- |
| Argument construction | Redundancy |
| Argument Evaluation | The Subjunctive Mood |
| Formulating and Evaluating a plan of Action | Contextual Clues |
| Pronoun Agreement | Sentence Fragments |
| Pronoun Ambiguity | Parallel Construction Error |
| Idioms | Faulty Comparison |
| Misplaced Modifiers | Punctuation |
| Parallel Construction | Word Confusion |
| Verb Tenses | Adjective/Adverb Error |
| Subject and Verb Agreement/ Disagreement | Correct pronoun usage |
| Noun Agreement | Verb Tense Error |
| Comparison Words | Misplaced Modifier |
| Quantity Words | Incorrect Idiomatic Expression |
GMAT Syllabus Part IV
This section we will brief you about the GMAT syllabus 2022 for Part 4 Integrated Reasoning.
There are 4 types of questions in the Integrated Reasoning Section:
Multi-Source Reasoning
Table Analysis
Graphics Interpretation
2-Part Analysis
Highlights of Integrated Reasoning Section
Following are the highlights of GMAT syllabus 2022 for Integrated Reasoning section:
There will be 12 questions in the Integrated Reasoning section to be formatted in a variety of ways.
These will include tables and graphs to test how well you can apply reasoning skills to different scenarios.
You will have to use quantitative and verbal reasoning to solve complex problem.
This section comprises of text passages, tables, graphs, and other visual information from a variety of content areas in this section.
How this section differs from the Quantitative and Verbal sections
This part 4 of GMAT syllabus is different in important ways:
IR section involves both mathematical and verbal reasoning, either separately or in combination.
In the IR sections, questions are answered using four different response formats rather than only traditional multiple-choice.
There are 2 special features of this part 4 section of GMAT syllabus:
Many questions will require more than one response. You are specifically permitted to use an online calculator with basic functions to answer the questions.
You must answer all responses to a question correctly because the questions are designed to test your ability to integrate data to solve complex problems. No partial credit (part-marking) will be given.
The questions in this section involve both quantitative and verbal reasoning, either separately or in combination.
Conclusions
Good to have you, finally, on this other side! Looking forward to getting admission in an esteemed business school of global repute? Hope we've been able to help you with most of the knowledge that you were asking for. We've just finished presenting to you all the details of the GMAT syllabus for MBA & other Master's courses, every question type of the GMAT subjects and specific details about every topic covered in the GMAT exam syllabus. Nevertheless, do you need some handholding to get you through this? How about a discussion with our expert career counsellors to study abroad with decades of experience concerning education in this field? Thanks!
Useful links
Also read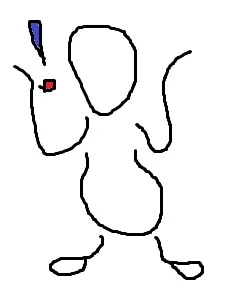 Currently associated with iDreamCareer (India) as the Principal Analyst.