There is nothing like Australia! No wonder today every student wants to study in Australia! We Indians have already accepted this tagline of the Australian Tourism Board when it comes to cricket and scenic beauty. Australia shares our love and devotion towards the game of cricket and almost every cricket fan in India cheers for the Australian team when it is not playing against India.
On the other hand, you can find several Indians at any given time of the year relaxing on Bondi Beach or admiring the Opera House in Sydney. But this is not all, higher education in Australia has also become the most preferred destination among us Indians. Australia has succeeded in earning the trust of students from all around the world and has become the third most preferred education destination for international students.
Did You Know?

Since 2017, there has been a continuous increase in the percentage of international students accepted by Australia by approximately 11%. For the 2020 semester, regardless of the pandemic that has gripped the world, the number of Indian students enrolled in Australian universities has not seen a major drop.
So, if you are planning to pursue your higher education in Australia, then this post is for you!
What all is covered in this post?
To make it easier for you, we have created a quick guide to everything you need to know about studying in Australia.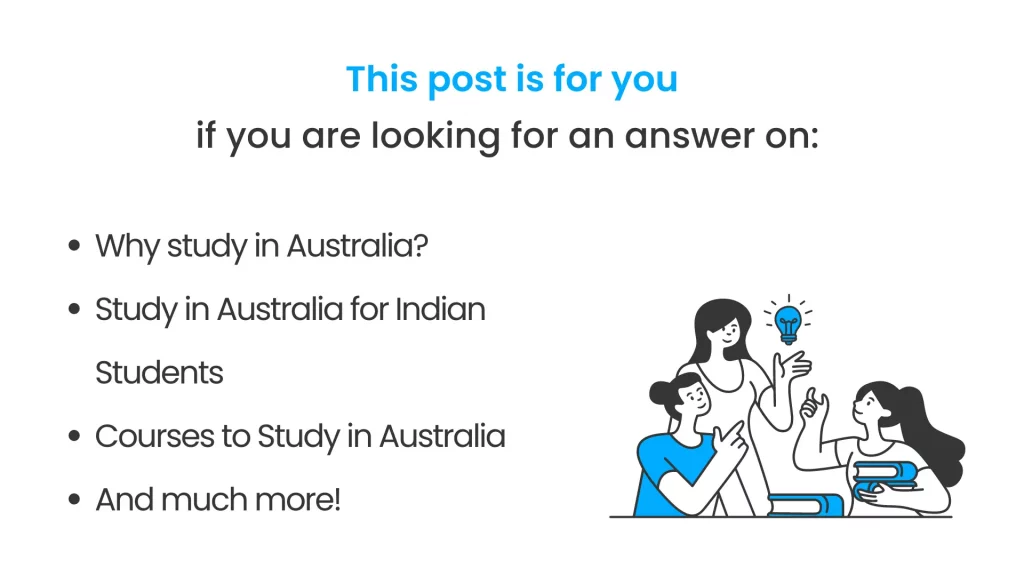 Let's get started…
Benefits of studying in Australia for Indian students
There are various reasons why an international student may choose to study in Australia. Some of the more popular reasons are:
High ranked institutions
36 Australian universities are in the top 1000 published by QS for the World University Ranking 2021. Seven of them are in the top 100 universities in the world.
Broad support for students
The ESOS (Educational Services for International Students) Act provides the framework to ensure the best legal practice is followed to protect the rights of international students studying in Australia.
Funding options
The Australian government invests around AUD 300 million in scholarships for international students. In 2019, around 300 Australian awards were offered to international students from over 55 countries.
Employment opportunities
Education in Australia prepares you for work in a competitive global market. According to statistics, about 79% of graduates find employment after completing the program in Australia, six percent of graduates enter further studies and four percent of the total number of students are self-employed.
Easy Australia Student Visa Policy
The process of getting a student visa in Australia is quite easy and hassle-free compared to other countries. To study in Australia, international students can apply for a subclass 500 student visa. The student visa acceptance rate is between 85% and 95%, so any prospective student with good grades and the necessary documents can expect to receive a visa by mail.
Study in Australia for Indian students after 12th – Eligibility
If you planning to pursue higher education in Australia must meet the following criteria. Eligibility criteria may vary by course, program and university. However, the basic requirements for Indian students after 12th are as follows:
Educational requirement
To continue their education in Australia after grade 12, students must have a minimum score of 60-65% in grade 12 of the relevant stream. Diploma and other foundation courses, on the other hand, have lower score requirements.
Knowledge of the language
Since English is the medium of instruction in most colleges. Foreign students must know the language well. To study in Australia, you need a high IELTS/TOEFL score. For IELTS, the minimum score is 6.5-7, and for TOEFL – 75-90.
Age limit
Students must be at least 18 years of age before enrolling in a degree program.
Required Documents
The following list of documents is required to study in Australia after the 12th:
A valid passport
Academic Transcripts
Application Form
Bank Statements
Health certificate
Letter of Recommendation (LOR)
Photographs
Portfolio (if applicable)
Receipt of application fees paid
Resume
Statement of Purpose (SOP)
Top universities to study in Australia
Now that you know about the educational requirement, here is a list of the top 10 universities to study in Australia: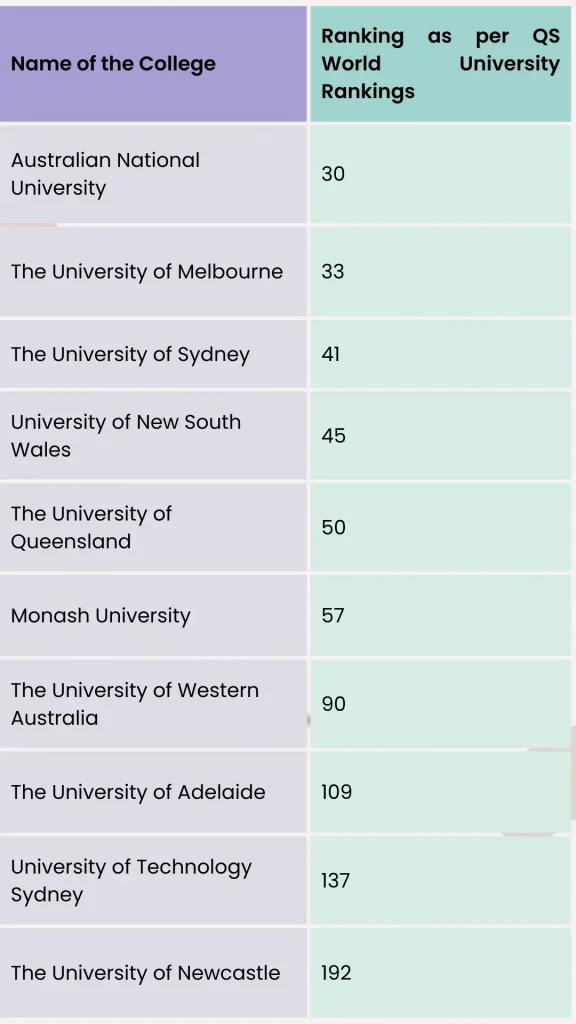 Cost of study in Australia for Indian students
Australia as an education destination is comparatively affordable due to its lower cost of living and lower tuition fees. The tuition fees in Australia are generally lower than those of America and the UK. However, Australian Universities do not include the cost of certain basic amenities like a meal plan, gymnasium, and activity fee which are generally included in the tuition fees in the USA and UK.
On top of it, it is compulsory for an international student to get an Overseas Student Health Cover, which can be very expensive. The following are the average fees for education in Australia. Please note that the figures are average and the fees can differ vastly depending on the course you pursue.
Bachelor's degree – AU$15,000 (INR 6,91,345) to AU$33,000 (INR 15,20,959);
Master's degree – AU$20,000 (INR 9,21,793) to $37,000 (INR 17,05,317);
Doctoral degree – AU$14,000 (INR 6,45,255) to $37,000 (INR 17,05,317).
Study in Australia without IELTS
Here is a list of universities where you can apply to Australia without the stress of taking IELTS! Applicants can submit English language proficiency scores or obtain an English language certificate from their schools and programs. Here is a list of universities to check out:
Adelaide University
Australian National University
Bond University
Southern Queensland University
University of South Australia
Scholarships for Indian students to study in Australia
Here is a list of the top 10 scholarships for Indian students to study in Australia:
Adelaide Scholarships International by the University of Adelaide
Australian Award Scholarship
Australian Government Research and Training Program (AGRTP)
Endeavour Postgraduate Scholarship Award
International Postgraduate Research Scholarships (IPRS)
La Trobe Academic Excellence Scholarships for International Students by La Trobe University
Macquarie Vice Chancellor's International Scholarships by Macquarie University
Melbourne International Research Scholarships by the University of Melbourne
Sydney Achievers International Scholarships by University of Sydney
University of Sydney International Scholarships
Best course to study in Australia after 12th
International students can choose from a variety of courses in Australia after the 12th. Depending on one's preferences, one can choose a course from a number of fields such as arts, commerce, or science.
Here's a list of some of the most popular courses:
Accounting
Bachelor of Creative Arts/Creative and Professional Writing/Art History
Bachelor of Pharmacy
Bachelor's in Medicine
Business and Management
Engineering in Biotechnology
Environmental Health
Fashion
Foreign Language Communications
Graphic Arts
History
Human Resource
International Business
Law
Literature
Marketing
Nursing
Nutrition
Philosophy
Physiotherapy
Public Health
Veterinary Science
Post-study work visa in Australia
Here in this section, we will discuss details related to a post-study work visa in Australia:
Good News…

"An important message from the Jobs and Skills Summit – we will extend post-study work rights by two years for international students graduating from Australian universities in fields with proven skills shortages," Australia's Education Minister Jason Clare tweeted.
1) Selected undergraduate degrees will offer international students a four-year post-study work permit. The current limit is two years.
2) Selected graduate degrees will provide students with five years of post-graduation work experience. The current limit is three years.
3) Graduates of the chosen doctoral degree will be able to work in Australia for up to six years. The current limit is four years.
Meanwhile, the Australian Government's Minister for Immigration, Citizenship, Migration Services, and Multicultural Affairs has released the 2022-23 Migration Agenda. The program was designed to stimulate the economic recovery of the country, which is still going through the pandemic.
Why study nursing in Australia?
Nursing programs in Australia are one of the most popular and highly recognized qualifications in the world, now offering diploma, bachelor's, and master's degree programs, and the core structure includes intensive theoretical and practical knowledge to enable graduates to provide excellent healthcare services. There is a high demand for nurses here and it also opens a very promising path to many career opportunities.
Conclusion
Australia is a great place for international students because of its cultural diversity and laidback nature. People are generally good in nature and it's considered safe for international students. The country offers a good living standard and a great platform to shape your dreams. So, if you want to reach your dreams and are looking for a place from where you can make a leap of faith towards success, who can teach you how to jump better than the Kangaroos!
iDreamCareer is on a mission to reach every state and every child in order to ensure that talent is appropriately delivered into the industry.
Talk to our study abroad experts who have 20+ years of experience to know yourself in and out! We have helped several brilliant but confused minds with an aim to select their most-suited career choices. Hear the success story of Aayush who got an offer from the top 3 universities and is now studying at the University in Ottawa in Canada after getting career guidance from our industry experts!
Also Read:
FAQs
Why study in Australia?
Australian degrees are recognized internationally and Australian universities are known for their cutting-edge research and teaching, with seven of them consistently ranked in the top 100 of the QS World University Rankings; here's why you should study in Australia!
What is Australia's education system like?
In terms of receiving an excellent education, Australia is currently the third most popular destination for international students in the English-speaking world, ranking 39 out of 41.
Is IELTS a requirement to study in Australia?
Yes, as Australia is an English-speaking country, IELTS or any other English proficiency test is required to study.

Anushree has 4+ years of experience in the career counseling industry as a Senior Content Writer. She has also worked as a Social Media Marketing Expert for a startup and Content Quality Analyst for Publishing and E-learning Industry. She has done her Master's in Commerce and PGDM in Finance & Trade and Marketing & HR, but she is currently following her passion for writing.