The blend of an internationally accepted education system, lower living and education costs, and fantastic immigration laws make NZ a perfect study destination. Moreover, the current government is on a mission to promote international education in the country. Lashing the tuition fees, relaxing the immigration norms, providing extensive international student support facilities, and offering various part-time work options are just some of the changes that the government has made and this has made higher education in New Zealand more popular among students. Excited? Looking to study in New Zealand but worried about the visa application procedures? Need info about the New Zealand student visa procedure?
Good News!!!

As announced by the Prime Minister of New Zealand, Jacinda Ardern, the border of New Zealand reopened w.e.f. August 1, 2022. The reopening applies to everyone, including international students and visa processing will resume as usual for all categories, including international students, and students can apply for a visa from 1 August 2022. In addition, international students do not require pre-departure testing from 23:59 on 31 July 2022.
Hurray! The present scenario makes it the best time to head to New Zealand. We can understand if these things have got you all excited about studying in NZ. So, without further ado… Come along…
What all is covered in this post?
To make it easier for you, we have created a quick guide to everything you need to know about the student visa procedure in New Zealand.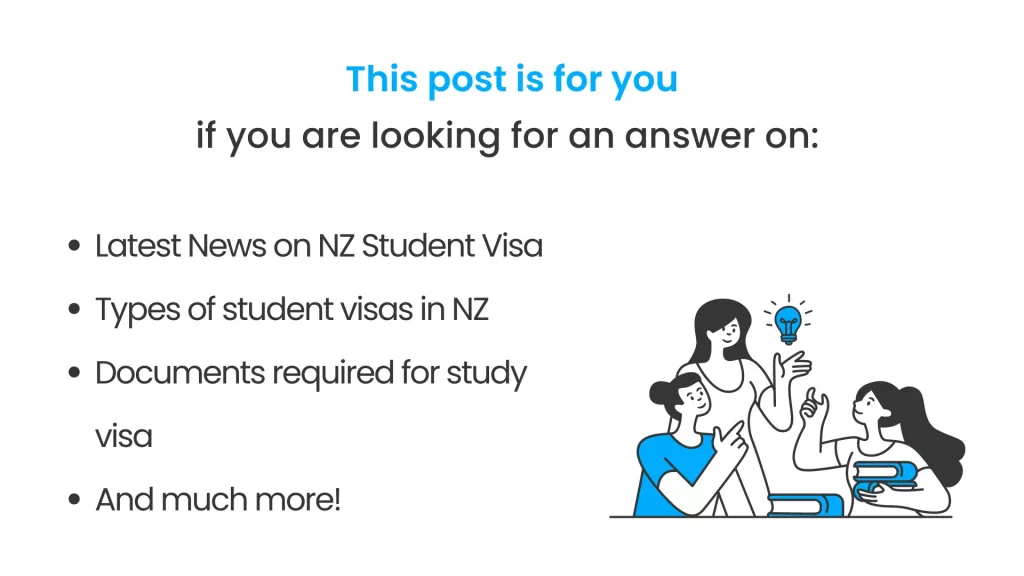 New Zealand student visa – Updates
New Zealand has announced a five-phase plan to reopen its borders and welcome international students again. Below are some important points that international students should keep in mind when applying for a New Zealand student visa:
From 14 March 2022, students entering New Zealand from any other country through the existing Border Class Exemption will be able to self-isolate on arrival rather than undergo managed isolation and quarantine
On 12 April 2022 at 23:59 the border reopens to student visa holders currently outside New Zealand, provided they still meet the visa requirements.
From July 2022, up to 5,000 international students will be able to enter New Zealand under a new border class exemption
From October 2022, all visa categories will be reopened, including visitor and student visas. This means that international students can plan to study in New Zealand in 2023
Note: As government guidelines change frequently, please double-check updates on the official immigration websites when you apply for a New Zealand student visa.
Types of student visas in New Zealand
International students have different ways to apply for a New Zealand student visa. The country offers various options to choose from such as:
Fee Paying Student Visa
Guardian of a Student Visitor Visa
Exchange Student Visa
Pathway Student Visa
Student and Trainee Work Visa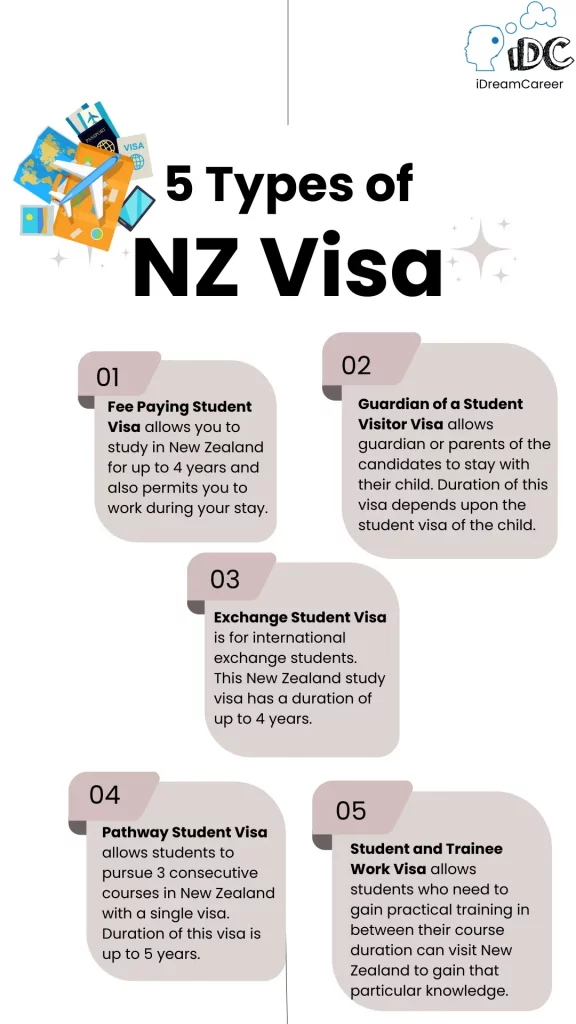 Also, read: New Zealand PR Process
New Zealand student visa requirements
To travel to New Zealand on a student visa, an international student must meet the following criteria:
The applicant must confirm a letter of offer for a course registered by the New Zealand Ministry of Education or NZQA (New Zealand Qualifications Authority)
To stay in New Zealand to study, applicants must provide proof of an amount of approximately INR 8,00,000 per year.
The applicant must support NZ$1250 per month to survive in New Zealand.
A ticket not to New Zealand, but to another destination, to confirm that the applicant has enough to cover the costs of studying and staying in New Zealand.
Note: For IELTS, international students must submit a minimum overall score of 6 to be eligible for admission to top universities and a New Zealand student visa. IELTS requirements vary by university, course, and degree level.
Documents required for study visa in New Zealand
There are several requirements for Indian students to obtain a New Zealand student visa. Let's take a look at them all: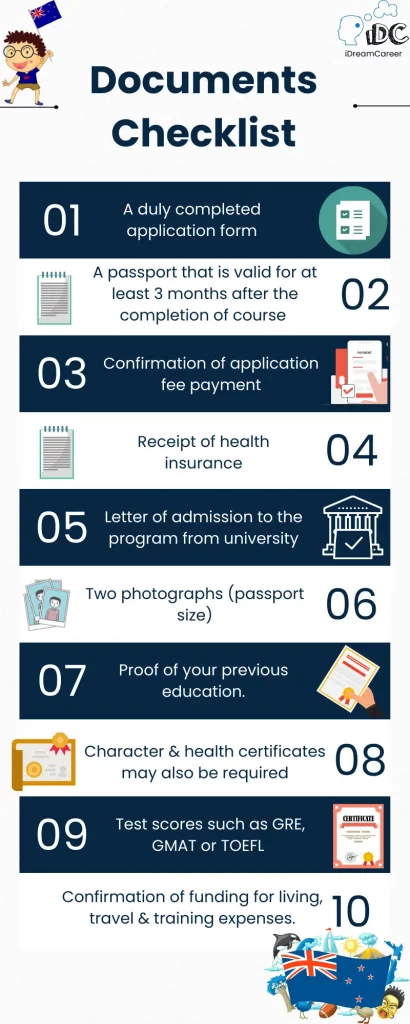 New Zealand student visa age limit
If you are planning to study in New Zealand for more than 24 months, you must provide police clearances from all countries of citizenship, as well as any country in which you have lived for more than 5 years since the age of 17.
Student visa guide for New Zealand – how to apply?
Wondering how to get a New Zealand student visa?
Online Method:
You need to collect all the necessary documents and submit your visa application to start the process. The application form is available on the official website (link in the "also read" section). You will be required to fill in the form details and once you make the payment the process will complete.
If an applicant is already in New Zealand on a student visa and his/her education provider is registered with Provider Direct (an online service that allows certified education providers to process student visa applications), they can apply for a visa on his/her behalf.
Offline Method:
Gather all the necessary documents and fill out the application form. The documents (listed in the next section) and the application form must be sent to the Visa Center together with the fee and the immigration fee.
You can also apply in person or by mail at the address below:
New Zealand Visa Center
Mezzanine, Baba Kadak Singh Marg
Shivaji Stadium Metro Station, Connaught Place
New Delhi-110001, India
New Zealand student visa fees in Indian rupees
Students who apply for a student visa online are required to pay a visa fee of NZ$330 + INR 747 (approx.) as Reception Center Fees (New Delhi). Applicants applying for a student visa by post must pay USD 330 + INR 955 (approx.) as Admission Center Fees (New Delhi). Applicants should keep in mind that the processing fee may vary depending on the Visa Center, so applicants should check the official website before applying to know the exact amount at that time.
New Zealand student visa processing time
The average processing time for a visa application is 3 to 4 months and varies if some documents are missing or if the visa department requires more precise information about the applicant or his/her application.
Conclusion
NZ is an amazing amalgamation of education, culture, natural beauty, tranquillity, and stability. New Zealand can offer you an excellent education, and chances are, you will have the best time of your life while you study.
Now that you are armed with this information, we hope you're ready to make your next big career decision! Still confused? Do dial us up.
iDreamCareer is on a mission to reach every state and every child to ensure that talent is appropriately delivered into the industry. Talk to our study abroad experts to know yourself in and out! We have helped several brilliant but confused minds to select their most-suited career choices. Hear the success story of Tapan who got an offer from the top 4 universities and is now studying at DePauw University after getting career guidance from our study abroad experts! And not only this he has also received a scholarship of Rs. 1.3 crore.
Useful Links
Also Read:
FAQs
Are New Zealand degrees recognized worldwide?
Yes, degrees obtained in New Zealand are recognized worldwide and known for their quality of education.
What are English language tests accepted by New Zealand universities?
The International English Language Testing System (IELTS) is the most preferred English language test accepted by all New Zealand universities.
Is it difficult to get New Zealand student visa?
No, the process of getting a student visa in New Zealand is not tedious. International students must ensure that they meet all established student visa requirements.
Is there any interview conducted for obtaining New Zealand student visa?
Yes, international students must attend any interview as this is the final stage of the student visa process. Make sure you attend on time and answer all relevant questions honestly and to the best of your ability.

Anushree has 4+ years of experience in the career counseling industry as a Senior Content Writer. She has also worked as a Social Media Marketing Expert for a startup and Content Quality Analyst for Publishing and E-learning Industry. She has done her Master's in Commerce and PGDM in Finance & Trade and Marketing & HR, but she is currently following her passion for writing.