As we step into the month of October, there is no better place to explore than the land of Oktober Fest; Germany. Germany is the heart of Europe, not just due to its location, but also because of its technological and economical stronghold. Today, Germany is also counted among the best education destinations due to the exceptional reputation of its universities regarding transparency, innovative study methods, and quality of education. Excited? Looking to study in Germany but worried about the visa application procedures? Need info about Germany student visa procedure?
Do you know?

More than 2.5 million students study at German universities, and more than a quarter of a million of them are international students. About 85 percent of these students arrange their studies in Germany, while the remaining 15 percent come to Germany on exchange programs.
The question arises, what makes Germany an attractive destination for Indian students? One of the reasons could be, that it's known for dominance in the field of technology and proudly homes some of the preeminent car manufacturing companies like Audi, BMW, Mercedes-Benz, Opel, Porsche, Volkswagen, Pegasus, etc.
This isn't it… Let's find out more… Come along!
What all is covered in this post?
To make it easier for you, we have created a quick guide to everything you need to know about the Germany student visa procedure.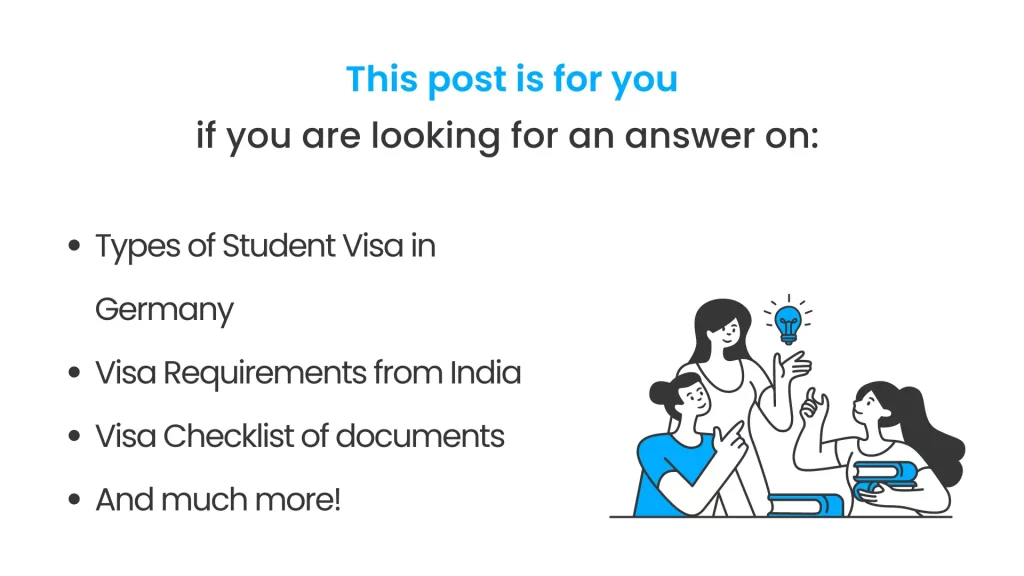 Types of student visas in Germany
There are three types of student visas in Germany you can apply for:
The German student visa (Visum Zur Studienzwecken) is a standard student visa for international students who have already enrolled in a German university and are ready to start their studies in a full-time university program.
German Student Visa (Visum Zur Studienbewerbung) – You need this visa if you need to be in Germany to apply for university in person. This visa does not allow you to study in Germany, it is only valid for university admission.
German Language Course Visa – You need this type of visa to study German courses that last between three months and one year.
Germany student visa requirements from India
To obtain a student visa, you must meet the following requirements:
Two completed and signed national visa forms.
Your valid national passport.
Two photocopies of the passport.
Birth certificate.
Marriage certificate (if married).
Child's certificate (if there are children).
Two recent biometric portrait photographs.
Photocopies of previous residence permits in Germany. (If you have been to Germany before).
Advance Schengen visa.
Previous residence permit.
Proof of financial resources. You must meet the financial requirements to obtain a Germany student visa. Depending on your circumstances, you should have one of the following:
Bank account blocked. You can open a blocked bank account online through Expatrio, which is accepted by German embassies and consulates worldwide.
Commitment letter. You can get this from someone living in Germany who will show you what they will cover for your accommodation or other living expenses.
Declaration letter. In this way, your parents show that they will provide you with financial support during your stay.
Scholarship certificate. If you are receiving a scholarship, the certificate must show what the scholarship will cover and that you are the recipient of that financial cover.
Confirmation of receipt (it can be one of the following).
Letter of admission to the university.
Letter of admission to the basic/propaedeutic/German course.
Original certificate of previous education.
Resume (CV)
Letter of motivation. Explain why you chose this degree program and your plans.
Travel health insurance. (Covers the period from your departure to the date of admission to a German university – about 3 months).

From 5 March 2020, students aged 29 and under can take advantage of free travel health insurance for up to 31 days offered by German Student Insurance.
Students aged 30 and over, language students, interns, and doctoral students must complete EDUCARE24 by DR-WALTER. EDUCARE24's health insurance product is affordable and high-quality and is recognized by German embassies and consulates around the world.

Confirmation of visa fee payment.
Proof of knowledge of the German language. (For programs in German or mixed languages).
Proof of English proficiency. (For programs in English or mixed languages).
Germany study visa checklist of documents
Apart from the above-mentioned requirement, you need to have the following documents: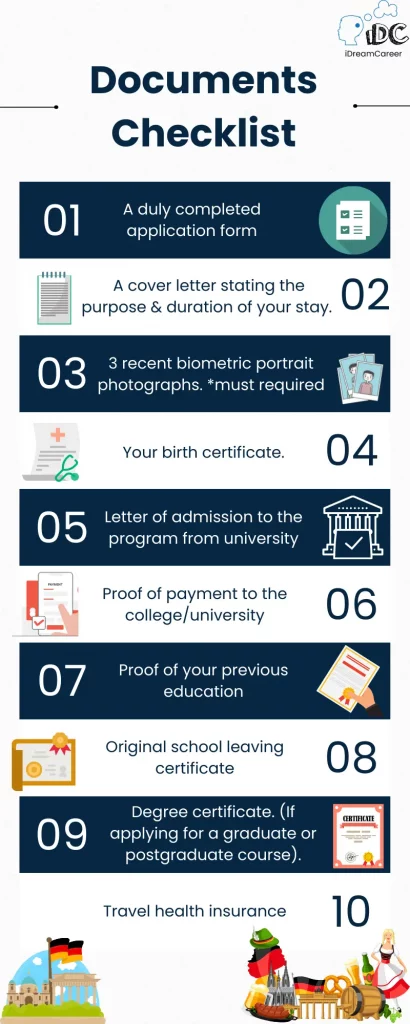 Note: Under the smart cover letter you will need to express the reason for choosing a particular university, or study program. Also, mention your studies and plans and how these studies will improve your career and life.
Germany Student visa cost
The cost of applying for a Germany student visa is 75 euros. Students must pay the visa fee by bank transfer. Checks or credit cards are not accepted. The money order must be payable to the embassy/consulate in your country and must not be older than two months.
What do You need to Know?

Please note that you will not receive a visa fee refund if your student visa application is rejected.
German student visa process
To get a student visa for Germany, you need to follow a straightforward application process. This involves filling out an application form and making an appointment at the German Embassy in New Delhi or the German Consulate General in Mumbai, Chennai, Kolkata, or Bangalore. In addition, before appearing for the visa interview, you must submit the application form along with the required visa fees. The visa fee for applying for a Germany student visa is around €75-80 (approximately INR 6,200-6,620) and is usually required to be paid by bank transfer, but the payment methods specified may vary by the embassy.
Epilogue
Now that you are armed with this information, we hope you're ready to make your next big career decision! Still confused? Do dial us up. iDreamCareer is on a mission to reach every state and every child to ensure that talent is appropriately delivered to the industry.
Talk to our study abroad experts who have 20+ years of experience to know yourself in and out! We have helped several brilliant but confused minds to select their most-suited career choices. Hear the success story of Aayush who got an offer from the top 3 universities and is now studying at the University in Ottawa in Canada after getting career guidance from our industry experts!
ALSO READ:
FAQs
Is IELTS required for a German student visa? 
In Germany, most universities require an overall IELTS score of 6.0 or 6.5 out of 9.0 as an English language qualification. It is important to note that some universities are known to require a band of 6.0 in all four separate modules of the IELTS exam.
What is Germany's student visa success rate?
According to the latest reports in 2021, the student visa success rate in Germany for international students was 92%, which is a great number.
Is it easy to get a student visa to Germany?
The process of applying for a student visa in Germany is quite simple but time-consuming, so it is important that you have the necessary documents and what you need for your visa interview to ensure that your application is processed on time.
Can I work in Germany with a student visa?
Yes, students can look for work opportunities in Germany with a student visa, but you can only work full-time for 120 days or part-time for 240 days a year.
How long is a student visa valid in Germany?
With a German student visa, you can stay in Germany for the first 3 months, and during this period it is important to apply for a student residence permit, which is issued for a maximum period of 2 years.

Anushree has 4+ years of experience in the career counseling industry as a Senior Content Writer. She has also worked as a Social Media Marketing Expert for a startup and Content Quality Analyst for Publishing and E-learning Industry. She has done her Master's in Commerce and PGDM in Finance & Trade and Marketing & HR, but she is currently following her passion for writing.