The National Eligibility cum Entrance Test (Undergraduate) NEET UG, formerly known as the AIPMT, is an all-India pre-medical entrance test for pursuing undergraduate medical courses (MBBS, BDS, BAMS, BSMS, BUMS, & BHMS courses). This post is regularly revised with all about the NEET 2021 latest updates, preparation tips and the application form.
.
.
Neet 2021 Latest Updates
NEET 2021 UG application form is expected to be released soon as on June 2, 2021. The official website, neet.nta.nic.in and ntaneet.nic.in will have the link activated soon.
.
No news regarding the postponement of the NEET 2021 UG exam has been published by NTA till today.
.
So NEET 2021 UG exam, if it is not postponed, will be conducted on Sunday, August 1, 2021 (in 11 languages).
.
.
NEET 2021 UG Eligibility
Age limit:
.
You must have completed the age of 17 years at the time of admission or will complete that age on or before December 31, 2021.
The upper age limit for NEET 2021 (UG) is 25 years as of on the day of exam.
Reserved categories will be given a relaxation of 5 years in the upper age limit.
Educational requirement:
.
You must have passed class 12 with Biology, Physics, and Chemistry compulsorily.
You can also apply for NEET 2021 UG if you are awaiting your results. Since boards are cancelled for this year, your school will be releasing your results.
You are not eligible to apply if you have passed 10+2 from Open School or as a private candidate.
If you wish to appear for NEET 2021 (UG), you are advised to keep visiting the websites: https://nta.ac.in and https://ntaneet.nic.in
.
.
Neet 2021 UG – Application Form
We have shared some screenshots of the application form link. This is for the year 2020. Do follow the instructions shared in these images. This should help you in completing the exercise successfully when the real deal comes.
.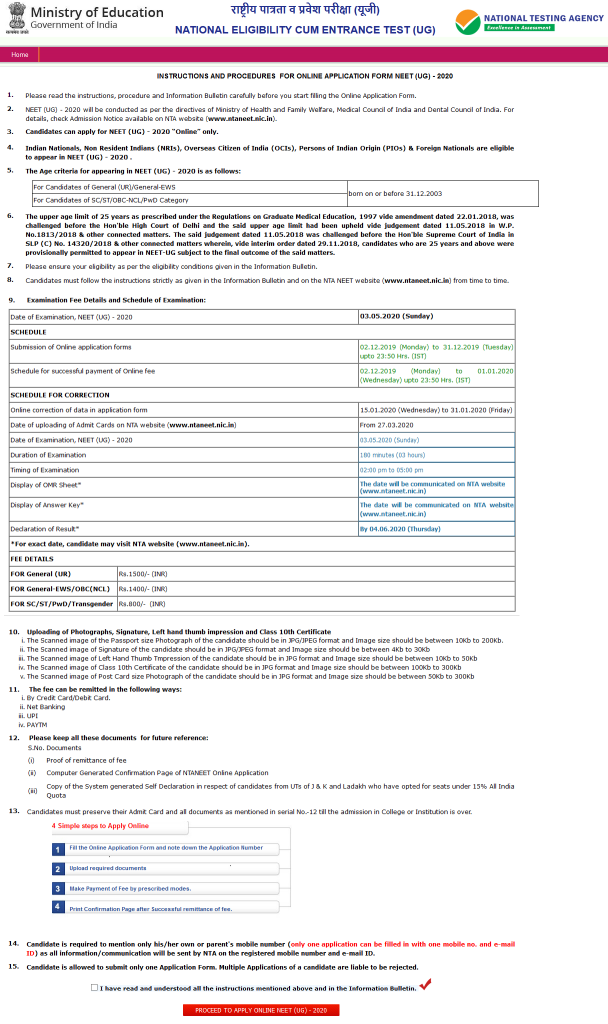 .
Neet 2021 UG – Preparation Tips
In this part, we'll particularly discuss how you can ace your attempt at one go and fill up your OMR sheet as much as you can with the right answers!
.
Make these suggestive tips a firm part of your action plan in combating NEET so you can look at your OMR response sheet when it's displayed on the NTA website with a wide grin!
.
1. Be accustomed to the syllabus: The syllabus is demanding so it will be very useful if you know it well. I mean, you can recall it in your mind. You should know it that well.
Cut down on extra information and focus on important concepts.
.
2. Ensure familiarity with NCERT text: This is a must. You have to be aware of what comes in the latest editions of NCERT books.
70% of questions in NEET come from NCERT textual content. NCERT books are often difficult to find so stock them well in advance.
.
3. Design a Realistic Routine: a realistic and well-structured time table is what you need to create to boost your preparation since you will have to finish a 2 years syllabus.
You may have to be slightly flexible with it modifying it occasionally depending on your progress.
.
4. Build a smart study stock: high-quality study materials are the need of the hour. With your teachers and expert assistance, you can build the correct stock with ease.
You may contact repeating candidates or successful ones for advice.
.
5. Take notes: scribble concepts, topics, and focal points of a chapter on pages or on colorful stick-ons & make them float around your eyes.
Stick them around to make "vision boards" on a particular wall or on the door of your closet or anywhere else which you may attend at different times. Revisit according to your convenience and routine.
.
6. Practice mock tests: pen-paper testing is THE RULE. You shall have to learn to manage time, which is a required aspect of NEET.
NTA releases sample papers too. Make just use of them.
It will be great, if you could finish a topic and instantly test your understanding of it.
At the end of all topics, you can take a series of mock exams to put your knowledge of an entire subject to test.
.

7. Concentrate on Physics & Biology: Chemistry is fairly undemanding in NEET. It has been so, at least for the past few years since 2013.
.

8. Timeboxing: Do not do long hours of cramming. That prevents easy memory retention.
Time-box your hours & routine. Time-box your chapters & lessons. Build Pomodoro around leisurely breaks.
Pomodoro is all about segmenting your study time with 3-4 minute breaks in between. "Pomodoro" is the interval of time spent studying.
.

9. Avoid following too many books: This tends to mess up your preparation. This is common advice.
Not too many books but too many sample tests is what you need. Practice more and cram less.
.
10. What's inside is reflected out: Eat healthily, work out, and find sufficient sleep to build an efficient biome inside of you and brace yourself for a NEET knockout!
.
.
Final Words
Don't stop until you've done yourself proud! Go grab yourself a spot in NEET 2021! No boards this year means a sigh of relief. Put all your strength into NEET this year.
.
Nevertheless, if you feel that you're missing some support in your preparation or if you feel it's time you had some expert assistance to know yourself even better than you already do, please feel free to reach out to expert counsellors.
.
.
[latest-selected-content limit="4″ display="title" titletag="b" url="yes" image="thumbnail" elements="3″ css="four-columns align-left as-overlay tall dark hover-zoom" type="post" status="publish" orderby="dateD"]
.
.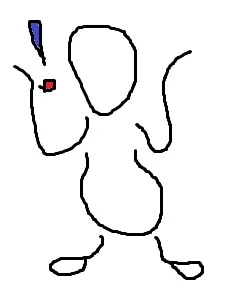 Currently associated with iDreamCareer (India) as the Principal Analyst.