Do you wonder, who works in the policy formation and implementation of health care? Yes, doctors are helping us with injuries and diseases, but still, hospitals need a specialist who can manage the operation oversee departments, formulate policies, follow all regulations, comply with regulatory bodies, etc. If you are interested in the non-clinical role in the health and medical field, then a career in healthcare management is a great option for you!
Today, healthcare is one of the fastest-growing industries. The aging baby boomer population has led to increased demand for health care services in recent years. Healthcare management is a deep and evolving field, featuring many different positions with distinctive educational requirements. Health care management or health management includes general management, management of admissions and discharges of patients, and management of outpatient departments in hospitals, medical clinics, or other similar facilities.
Do you know?

To meet the need for hospitalization under the Ayushman Bharat Scheme, India will require 3,50,000 additional beds at its hospitals by 2025
According to the study, these additional 3,50,000 hospital beds will hospitalize about 1,70,00,000 patients in a year. Do we need Healthcare Management professionals to manage such a huge inflow of patients?
What all is covered in this post?
To make it easier for you, we have created a quick guide to everything you need to know about healthcare management.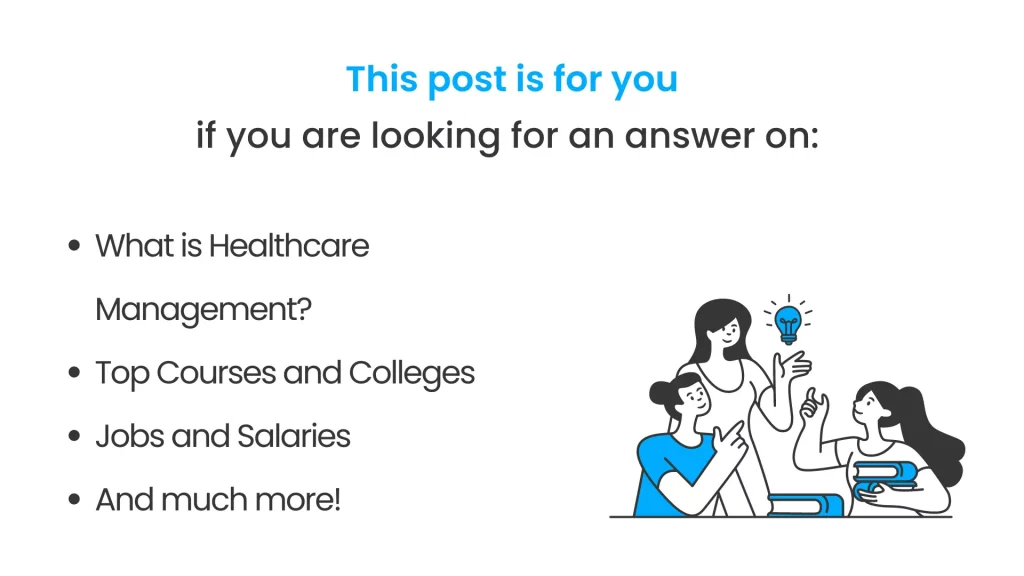 What is Healthcare Management?
Who will provide treatment and clinical services to these many patients under the Ayushman Bharat Scheme? Doctors and Nurses of course. But are doctors & nurses the only people who run a hospital?
Definitely not! Along with Doctors, Nurses, and Paramedical professionals, a large number of healthcare management staff members are essential for a hospital to operate smoothly. Healthcare Management involves all the administrative and non-clinical functions at hospitals and other healthcare facilities – such as patient admission and discharge management, finance, marketing, facilities upkeep and management, general administration, and public relations.
What to know?

Ayushman Bharat Scheme is a plan of the Indian Government to provide free healthcare facilities to economically backward people at government and private hospitals.
List of healthcare management courses in India
In India, universities offer admission to courses in healthcare and hospital management. The exact requirements will vary from university to university.
Following are the courses offered at UG, PG, and Ph.D. levels.
Discover More by accessing the Free Career Dashboard
This will help us share relevant information with you.
Bachelor Courses
Bachelor of Hospital Management/Administration
Master Courses
M.Sc in Hospital Administration
Master of Hospital Administration
MBA in Hospital Management/ Administration
PG Diploma in

Hospital and Health Management
Hospital Management/Administration
Doctoral Degree:
MD/M.Phil in Hospital Management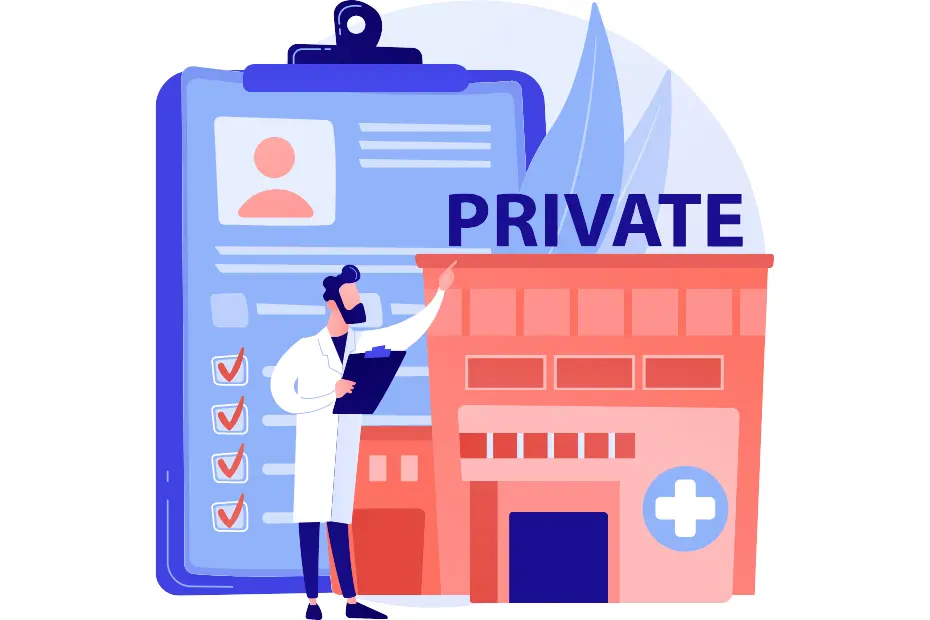 Popular healthcare management colleges
Here are the top institutes to start a career in healthcare management.
The Institute of Health Management Research- IIHMR, Jaipur
All India Institute of Medical Research- AIIMS, Delhi
Tata Institute of Social Sciences, TISS, Mumbai
Faculty of Management Studies, Delhi University
Apollo Institute of Hospital Administration, Hyderabad
Christian Medical College, Vellore
ASCI Hinduja Institute of Healthcare Management, Hyderabad
KEM Healthcare Management Institute, Pune
Institute of Pharmaceutical and Healthcare Management and Research – IPHMR, Calcutta
School of Management Studies, University of Hyderabad
Goa Institute of Management
Manipal University
Symbiosis Institute of Health Sciences
Institute of Health Management Research Bangalore
School of Health Sciences, University of Petroleum and Energy Studies, Dehradun
National Institute of Health and Family Welfare Delhi
IMS, Devi Ahilya Vishwavidyalaya University, Indore
DMS, Madurai Kamaraj University, Madurai
Healthcare management jobs
You can get a job in:
Multi-specialty private sector hospitals like Apollo Hospital, Fortis Healthcare, Max Super Speciality Hospital, Medanta, Tata Cancer Hospital, Narayana Hospital, etc.
Super-Specialty private sector hospitals like Lions Kidney Hospital, Fortis Hospital & Kidney Institute, Fortis C-Doc Hospital, etc.
Multi-specialty government hospitals like the AIIMS in Delhi and many other cities, King Edward's Memorial (KEM) Hospital in Mumbai, Ram Manohar Lohia Hospital in Delhi, CMC Vellore, CMC Ludhiana, Post Graduate Institute of Medical Education & Research, Chandigarh, Sanjay Gandhi Postgraduate Institute of Medical Sciences, Lucknow, etc.
Apart from the opportunities in hospitals, you can get a job in any one of the following types of organization:
Nursing Homes and Health Clinics
Various Non-Governmental Organisations (NGOs) working in healthcare such as WHO (in India offices), International Medical Corps, HelpAge India, Medicine Sans Frontiers (Doctors Without Borders), Rural Health Care Foundation, Care India, etc.
Pharmaceutical Companies such as Novartis, Pfizer, Sanofi, Roche Healthcare, etc.
Healthcare management salary
A career in Healthcare Management program helps students acquire the skills essential to running a healthcare business and related practices. You can get jobs in both the public and private sectors.
Healthcare Management graduates are introduced to the ins and outs of the healthcare industry, preparing them for higher-level positions such as hospital administrator, healthcare manager, medical practice manager, etc. in healthcare sectors with an average salary of Rs. 3 to 12 lakhs per annum.
Epilogue
If you are also passionately interested in being a part of fast-paced clinical settings without having to be a doctor or a nurse exactly, you will enjoy a high-paying and promising career in this field.
Although there are plenty of opportunities in hospital administration and healthcare management and the prospects are good, the critical question is whether a career in this field is suitable for you. Besides, there are other tingling questions too like whether an MBA in Hospital Management / MBA in Healthcare Management/ MBA in Hospital Administration will suit you or other postgraduate degrees in cognate disciplines would be better for you after a BHA/ B Sc/ BBA/ MBBS / BHMS / BAMS / B.Pharm. / Pharm.D., etc.
The answer depends upon a lot of personal factors, your background, and qualifications. iDreamCareer is always ready to help young minds like you from 9th class, 10th class, class 11, class 12 with an aim to select their most-suited career choices.
Also Read:
FAQs
Is there any entrance exam for a diploma in healthcare management?
Yes, there are some entrance exams for diplomas in healthcare management such as CAT, MAT, XAT, etc.
Do you need any special help in this area before enrolling in the course?
It won't be necessary. You can enter this course from any background. There are no specifications. It would always be helpful if you could do a related field as it will help you understand the field much better.
Can someone opt for major in healthcare management at the undergraduate level?
This option is not yet available in India. A degree in any related field would be preferred. Those who want to pursue this course at the undergraduate level should take admission in colleges outside India.
What are my career options in healthcare management?
You can consider health department management, financial management, and similar areas. You can also look for jobs in pharmaceutical and insurance companies. Quality control is also another job that pays well. If none of these, you could start teaching because that is the only door that is always open.
Discover More by accessing the Free Career Dashboard
This will help us share relevant information with you
Trending Posts


Anushree has 4+ years of experience in the career counseling industry as a Senior Content Writer. She has also worked as a Social Media Marketing Expert for a startup and Content Quality Analyst for Publishing and E-learning Industry. She has done her Master's in Commerce and PGDM in Finance & Trade and Marketing & HR, but she is currently following her passion for writing.