Looking at the level of competition, aspirants who wish to crack the National Eligibility for Entrance Examination (NEET) must prepare a strategy to crack India's single-largest medical entrance exam in the first attempt in 2024. If you looking for a guide to help you how to crack NEET in first attempt in 2024, don't worry you are on the right page!
Do you know?

As per the Times of India report, this year (2023) the total number of attendees got increased by 97%. This year, a significant number of candidates, totaling 2.09 million, enrolled for various exams to secure more than 140,000 seats, both in public and private colleges. Moreover, there was a noticeable gender gap exceeding 200,000, as 1.18 million female candidates registered for the tests, outnumbering males by 280,000. Two states, Maharashtra and Uttar Pradesh, witnessed registrations surpassing the 200,000 mark, with 280,000 and 270,000 respectively. Additionally, seven states—Rajasthan, Tamil Nadu, Kerala, Karnataka, Bihar, West Bengal, and Madhya Pradesh—each had over 100,000 candidates registering for the exams.
National Eligibility cum Entrance Test (NEET) is a national-level competitive exam that allows thousands of students to get admission to various government and private medical colleges in the country. There is no limit to the number of attempts you can take the exam. Few students do not study for the exam in the hope of passing it next time. Time is precious, so you need to use it productively. If you develop the right strategies, you can clear the exam in one attempt and save a year of your career.
Before we go ahead you need to understand…
What is covered in this post?
To make it easier for you, we have created a quick guide to everything you need to know about how to crack NEET in the first attempt in 2024.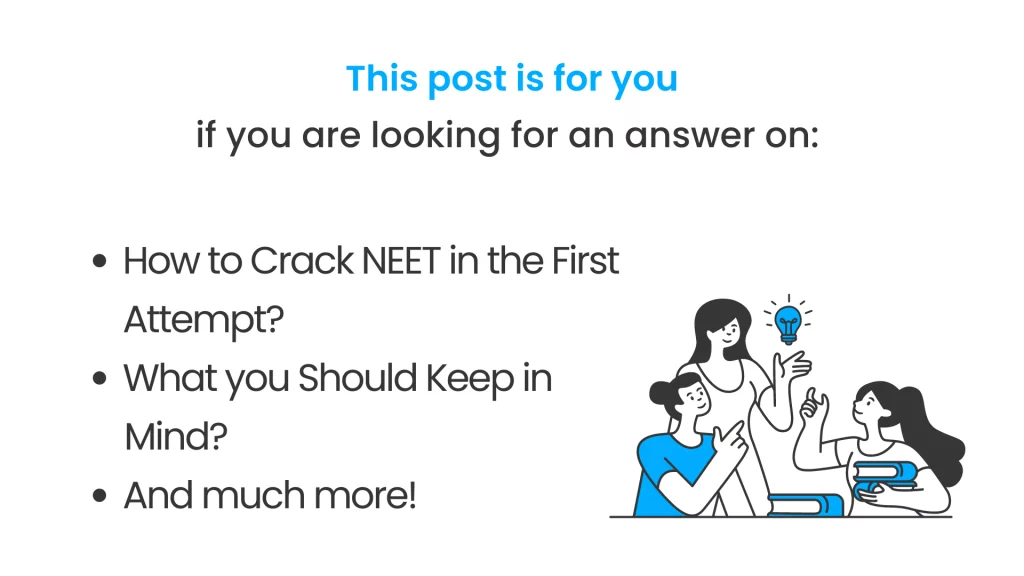 Before we go ahead you need to understand…
A highlight of the NEET Exam
In this section, we will discuss the highlights of the NEET exam:
| | |
| --- | --- |
| Information | Details |
| Form Submission Start Date | To be Notified for 2024 |
| Application Mode | Online only |
| Official Website | nta.ac.in / www.ntaneet.nic.in |
| Required Information | Mobile phone number, Email address |
| Photo and Caption Format | Photo: JPG/JPEG format, size between 10kb to 200kb; Caption: JPG/JPEG format, size between 4kb to 30kb |
| Document Submission | Not required to send any documents by post/fax/manual |
| Consequences of Providing False Information | Disqualification from future NTA examinations |
| Examination Fee | Unreserved category: Rs. 1400; OBC/SC/ST/PwD/Transgender: Rs. 750 |
| Payment Options | Credit Cards; Debit Cards; Net Banking; e-Challan |
| Refund Policy | Examination fees are non-refundable under any circumstances |
| Service/Handling Charges and GST | Payable as per the rules |
What you should keep in mind?
Every graduate student wonders how to crack NEET in the first attempt in 2024. Repeating a year not only results in a wasted year but also undermines the morale of students. So, students preparing for NEET 2024 should focus and prepare in such a way that they can successfully crack NEET 2024 in the first attempt. To be able to clear NEET in the first attempt, not only a rigorous study plan is required, but it is also important to create a solid and smart study technique and strategy.
Last year's NEET toppers who cracked NEET in the first attempt all agreed that just studying long enough is not enough to qualify. All of them formulated an effective study plan, weighed their strengths and weaknesses, and got enough practice that turned out to be fruitful. They also maintained good relationships with their peers and teachers, which increased their confidence levels.
In this article, we provide readers with some tips and guidance from experts and toppers on how to crack NEET 2024 in the first attempt.
Discover More by accessing the Free Career Dashboard
This will help us share relevant information with you.
How to Crack NEET in the First Attempt?
While starting the preparation for the NEET 2024 exam, the first step should be to prepare a time table which will help the candidates to plan their time topic-wise and subject-wise. Entrants should ensure that the schedule is followed religiously. The syllabus should be prepared to cover topics that can be reviewed several times. This strategy will give candidates a clear idea of ​​their schedule for the coming months and help them crack the NEET exam in the first attempt.
Below are some of the ten rules that you should follow if you want to crack the NEET exam in the first attempt.
Be accustomed to the syllabus
Ensure familiarity with NCERT text
Design a Realistic Routine
Build a smart study stock
Take notes
Practice mock tests: pen-paper testing is THE RULE.
Timeboxing
Avoid following too many books
What's inside is reflected out
Let's understand each point in detail:
Be accustomed to the syllabus
The syllabus is demanding so it will be very useful if you know it well. I mean, you can recall it in your mind. You should know it that well.
Cut down on extra information and focus on important concepts.
Ensure familiarity with NCERT text
This is a must. You have to be aware of what comes in the latest editions of NCERT books.
70% of questions in NEET come from NCERT textual content. NCERT books are often difficult to find so stock them well in advance.
Design a Realistic Routine
A realistic and well-structured timetable is what you need to create to boost your preparation since you will have to finish a 2 years syllabus.
You may have to be slightly flexible with it modifying it occasionally depending on your progress.
Build a smart study stock
High-quality study materials are the need of the hour. With your teachers and expert assistance, you can build the correct stock with ease.
You may contact repeating candidates or successful ones for advice.
Take notes
Scribble concepts, topics, and focal points of a chapter on pages or on colorful stick-ons & make them float around your eyes.
Stick them around to make "vision boards" on a particular wall or on the door of your closet or anywhere else which you may attend at different times. Revisit according to your convenience and routine.
Practice mock tests
PEN-PAPER TESTING IS THE RULE!
You shall have to learn to manage time, which is a required aspect of NEET.
NTA releases sample papers too. Make just use of them.
It will be great if you could finish a topic and instantly test your understanding of it.
At the end of all topics, you can take a series of mock exams to put your knowledge of an entire subject to the test.
Timeboxing
Do not do long hours of cramming. That prevents easy memory retention.
Time-box your hours & routine. Time-box your chapters & lessons. Build Pomodoro around leisurely breaks.
Pomodoro is all about segmenting your study time with 3-4 minute breaks in between. "Pomodoro" is the interval of time spent studying.
Avoid following too many books
This tends to mess up your preparation. This is common advice.
Not too many books but too many sample tests is what you need. Practice more and cram less.
What's inside is reflected out
Eat healthily, work out, and find sufficient sleep to build an efficient biome inside of you and brace yourself for a NEET knockout!
Subject-wise preparation tips for NEET 2024
As we all know, the NEET exam consists of 3 main sections Physics, Chemistry, and Biology! In this section, we will provide you with preparation tips for each subject. So, without further ado let's dive in…
Crack NEET Physics in the first attempt
To prepare for the NEET 2024 Physics exam, understand the syllabus and create a study plan. Use reliable resources and practice solving numerical problems. Solving practical problems considering time management will be beneficial for you!
For upgrading your preparation, solve previous years' papers and take mock tests to assess your progress. Remember, regular revision is essential. Seek clarification for difficult concepts from your seniors or mentors.
Clear NEET Chemistry in the first attempt
To prepare effectively for the NEET 2024 Chemistry exam, it is important to adopt a systematic approach and maintain consistent effort. Since the syllabus of chemistry is wide as it comprises of physical, organic, and inorganic chemistry. Thus, having an understanding of the syllabus is important. Create a well-structured study plan that allows for comprehensive coverage of all the important concepts and includes regular revision sessions.
Try to clear as many sample papers and mock tests as you can to simulate the exam environment, manage time effectively, and assess your progress. Create notes of difficult and hard-to-remember chemical equations.
How to crack NEET Biology in the first attempt?
Again, as we mentioned earlier it's very crucial to understand the syllabus of the NEET Biology Section. It will not only help you in cracking the exam, but through this, you can prioritize your studies effectively. Now, allocate dedicated time to each topic and refer to a variety of resources such as textbooks, reference books, & online materials, etc.
You should evaluate your performance regularly by taking the previous year's sample papers and mock tests. Take printouts of important diagrams and visual aids and keep them near your study table. This will help you in revising important topics regularly.
With a strong commitment and good preparation, you can definitely crack NEET in the first attempt in 2024! Good Luck!
Bonus: Estimate the Competition
Every year, hundreds of thousands of students participate in the NEET examination. However, only approximately 50 to 56% of candidates manage to successfully pass the exam. These individuals are the ones who have devoted at least two years to meticulously analyzing their goals and preparing for the test. The level of competition is evidently increasing with each passing year, as it is anticipated that NEET 2024 will witness around 20 to 21 lakh registrations.
Based on feedback from students, the NEET 2023 examination was perceived to have a fair to moderate level of difficulty. Chemistry posed the greatest challenge, followed by Botany. Zoology and Physics were considered to be moderately challenging. Students believe that due to the relatively easier paper, the NEET 2023 cutoff marks may be higher compared to the previous year.
Thus, it is expected that in the near future, the difficulty level of the exam will rise! The NEET exam is popular among many students but unfortunately, we have limited seats. This year around 532 colleges including AIIMS, JIPMER, and several Government & private colleges participated with a total of 1,18,316 seats. And you will be shocked to know around 21 lakh students registered for NEET this year. The number is gradually increasing despite the fact there are limited seats available! So, it's important to start your preparation now to avoid last-minute stress.
In Conclusion
Clearing and scoring good marks in NEET in the first attempt is not an easy ride; however, with dedicated effort, it is possible. Moreover, a great strategy and regular teasing can really help your success. Before taking the exam:
Make sure you are well prepared for all questions because all questions are important if you want to become a leader.
Remember, if you have the right combination of books, you have almost won half the battle.
Make sure you go through the previous year's question papers carefully as some questions are asked repeatedly.
Hope we have served you enough! Still, got questions? If you are a student of 11th or 12th grade and feeling overwhelmed with the daunting task of choosing the right course and college for your future? Look no further than iDreamCareer's comprehensive career guidance product. iDreamCareer provides personalized guidance that helps you make informed decisions about your academic and career path. By utilizing our extensive knowledge and expertise, iDreamCareer equips you with the necessary tools to explore various options and select the perfect course and college that align with your interests and aspirations. Don't leave your future to chance – let iDreamCareer guide you toward a fulfilling career in the fine arts field and beyond.
Also Read:
Crack NEET in First Attempt: FAQs
How should I start my NEET preparation?
Start by understanding the syllabus and exam pattern. Create a less overwhelming and interesting study schedule that covers all the subjects and topics. Break down your study sessions into manageable chunks and allocate time for revision.
What study materials should I use?
Refer to the NCERT textbooks for a strong foundation. Additionally, you can explore reference books and study guides specifically designed for NEET preparation. Online resources, such as mock tests and question banks, can also be helpful.
How important is time management during preparation?
Time management is crucial. Allocate specific time slots for each subject and topic, focusing on areas where you need more practice. Regularly evaluate your progress and adjust your study schedule accordingly.
Is self-study sufficient, or should I join a coaching institute?
While self-study can be effective, joining a reputable coaching institute can provide structured guidance, study materials, and access to experienced faculty. Evaluate your learning style and resources before making a decision.
Are previous years' question papers helpful?
Yes, solving previous years' question papers familiarizes you with the exam format and helps identify important topics. It also improves your time management skills and builds confidence.
Is it necessary to revise regularly?
Yes, another crucial thing is revision. Set aside dedicated time for revisiting previously covered topics. Create concise notes or flashcards to aid in quick revision. Regular revision ensures better retention and understanding of concepts.
Discover More by accessing the Free Career Dashboard
This will help us share relevant information with you
Trending Posts


Anushree has 4+ years of experience in the career counseling industry as a Senior Content Writer. She has also worked as a Social Media Marketing Expert for a startup and Content Quality Analyst for Publishing and E-learning Industry. She has done her Master's in Commerce and PGDM in Finance & Trade and Marketing & HR, but she is currently following her passion for writing.