Looking at the level of competition, aspirants who wish to crack the National Eligibility for Entrance Examination (NEET) must prepare a strategy to crack India's single-largest medical entrance exam in the first attempt. If you looking for a guide to help you how to crack NEET in the first attempt, don't worry you are on the right page!
Do you know?

As per 2022 statistics, over 18 lakh students enroll for the NEET exam which was a considerable increase of around 2.5 lakh students.
National Eligibility cum Entrance Test (NEET) is a national-level competitive exam that allows thousands of students to get admission to various government and private medical colleges in the country. There is no limit to the number of attempts you can take the exam. Few students do not study for the exam in the hope of passing it next time. Time is precious, so you need to use it productively. If you develop the right strategies, you can clear the exam in one attempt and save a year of your career.
Come along to know the steps…
What all is covered in this post?
To make it easier for you, we have created a quick guide to everything you need to know about how to crack NEET in the first attempt.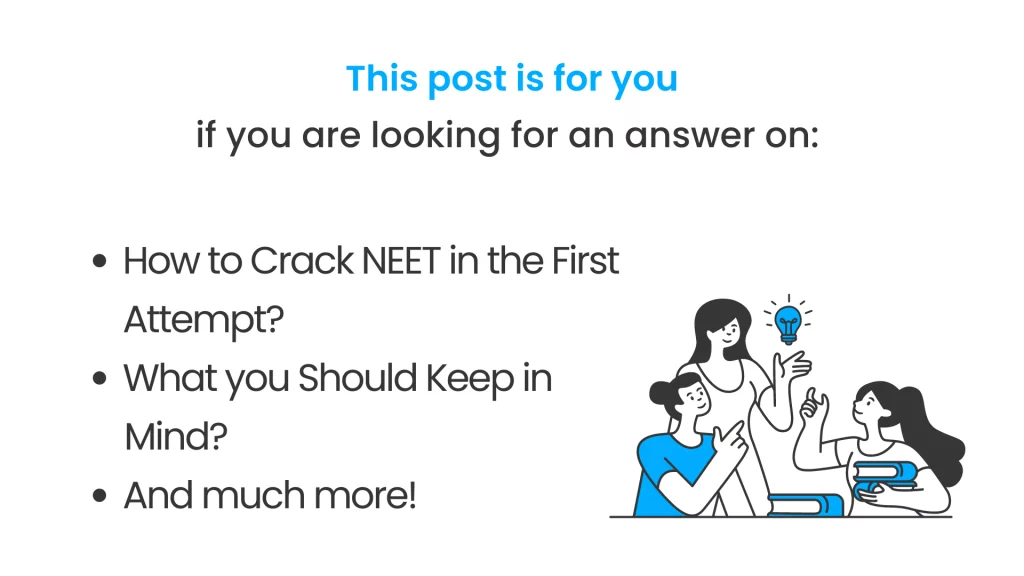 Before we go ahead you need to understand…
What you should keep in mind?
Every graduate student wonders how to crack NEET in the first attempt. Repeating a year not only results in a wasted year but also undermines the morale of students. So, students preparing for NEET 2023 should focus and prepare in such a way that they can successfully crack NEET 2023 in the first attempt. To be able to clear NEET in the first attempt, not only a rigorous study plan is required, but it is also important to create a solid and smart study technique and strategy.
Last year's NEET toppers who cracked NEET in the first attempt all agreed that just studying long enough is not enough to qualify. All of them formulated an effective study plan, weighed their strengths and weaknesses, and got enough practice that turned out to be fruitful. They also maintained good relationships with their peers and teachers, which increased their confidence levels.
In this article, we provide readers with some tips and guidance from experts and toppers on how to crack NEET 2023 in the first attempt.
Discover More by accessing the Free Career Dashboard
This will help us share relevant information with you.
How to Crack NEET in the First Attempt?
While starting the preparation for the NEET 2023 exam, the first step should be to prepare a timetable that will help the candidates to plan their time topic-wise and subject-wise. Entrants should ensure that the schedule is followed religiously. The syllabus should be prepared to cover topics that can be reviewed several times. This strategy will give candidates a clear idea of ​​their schedule for the coming months and help them crack NTA NEET 2023 exam in the first attempt.
Below are some of the ten rules that you should follow if you want to crack the NEET exam in the first attempt.
Plan your study schedule to complete your NEET syllabus on time
The advantage of a daily NEET study schedule is that once you are done with the assignment, you already know what is next in your schedule. Starting your day the same way can motivate you to keep studying, even when you don't feel like studying.
Do not leave topics and sections which you think are less important for NEET
In the NEET exam questions can come from any topic or section. Complete all the topics as sometimes an easy question may come from a topic that you find unimportant or difficult to read. When studying a difficult section, don't feel like you have to push yourself or that it will take you hours to complete it in one sitting. Study daily for some time instead of marathon study in one day.
Study from NCERT textbooks, study modules, and reference books
Read NCERT textbooks line by line. Solving examples, exercises, summaries, and everything in NCERT is important for clearing NEET. Watch and play all NCERT Physics, Chemistry, and Biology Charts. A few questions may come from outside NCERT, these should be covered in your study modules and reference books.
Take notes for last-minute revision before tests and exams
There should be fixed revision slots in your NEET timetable. Along with theory solve problems for effective revision. Prepare short notes for NEET that you can review before the exam. Create flowcharts, diagrams, tables, posters, postcards, etc., stick them wherever possible, and refer to them repeatedly.
Join coaching sessions to increase your chances of clearing the NEET exam
Join the NEET study sessions if you haven't already. Coaching gives you excellent access to quality teaching, questions, and tests conducted based on the NEET exam pattern. This will help you stay confident to crack NEET in the first attempt.
Attend all classes and complete homework/assignments on time
Exercise regularly. On any given day, a teacher can teach you some key lessons and techniques. Don't ignore what's happening in your learning now to catch up on previous concepts or backlogs. Your first priority should be completing current assignments and homework on time.
Get your doubts cleared
Doubts lead to frustration, procrastination, disappointments, and many other obstacles in your preparation. You should quickly get rid of your doubts. In the training sessions, you can ask your doubts, queries, learning methods, or anything that is troubling you.
Give mock tests, analyze errors and improve your results
Along with regular practice tests, you should also practice online practice tests at home. The advantage of online mock tests is that you can analyze your performance on the test. You can check your mistakes, time spent on individual questions or sections, and suggestions for improvement.
Manage the time between your studies and other tasks well
Time management is very important as you need to find a balance between your studies and other activities. Long, continuous hours of study can be exhausting, and taking too many breaks can mean you won't be able to complete your work on time.
Stay positive and determined to achieve your goal
Believe that you can crack NEET in the first attempt. Do whatever it takes to make it happen. There may be times when you feel depressed and have negative feelings about not passing the exam. During these difficult times, you need to stay strong and motivated to achieve your goal.
In Conclusion
Clearing and scoring good marks in NEET in the first attempt is not an easy ride; however, with dedicated effort, it is possible. Moreover, a great strategy and regular teasing can really help your success. Before taking the exam:
Make sure you are well prepared for all questions because all questions are important if you want to become a leader.
Remember, if you have the right combination of books, you have almost won half the battle.
Make sure you go through the previous year's question papers carefully as some questions are asked repeatedly.
Hope we have served you enough! Still, got questions? Why don't you connect with our industry experts? Yes, you read it right! You can get your queries resolved in just 60 seconds from our Career counselors. So, what are you waiting for? Download the app now! 
iDreamCareer has helped millions of young minds like you from 9th class, 10th class, class 11, and class 12 discover their true mettle and is ready to help you too.
Also Read:
Crack NEET in First Attempt: FAQs
How many students clear NEET in the first attempt?
Most of the students (around 60-70%) clear the NEET exam in the first attempt. The reason for this is the focus on studies, disciplined approach, regular classes, and to some extent the fear of repeating an extra year for NEET preparation.
How many hours do I need to study to crack NEET in the first attempt?
6-8 hours of study apart from coaching should be enough to crack NEET in the first attempt. Avoid continuous long hours of study if it leads to fatigue, small breaks after 60-90 minutes of study can increase your productivity. Study hours required to crack NEET
What is a good score in NEET in the first attempt?
Considering the previous year's NEET cut-off for government medical colleges, 650+ marks is a very good first-attempt NEET score.
Can I score 650+ in NEET in the first attempt?
Yes, you can score 650+ in NEET in the first attempt if you consistently study NCERT as a top priority and cover all topics and sections of the syllabus.
What happens if you don't clear NEET in the first attempt?
Always believe till the end that you can crack NEET in the first attempt. In case you clear NEET in the first attempt, take a drop and prepare for NEET again.
Discover More by accessing the Free Career Dashboard
This will help us share relevant information with you
Trending Posts

Anushree has 4+ years of experience in the career counseling industry as a Content Writer. She has also worked as a Social Media Marketing Expert for a startup and Content Quality Analyst for Publishing and E-learning Industry. She has done her Master's in Commerce and PGDM in Finance & Trade and Marketing & HR, but she is currently following her passion for writing.