There is nothing like Australia! No wonder today every student wants to study in Australia! Looking for studying in Australia but worried about the visa application procedures? Need info about the student visa Australia procedure?
Australia shares our love and devotion towards the game of cricket and almost every cricket fan in India cheers for the Australian team when it is not playing against India. It is a great place for international students because of its cultural diversity and laid-back nature. People are generally good in nature and it's considered safe for international students. The country offers a good living standard and a great platform to shape your dreams.
What to Know?

The Australian government has also pledged A$41.2 million to promote international education, including scholarships and other forms of financial assistance for international students. Two scholarship programs are key initiatives of this project, namely the Premier's University Scholarships and the Premier's WA Certificate of Education Scholarship.
Excited! Come along to know more…
What all is covered in this post?
To make it easier for you, we have created a quick guide to everything you need to know about student visa Australia.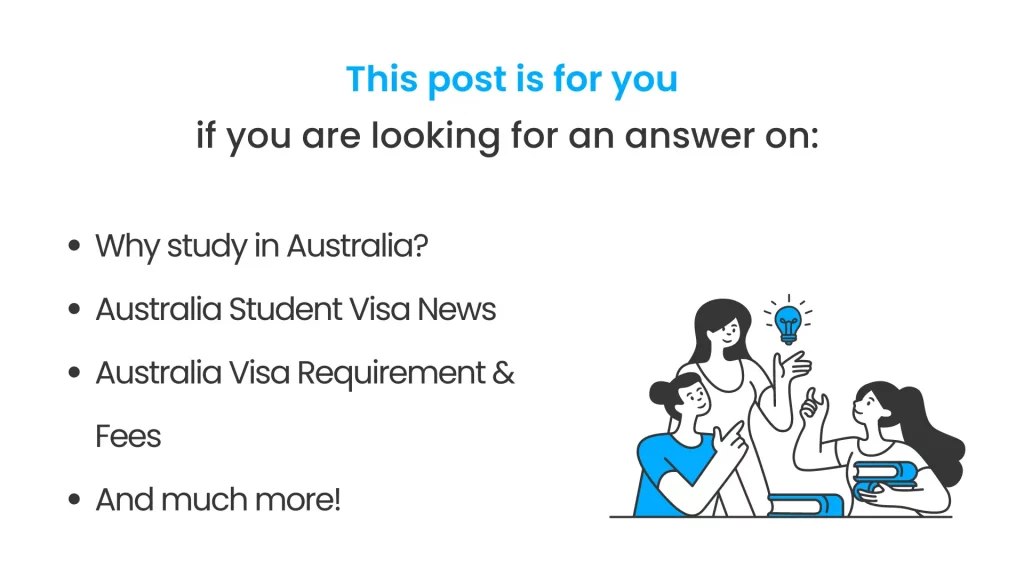 Benefits of studying in Australia for Indian students
There are various reasons why an international student may choose to study in Australia. Some of the more popular reasons are:
High ranked institutions
36 Australian universities are in the top 1000 published by QS for the World University Ranking 2021. Seven of them are in the top 100 universities in the world.
Broad support for students
The ESOS (Educational Services for International Students) Act provides the framework to ensure the best legal practice is followed to protect the rights of international students studying in Australia.
Funding options
The Australian government invests around AUD 300 million in scholarships for international students. In 2019, around 300 Australian awards were offered to international students from over 55 countries.
Employment opportunities
Education in Australia prepares you for work in a competitive global market. According to statistics, about 79% of graduates find employment after completing the program in Australia, six percent of graduates enter further studies and four percent of the total number of students are self-employed.
Australia student visa news
In line with the recent talks between India's Minister of Education and Skills Development and Entrepreneurship, Mr. Dharmedra Pradhan, and Australia's Minister of Education, Mr. Jason Clare, on July 21, 2022, the Australian counterpart assured Indian students of speedy resolution of their visa-related issues.
In addition, there were talks related to strengthening cooperation in the direction of improving skills in education sectors with the participation of Australia, for which it is known around the world. This, in turn, would prove beneficial to both the Australian and Indian workforce.
Do you know?

The subclass 500 student visa, which comes into effect on 1 July 2016, allows you to stay in Australia for the duration of your study program, which is generally up to five years and corresponds to your entry date. For a smooth stay, you need to ensure that your visa remains valid and that you comply with the student visa conditions listed on your student visa.
New rules for Australia student visa from 2022
Whether you want to enroll in a long-term course or a short-term degree, it is essential for international students to have a student visa in Australia. Of all visa types, candidates must apply for subclass 500 to pursue higher education.
Below are the types of training included in the visa:
Higher Education
Independent English Language Intensive Courses for overseas students
Non-awards Courses
Postgraduate Research
Primary and Secondary Schools
Vocational Education and Training
A student visa (subclass 500) allows you to live, work and study in Australia for up to five years according to your course.
This visa usually allows you to work a maximum of 40 hours per fortnight during term time and an unlimited number of hours during study breaks. However, the Australian Government is temporarily allowing students to work beyond the normal limit of 40 hours per fortnight during term time in all sectors. Currently, students can also start working on arrival in Australia without having to wait for their course to start.
Note: For more details refer to this website and also read our Australia PR blog post!
Australia student visa requirements
If you are going to apply for a student visa to Australia, there are some general requirements you need to meet. Otherwise, you may lose the chance to get higher education in the country. Let's take a look at the requirements for a study visa in Australia:
Cannot hold any other types of visas
Criminal record check results
Genuine Temporary Entrant (GTE) requirement
You must pass English proficiency tests like IELTS etc.
You must be enrolled in a course of study at a recognized institution. You will need to provide proof of the same.
Have adequate health insurance
Health and character requirements
Must be able to finance your education (Financial Requirements).
Must meet sanitary requirements.
The minimum age for a student visa to Australia is 18 years. Applicants must declare Social Security sufficiency if they are under 18 (not required for applicants over 18)
You must be a temporary participant and intend to return after completing the program.
Australia student visa processing time
Processing times may vary depending on the industry you are applying for and may range from:
75% of applications in 29 days; 90% of applications within 42 days for the higher education sector.
75% of applications in 43 days; 90% of applications within 77 days for the vocational education and training sector.
Australia student visa fees
The basic application cost for a student visa in Australia is AUD$650 + AUD$485 (if you are over 18) or AUD$160 (under 18). The Australian Government does not require you to have a visa stamp in your passport to travel to, enter or stay in Australia.
The following table sheds light on Australia student visa fees for the reference of prospective applicants: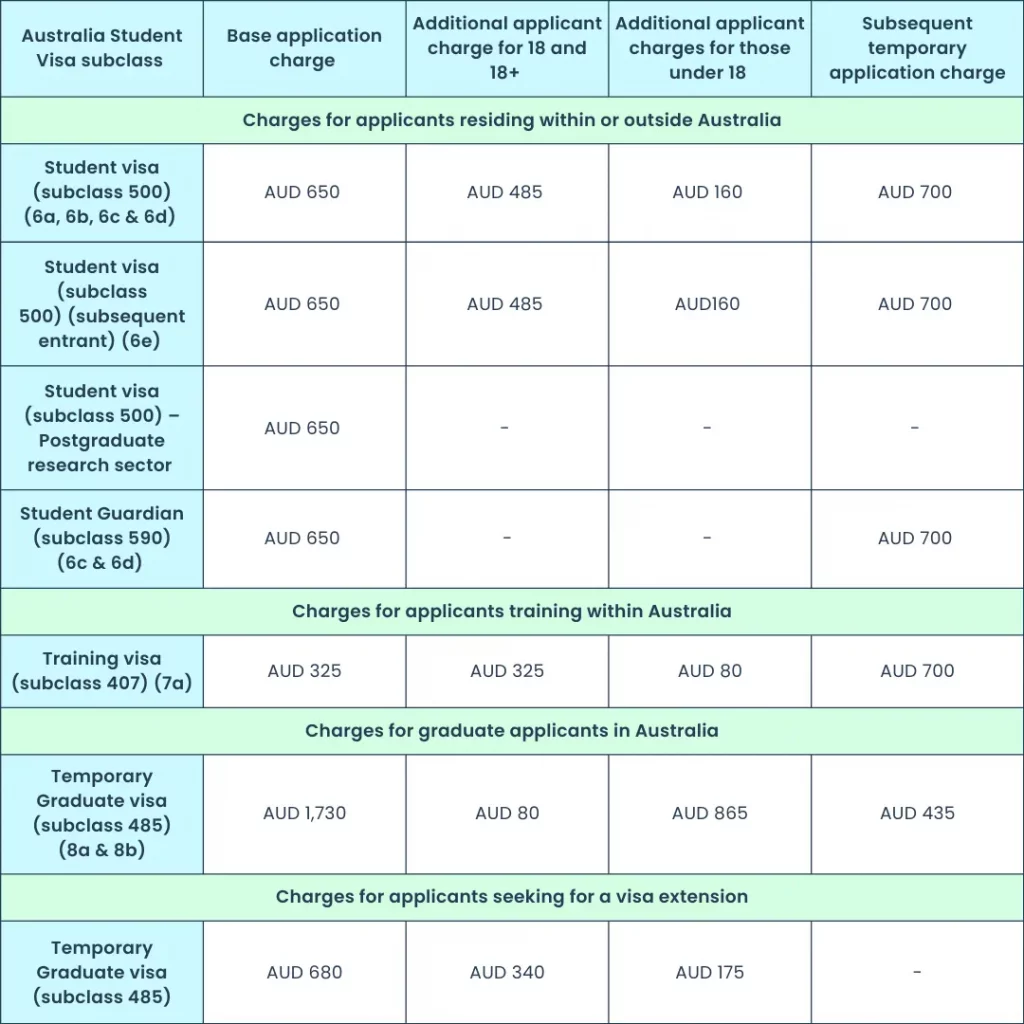 Note: For more details on student visa Australia cost refer to the official link.
Australia student visa process
The application process for a student visa to Australia from India should be started at least 6 weeks before the start of the course. Make sure you apply for this in time as the process can take some time. Please refer to the steps below to guide you through the Australia Study Visa process –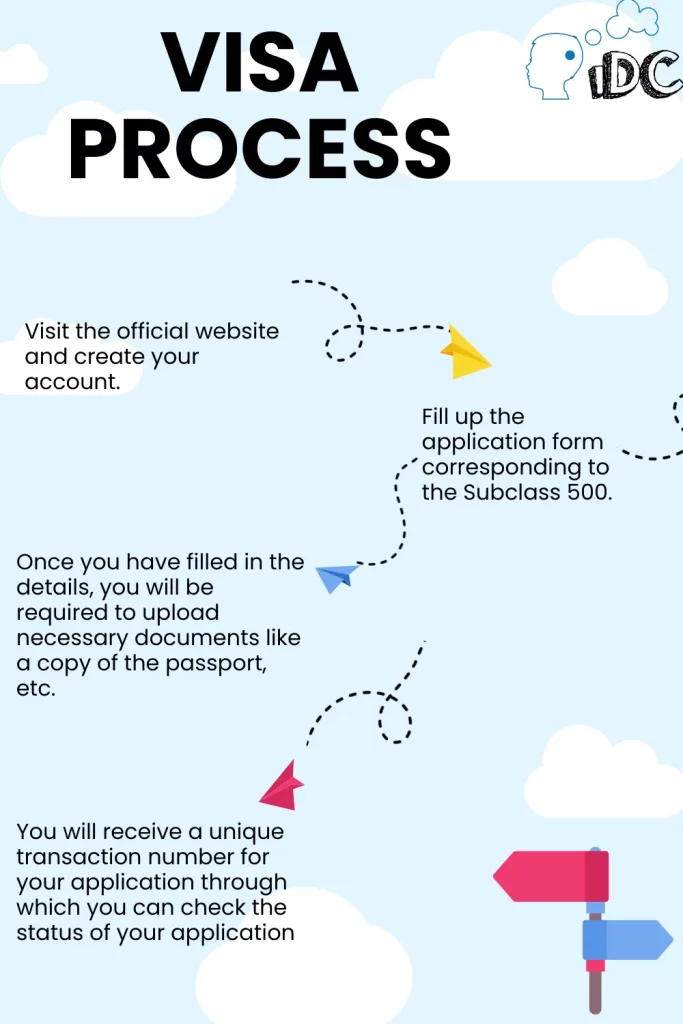 SOP for Australia student visa
The Australian Department of Immigration specifies several requirements and you must follow them when writing your SOP.
Below are the SOP requirements for an Australian student visa:
SOP Duration for Australian Student Visa
The length of the Australian Student Visa SOP has no word limit. However, an SOP of no more than 3 pages is recommended. Next is to make sure that your SOP for a student visa in Australia matches your level of English as shown in tests like TOEFL or IELTS.
Necessary documents
As required by the Australian Immigration Department, candidates must provide supporting documents such as degrees, certificates, or any letters of professional experience that they have mentioned in the SOP for the Australia Student Visa.
Post-study work visa in Australia
Here in this section, we will discuss details related to a post-study work visa in Australia:
Good News…

"An important message from the Jobs and Skills Summit – we will extend post-study work rights by two years for international students graduating from Australian universities in fields with proven skills shortages," Australia's Education Minister Jason Clare tweeted.
1) Selected undergraduate degrees will offer international students a four-year post-study work permit. The current limit is two years.
2) Selected graduate degrees will provide students with five years of post-graduation work experience. The current limit is three years.
3) Graduates of the chosen doctoral degree will be able to work in Australia for up to six years. The current limit is four years.
Meanwhile, the Australian Government's Minister for Immigration, Citizenship, Migration Services, and Multicultural Affairs has released the 2022-23 Migration Agenda. The program was designed to stimulate the economic recovery of the country, which is still going through the pandemic.
Conclusion
So, if you want to reach your dreams and are looking for a place from where you can make a leap of faith towards success, who can teach you how to jump better than the Kangaroos!
Do you want to make a career decision now? Not settled yet? In case, you feel indecisive or confused, do dial us up. iDreamCareer is on a mission to reach every state and every child in order to ensure that talent is appropriately delivered into the industry.
Talk to our study abroad experts to know yourself in and out! We have helped several brilliant but confused minds with an aim to select their most-suited career choices. We have helped many students like Anjana Prasanna who was not very confident about her capabilities. Later with the help of career guidance and moral support from our study abroad experts she got an offer from King's College London! We have helped several young confused minds like Aayush and Tapan with an aim to select their most-suited career choices.
Also Read;
FAQs
Can I bring dependents on a student visa?
When you go to study in Australia, you have the right to bring members of your family with you. You can either include them in your initial student visa application, or you can apply for their visas after you start studying in Australia. Spouses, partners, and unmarried children under the age of 18 are eligible for a dependent visa.
If you include dependent family members on your initial student visa application, you must include their details on the original Form 157A. The holder of a basic student visa must have a minimum of 12 months of visa validity and the necessary funds and insurance to cover all expenses for that period.
Can I apply for a student visa while in Australia?
If you already have a work visa or visitor visa in Australia, you can apply online without leaving the country. Given that your current visa does not have a "no-stay" clause, your work visa or visitor visa will have nothing to do with your student visa application because they are completely different.
Can my wife work on a student visa in Australia?
A dependent partner may work up to 40 hours per fortnight while the student is pursuing a bachelor's degree. If the student is pursuing a master's degree (coursework or research) or a doctorate, the partner will have full and unrestricted employment rights.
What are the financial requirements for a student visa to Australia?
Proof of sufficient funds to cover tuition, travel, and living expenses. As of February 2018, the amount of living expenses (separate from tuition and travel) that you must prove is AUD$21,041 (~US$14,185) per year.

Anushree has 5 years of experience in the career counseling industry as a Senior Content Writer. She has also worked as a Social Media Marketing Expert for a startup and Content Quality Analyst for the Publishing and E-learning Industry. She has done her Master's in Commerce and PGDM in Finance & Trade and Marketing & HR, but she is currently following her passion for writing.