In many academic disciplines, Australian universities are highly respected around the world and attract students. For those studying natural sciences such as biology, zoology, and chemistry, as well as mathematics, engineering, social sciences, and medicine, Australia remains a widespread option. Classes and campus life take on a truly global perspective, allowing for a diverse range of experiences. If you too wish to know about the top Universities in Australia for Masters, the following post aims to tell you about their main features and how you can give shape to your dreams.
Do you know?

As of July 2022, 96,000 Indian students were studying in Australia, forming the second-largest group of international students after China.
That's why Australia is definitely the best country for higher education. Since the country's economy is promising and there are good employment opportunities, students can continue their studies at the master's level. There are many good Master's universities in Australia. When choosing the best universities in Australia for Masters, there are many options for students. In addition, students benefit from learning about a unique and rich heritage through the artistic and cultural influences evident in the city's dynamic culture.
What all is covered in this post?
To make it easier for you, we have created a quick guide to everything you need to know about top universities in Australia for Masters.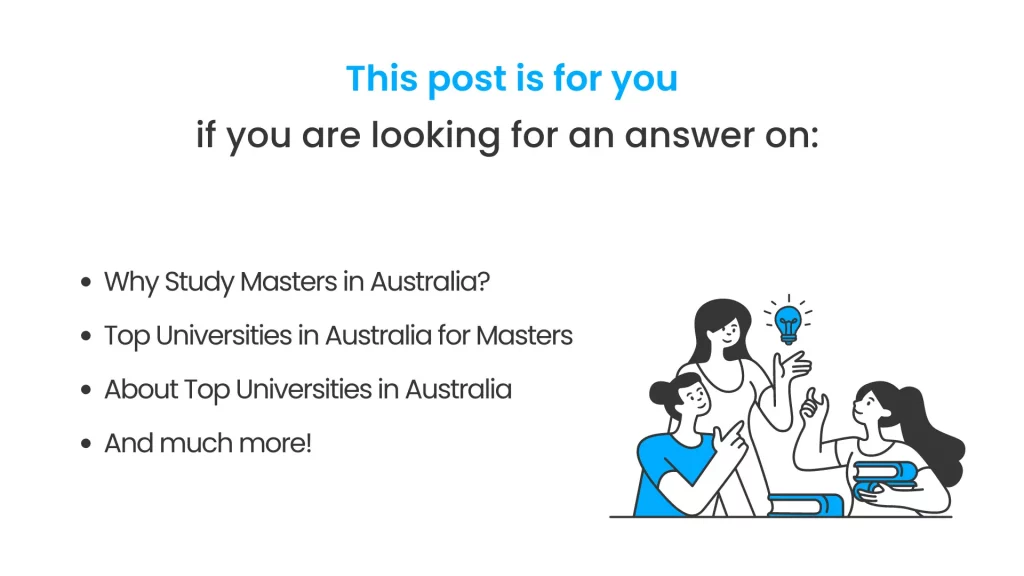 Why study masters in Australia?
Australia offers an unrivaled experience for international students with a warm climate, beautiful landscapes, and top universities. It's no surprise that Australia is the second most popular study destination in the world after the US. In 2019, Australia enrolled 758,000 international students at the world's leading universities and TAFE (technical and further education) institutions. So, we know why Australia is the best choice, but why exactly should you consider it for a Master's degree?
A world-renowned education
Effective studies
High quality of life
Job opportunities after studies
Work while studying
Top Universities in Australia for Masters
Home to more than 40 universities and 700,000 international students, Australia is climbing up the ladder of the most popular study-abroad destinations after the UK and the US. Offering 22,000 courses to choose from, there is a clear advantage of recognizing the potential of MS in Australia. A master's degree in an Australian university can take up to 1-2 years.
Following is the list of top 10 universities to study in Australia for a master's along with the "QS Ranking 2022" along with fees:
| | | |
| --- | --- | --- |
| University | QS Ranking 2023 | Annual Tuition Fees (INR) |
| Australian National University | 30 | 2,746,201 |
| University of Melbourne | 33 | 2,153,761 |
| University of Sydney | 41 | 2,783,500 |
| University of Queensland | 50 | 2,631,187 |
| Monash University | 57 | 2,599,789 |
| University of Western Australia | 90 | 1,814,842 |
| University of Adelaide | 109 | 2,727,830 |
| University of Technology Sydney | 137 | 2,463,732 |
| University of Wollongong | 185 | 2,009,464 |
| RMIT University | 190 | 1,977,398 |
About top universities in Australia
However, before you narrow down on the best universities in Australia, make sure you understand the entry requirements, Australian student visa procedure, scholarships to study in Australia, and the cost of a master's degree in Australia. By doing this, you will be able to simplify your trip and plan it well!
In this section, we will provide the explanation of the above-mentioned list of top universities in Australia for Masters:
Australian National University
In terms of university rankings, the Australian National University (ANU) is ranked 20th in the world. The university is located in the capital of Australia, Canberra, and is undoubtedly one of the best MS universities in Australia. ANU has the distinction of being the only university established by the Parliament of Australia.
Student-to-faculty ratio: 6:1
Graduation rate: 81%
Average salary: $68,500
Popular Course: MS Computer Networks
University of Melbourne
Ranked 33rd in the QS international rankings, the University of Melbourne is one of the world's leading educational institutions. The university has 12,000 international students, so you'll have no problem meeting like-minded people from around the world during your master's degree.
Student-to-faculty ratio: 12:1
Graduation rate: 88%
Average salary: Depends from one course to another
Popular Course: Master of Computer Science
University of Sydney
The University of Sydney is one of the oldest and top universities in Australia for master's. Founded in 1850, the university now enrolls around 60,000 students each semester. It is among the 41 best universities in the world.
Student-to-faculty ratio: 11:1
Graduation rate: 83%
Average salary: $95,500
Popular Course: MS in Data Science
Monash University
Monash University is currently ranked 57th among the best universities in Australia for Masters. Although the university is based in Melbourne, it has many international centers outside of Australia. Monash University also has a campus in Malaysia, as well as other campuses in international centers such as Italy, India, and China.
Student-to-faculty ratio: 11:1
Graduation rate: 79%
Average salary: $98,000
Popular course: Master of Information Technology
It's a Wrap!
To find out, first decide what type, of course, you are interested in. Do you want to study natural sciences, arts, economics, engineering, or humanities? Once you know that, you can choose the program of your choice. But at the same time, make sure that you are eligible to apply for it.
Once you've decided which program you're going to apply to, it's time to prepare for standardized tests. In the meantime, I suggest you start gathering all the documents you will need for your application.
If you have any questions related to MS in Australia, as well as in other countries, please contact us. We will be very happy to help!
Talk to our study abroad experts who have 20+ years of experience to know yourself in and out! We have helped several brilliant but confused minds with the aim to select their most-suited career choices. Hear the success story of Aayush who got an offer from the top 3 universities and is now studying at the University in Ottawa in Canada after getting career guidance from our industry experts!
ALSO READ:
Universities in Australia for Masters: FAQs
Who does not need a visa to study in Australia?
If you are an Australian citizen, a New Zealand citizen, or have the right to live permanently in New Zealand or Australia, you will not normally need an Australian student visa.
What visa do I need to do a master's degree in Australia?
You may need to apply for a student visa (subclass 500) to study in Australia in a postgraduate program. This will allow you to live and study in Australia for the duration of your program. You will also be able to re-enter the country many times during this period.
Is Australia suitable for Master's courses?
Australia is one of the most sought-after destinations for higher education after the United States and the United Kingdom. Every year, hundreds of thousands of international students travel to Australia for higher education.
Is GRE required for MS in Australia?
The GRE is not a mandatory requirement for most Australian universities offering Master's degrees. Although some of the top universities may request your GRE score, providing a score, even if it is not required, will add value to your application package.

Anushree has 4+ years of experience in the career counseling industry as a Content Writer. She has also worked as a Social Media Marketing Expert for a startup and Content Quality Analyst for Publishing and E-learning Industry. She has done her Master's in Commerce and PGDM in Finance & Trade and Marketing & HR, but she is currently following her passion for writing.