As an international student, you have access to a range of grants, scholarships, and bursaries in Australia, all of which go a long way in helping you financially finance your studies in Australia. By scholarship in Australia for Indian students can help them with day-to-day expenses such as housing and moving, apart from covering the entire cost of their education if you wish. These scholarships in Australia are provided to you by the Australian government, educational institutions, and a number of other public and private organizations.
Millions of international students travel to Australia each year to gain international exposure in their chosen fields. In fact, more than 4,42,200 international students studied in Australia in 2019. Every year, a significant number of talented students are denied the opportunity to study in Australian institutions simply because of a lack of funds. However, they can make their dreams come true as the Australian government and institutions encourage bright students by offering them scholarships, grants, and bursaries.
Do you know?

According to the Australian government, the Department of Foreign Affairs and Trade (DFAT) has allocated $280 million to support international students.
Looking for a definite list of scholarships in Australia for Indian students, this post is for you… Come along…
What all is covered in this post?
To make it easier for you, we have created a quick guide to everything you need to know about scholarships in Australia for Indian students.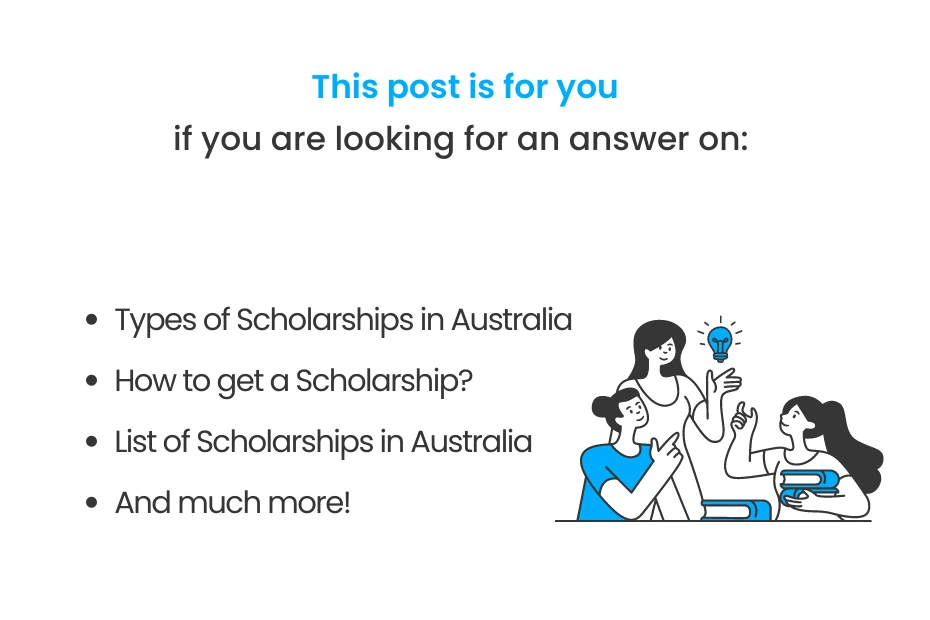 Types of scholarships in Australia
There are several scholarship programs for international students in Australia and you can choose the one that suits you best. There are six main types of scholarships in Australia.
They are as follows:
Merit-Based Scholarships: As the name suggests, this scholarship is based on merit. You have to have an excellent academic record to get it. The qualification varies from university to university and you can read on to find out more about it. Chancellor's Scholarships, Vice-Chancellor's Scholarships, Dean's Scholarships, etc. fall under this category.
Sports Scholarships: These are for students who have excelled in sports. Eligibility criteria vary by sport. Whether you are a recreational player or a talented player, there are scholarships for both.
Faculty and Departmental Scholarships: These are merit-based scholarships for students taking specific courses. Examples are architecture and design scholarships, engineering scholarships, etc.
Equity Scholarships: This scholarship is exclusively for a specific group of students. Individuals with financial difficulties, severe medical conditions, personal limitations, etc. can apply for this type of scholarship.
Residential Scholarships: Students who do not meet the criteria for merit-based scholarships may apply for residential scholarships. This covers student living and accommodation costs.
Government Scholarships: The Australian government has come up with four types of scholarships. The Australia Awards is a merit-based scholarship given to strengthen relationships between Australia and other countries. Endeavor Scholarships are awarded to PG and Ph.D. students. The Research Training Program (RTP) provides grants to students. Australia Awards Pacific Scholarships (AAPS) are awarded to students from the Pacific region.
How to get a scholarship to study in Australia?
This is one of the most common questions among students! Are you also looking for an answer? Don't worry we will help you. Australia has some excellent universities and colleges, making it a popular choice for international students. Although universities in Australia are a bit expensive, you will find help with all the scholarships, bursaries, and grants available.
In this section, we will give you some tips on how to successfully get a scholarship in Australia:
Top up generously: There are several scholarships you'll be eligible for, and you never know which one you might get. So, don't be shy and apply liberally. This ensures that you get at least one.
Ask for help: If you get stuck anywhere during your scholarship application or feel you need help explaining things, don't hesitate to contact AECC Global. Remember, one wrong move and you end up losing!
Read the guidelines carefully: You should read and understand the scholarship guidelines carefully. For some scholarships, you may be asked to provide supporting documents, such as work experience. If you don't save and submit them, you may lose them.
Prepare all documents: Some scholarships require certificates of experience, sports achievements, etc. It's best to have them handy as they can increase your chances of getting shortlisted.
List of scholarships in Australia for Indian students
| | |
| --- | --- |
| Scholarships Name | Amount/ Expenses Covered |
| Australia Awards Scholarships | Full tuition fee, return air travel fare(economy), Establishment allowance, Contribution to Living Expenses (CLE), Overseas Student Health Cover (OSHC), Introductory Academic Program (IAP), Pre-course English (PCE) fees, Supplementary academic support, Fieldwork |
| Australian Government Research Training Program Scholarships | Up to $124,000, Tuition fee, Stipend |
| CSIRO Data61 Scholarship Program | $10,000 per annum |
| CSIRO Scholarship Program | Variable |
| Destination Australia Scholarship | Up to $15,000 per year, Maximum duration: 4 years |
| Endeavour Postgraduate Scholarship | Tuition fees, Travel allowance- AU$ 3,000, Establishment allowance- AU$ 2,000/4000, Monthly stipend- AU$ 3000/month, Health insurance, Travel insurance |
| John Allwright Fellowship (JAF) | Full tuition fee, Return air travel fare (economy), Contribution to Living Expense (CLE) – AU$ 30,000/year, Establishment allowance- AU$ 5,000 once |
Now let's have a detailed info about top scholarships,
Australia Awards Scholarships
This scholarship is awarded to outstanding Indian postgraduate students enrolled in programs in engineering, construction, energy and resources, security and strategic studies at leading Australian universities. Applications for this scholarship open in February and run through April each year. Here it is important to remember that the students who get this scholarship have to return to India after completing the program.
Eligibility:
Minimum age is 18 years
Meet the entry requirements set by your target university
Achieve the expected minimum marks in the entrance tests
IELTS – 6.5, minimum 6.0 for each band
TOEFL-84, minimum 21 in all subtests
PTE-58, minimum communication skills score should not be 50
Australian Government Research Training Program Scholarships
These scholarships for international students are awarded by individual universities on behalf of the Department of Education. The application procedure, like selection, varies from university to university. It is awarded to students studying at Master's and Doctoral levels and covers one or more tuition fees, living costs, and other study-related costs. The MSc scholarship is valid for 2 years, while the Ph.D. scholarship is valid for a minimum of three years and a maximum of four years.
Eligibility:
Graduation degree
Academic Merit
Research potential
CSIRO Data61 Scholarship Program
Focusing on STEM subjects, this is one of the Ph.D. scholarships in Australia, which offers two types of awards – Data61 Ph.D. Data61 Scholarship and Additional Scholarship. Data61 Ph.D. includes a full scholarship, while the Data61 Supplemental Scholarship provides additional support if you are on a university/government/third party funded scholarship.
Your offer letter will state the benefits you will receive, which may only be a Ph.D. scholarship, an additional scholarship only, or both Ph.D. and additional scholarships. The scholarship is valid for a maximum of 3.5 years. Depending on university processes and the number of applications, admission rounds are held 2-4 times a year. Read more.
Eligibility:
Graduation degree
A research interest in a STEM topic that aligns with CSIRO's priority interests
Academic merit and research potential are required
CSIRO Scholarship Program
CSIRO supports the interests of dedicated scientists to collaborate with them by providing different scholarship options each year. The annual sabbatical fellowship program and other various fellowships enable deserving researchers to work with world-class scientists. Research areas are a focus of CSIRO, so candidates should check each year on the CSIRO website. The 50 scholarships are awarded to "outstanding graduates entering Australian tertiary institutions each year". It is designed for three years and can be extended for the fourth year.
Eligibility: For the Doctoral Fellowship in Machine Learning-Enabled Dissolved Metal Ion Processing and Imaging in 2022 was $33,000 per year with tuition, if applicable. But for the Quantum Technologies Ph.D. Scholarships, a base stipend of $28,854 per year and/or an additional stipend of $10,000 per year, with benefits of up to $5,000 in training and development funding for the duration of the scholarship, tuition fees are not provided. disclosed.
Destination Australia Scholarship
The Destination Australia Scholarship funds students to study at top Australian universities and institutes. The idea behind the scholarship is to harness the socio-cultural and economic benefits that international students bring to empower regional Australia. Candidates are expected to live and study in remote and regional areas, defined as areas outside major Australian cities. Read more.
Eligibility:
As per the guidelines published by the particular university
Academic Merit
Applicant's personal statement
It's a Wrap!
To be eligible for scholarships in Australia, it is necessary to go through the above scholarships and make plans in advance. As some scholarships are fully funded, keep in mind the guidelines for Australian scholarships and start your application early to avoid problems. You have the info you wanted. Do you want to make a career decision now? Not settled yet? In case, you feel indecisive or confused, do dial us up.
iDreamCareer is on a mission to reach every state and every child in order to ensure that talent is appropriately delivered to the industry.
Talk to our study abroad experts to know yourself in and out! We have helped several brilliant but confused minds with the aim to select their most-suited career choices. We have helped many students like Anjana Prasanna who was not very confident about her capabilities. Later with the help of career guidance and moral support from our study abroad experts she got an offer from King's College London! We have helped several young confused minds like Aayush and Tapan with an aim to select their most-suited career choices.
ALSO READ:
FAQs
Can Indian students get a scholarship in Australia?
The country offers international students quality education, expert faculty, and a wide range of courses for extensive research and career development. By meeting the financial requirements, you can apply for numerous scholarships while studying in Australia.
How can I get a full scholarship in Australia?
Go to the Online Australia Scholarship Information System (OASIS). When you register online, you will need to answer some questions to confirm your eligibility. You will then be given a unique registration number, username, and password. You don't need to apply right away.
How much interest is required to get a scholarship in Australia?
A minimum GPA of 75% is required at your previous academic level. A valid Australian student visa is required. You must be attending a regional university campus in Australia full-time.
Is Australia expensive for Indian students?
No, the overall cost of studying in Australia is not expensive. The country offers many money options to suit any student's budget. Depending on the academic and life investment, the cost will vary.
How many IELTS scores are required to get a scholarship in Australia?
Generally, to study in Australia you need a minimum 6.5 overall IELTS score, with no range below 6.0 for postgraduate studies.

Anushree has 5 years of experience in the career counseling industry as a Senior Content Writer. She has also worked as a Social Media Marketing Expert for a startup and Content Quality Analyst for the Publishing and E-learning Industry. She has done her Master's in Commerce and PGDM in Finance & Trade and Marketing & HR, but she is currently following her passion for writing.