A master's in France is considered a very valuable study program and is the fourth most popular study destination in the world. The degree is highly valued and recognized worldwide. It has also been observed that international students who wish to study in France usually aim for a PG degree. France has a unique education system with many small universities and institutes.
France is becoming a popular study-abroad destination. In France, the Master's level of postgraduate education is an academic degree as well as an honor. This is the last university class to be taken and is completed prior to licensure, i.e., bachelor's and Ph.D. A master's degree in France lasts between two and six years and depends on the curriculum of the university you choose. The number of international students who choose to study in France is growing.
Do you know why?

All international students with valid student visas are allowed to work while studying, regardless of their degree or country of origin. The law in France allows international students to work up to 964 hours a year, equivalent to 60 percent of the working week. Algerian students have slightly different rules, including being allowed to work 50 percent of the standard work week. The minimum wage in France is €10.57 (£9.21) an hour which is equal to all employees and is guaranteed by law.
Let us explore the post to know all the answers!
What all is covered in this post?
To make it easier for you, we have created a quick guide to everything you need to know about pursuing a master's in France.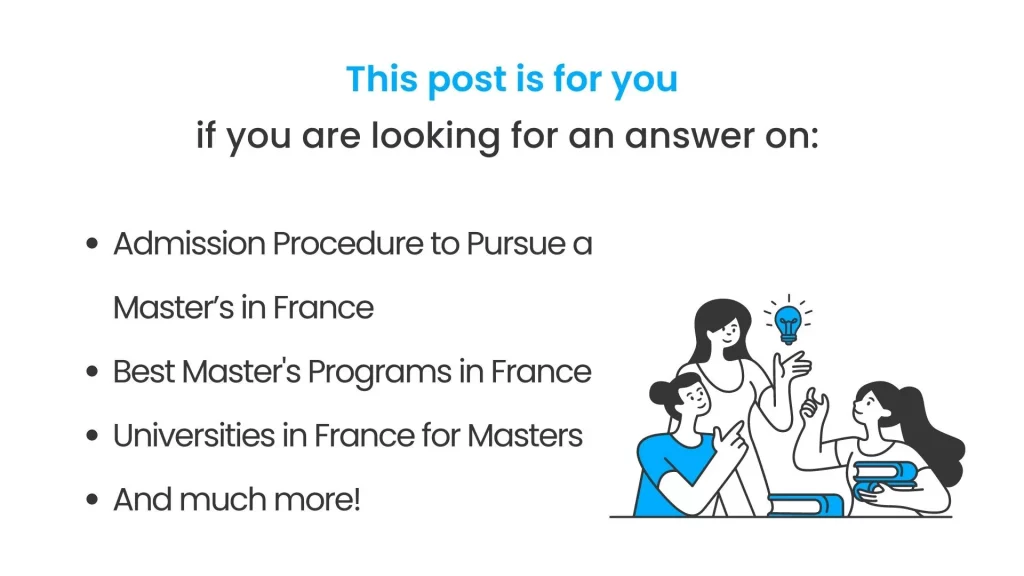 Admission procedure to pursue a master's in France
The application process to French universities for a master's degree is quite simple. Most French universities for international students select applicants based on basic entry requirements and a test or interview.
Some universities have their own special tests that must be passed in order to be eligible for admission. In addition, international students must be proficient in English as well as French depending on what the university or institution has requested. Universities usually take about 4-6 weeks to get back with an admissions decision.
Eligibility to pursue masters in France for Indian students
Let us now discuss the eligibility criteria for pursuing a master's degree in France for Indian students:
GMAT / GRE Requirement: Most French universities for international students offering master's programs in France do not require GMAT / GRE scores. But these scores can certainly strengthen an applicant's application.
English Language Requirements: Although French is not mandatory at most universities, English is definitely required. Accepted points for English proficiency are as follows:

TOEFL iBT: 71
TOEFL pBT: 530
IELTS: 6.0-7.0
TOEIC: 810
Bachelor's degree from a recognized and recognized university.
Work experience (may be required for some universities)
Documents required for pursuing Masters in France
Below are the main documents required for admission to master's programs in France: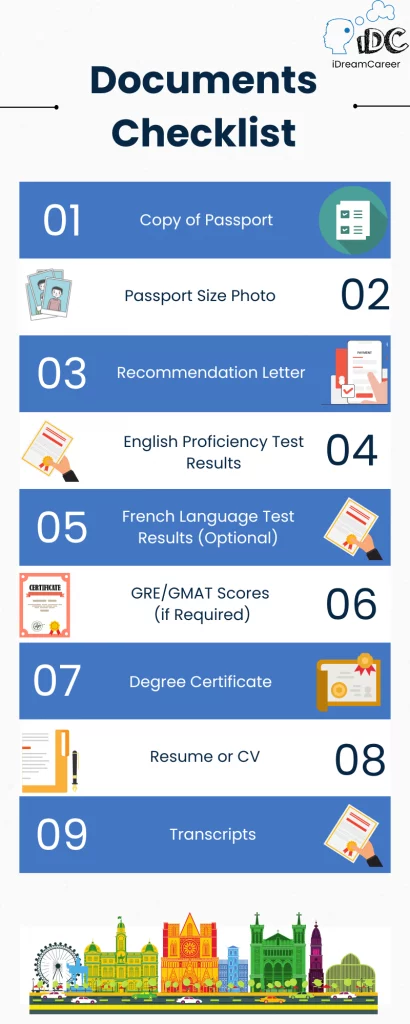 List of popular universities in France for Masters
As we have already mentioned, France is home to some of the best universities in the world, which are highly ranked and internationally recognized. In this section, we have tabulated a list of universities in France to pursue a master's degree.
| | | |
| --- | --- | --- |
| University | Tuition Fees (in EUR) | Top Programs Offered |
| Universite PSL | 243 per year | Masters in Computer Science Masters in Management |
| Université De Paris | 350 per year | MSc Chemistry MSc Artificial Intelligence MSc Biomedical Sciences |
| Sorbonne University | 3773 per year | Masters in Data Science Masters in Management |
| Skema Business School | 30,000 | MSc Business Consulting and Digital Transformation Masters in Finance |
| Ecole Polytechnique | 38,000 | Masters of Science Masters in Design and Management |
| HEC Paris | 46,950 | MSc International Finance MBA Masters in Management |
| CentraleSupelec | 2000 per year | MSc in Data Science MSc in Artificial Intelligence |
| University of Nantes | 40,000 | MSc in Computer Science |
Universite PSL
Paris University of Science and Letters (PSL) is one of the best universities in France for Masters. The master's degree at PSL is interdisciplinary, selective, and designed for students who have a high potential for excellence. It offers 43 master's courses in each subject at different campuses in Paris. About 20 courses are offered in English, with French as a Foreign Language (FLE) for non-French speaking students.
Université De Paris
Known as one of the best universities in France for master's degrees, the University of Paris offers 100 research and professional master's programs with more than 300 specializations. The University of Paris selects outstanding international students for admission to certain master's programs and encourages them to stay in Paris and prepare for a doctorate. The university also provides financial assistance to international students to support their stay and expenses in France.
Sorbonne University
The University of Sorbonne occupies an important place in the list of masters in France. It is a world-class research university offering a wide range of courses in the humanities and social sciences, engineering, natural sciences, and medicine. Sorbonne University's approach to education is research-oriented and designed to address the intellectual and scientific challenges of today's world.
Skema Business School
SKEMA Business School is among the top ten French global business schools. Member of the "Conference des Grandes Ecoles" and international recognition: triple accreditation by EQUIS, AMBA, and AACSB, and FT rankings: MSC in Financial Markets and Investments (4th in the world) and Master of Management (25th best in the world).
Ecole Polytechnique
Ranked 61st among the world's best universities by QS, the Polytechnic is considered one of the world's most prestigious public institutions for teaching and research excellence. The institution accepts applications from all over the world three times a year. Admission to Ecole Polytechnique is quite competitive as the UG and PG programs are specially designed for highly competent students. Ecole takes a holistic approach when evaluating applicants.
Best master's programs in France
Pursuing an MS in France allows the student to choose from a wide range of specializations and disciplines. Some of the best specializations are listed below:
Artificial Intelligence for Business Transformation
Big Data Analytics for Business
Computer Engineering
Computer Science on Optimization in Operations Research (ORO)
Design and Management of Complex IT Systems
Electronic Embedded Systems
Environment, Ecology-Oceanography and Marine Environment
French Engineering Master Degree Program (FEMDP)
Hydraulic and Civil Engineering
Internet of Things (IoT)
Management-Engineering
Mechanical and Electrical Engineering
Renewable Energy Science & Technology
Software Engineering
Transfers-Fluids-Materials in Aeronautical and Space Applications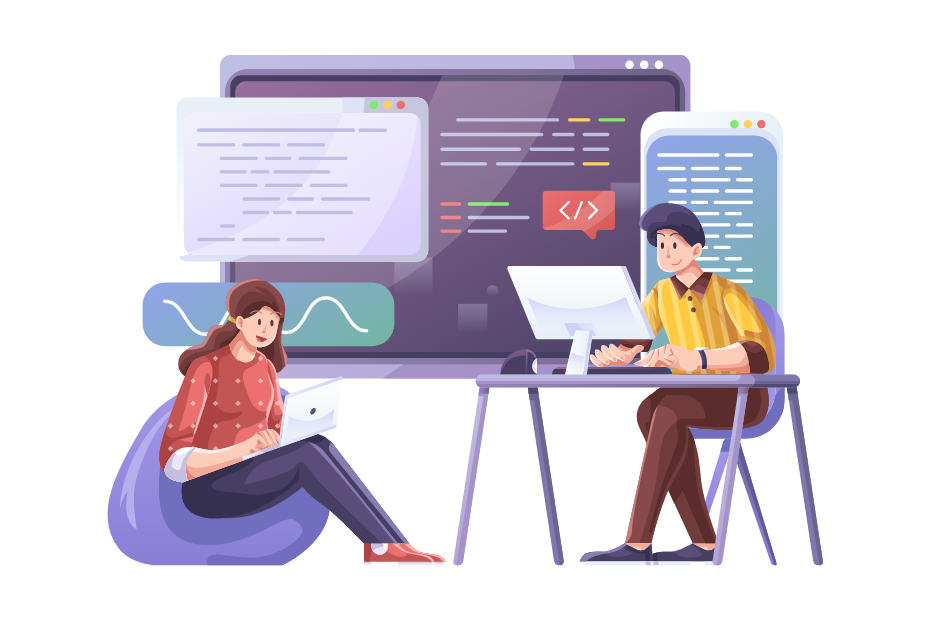 Top scholarships to pursue Masters in France
Studying abroad can be expensive. Students can apply for various scholarships to reduce the cost of studying abroad. In addition, students can read about scholarships in France. Some of the scholarships are given below:
Charpak Scholarship Program
This scholarship program is named by the French government after Georges Charpak, a French Nobel laureate in physics, and is offered by the French Embassy in India. It is offered to undergraduate, master's, and doctoral students, as well as exchange programs.
La Femis
The joint scholarship program offered by the French Ministry of Foreign Affairs and la Femis is designed to promote enthusiastic international film and television students who wish to improve their skills and in-depth understanding of documentary filmmaking in France.
For Indian students, the French Embassy offers a 2-month residency program including travel, health insurance, monthly stipend, etc.
Eiffel Scholarship Program
The French Ministry of Foreign Affairs (MEAE) and International Development offers an Eiffel Scholarship to international students. It is offered to undergraduate and postgraduate students only and is applied on behalf of the student's institute/college.
Make Our Planet Great Again (MOPGA)
The French Ministry of Europe and Foreign Affairs and the Ministry of Higher Education, Research and Innovation are jointly offering MOPGA to Indian students for a Master's program in France.
Erasmus+ Mobility scholarships for international students
The Erasmus+ scholarship program is offered to support education, sports, and training for young people. It is awarded to top students worldwide, and many French higher education institutions offer joint master's programs.
Epilogue
There you go! You have the info you wanted. Do you want to make a career decision now? Not settled yet? In case, you feel indecisive or confused, do dial us up.
iDreamCareer is on a mission to reach every state and every child in order to ensure that talent is appropriately delivered to the industry.
Talk to our study abroad experts who have 20+ years of experience to know yourself in and out! We have helped several brilliant but confused minds with the aim to select their most-suited career choices. Hear the success story of Aayush who got an offer from the top 3 universities and is now studying at the University in Ottawa in Canada after getting career guidance from our industry experts!
Also Read:
FAQs
What are the opportunities for admission to a master's degree in France?
France is home to some of the largest companies in the world. Students can choose from a wide range of specializations and pursue their careers accordingly. The average annual salary of a master's degree holder in France is almost 42,000 euros. All these factors make France an attractive place for higher education.
What are the requirements for admission to a master's program in France?
To enroll in a master's program in France, you must meet certain basic requirements, such as formal education, graduation, and IELTS, or TOEFL English proficiency scores. Additional documents include a resume, letters of recommendation, statement of purpose, etc.
Is it mandatory to provide proof of English proficiency for Masters in France?
If you belong to a country where English is not your first language, you must provide proof of English language proficiency through IELTS, TOEFL, or PTE.
Is it necessary to obtain a student visa for a master's degree in France?
Yes, to continue your studies in France, you must obtain a student visa.
What is the total cost of a master's degree in France and how can I reduce this cost?
The average first-year master's tuition fee in France is almost INR 12. The average cost of living in France is around 4 lakhs per year. To reduce the cost of studying for a master's degree in France, you can apply for a scholarship and/or work part-time.

Anushree has 4+ years of experience in the career counseling industry as a Senior Content Writer. She has also worked as a Social Media Marketing Expert for a startup and Content Quality Analyst for Publishing and E-learning Industry. She has done her Master's in Commerce and PGDM in Finance & Trade and Marketing & HR, but she is currently following her passion for writing.