The UK education system is unlike any other country. Here are the most prestigious universities in the world, which offer students a new vision of life. It is also a repository of multicultural communities. Foreign students from many countries spread their knowledge. Learning begins in the classroom and ends with a journey out into the world. The faculty and curriculum inform the course you choose to study and live in. If you have wondered why this is and are interested in learning more about it, then this blog is for you as we hope to take you on a journey to understand and analyze the UK and how education and training are delivered in the UK.
Do you know?

The UK is a unique country known for its diversity, culture, and innovation, with an average international student retention rate of 82%.
From early childhood education to higher education and research courses, the UK education system provides many financial benefits and positive reinforcements for developing talent. Students from all over the world benefit from the experience of internships in large firms and companies. If you dream of being a learner, educator, scientist, researcher, musician, artist, therapist, entrepreneur, or whatever, UK educational institutions will push you one step closer to it.
Let's get started…
What all is covered in this post?
To make it easier for you, we have created a quick guide to everything you need to know about the UK education system.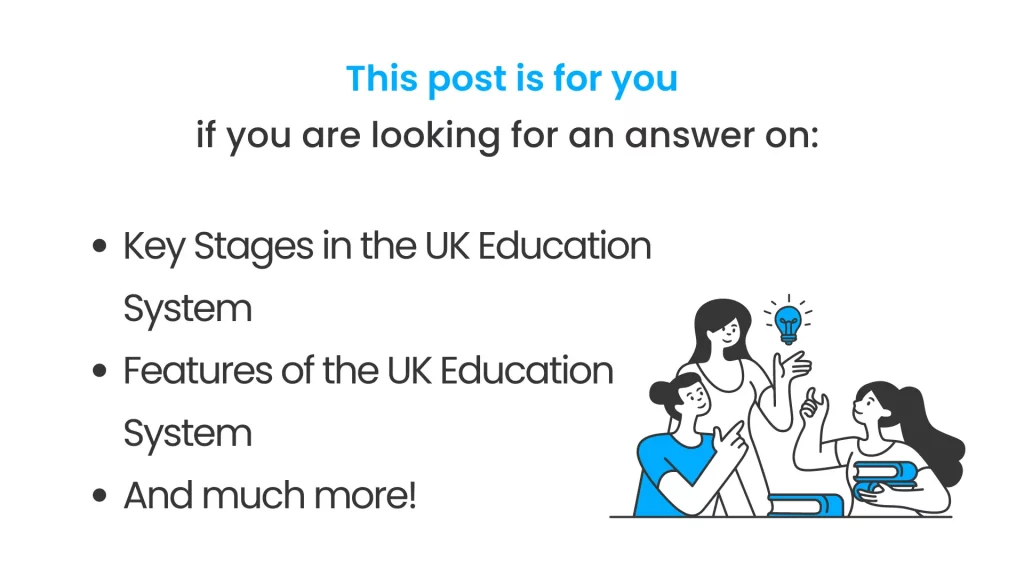 Key Stages in the UK Education System
The UK education system has five key stages that refer to the sets of knowledge and skills students are expected to acquire. This gives parents an idea of class work, achievement levels, and how well their child is doing.
Key Stage 1
During Key Stage 1, pupils aged 5 to 7 focus on developing the foundations of English, math, and science, as well as developing classroom and social manners. At the end of Key Stage 1, teachers within the school access the SATs that students take.
Key Stage 2
During Key Stage 2, primary school specialists raise the level of core subjects further and teach students to write reports, short stories, and narratives. Students start learning French in the final year of Key Stage 2. At the end of Key Stage 2, teachers access the SATs that students take.
Key Stage 3
Starting at Key Stage 3, students aged 11 to 13 are taught by specialist teachers in subjects such as English, math, science, French, Danish, history, geography, art, and PE. Special attention is paid to developing greater independence and the ability to think critically.
Key Stage 4
Pupils aged 14 to 16 in Key Stage Four, the final stage of compulsory education, choose ten subjects from a range of topics and study for two years before taking GCSEs or other exams.
Key Stage 5
During Key Stage 5, also known as Sixth Form or College, students take a more intensive curriculum covering specific subjects such as math and physics to gain A-level certificates. Alternatively, they take the International Baccalaureate curriculum (IB), which is recognized as equivalent to A level, or undertake NVQ/BTEC vocational qualifications. The stage lasts two years.
Note: If you want to know more about education in the UK, refer to our Study in UK and Top 10 Reasons to Study in the UK blog post!
Features of the UK Education System
The education in this institution is more diverse and transcends the borders of the country because it refers to several states and their structure of education. There are several characteristics of British schools or curricula that make them unique and beneficial in many ways.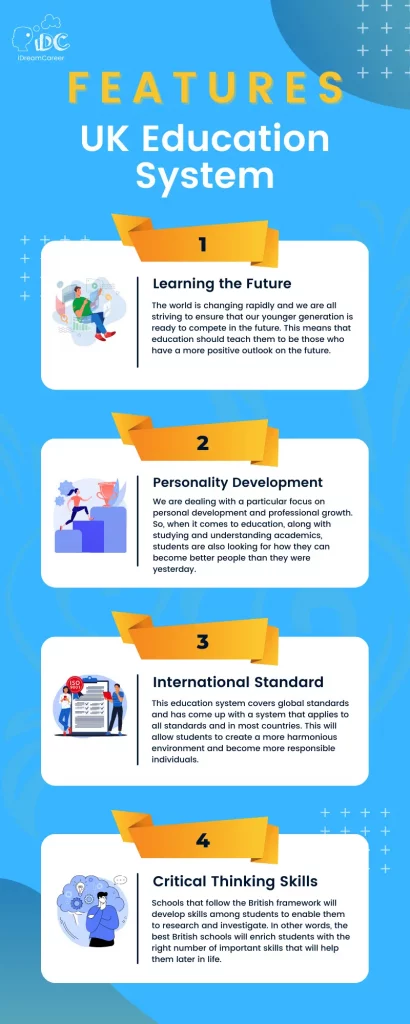 Learning the future
The world is changing rapidly and we are all striving to ensure that our younger generation is ready to compete in the future. This means that education should teach them to be those who have a more positive outlook on the future.
Personality development
We are aware that the generation we are dealing with has a particular focus on personal development and professional growth. So, when it comes to education, along with studying and understanding academics, students are also looking for how they can become better people than they were yesterday.
International standard
As already mentioned, this education system covers global standards and has come up with a system that applies to all standards and in most countries. This will allow students to create a more harmonious environment and become more responsible individuals.
Critical thinking skills
Schools that follow the British framework will develop skills among students to enable them to research and investigate any problem they face in their daily lives and even in class. In other words, the best British schools will enrich students with the right number of important skills that will help them later in life.
UK Education System for Indian Students
Excellent, top-notch education, endless reading options, modern academic approaches, educational process opportunities, destiny prospects, hands-on practice, and an all-around exciting study experience in one of the world's first-class international locations are just a number of reasons why Indian college students should observe UK universities.
Now let's understand how is UK education system different from the Indian Education system.
Suggested Read: Healthcare Management Courses in the UK
UK vs Indian Education System
The difference between the education system in UK and India is as follows:
| | |
| --- | --- |
| UK Education System | Indian Education System |
| UK has an edge over India when it comes to postgraduate and doctoral programs. | Undergraduate courses in India are better for students mainly in terms of cost. |
| The UK education system allows students to be creative and emphasizes practical learning. | The Indian education system is oriented more toward theory than practice. |
| Master's programs in the UK are shortened and can be completed in one year. | Master's courses in India last 2-3 years. |
| The UK education system offers opportunities to develop skills. Students receive projects that require intensive research that help in management skills. | The Indian education system mainly focuses on students learning what is important to get good marks in the exam. |
| The UK education system is advanced in terms of the use of technology. Online enrollment is offered to students and the use of projectors and educational software is quite common in the UK. | In India, on the other hand, there are very few schools with modern equipment, especially in rural areas. |
Grading System in the UK
The UK education system follows a unique grading system that varies slightly from country to country. For example, the grading system for England, Wales, and Northern Ireland is identical, while the Scottish grading system is different. The assessment framework contains several elements that highlight your academic strengths, weaknesses, and specific skills, which is beneficial when looking for a job as an employee because employers get a transparent view of your overall performance.
Let's take a look at the UK grading system using the table we've created below.
| | | | | |
| --- | --- | --- | --- | --- |
| Grade | Percentage | Grade Definition | Honours Degree | Founders Degree |
| A | 70 to 100% | Excellent to outstanding | First | Distinction |
| B | 60 to 69% | Good to very good | Upper second 2:1 | Merit |
| C | 50 to 59% | satisfying | Lower second 2:2 | Pass |
| D | 40 to 49% | Sufficient | Third 3 | Pass |
| E | 30 to 39% | Unsatisfactory | Fail | Fail |
| F | 0 to 29% | Unsatisfactory | Fail | Fail |
Epilogue
The UK is the largest global study destination for international students, offering highly-rated institutions, advanced training courses and excellent prospects across a range of sectors. The country is also popular for its high standard of living and multicultural and cosmopolitan society.
Not settled yet! Do dial us! iDreamCareer is on a mission to reach every state and every child in order to ensure that talent is appropriately delivered to the industry.
Talk to our study abroad experts to know yourself in and out! We have helped several brilliant but confused minds with the aim to select their most-suited career choices. We have helped many students like Anjana Prasanna who was not very confident about her capabilities. Later with the help of career guidance and moral support from our study abroad experts she got an offer from King's College London! We have helped several young confused minds like Aayush and Tapan with an aim to select their most-suited career choices.
Useful Links
UK Education System: FAQs
What is the education system like in the UK?
The education system in the UK is divided into four main parts: primary education, secondary education, further education, and higher education. Children in the UK are legally required to attend primary and secondary education, which lasts from around the age of 5 to 16.
Why is the UK the best education system?
Due to the continuous research and development carried out by faculty and students in a wide variety of fields, education in the UK is considered to be of the highest quality. A UK degree is highly valued by employers around the world.
Is the UK education system good?
The United Kingdom is well known for prestigious universities like Oxford, Cambridge, and others that provide excellent education and offer various courses for international students. The British education system has a reputation for being one of the highest standards of education in the world.
Is the education system in the UK more difficult than in India?
The quality of education in UK educational institutions is much better than the education offered in the Indian education system. The teachers are professionals and industry trained to offer a good education.

Anushree has 4+ years of experience in the career counseling industry as a Senior Content Writer. She has also worked as a Social Media Marketing Expert for a startup and Content Quality Analyst for Publishing and E-learning Industry. She has done her Master's in Commerce and PGDM in Finance & Trade and Marketing & HR, but she is currently following her passion for writing.