Finally, we caught you! Looking for info about commerce subjects in class 12? We'll get you some more too. Hang on. The details are down here.
What is commerce & why study commerce?
Commerce is known as the conduct of trade between economic agents. Traditionally, it is an exchange of goods, services, or something of value, between businesses/organizations/entities. It deals with various aspects of business, accounting, trade, finance, purchasing, and sales information.
Commerce plays a vital role in the development of nations and their citizens by facilitating inter- or intra-ethnic trade.
Why study commerce?
To develop crucial communication skills
You don't fall short in accounting and budgeting.
To unlock the entrepreneur inside you and leave your mark on the world
Learn what makes the world go round in the investment & finance side
Gain project management skills to map responsibilities & ensure you meet deadlines
What are class 12 commerce subjects?
It involves a complex study of the business world and its aspects. There are 4 mandatory Commerce subjects in class 12th and is complemented with a 5th optional subject.
Core Subjects
Accountancy: The Accounting field includes measurement, analysis, and communication of the financial data of a particular business, organization, or other economic entity. It measures the results of the organization's economic activities for communicating it with the end-users such as investors, lenders, regulators, and managers.
Business Studies: Business Studies is a major subject in the commerce stream that allows for in-depth research into specific specialized disciplines such as Finance, Accountancy, Marketing, and organization. It provides a solid foundation and an understanding of how a business should run while developing communication, efficiency, strategy, and business skills.
Economics: Economics can be defined in several different ways. It helps people understand how individuals, companies, and governments make decisions about the resources mentioned to satisfy their desires and needs. It also helps to determine how the individual or organization should plan and communicate to determine the expected outcome.
English: English is a compulsory subject taught to students of class 11th no matter what stream they choose. It is one of the official languages ​​of India and the most widely spoken language in the world.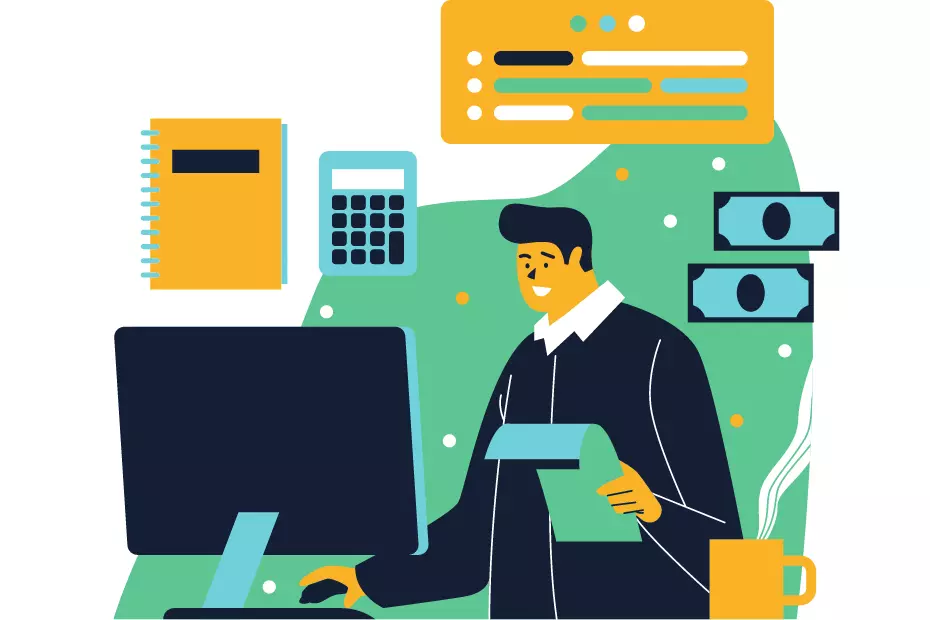 Optional Subjects
Discover More by accessing the Free Career Dashboard
This will help us share relevant information with you.
In addition to the 4 compulsory subjects Accountancy, Economics, Business Studies, and English; you will be required to choose the 5th subject of your choice. Some schools also allow you to choose the 6th subject by allowing you to choose 2 optional subjects of your choice.
Computer Science: It is a comprehensive study of computer applications, programming languages, computing logic, and the most popular network technology among students.
Physical Education: Physical education is considered one of the most chosen optional subjects because it is quite scoring. The subject was introduced to bring about change and development in the human body through regular exercise.
Mathematics: Mathematics is a study of numbers and is often the most hated subject for students, and is sometimes the most popular in terms of spending and applications even in arts, engineering, and sports.
Informatics Practices: Informatics Practices, while compared to Computer Science, focuses on information processing, computer programs, device applications, system development, and integrated machine technology.
Home Science: Home Science is another subject offered under Commerce subjects in class 12th. It includes research on hygiene, biology, nutrition, rural development, social science/life, textiles, home management, arts, and a few more studies.
Language Studies: If you are interested in learning the complexity of the language along with other commerce subjects in class 11th, you can choose to learn a native language such as Hind or a foreign language such as German, French, etc.
Read to know more streamwise subjects in class 12th
List of CBSE commerce subjects in class 12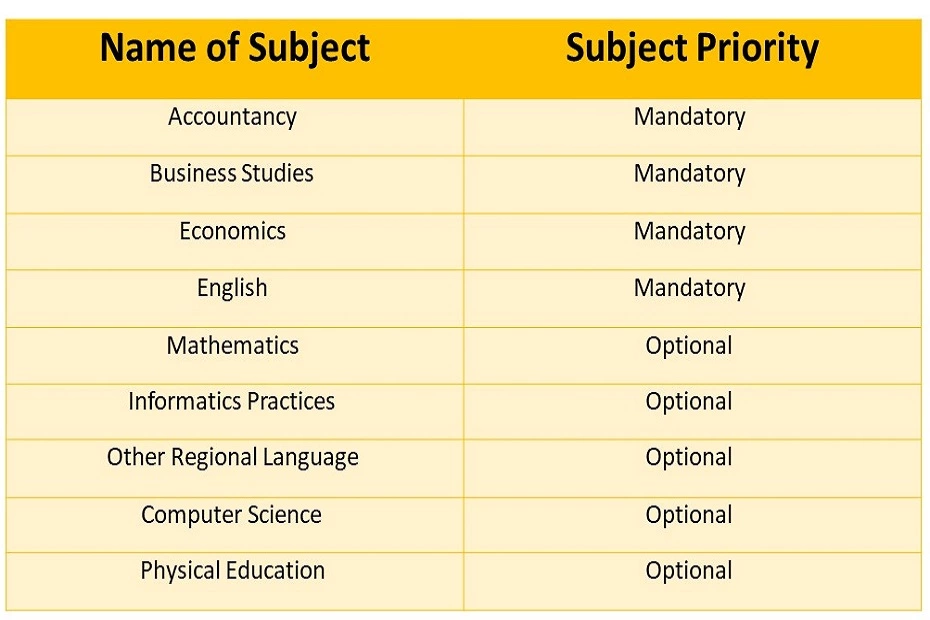 Note: This is to give you an overview of commerce subjects in class 12th. For an in-depth syllabus or subject details, do check with your school. Also, please confirm in advance, if any combination of the additional or optional subjects is offered by your school or not. This may be slightly different as per the availability.
For more details about commerce subjects in class 12th, you may refer to the CBSE Senior School Curriculum.
Do commerce subjects vary with state boards?
Yes, absolutely every state board is focused on a different syllabus so the subjects are also different. It is always suggested to check with your school or board to have an understanding about what subjects they are offering.
Epilogue
Through this post, we have tried to give you an understanding of various commerce subjects in class 12th. However, career planning is a very intense job. So, it's better to seek expert opinion from unbiased counselors and we at iDreamCareer always believe in helping young minds discover their true mettle. We try to help young confused minds from 9th class, 10th class, class 11, class 12 with an aim to select their most-suited career choices.
Useful Links:
.
Discover More by accessing the Free Career Dashboard
This will help us share relevant information with you
Trending Posts

.

Anushree has 5 years of experience in the career counseling industry as a Senior Content Writer. She has also worked as a Social Media Marketing Expert for a startup and Content Quality Analyst for the Publishing and E-learning Industry. She has done her Master's in Commerce and PGDM in Finance & Trade and Marketing & HR, but she is currently following her passion for writing.