Are you preparing for class 10th board exams? Are you surrounded by questions like which stream you should choose? Do you know what science subjects you can opt-in class 11th? Or what are the job opportunities in the different chosen fields? But to answer all these queries you need to self-interrogate and unlock the question box!
You should do an in-depth analysis of your strengths and weaknesses and choose a combination of subjects that suits your interests and professional goals. And for that, you need to have an understanding of everything related to class 11th science subjects.
According to the new National Education Policy (NEP), there are no streams anymore. Students, parents, professionals are all also being encouraged to discontinue the usage of the word 'stream'. However, since most of us are still accustomed to this word and not familiar with any other new word, we may use it across this article but as rarely as possible.
Come along.
What are the science subjects in class 11th?
This science stream is divided into 2 branches:
Medical: Physics, Chemistry, Biology, English, Any optional subject of your choice
Non-Medical: Physics, Chemistry, Mathematics, English, Any optional subject of your choice
.
Physics and Chemistry are common in both disciplines and the main difference is whether you choose Mathematics (PCM) or Biology (PCB). However, students sometimes go with your combination of both (PCMB), choosing to study both Mathematics and Biology instead of another optional subject.
Why choose science?
From great research opportunities to innovative opportunities and technologies, science offers a flexible work environment, full of expertise, and prospects that you can explore.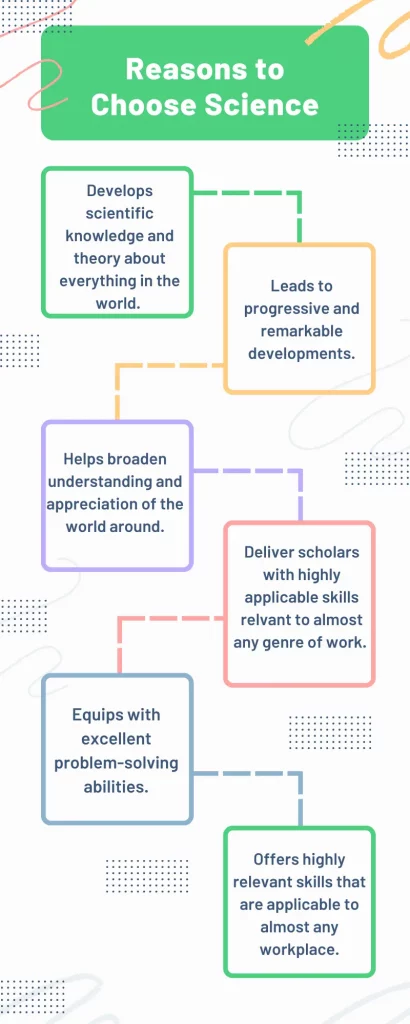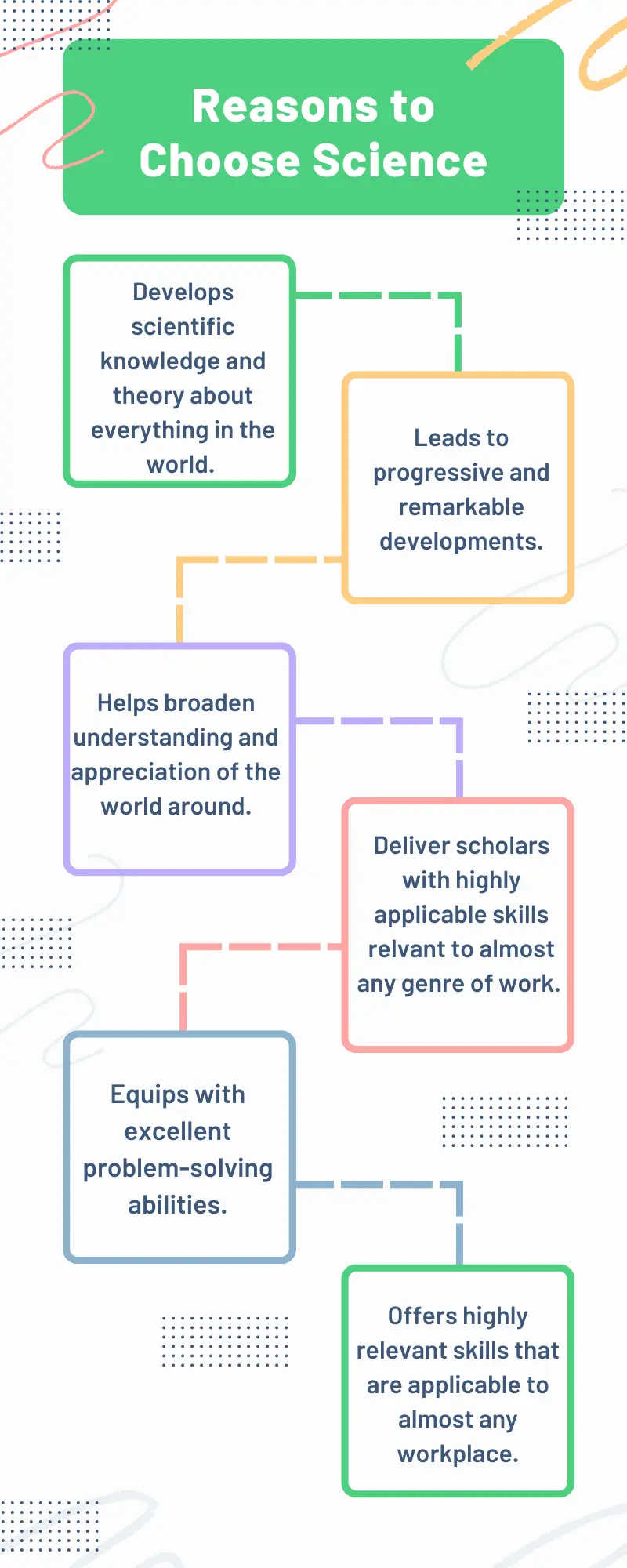 ---
---
Discover More by accessing the Free Career Dashboard
This will help us share relevant information with you
List of science subjects in class 11th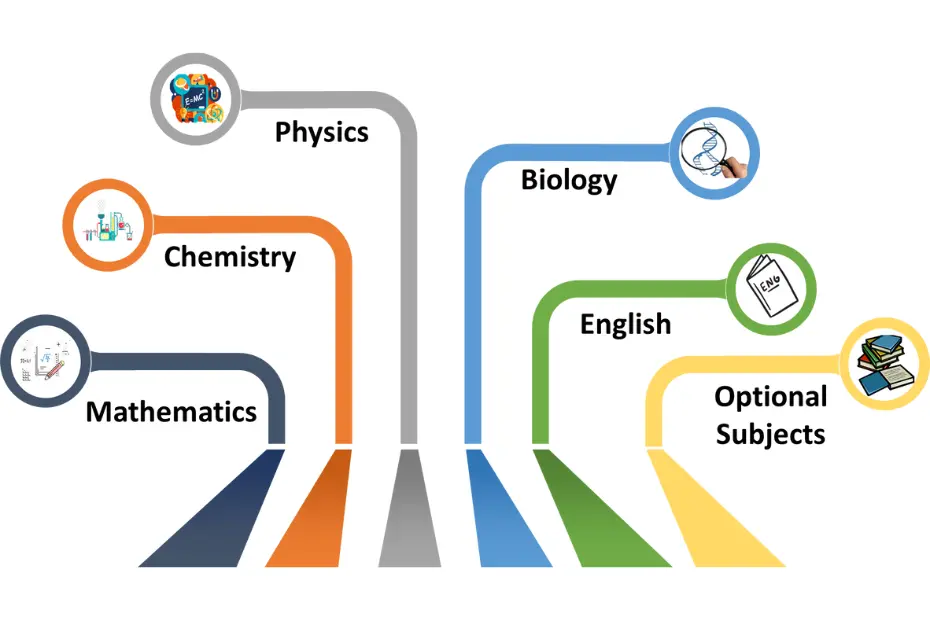 ---
---
Core Subjects
Physics: Physics is a science that combines materials, movement, force, and energy, and is one of the oldest educational institutions in the world. It focuses on finding out how things work, how they function and interact to produce more energy for continuous movement.
,
Topics you will be studying in physics are:
Kinematics
Electromagnetic Waves
Electrostatics
Thermodynamics
Laws of Motion
Electronic Devices
---
Chemistry: Chemistry is simply the study of the structures of life, namely atoms and matter. With the advancement of technology, new areas have begun to emerge in the field of Chemistry such as Biomolecules, Manufacturing Materials, Industrial Chemistry, and the Environment.
.
Topics you will be studying in chemistry are:
Molecular Structure and Chemical Bonding
Chemical Thermodynamics
Chemical Kinetics
Thermodynamics of Chemical Reactions
The study of organic substances is called organic chemistry
Organic Chemistry
Chemistry of the Surface
---
Mathematics: Mathematics is a study of numbers and is often the most hated subject for students, and is sometimes the most popular in terms of spending and applications even in arts, engineering, and sports. As a subject, mathematics focuses on concepts of quantity, transformation, composition, and space.
.
Topics you will be studying in math are:
Algebra
Linear Programming
Vectors and Three-Dimensional Geometry
Mathematical Reasoning
Calculus
Probability
---
Biology: The word 'Biology' is derived from the Greek language, 'bios' means life and 'logos' means learning, literally translated into the study of species. And that is exactly what biology is. Biology studies living organisms – plants and animals – including factors such as their physical structures, anatomical processes, chemical processes, cell interactions, and evolution and development.
.
Topics you will be studying in biology are:
Structural Organisation in Plants and Animals
Genetics and Evolution
Plant Physiology
Biotechnology and its Applications
Human Physiology
Cell: Structure and Function
---
English: English is a compulsory subject taught to students of class 11th no matter what stream they choose. It is one of the official languages ​​of India and the most widely spoken language in the world. Considering that English is the most widely used language in India, especially in offices, colleges, and the Internet, a basic understanding of this language is always beneficial.
---
---
Optional Subjects
In addition to the 4 compulsory subjects Physics, Chemistry, English and Biology / Mathematics, you will be required to choose the 5th subject of your choice. Some schools also allow you to choose the 6th subject by allowing you to choose 2 optional subjects of your choice.
Some optional subjects you can take are:
Computer Science: Computer Science is a comprehensive study of computer applications, programming languages, computing logic, and the most popular network technology among students.
Physical Education: Physical education is one of the most chosen optional subjects and is quite scoring. It was introduced to bring about change and development in the human body through regular exercise.
Economics: Economics is a compulsory subject for Commerce students, but it is also a popular subject for Science and Humanities students. Economics studies the functioning of the economy and its basics, and market interaction at the national and international levels.
Informatics Practices: Informatics Practices, while compared to Computer Science, focuses on information processing, computer programs, device applications, system development, and integrated machine technology.
Engineering Drawing: Engineering Drawing or Engineering Graphics is a specialized course that teaches the ability to convey ideas and information needed to construct or analyze equipment, structures, and systems with drawings. It is useful for engineers, architects, and designers.
Psychology: Psychology can be described as the study of the mind, and it has gained much popularity over the past few years. It examines psychological processes, behaviours, and human knowledge.
Environmental Studies: The field encompasses study in basic principles of ecology and environmental science, as well as associated subjects like a bit of biology, information science and physics. EVS basically covers a foundational study of environment and different enviromental issues.
.
Note: Some schools also give an option to choose the language (Hindi, Arabic, German, French, Spanish, etc.) as an optional subject. For more details about 11th science subjects, you may refer to the CBSE Senior School Curriculum.
---
---
Science subjects books for class 11th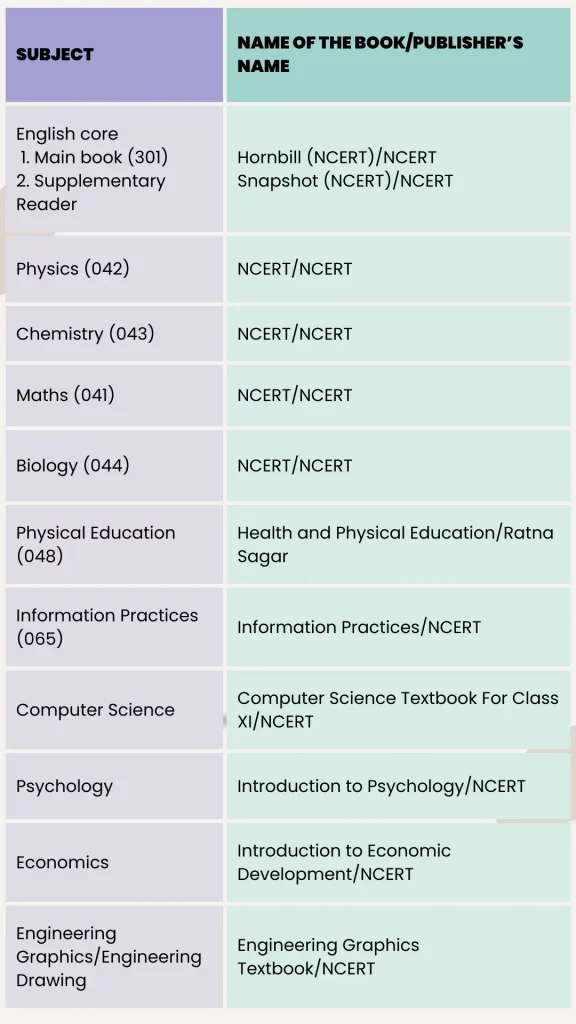 Final Thoughts
There are many career options available after completing class 11th & 12th with science subjects, however, these subjects are also very challenging and will require effort. Therefore, you should go to this stream only if you are sure of your interest and academic ability.
If you still feel indecisive or confused, do dial us up. It is often useful to reach out to expert counselors for addressing individual issues. iDreamCareer experts are always ready to help young minds like you from 9th class, 10th class, class 11, class 12 with an aim to select your most-suited career choices.
Also, read
Recent Releases
Discover More by accessing the Free Career Dashboard
This will help us share relevant information with you
Trending Posts

.

Anushree has 4+ years of experience in the career counseling industry as a Senior Content Writer. She has also worked as a Social Media Marketing Expert for a startup and Content Quality Analyst for Publishing and E-learning Industry. She has done her Master's in Commerce and PGDM in Finance & Trade and Marketing & HR, but she is currently following her passion for writing.