Are you confused and wondering what could be the highest salary jobs after 12th Commerce or what are the career options after 12th Commerce? However, today multiple options are available for commerce students as commerce is increasingly becoming popular! But due to a lack of awareness & denial of professional help, most students stay confused about what courses could be considered after completing 12th commerce.
There are many courses after 12th commerce. Some of the popular ones include Chartered Accountants (CA), Company Secretary (CS), Cost and Works Accountants (CWA), and Bachelor of Commerce (BCom). Apart from these, students can also pursue other courses like Bachelor of Business Administration (BBA), Bachelor of Economics (B. Econ), and Master of Commerce (M.Com). With the ever-increasing competition in the corporate world, students need to be armed with the right skills and knowledge to survive and thrive in the industry. A commerce degree provides students with an ideal platform to develop business acumen and skills. The coursework is designed to give students a solid foundation in accounting, finance, and economics. The skills and knowledge gained through a business degree will help students in their future careers, whether they continue their studies or enter the workforce.
Without further ado! Let's get started…
How to choose the right career options after 12th commerce?
Here are some steps to help you decide on your career after 12th commerce:
Identify your interest and passion: It is important to choose a course that matches your interest and passion. You should have a clear idea of ​​what you want to study and what career you want to pursue.
Research and gather information: Gather information about various courses available after 12th commerce. You can also talk to your teachers, advisors, and alumni who have taken similar courses.
Think about your future career prospects: You should also consider the career prospects of the courses that interest you. Some courses may have better employment prospects and higher earning potential than others.
Assess your strengths and weaknesses: It is important to consider your strengths and weaknesses when choosing a course. You should choose a course that challenges you but also allows you to showcase your strengths.
Seek expert advice: If you're still unsure about which course to choose, you can seek advice from experts such as careers counselors, education advisors, and alumni.
Consider the institution's reputation: The reputation of the institution offering the course can have a huge impact on your career prospects. You should choose an institution with a good reputation and a long track record of producing successful graduates.
5 Best career options after 12th commerce
In this section, we will give you an overview of career options after 12th commerce –
Chartered Accountant
Considered one of the most challenging courses, Chartered Accountancy is a highly sought-after option for commerce students. In both the public and private sectors, CAs hold leadership positions in virtually every organization. Chartered Accountants have expertise in accounting, taxation, auditing, business and corporate law, corporate ethics, etc. The CA oversees the financial obligations of organizations and individuals, such as filing returns, recording financial statements, auditing companies, and ensuring legal and ethical compliance, among others.
How to become a Chartered Accountant (CA)?
To become a Chartered Accountant, students must register with the Institute of Chartered Accountants of India (ICAI) and pass three levels – Common Proficiency Test (CPT), IPCC (Integrated Professional Competency Course), and FC (Final Course). The duration of the course is up to 4 years including 3 years of internship as per CA.
Read in Detail: How to become a Chartered Accountant (CA)?
Discover More by accessing the Free Career Dashboard
This will help us share relevant information with you.
Investment banker
Investment banking is a very interesting and in-demand profession all over the world. Investment bankers are responsible for making informed decisions when it comes to growing the financial assets of clients or organizations. Their main line of work includes raising capital from various sources for general company operations, as well as mergers and acquisitions.
How to become an investment banker?
To become an investment banker, the following courses are preferred for entry-level positions — Bachelor of Commerce (B. Com) with Honours, Bachelor of Arts (BA) in Finance/Economics or Bachelor of Business Administration (BBA) in Finance. In addition, it is possible to take specialized Chartered Financial Analyst (CFA) training to advance in this field. It is also useful for students to get an MBA in finance to take up management positions.
Read in Detail: How to become an investment banker?
Cost and Management Accountant (CMA)
The CMA is an internationally accredited professional certification for professionals in the field of commerce and accounting. This is a highly profitable course for business students that empowers them to become tomorrow's business leaders by strengthening the four pillars of knowledge — strategy, management, regulatory framework, and financial reporting. As a CMA, one must provide professional services in investment planning, earnings management, and general management decision-making in enterprises, including the service sector and manufacturing.
How to become a CMA?
To become a CMA, a student must join the Institute of Cost Accountants of India (ICAI). The curriculum includes three levels — basic, intermediate, and final — of 20 subjects. Students can also enroll in this course after completing the foundation courses for CA or CS.
Company Secretary (CS)
Students with a penchant for theoretical law will find the Company Secretary course quite attractive. CS professionals are responsible for paying attention to legal perspectives and agreements in companies. They can eventually rise to management positions in corporates and large firms.
How to become a Company Secretary (CS)?
To become a CS, a candidate has to clear three levels after 10+2 examinations — Foundation program, Executive Program, and Professional Program. At the final level, candidates can choose to specialize in banking law and practice, capital, commodity and money market, insurance law and practice, intellectual property law, and practice, or international business law and practice.
Read in Detail: How to become a Company Secretary (CS)?
Lawyer/Advocate
Lawyer is considered a prestigious profession all over the world with wide opportunities for career growth. Students can study subjects such as family law, constitutional law, property law, company law, administrative law, etc. according to their interest in the specialization. Lawyers work for large corporations, government agencies, and law firms, or they start their own practice.
How to become a lawyer?
Students who wish to pursue legal education must first clear the CLAT (Common Law Admission Test) and get admission to universities that offer Bachelor of Laws (LLB) courses administered by the Bar Council of India. A well-known specialization in the field of law is integrated corporate law, which contains the guidelines, practices, and rules governing the formation and operation of corporate companies. It is a 5-year course that is integrated with a Bachelor of Commerce or Arts degree.
Read in Detail: How to become a lawyer?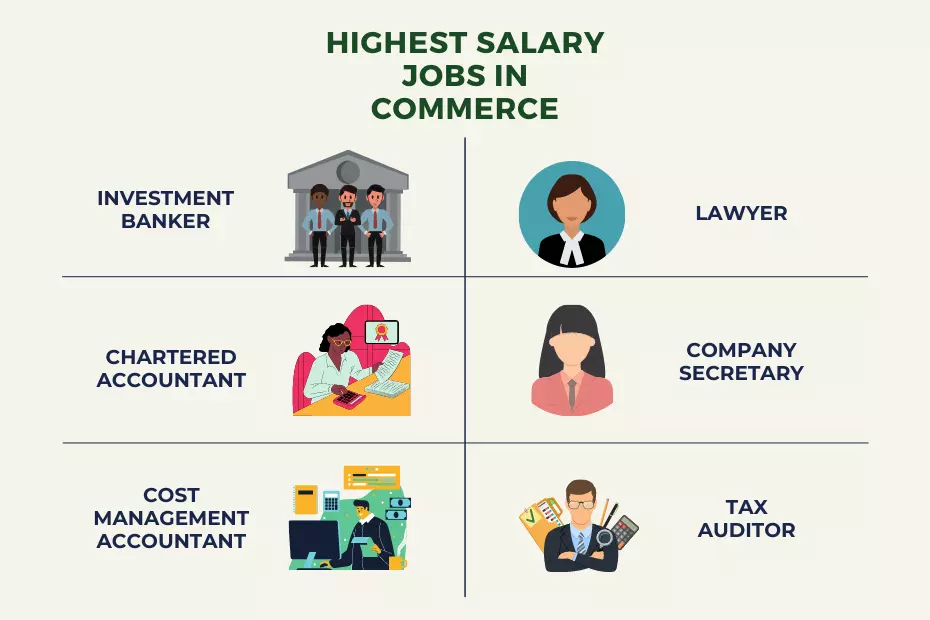 Best Career Options After 12th Commerce with High Salary
In this section we have curated a list of the top 10 career options after 12th commerce with the required entrance exam and expected entry-level salary:
| | | |
| --- | --- | --- |
| Career | Required Entrance Exams | Salary (INR) |
| Chartered Accountant | Common Proficiency Test (CPT) | 6-8 LPA |
| Accountant | Separate Entrance exams for different universities | 2-3 LPA |
| Statistician | Separate Entrance exams for different universities | 4-5 LPA |
| Economist | Separate Entrance exams for different universities | 2-5 LPA |
| Company Secretary | CSEET (CS Executive Entrance Test) | 4-6 LPA |
| Cost Management Accountant | CMA Foundation Level | 5-7 LPA |
| Actuary | ACET (Actuarial Common Entrance Test) | 8-12 LPA |
| Financial Analyst and Advisor | Separate Entrance exams for different universities | 2-10 LPA |
| Insurance Professional | Clear exam conducted by IRDAI and obtain IRDAI certification | 2-8 LPA |
| Banker | Separate Entrance exams for different universities | 2-10 LPA |
Explore different streams career options after 12th
Alternate career options after 12th commerce with high salary
The Commerce stream is a great career path for students who have an interest in pursuing a field that offers a plethora of career opportunities in business, administration, and management fields. Students who want to take up professional and best professional courses after the 12th commerce stream should know that the career options after the 12th commerce is in banking, insurance, business administration, and other business management courses.
It is for students who wish to develop business insights and in-demand management skills; we have curated some of the after-12th commerce course lists. For a complete list of professional courses after 12th commerce refers to Best Courses after 12th Commerce.
Below is a detailed list of commercial jobs with salaries for students who are considering a career in commerce but don't know what to expect. We have also listed the top commercial jobs and salaries in the following table.
| | |
| --- | --- |
| Job roles | Salary (INR) |
| Professional Accountant | 3 LPA |
| Financial Analyst | 5-7 LPA |
| Public Accountant | 6-8 LPA |
| Personal Financial Advisor | 4 LPA |
| Certified Financial Planner | 5-6 LPA |
| Financial Examiner | 6-7 LPA |
| Retail Manager | 4-6 LPA |
| Budget Analyst | 6-8 LPA |
| Company Secretary | 4-6 LPA |
| Investment Analyst | 4-7 LPA |
| Management Analyst | 4-7 LPA |
Final words!
Through this article, we have tried to give you an understanding of diverse career options for commerce students. Choosing the right career after commerce in Class 12 is a very challenging job as there are numerous choices to make. We recommend you carefully evaluate each option keeping your interests in mind. However, career planning is a very intense job. So, it's better to seek expert opinions from unbiased counselors and we at iDreamCareer always believe in helping young minds discover their true mettle.
It is very important to research all the advantages and disadvantages of each career option in which you intend to advance your career. We understand how difficult this can be, so we're here to help you choose your study location and provide you with detailed course information.At iDreamCareer with the help of our Career Counselling and Guidance Services and educational counsellors, we try to help many young confused minds from the 9th class, 10th class, class 11, and class 12 with an aim to select their suitable career choices.
ALSO READ:
FAQs
What is a good career in commerce?
These include retail management, human resources, customer service, business development, and academia, among others. If you are interested in one of these jobs, be sure to explore the different jobs and degrees available.
What work is in demand in commerce?
One of the most sought-after and highest-paying jobs for business students is a marketing manager. He is expected to lead the product marketing sector of the company. They plan, evaluate, organize, and promote the business.
Does Commerce have no scope?
Commerce is an incredible field of study that offers unlimited career options and well-paying jobs. Most people who take commerce stream for plus two go for BCom and MCom courses which is a great choice.
Why do students choose commerce?
It has already been proven that good trade plays a huge role in the economic development of the country. Some well-defined career options after studying commerce in class 10 are Chartered Accountant, Company Secretary, Business Management, Accounting, etc.
Is commerce good for UPSC?
Commerce as an optional subject is highly technical in nature and hence a fair number of candidates opt for this option. This is an optional grade and gives preference to commerce graduates as undergraduate and vocational studies are used in both papers 1 and 2.
Discover More by accessing the Free Career Dashboard
This will help us share relevant information with you
Trending Posts


Anushree has 4+ years of experience in the career counseling industry as a Senior Content Writer. She has also worked as a Social Media Marketing Expert for a startup and Content Quality Analyst for Publishing and E-learning Industry. She has done her Master's in Commerce and PGDM in Finance & Trade and Marketing & HR, but she is currently following her passion for writing.