BPT, or Bachelor of Physiotherapy, is a highly sought-after degree program. The BPT course equips students with the necessary skills and knowledge to pursue graduate professions in the global medical field. It provides them with an understanding of physiotherapy procedures practiced worldwide. This prepares them for opportunities to work overseas or with organizations involved in international healthcare.
Did you know that physiotherapy dates back to ancient times?

The practice of physical therapy can be traced back to ancient civilizations like the Egyptians and Greeks, who used various techniques to treat injuries and improve movement. Today, physiotherapy has evolved into a dynamic field that combines scientific knowledge with hands-on skills to help individuals recover from injuries, manage chronic conditions, and enhance their overall well-being.
Ancient ko jaane do future ka btao?? Okay, so what can you expect from a BPT course? Throughout the program, students acquire a comprehensive understanding of anatomy, physiology, biomechanics, and exercise therapy. They also gain practical experience through clinical placements, where they work alongside experienced professionals in real-world healthcare settings. This combination of theoretical knowledge and practical training prepares graduates to make a positive impact on people's lives through personalized care and rehabilitation.
So, whether you're considering pursuing a BPT degree or simply curious about the world of physiotherapy, stay tuned for an insightful journey ahead! Come along… But do you know what's the actual definition of BPT? Don't worry we are here to answer everything…
What is BPT?
The BPT program, which stands for Bachelor of Physiotherapy, has a duration of 4.5 years. It focuses on the science of body movement and enhancing patients' physical functions. The curriculum and subjects of the BPT course prepare students for a range of careers, including physiotherapists, sports therapists, acupuncturists, chiropractors, and osteopaths, among others. The career opportunities in the field of BPT are vast, with options available in both the public and private sectors.
Why study the BPT course?
If wondering what's the importance and scope of the BPT course, this section is for you! Here are some of the reasons why you should consider pursuing a BPT course:
High Demand: Physiotherapists are in high demand globally, providing excellent job prospects.
Versatile Career Options: BPT graduates can pursue careers as physiotherapists, sports therapists, acupuncturists, chiropractors, and osteopaths.
Holistic Approach: The BPT course focuses on improving a patient's physical functions through a comprehensive understanding of body movement science.
Varied Work Settings: BPT graduates can work in hospitals, rehabilitation centers, sports clinics, community health centers, and private practices.
Rewarding Impact: BPT professionals make a positive impact on people's lives by helping them recover from injuries, manage chronic conditions, and improve overall well-being.
Job Security: The demand for physiotherapy services continues to grow, ensuring long-term job security.
Hands-on Experience: BPT programs include practical clinical placements, allowing students to gain valuable hands-on experience.
Global Opportunities: BPT equips students for careers overseas or with organizations active in the international medical field.
Combining Science and Care: BPT blends scientific knowledge with compassionate care, providing a fulfilling profession that integrates medical expertise with a human connection.
Personal Development: Studying BPT enhances communication, problem-solving, and critical thinking skills while promoting empathy and patient-centered care.
Discover More by accessing the Free Career Dashboard
This will help us share relevant information with you.
Suitable candidates for BPT:
The BPT program is ideal for individuals interested in working in the field of human services, with an inclination towards incorporating complementary and alternative medicine into their practice.
Learners have the opportunity to gain practical knowledge of human anatomy through hands-on physiotherapy practice.
Also, read: Physiotherapy Course After 12th
Eligibility and Admission Process for BPT Course
Here is the table decoding the necessary eligibility, and admission process which includes entrance exams and the selection process too…
| | |
| --- | --- |
| Eligibility Criteria | Admission Process |
| 10+2 or equivalent with Science stream (Physics, Chemistry, Biology) | Entrance Exams: Candidates need to appear for national, state, or university-level entrance exams like IPU CET, BCECE, VEE, LPUNEST, etc. |
| Minimum aggregate marks: Varies from institution to institution (typically around 50-60%) | Merit-Based Selection: Some institutes may consider admission based on the candidate's performance in the qualifying examination (10+2). |
| Age Limit: Generally, between 17-25 years | Counseling: Shortlisted candidates are called for counseling rounds, where they can choose their preferred college based on their merit rank and availability of seats. |
| Some universities may have specific eligibility criteria like English proficiency tests or minimum marks in individual subjects. | Document Verification: Selected candidates need to submit necessary documents, including academic transcripts, identification proof, and passport-sized photographs. |
| Some institutes may conduct interviews or aptitude tests as part of the selection process. | Seat Allotment: After the counseling process, candidates are allotted seats based on their preferences and merit rank. |
| Physically fit: Some institutions may require candidates to undergo a medical fitness test. | Confirmation of Admission: Candidates need to confirm their admission by paying the required fees within the specified deadline. |
BPT Course Structure
The BPT course structure in India typically follows a standardized framework to ensure comprehensive learning in the field of physiotherapy. The program typically incorporates a six-month internship at renowned hospitals or affiliated clinical facilities. This internship is an integral part of the four-year course, which combines theoretical classes with practical clinical exposure.
BPT Core Subjects – Syllabus
Here are some of the core subjects or syllabus of the BPT course:
BPT Syllabus
Semester I
Anatomy Basic Nursing Biochemistry English Physiology
Semester II
Biomechanics Orientation to physiotherapy Psychology Sociology
Semester III
Constitution of India First Aid and CPR Microbiology Pathology Pharmacology
Semester IV
Clinical observation posting Electrotherapy Exercise Therapy Introduction to treatment Research Methodology and Biostatics
Semester V
General Medicine General Surgery Orthopedics and Traumatology
Semester VI
Allied Therapies Orthopedics and Sports Physiotherapy Supervised Rotatory clinical training
Semester VII
Community medicine Community-based Rehabilitation Neuro- Physiology Neurology and neurosurgery
Top BPT colleges in India
In India, there is a wide range of BPT colleges to choose from. Students have the freedom to select a college based on their merit and preferred specializations. Pursuing the BPT course in India not only provides students with professional development skills but also opens doors for career advancement in their chosen field. Renowned colleges and universities in India offer these courses, ensuring quality education and training for aspiring BPT professionals.
Here are some of the top colleges offering BPT in India along with their average fees
| | | |
| --- | --- | --- |
| College | Location | Approximate Fees (per annum) |
| All India Institute of Medical Sciences (AIIMS) | New Delhi | INR 1,000 – 5,000 |
| Christian Medical College (CMC) | Vellore, Tamil Nadu | INR 1,50,000 – 2,00,000 |
| Manipal College of Allied Health Sciences | Manipal, Karnataka | INR 2,50,000 – 3,00,000 |
| Seth Gordhandas Sunderdas Medical College (GSMC) | Mumbai, Maharashtra | INR 50,000 – 1,00,000 |
| Government Medical College & Hospital | Chandigarh | INR 30,000 – 70,000 |
| Sri Ramachandra Institute of Higher Education and Research | Chennai, Tamil Nadu | INR 1,00,000 – 2,00,000 |
| Kasturba Medical College (KMC) | Mangalore, Karnataka | INR 2,00,000 – 2,50,000 |
| Jamia Millia Islamia | New Delhi | INR 20,000 – 50,000 |
| Lokmanya Tilak Municipal Medical College (LTMMC) | Mumbai, Maharashtra | INR 40,000 – 1,00,000 |
| Apollo College of Physiotherapy | Hyderabad, Telangana | INR 70,000 – 1,00,000 |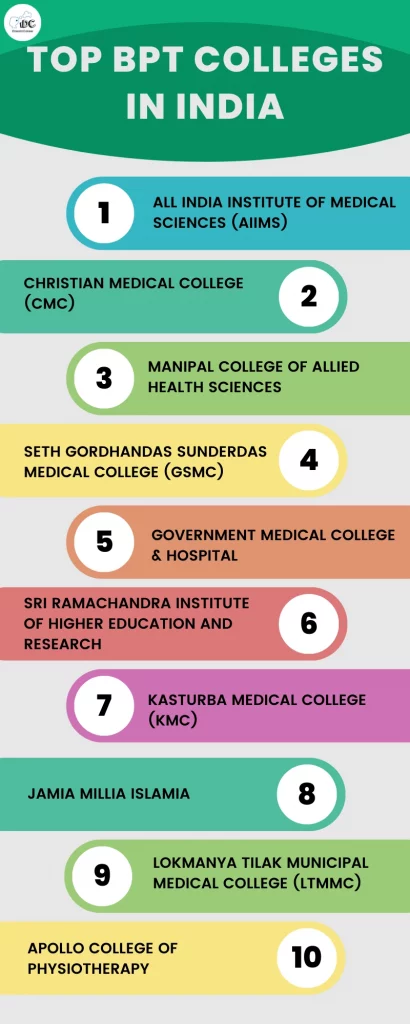 Please note that the fees mentioned are subject to change and may vary based on factors such as college reputation, facilities provided, and government or private institution status. It's advisable to visit the respective college websites or contact them directly for the most accurate and updated fee information.
Career Opportunities after BPT Course
After completing a Bachelor of Physiotherapy (BPT) course in India, there are diverse career opportunities available for graduates. Some of the potential career paths include:
Physiotherapist
Graduates can work as physiotherapists in hospitals, clinics, rehabilitation centers, and private practices. They help patients recover from injuries, manage chronic conditions, and improve physical functions.
Sports Physiotherapist
BPT graduates can specialize in sports physiotherapy, providing services to athletes and sports teams. They focus on injury prevention, rehabilitation, and performance enhancement for sports-related injuries.
Researcher
BPT graduates can contribute to the field of physiotherapy through research. They can work in research institutes, universities, or healthcare organizations, conducting studies and developing innovative practices.
Academician
Many BPT graduates choose to pursue a career in academia. They can become faculty members in physiotherapy colleges and universities, imparting knowledge and training future physiotherapists.
Rehabilitation Specialist
BPT graduates can specialize in rehabilitation and work with patients recovering from surgeries, accidents, or debilitating conditions. They design personalized treatment plans to improve mobility, functionality, and quality of life.
Community Health Worker
BPT graduates can contribute to community health initiatives by working in community health centers, NGOs, or government organizations. They provide physiotherapy services to underserved populations, promote health education, and support preventive healthcare.
Entrepreneur
BPT graduates with an entrepreneurial spirit can establish their own physiotherapy clinics or wellness centers. They can offer specialized services, develop innovative treatment approaches, and build their brand.
Consultant
BPT graduates can work as consultants, providing expert advice to healthcare organizations, sports teams, or corporate wellness programs. They offer insights on injury prevention, ergonomic practices, and workplace wellness.
Average Salary of BPT Professionals
The average salary of BPT professionals in India can vary depending on factors such as experience, specialization, location, and the employing organization. According to reliable sources and statistics, here is an overview of the average salary range for BPT professionals in India:
According to PayScale, the average salary for a physiotherapist in India is around INR 3,00,000 to INR 4,00,000 per year. This figure can vary based on factors like years of experience, skills, and location.
The entry-level salary for BPT graduates or the salary of a fresher typically ranges from INR 2,00,000 to INR 3,00,000 per year, as reported by Glassdoor. As professionals gain experience and expertise, their salaries can increase significantly.
In the public sector, physiotherapists working in government hospitals or healthcare organizations can have starting salaries ranging from INR 25,000 to INR 40,000 per month, depending on the state and government pay scales.
Private sector salaries for BPT professionals can vary widely. Corporate wellness programs, sports organizations, and specialized clinics may offer higher salaries, especially for experienced professionals or those with advanced certifications.
It's important to note that the salary figures mentioned are approximate and can vary based on individual factors and the specific job role. Additionally, salary ranges can differ across different cities and states in India. It is always advisable to research and consult reliable sources, job portals, and industry reports to get the most accurate and up-to-date salary information for BPT professionals in India.
Challenges and Rewards in the Field of Physiotherapy – Final Verdict
The field of physiotherapy presents both challenges and rewarding experiences for professionals. Physiotherapists face challenges such as dealing with complex cases, managing time constraints, and staying updated with evolving techniques.
However, the rewards are plentiful. Witnessing patients' progress and helping them regain mobility and function is incredibly gratifying. The ability to make a positive impact on people's lives, work in diverse settings, and contribute to the well-being of individuals and communities is highly rewarding. Despite the challenges, the rewards of working in physiotherapy make it a fulfilling and meaningful career choice for those passionate about healthcare and making a difference in people's lives.
We hope we have served you with enough information! Although if you still need some help, reach out! iDreamCareer's comprehensive career guidance product provides personalized insights, aptitude assessments, and expert counseling to help you make informed decisions. With our in-depth knowledge of experts, you can select the right course and college. Our experts will assist you in selecting the perfect path for your future.
Waste no time! Embark on your journey towards a fulfilling career by accessing iDreamCareer's College Selection Program today. Take that pivotal first stride toward transforming your interior design dreams into reality!
Must Have Links:
BPT Courses: FAQs
How does BPT compare to MBBS?
BPT and MBBS are different courses. MBBS is an undergraduate degree that focuses on medicine and prepares students to become surgeons. On the other hand, BPT is a branch of medical sciences that deals with the rehabilitation and treatment of injuries or impairments.
Which is better: BPT or BSc nursing?
BPT offers diverse career opportunities and generally provides higher salary prospects compared to BSc nursing. However, admission to BPT courses can be more competitive with higher cut-offs than nursing courses.
Who earns more: MBBS or BPT professionals?
MBBS professionals typically earn between ₹3,00,000 to ₹12,00,000 per year, while the salary range for BPT professionals is around ₹5,000 to ₹4,00,000 per year.
Can I use the title "Dr." after completing BPT?
Yes, after completing a Bachelor of Physiotherapy (BPT) degree, you can add the title "Dr." before your name. Upon certification and registration, you are recognized as a qualified physiotherapist.
Is a BPT degree more advantageous compared to a pharmacy?
BPT offers greater career prospects, job availability, and scope. By pursuing BPT, you can become a therapist with an allied health professional certificate, allowing you to be addressed as "doctor" and use the prefix Dr. Additionally, there is a vast scope in the field, as advanced physiotherapy treatments are progressively advancing and becoming more prevalent in our country.
Discover More by accessing the Free Career Dashboard
This will help us share relevant information with you
Trending Posts


Anushree has 4+ years of experience in the career counseling industry as a Senior Content Writer. She has also worked as a Social Media Marketing Expert for a startup and Content Quality Analyst for Publishing and E-learning Industry. She has done her Master's in Commerce and PGDM in Finance & Trade and Marketing & HR, but she is currently following her passion for writing.