IPU CET 2023, also known as the Indraprastha University Common Entrance Test, is one of the most highly awaited examinations. It holds the key to the dreams of numerous students seeking admission to various undergraduate and postgraduate programs Guru Gobind Singh Indraprastha University (GGSIPU) offers. With its rich academic legacy and commitment to excellence, GGSIPU has established itself as a premier institution in India, attracting students from all corners of the nation. IPU CET 2023 is the way to this prestigious university, allowing candidates to showcase their knowledge, skills, and aptitude to secure a seat in their desired course. As the exam date draws near, candidates are immersing themselves in rigorous preparation, delving deep into the subjects, solving practice papers, and seeking guidance from mentors to enhance their chances of success.
Interesting Fact

Guru Gobind Singh Indraprastha University was the first university in Delhi to implement the Choice Based Credit System (CBCS) for its undergraduate and postgraduate programs.
The IPU CET 2023 is not merely a test of academic skills but a reflection of determination, dedication, and the ability to react under pressure. It encompasses a wide range of disciplines, including engineering, law, management, medical sciences, and more, offering diverse opportunities to students aspiring to excel in their chosen fields. The competition is intense, with thousands of candidates competing for limited seats, making it imperative for applicants to leave no stone unturned in their preparation. Let's look at the key information regarding IPU CET 2023.
What is the IPU CET exam?
IPU CET is an examination conducted by Guru Gobind Singh Indraprastha University (GGSIPU) in India. It serves as the entrance test for admission to various undergraduate and postgraduate programs offered by the university. The exam evaluates candidates' knowledge, skills, and aptitude in their respective fields of study and determines their eligibility for admission.
IPU CET 2023 Important Dates
Let's have a look at some of the important dates regarding the IPU CET 2023 exam.
| | |
| --- | --- |
| Events | Dates |
| Application Form Release | 24th March 2023 |
| IPU CET 2023 Last Date | 15th May 2023 |
| IPU CET 2023 Admit Card | 28th May 2023 |
| IPU CET 2023 Exam Date | 31st May 2023 – 17th June 2023 |
| IPU CET 2023 Results | June 2023 |
IPU CET 2023 Eligibility
To be eligible for IPU CET 2023, candidates must meet certain criteria set by Guru Gobind Singh Indraprastha University (GGSIPU). Here is an overview of the eligibility requirements for the examination:
| | |
| --- | --- |
| Particulars | IPU CET 2023 Eligibility Criteria |
| Nationality | Indian |
| Age Limit | Generally, candidates should be at least 17 years old at the time of admission. |
| Educational Qualification | Candidates should have completed or should be appearing in the qualifying examination, depending on the program they are applying for. |
| Minimum Percentage | Candidates must have obtained a minimum aggregate percentage in the qualifying examination as specified by the university. |
| Reserved Category Candidates | Relaxation in eligibility criteria is provided to candidates belonging to reserved categories (SC/ST/OBC/PwD). They may have certain additional benefits, such as relaxation in the minimum percentage requirement. |
It is important for candidates to thoroughly read and understand the official notification or brochure released by GGSIPU for IPU CET 2023 to get detailed information about the eligibility criteria specific to their desired program.
Discover More by accessing the Free Career Dashboard
This will help us share relevant information with you.
IPU CET 2023 Application Fees
Students must pay the application fees for IPU CET 2023 online. The application fee is INR 1200/- for all categories (GN, SC, ST, OBC, etc).
IPU CET 2023 Registration Process
GGSIPU has released its exam date, which is between 31st May 2023 to 17th June 2023. The exam date is a range because IPU CET is conducted for several courses. The registration process for the exam typically involves several steps.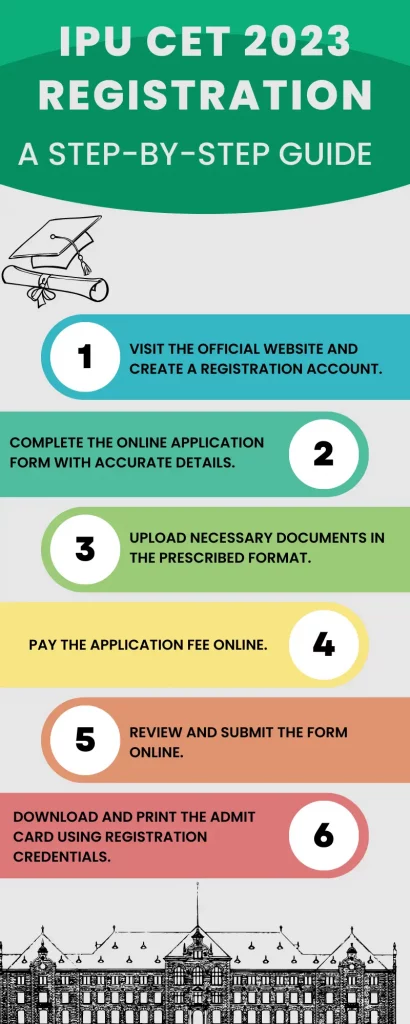 While the specific steps may vary slightly each year, here is a general overview of the registration process:
Online Registration
Visit the official website of Guru Gobind Singh Indraprastha University (GGSIPU) and navigate to the IPU CET 2023 registration portal. Fill in the required information, such as personal details, contact information, and academic qualifications, to create a registration account.
Application Form
Log in to your registration account and complete the online application form for IPU CET 2023. Provide accurate information about your preferred program, category, and other details as required.
Upload Documents
Scan and upload the necessary documents, such as a recent passport-sized photograph, signature, and any other documents specified by the university. Ensure that the documents meet the prescribed format and file size requirements.
Payment of Application Fee
Pay the application fee as specified by GGSIPU. The fee can usually be paid online through various modes, such as credit/debit cards, net banking, or e-wallet. Keep a record of the transaction for future reference.
Submission and Printout
Review the completed application form, verify all the details, and submit the form online. After successful submission, take a printout of the application form and payment receipt for your records.
Admit Card Download
Once the registration process is complete and the application form is successfully submitted, the university will release the admit cards for eligible candidates. Download and print the admit card from the official website using your registration credentials.
It is significant to remember that the registration procedure is broken down into these steps in general. For complete and current information on the registration process for IPU CET 2023, including significant dates and any additional requirements, it is advised to consult the official notification or pamphlet provided by GGSIPU.
IPU CET 2023 Exam Pattern
Each exam's IPU CET Exam Pattern will be unique. The IPU CET 2023 exam will be conducted online. There will be 100 MCQs in total. The table below contains more information on the exam pattern:
| | |
| --- | --- |
| Particulars | Details |
| Mode of Examination | Computer-Based Test (CBT) |
| Exam Duration | 2 Hours and 30 Minutes 3 Hours (for B. Tech) |
| Language | English and Hindi |
| Question Type | Multiple Choice Questions |
| Marking Scheme | +4, -1 |
IPU CET 2023 Cut-Off (Expected)
Cut-off marks can vary each year based on factors such as the difficulty level of the exam, the number of applicants, and the overall performance of the candidates. Getting an exact idea of the cut-off is not possible. We can just talk about the expected cut-off.
The expected IPU CET 2023 cut-off for different courses is mentioned given below.
| | |
| --- | --- |
| Courses | Expected Cut-Off (Closing Rank) |
| BBA | 20,000 – 20,150 |
| MCA | 2000 – 3000 |
| LLB | 6000 – 7000 |
| BCom (H) | 5000 – 6000 |
| B. Tech | 8000 – 9000 |
| MBA | 4000 – 5000 |
Note: This is just a range of the expected cut-off via closing ranks. These ranks have been calculated by following the past cut-off trends. These ranks do not guarantee the confirmation of admission.
IPU CET 2023 Preparation Tips
Like any other examination, IPU CET too requires hard work, dedication, proper time management skills, and study materials. In this section, we will talk about the tips and tricks to boost your IPU CET preparations. These tips and tricks will surely maximize your potential of landing into a better college.
Understand the Exam Pattern: Familiarize yourself with the exam pattern, including the number of questions, sections, and duration of the exam.
Create a Study Schedule: Create a study plan that allows enough time for each subject. Set attainable objectives and make sure your preparation is consistent.
Focus on Conceptual Understanding: Rather than memorizing facts and formulas, concentrate on comprehending the concepts and foundations of each subject.
Practice Previous Year Papers: Solve previous year question papers and sample papers to get an idea of the exam pattern and types of questions asked.
Mock Tests: To judge your progress and imitate the exam environment, take regular practice exams.
Revision is Key: To help you grasp and remember what you have learned, go through the material you have already studied again and again.
Time Management: Develop effective time management skills to ensure you complete the exam within the given time frame.
Stay Updated: Keep yourself updated with current affairs and developments related to your field of study.
Maintain a Healthy Lifestyle: Ensure you get enough sleep, eat nutritious food, and exercise regularly.
Wrapping It Up!
IPU CET 2023 stands as a gateway to numerous opportunities for aspiring students. This highly anticipated entrance exam organized by Guru Gobind Singh Indraprastha University serves as a platform for individuals to showcase their knowledge and skills. Aspirants must undertake thorough preparation, understand the exam pattern, focus on conceptual understanding, practice previous year papers, and regularly take mock tests.
By adopting a disciplined approach and staying updated with current affairs, students can aim to achieve their desired scores and secure admission to their preferred courses in this esteemed institution. With dedication, perseverance, and a comprehensive study plan, success in IPU CET 2023 can pave the way for a promising academic journey and open doors to a bright future.
iDreamCareer helps those who are confused about choosing the right stream at the right time. Aspiring students can avail of our counseling services to make an informed decision about their future. Don't hesitate any longer!If you are in class 10th and want to know how to select the right subject combination, explore iDreamCareer's subject or stream selection guidance program. If you're in 12th grade and uncertain about post-PCM subject, check out iDreamCareer's Course and College selection guidance page! Last but not least, Undergraduate and Postgraduate students can also take their first step toward their dream careers by seeking guidance on what after graduation. Next can be you!
Useful Links
FAQs
What is IPU CET 2023?
IPU CET 2023 refers to the entrance exam conducted by Guru Gobind Singh Indraprastha University for admissions into various undergraduate and postgraduate programs offered by the university and its affiliated colleges.
How are candidates selected for admission through IPU CET 2023?
The selection of candidates for admission through IPU CET 2023 is typically based on their performance in the entrance exam. The university will release a merit list based on the candidates' scores, and those who meet the cutoff criteria will be called for counseling and seat allotment based on their rank and preference of courses/colleges.
What are the eligibility criteria for IPU CET 2023?
The eligibility criteria for IPU CET 2023 may vary depending on the course. Generally, candidates must have passed the 10+2 examination or an equivalent qualification from a recognized board or university. Specific eligibility requirements can be found in the official admission brochure or on the university website.
How can I apply for IPU CET 2023?
The application process for IPU CET 2023 is typically conducted online. Candidates need to visit the official website, fill out the application form, upload the required documents, and pay the application fee as per the instructions provided. It is important to carefully follow the guidelines and submit the application before the specified deadline.
What is the syllabus for IPU CET 2023?
The syllabus for IPU CET 2023 varies depending on the course applied for. Generally, it includes subjects like Physics, Chemistry, Mathematics, Biology, English, and General Knowledge. Candidates are advised to refer to the official information brochure or the university's website for a detailed syllabus and topic-wise distribution.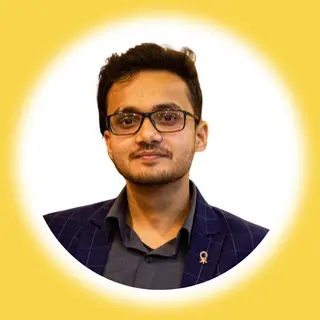 Sushant has been writing since his early days of childhood and currently, he's serving as a Content Writer with iDreamCareer. Sushant has two start-ups of his own and he has been writing content for them since their inception. Apart from that he is passionate about writing which is why he is following his passion for writing with iDreamCareer.