What after graduation? Congratulate yourself, first! Hey, it's a life achievement, after all.
.
.
Or even if you haven't seen yourself in the cape yet and before you in the black cape throw your mortarboard hat up into the air— or at least before you fake an Instagram photo of that — allow me to share my stories.
.
.
Are you thinking about walking right into a cubicle after college or burying yourself into theses again? What after graduation? What to do with your degree? Do you have any ideas of your own or just wandering around collecting tidbits?
.
.
Here We Have Some Simple Solutions To Your Qualms Or Doubts Whatever. This Should Help Much.
What after graduation? Most students have no goals and have no idea what they're upto.
The truth is, when you're leaving college, you are leaving behind the largest tightest concentration (in your life) of people who are exactly your age & at the exact same point in life.
Suddenly after college, you're scattered around the country and community. You'll have to fight for it. That's reality and not failure. Seek reality out.
It's perfectly okay to look for employment and take up paid work for a few years just to pay the bills in order to get by. As your career progresses though, be careful that you don't run faster after money excluding everything else. There's still some nobility in this theory.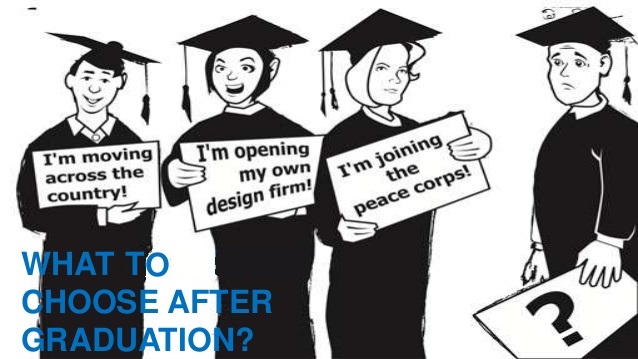 .
.
Universal Tips
If you've already swished your mortarboard hat into the air (graduated, silly!), go for:
1. A job (choose whether you want to switch your discipline of study to stick to it)
2. Post graduation (choose whether you want to switch your discipline of study to stick to it). Make sure you keep an exit strategy handy.
3. A gap year (find out where your professional interests lie, see more of the world, learn languages, experience different cultures – this may make you an interesting job candidate & can improve your employability- this demonstrates your maturity, planning skills, good organization, self-sufficiency)
4. Your self-programmed dreams (be an entrepreneur. Of course, this is the toughest)
.
.
10 General Trending Options – Choice Among These Depends on Your Degree
Of course some graduation degrees offer more flexibility than others, for example, if you're a natural science or math or stat student, all of the below options shall be open to you and hence more confusion!
1. Banking jobs and exams
.
2. MBA through CAT
.
3. Opt for GATE exam. You can use your GATE Score for employment in several Public Sector Undertakings (PSUs) like BHEL, GAIL, HAL, IOCL, NTPC, NPCIL, ONGC, PGCI etc.
.
4. Try listing your resume on these sites What is the best job search site? for better visibility and to reach out to recruiters swiftly.
You can try joining consulting/ advisory/ intelligence firms as Intern, Junior Research Analyst, Commercial Assistant etc. (For example, companies like McKinsey & Company, EY, PwC, SAP, Six Sigma, Stan C, JP Morgan Chase, Deutsche Bank, Genpact and others look for fresh talent too.)
Experience is highly desirable but not mandatory. However start with other jobs and then you can transition to something like this in 3-4 yrs
Or try joining design/ advertising/ radio jockeying firms too maybe. They look for fresh graduates.
.
5. Actuarial Sciences (provided you have studied higher Mathematics in class 11-12 at least) Check How do I become an actuary in India?
.
6. Try UPSC/ SSB/ CGL government exams. Match eligibility criteria for each exam. Check calendars (Rojgar Samachar/ UPSC/ SSB) regularly. Calendar | UPSC, Rojgar Samachar 2020 – Apply To 11965 New Govt Job Vacancies | रोजगार समाचार April 2020 अब हिंदी में भी ऊपलब्ध
.
7. Join media and journalism houses for various roles, including technical analysis, media research etc. They look for fresh graduates.
.
8. Opt for freelance/ SME work: A lot of start-ups in data / market research as well as other EdTech companies look for freelancers/ Subject Matter Experts for live projects. Again, list out your resume. Cosmeticize your CV, sell your degree well and flaunt it.
For example, you may be required for primary content development work to provide well-explained solutions (in a step-by-step manner) to unsolved end-chapter exercises in university textbooks.
.
9. The open option of UPSC Civil Services exam. This might be sort of a no-brainer!
.
10. Go for upskilling courses: lots of options of online certification courses on MIT OpenCourseWare, edX, Lynda (LinkedIn Learning – so far the best), Coursera, Udacity or DataCamp and then flaunt it on your CV before going live on job sites.
For example, if you're an Economics graduate, most influential for you will be: Financial Markets, Organizational Analysis, Game Theory, Model Thinking, Neuroeconomics, Earth Economics, Public Economics, Arctic Change (Nexus of Governance), Experimental Economics etc. or specialize in a particular economy like China, Australia, Russia or Korea through these courses!
.
.
Examples of what after graduation in these fields
We have mentioned only 4 fields here as things would get really long and you'd get impatient! Let's keep it to this. If your's is not listed, don't fret, do comment and let us know. We'll try to help.
.
Accounting and Finance
Jobs directly related to your Bachelors include:
Chartered accountant
Company secretary
External auditor
Forensic accountant
Stockbroker
Chartered management accountant
Chartered public finance accountant
Chartered certified accountant
Jobs where your Bachelors would be useful include:
Retail banker
Tax adviser
Business development manager
Data analyst
Economist
Actuary
Arbitrator
Licensed conveyancer
Management consultant
Mortgage adviser
Procurement manager
Software Engineering
Jobs directly related to your Bachelors include:
Applications developer
IT consultant
Multimedia programmer
Web developer
Web designer
Cyber security analyst
Game developer
Information systems manager
Software engineer
Jobs where your Bachelors would be useful include:
Systems analyst
Software tester
Application analyst
Database administrator
Forensic computer analyst
IT technical support officer
Sound designer
Medicine
Jobs directly related to your Bachelors include:
General practice doctor
Hospital doctor
Surgeon
Anaesthetist
Cardiologist
Clinical radiologist
Ophthalmologist
Pathologist
Neurologist
Psychiatrist
Jobs where your Bachelors would be useful include:
Research scientist (life sciences)
Paramedic
Physician associate
Epidemiologist
Medical science liaison
Clinical scientist, genomics
Higher education lecturer
International aid/development worker
Medical sales representative
Adult nurse
Children's nurse
Mental health nurse
Midwife
Naturopath
Science writer
Law
Jobs directly related to your Bachelors include:
Arbitrator
Barrister
Costs lawyer
Detective
Paralegal
Solicitor
Licensed conveyancer
Barrister's clerk
Chartered legal executive
Company secretary
Jobs where your degree would be useful include:
Mediator
Patent attorney
Advice worker
Border Force officer
Data analyst
Data scientist
External auditor
Chartered accountant
Civil Service administrator
Political risk analyst
Stockbroker
Trading standards officer
Forensic computer analyst
Human resources officer
.
.
Final words
Let's talk if your doubts aren't settled and you still don't have an answer to what after graduation.
.
But let me tell you, don't get into the trap of judgement. Maybe, one of your friends will be instantly & meteorically successful and you will hate them a little at first and gradually more! The real world is more than what your cranky seniors have always told you.
.
As you binge watch an entire season on Netflix, you will wonder if every other person your age has an amazing job or at a party right now? No, at least not all.
.
Career planning is an intense affair. iDC is the foremost in this field and helping millions show the true colour of their mettle, in India and abroad.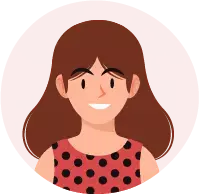 After acquiring a Master's in Biophysics-Biostatistics and having subsequent experience in computational proteomics of animal proteins. Sreenanda has been working in this career counselling industry for 4+ years. She holds expertise in research and analysis of careers, jobs, and industries.