A lengthy and laborious journey comes to a conclusion when one completes their college or university degree. The relief of finishing your education, though, can rapidly fade when the difficult decision of what to do after graduation is presented. This question might be difficult for many graduates because it marks a crucial turning point in their lives. Being a student and becoming a working adult at the same time can be difficult, especially if you are unclear about your career path. There are several possibilities, including continuing your school, starting a career, or taking a year off to travel or work. And substantially, what to do after graduation is one of the most sought questions after graduation.
Making the best decision, though, necessitates giving considerable thought to your interests, abilities, and long-term objectives. However, the employment market today is extremely competitive, making it difficult to locate a position that matches your abilities. In this blog post, we'll look at some of the most popular alternatives open to recent grads and offer advice on what to do after graduation. This blog will offer insightful information and guidance to assist you to get through this exciting but uncertain moment in your life, whether you're seeking job advice, advice on furthering your education, or are thinking about taking a gap year.
What is covered in this post?
In this blog post, we shall talk about the answer to the question of what to do after graduation. This will help you gain more popularity in your life.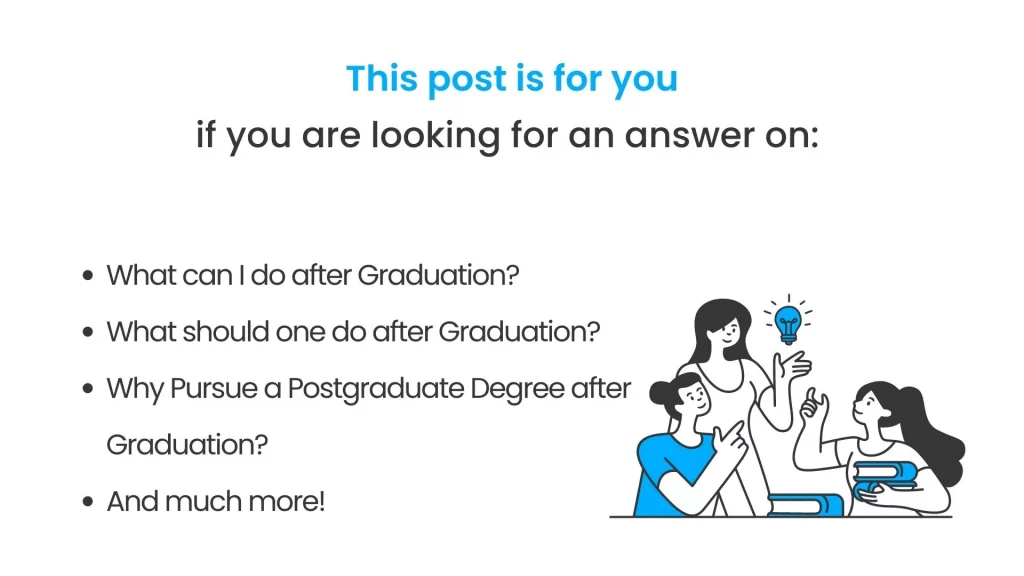 What can I do after graduation?
As you graduate, you become a mature adult with a broader understanding of the world both inside and outside of you. Your personality has largely matured, making it simpler for you to develop your own opinions and set your own course. Another significant distinction is that after 10+2, most students only consider continuing their education. Which precisely means choosing the course of study for graduation. These include engineering, medical, commerce, architecture, designing, pharmacy, agriculture, computer applications, etc. Even if one may choose to pursue more education after graduation, there are many other options available.
Generally, the following are your options or paths when you graduate:
Pursuing further studies
Preparing for/appearing in All India Services
Seeking a job through other competitive examinations
Seeking a career in the armed forces
Exploring instant job opportunities
Detailed Overview of Options
With the intention of helping our readers in evaluating their options, each of the above-mentioned is covered in more detail below.
Continuing your education
There are several options available to you should you decide to continue your education after graduation. You can enroll in a diploma programme or a postgraduate degree programme. You may need to decide whether you want to enroll in a top-rated institute or would be content to enroll in any other institute based on your qualifications and financial position. The choice of a subject for your postgraduate study will be another more important choice.
All India Services career
After graduating, you are qualified to apply for the prestigious All India Services. The Union Public Service Commission administers these tests on an annual basis. All graduates from all academic fields are eligible to take the Civil Service (previously Indian Administrative Service) test.
Candidates are assigned to administrative (IAS), police (IPS), foreign (IFS), and related services. These include Indian Audit and Accounts Service and the Indian Railway Traffic Service, among others, after being chosen.
State Civil Services
In most states, the Public Service Commission holds examinations for the Civil Services in order to fill administrative jobs. Investigating careers through competitive exams: As a graduate, you are qualified to apply for officer and clerical positions in public sector banks and insurance firms. All public sector banks conduct a single examination, whereas insurance firms conduct separate hiring processes.
Through exams and interviews, these posts are filled. Clerical positions do not require an interview. Clerical job openings are published on a state-by-state basis, while officer positions are filled on an all-India basis. The State Bank of India conducts a separate examination.
Employment opportunities in government-run businesses
Here, we are referring to government-run businesses in the oil (ONGC, IOL, etc.), power (NTPC, Power Grid Corporation, and others), gas (GAIL, Petronet LNG, etc.), and other sectors (BHEL, HAL, REC, etc.). Many of these provide management and engineering trainee programmes.
Indian Army Jobs
The command of the Indian Armed services is respected, as we all know. After graduation, there are several options for joining the military. Men and women can be hired under a specific programme for graduates with a "C" from the NCC.
Another option for graduates is the Short Service Commission (Technical/Non Technical) Combined Defence Service, which could send you to the Indian Military Academy, Indian Naval Academy, Air Force Academy, or Officers Training Academy for thorough training before enlisting you as a full-fledged army officer.
What you decide what to do after graduation ultimately depends on your own objectives, interests, and circumstances. In order to obtain a better feel of what would be ideal for you, think about investigating other choices and speaking with people in your network.
Keep in mind that there is no right or wrong solution while deciding what to pursue after graduation. Being deliberate in your decision-making and choosing a course that suits your interests, values, and objectives is crucial.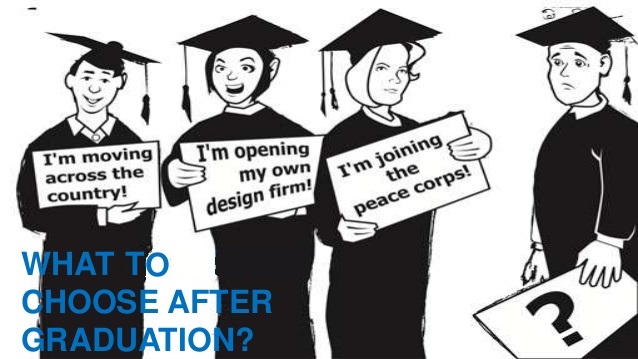 Discover More by accessing the Free Career Dashboard
This will help us share relevant information with you.
What should one do after graduation?
There are plenty of options available after graduation for pursuing a postgraduate degree in arts, science, and commerce. Let's try to break down the available options according to the different streams.
What to do after graduation in science?
After graduating from the science stream, there are numerous renowned degrees accessible. Among the most well-liked ones are:
Master of Science (MSc): Msc is a postgraduate degree that can be pursued in many academic disciplines, including environmental science, computer science, biology, chemistry, and physics.
MTech: The postgraduate degree known as the Master of Technology (MTech) is available in the fields of engineering and technology.
Master of Business Administration: Graduates of science who wish to work in management are increasingly choosing to obtain the Master of Business Administration (MBA), a postgraduate degree in business administration.
MPharm: A postgraduate pharmacy degree that offers additional knowledge and abilities in the profession is called a Master of Pharmacy (MPharm).
Master of Science in Information Technology (MSIT): This postgraduate degree in information technology offers in-depth knowledge and abilities in a number of IT-related fields.
What to do after graduation in arts?
After graduation, the arts stream offers a wide variety of excellent courses. Among the most well-liked ones are:
Master of Arts (MA): A postgraduate degree that can be obtained in a number of subjects, including political science, economics, psychology, and history.
The Master of Social Work (MSW: This is a postgraduate degree that is created to give students the abilities and information necessary to work in the social work industry.
Master in Journalism and Mass Communication: A postgraduate degree that concentrates on the study of journalism, media, and communication is the Master of Journalism and Mass Communication (MJMC).
The Master of Fine Arts (MFA): This is a postgraduate degree that concentrates on the study of creative arts, including visual communication, sculpture, painting, and photography.
Master of Education (M Ed): Postgraduate students who desire to work in teaching or education administration might consider the Master of Education (MEd) degree.
What to do after graduation in commerce?
After graduating from the commerce stream, a number of excellent courses are offered. Among the most well-liked ones are:
Master of Business Administration: A postgraduate degree called the MBA is created for students who desire to work in management. There are numerous specialisations for MBA schools, including finance, marketing, human resources, and operations management.
Chartered Accountancy: The professional course CA offers training in accounting, auditing, and taxation. One may work as a chartered accountant, auditor, or tax consultant after completing the course.
Cost and Management Accounting: The professional course Cost and Management Accounting (CMA) offers instruction in cost and management accounting. One can work as a management accountant, cost accountant, or financial analyst after completing the course.
Certified Public Accountant (CPA): This professional designation, which is accepted all over the world, offers accounting and auditing instruction. One may work as a public accountant, auditor, or tax advisor after completing the programme.
Master of Commerce: A postgraduate degree offering additional instruction in business and related fields is the master of commerce (MCom). One can work in a variety of sectors after completing the course, including banking, finance, accounting, and taxation.
Read more about Popular Courses After Graduation in Commerce
Why pursue a postgraduate degree after graduation?
We have put special emphasis on pursuing postgraduate courses after graduation. Let's try to examine the potential benefits of a postgraduate degree after graduation:
Career Advancement: Postgraduate degrees are necessary for advancement in many professions, including law, medicine, and academia. A postgraduate degree can assist people to become eligible for more senior positions, better pay, and more secure employment.
Specialization: Postgraduate programmes give students the opportunity to specialize in a particular field or subject area. They may earn expertise that is highly sought after in particular industries as a result and gain a deeper understanding of a subject.
Personal Development: Earning a postgraduate degree can be a demanding and gratifying experience that aids in the growth of a person's critical thinking abilities, knowledge, and personality.
Networking: Postgraduate programmes frequently give students the chance to connect with experts in their industry and create bonds that may be useful for future job prospects.
Future Scope and Average Salary
After completing postgraduate courses in science, commerce, and arts, the scope for career opportunities expands significantly. In science, postgraduate degrees such as Masters in Science (MSc) or Doctor of Philosophy (PhD) can lead to careers in research and development, academia, or the pharmaceutical and biotechnology industries. And in commerce, postgraduate degrees such as Master of Business Administration (MBA) or Master of Commerce (MCom) can lead to careers in finance, marketing, human resources, and general management. While in arts, postgraduate degrees such as Master of Arts (MA) or Master of Fine Arts (MFA) can lead to careers in education, writing and publishing, journalism, media, or even politics.
Additionally, postgraduate degrees can open doors to higher-level positions, increased earning potential, and the opportunity for personal and professional growth.
Pursuing a postgraduate degree will earn you a better lifestyle. Talking about the average salary, it may lie between INR 5 LPA to INR 10 LPA. However, it might increase after getting the relevant work experience in the category.
Extra Tip
Together with the advice for graduates in the arts and business, below is general advice for what to do after graduation:
Spend some time thinking about your experiences and objectives: A big accomplishment, but also a period of transition, is graduating from college. Spend some time thinking back on your experiences, the lessons you've learned, and the goals you have for the future. Your objectives and goals will become clearer as a result, which will help you make better decisions going forward.
Consider Personal Growth: It's crucial to think about your personal growth, even when your education and work are both quite important. Make time for any extracurricular activities you desire to pursue, such as hobbies, interests, or talents. You can live a full life and maintain a healthy work-life balance as a result.
Look for opportunities: Be open to new experiences and opportunities as you begin your job or pursue higher education. Being open to new opportunities can help you find new hobbies and interests because you never know where your path will take you.
It's easy to compare yourself to others and feel like you're not progressing as rapidly as you should be, but keep in mind that everyone's journey is unique. Keep in mind that every person has a unique journey and that success looks different for every person. Don't worry too much about what other people are doing; instead, concentrate on your own priorities and goals.
Graduation is, in general, a period of transition and change. Reflect on your objectives and core principles, be open to new experiences, and don't be afraid to attempt new things and take risks.
Conclusion
College graduation is a significant achievement, but it may also be a period of change and uncertainty. What to do after graduation is a very subjective topic and may have diverse answers for different personalities. There are a variety of career options available to you whether you have an art, science, or commerce degree. You can take essential measures to reach your objectives by pursuing higher education, seeking employment possibilities, considering entrepreneurship, acquiring real-world experience, and networking.
Also, you may handle this exciting and difficult moment in your life by taking the time to reflect on your experiences and personal growth and being open to new chances. Always keep in mind that every person's journey is unique, and the secret to success is choosing the route that suits you the best.
Hope we would have been able to provide you with all the information that you need regarding what to do after graduation. Still, got questions? Why don't you connect with our industry experts? Yes, you read it right! You can get your queries resolved in just 60 seconds from our Career counselors. So, what are you waiting for? Download the iDreamCareer app now! 
Also, Read
FAQs
What should I do if I don't have a clear idea of what to do after graduation?
It's common to feel uncertain about your career path after graduation. Take the time to explore different options by doing internships, volunteering, or speaking with professionals in various fields.
Is it necessary to pursue further education after graduation?
Pursuing further education after graduation is not necessary, but it can be beneficial in certain fields. For example, advanced degrees such as a Master's or Ph.D. can help you qualify for higher-level positions in fields such as education, research, or management.
How can I build my professional network after graduation?
Building your professional network is essential for finding job opportunities and advancing your career. Attend networking events, join professional organizations, and connect with alumni from your college. You can also use social media platforms such as LinkedIn to build your online presence and connect with other professionals.
What if I want to take a gap year after graduation?
Taking a gap year after graduation can be a great way to gain new experiences and explore your interests. Consider working or volunteering abroad, traveling, or pursuing a personal project during your gap year. Just be sure to make a plan for your gap year that aligns with your long-term goals.
Can I pursue a career outside of my major after graduation?
Yes! While your major may help determine your career path, it's not the only factor. Many employers value transferable skills such as critical thinking, communication, and problem-solving, which can be developed through a variety of majors.
Discover More by accessing the Free Career Dashboard
This will help us share relevant information with you
Trending Posts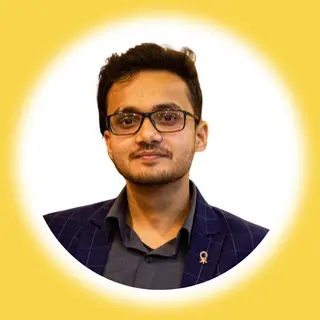 Sushant has been writing since his early days of childhood and currently, he's serving as a Content Writer with iDreamCareer. Sushant has two start-ups of his own and he has been writing content for them since their inception. Apart from that he is passionate about writing which is why he is following his passion for writing with iDreamCareer.