Have you completed class 10th but are worried about the future? Are you looking for a job right after your intermediate course? Are you looking for a list of 10th-pass jobs? Confused about your way ahead? Trying to figure out what career choice will ensure future-proof skills that will help you land these highest-paying jobs in a changing world of work?
Students must prepare for future opportunities & challenges in a rapidly changing labor market. Today, there are multiple roles in diverse industrial structures that can provide a financially secure future and high-salary jobs.
But before you explore this post further– Pause. Reflect. Understand.
How to get a job?
Despite the challenges, working part-time or full-time in college can earn extra money that can be spent on weekend trips, enjoy cultural activities, and an extraordinary dining experience. Finding jobs is also a great way to meet local people and gain a deeper understanding of the culture of your host country.
But how to find an opportunity is also a question. Here are some tips on how to get an opportunity: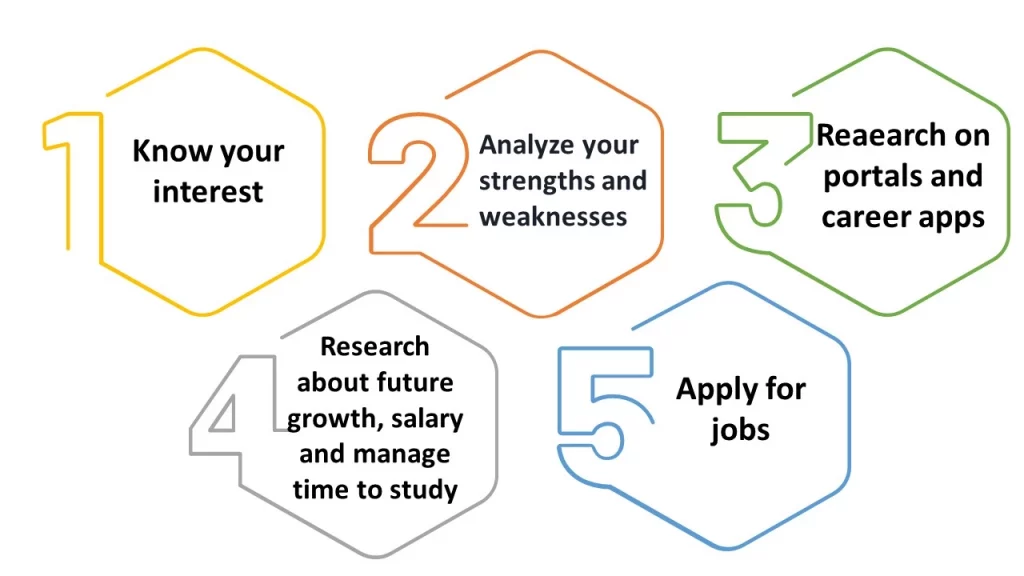 Discover More by accessing the Free Career Dashboard
This will help us share relevant information with you.
List of top 7 10th pass jobs
Here is the list of 10th-pass jobs:
Translator
In today's global economy, translation services are in high demand, and those who speak multiple languages ​​can take advantage of this opportunity. Those who translate information from one language to another are called translators. There are people who work in companies who are able to translate and collect information from one language to another. You must also be proficient in written and verbal communication. As a freelancer, this can be a great job after 10 for students.
Online/Offline Tutor
Because you are a student, you may be strong in one or more subjects or have a collaborative learning skill that you can teach others. You can learn to play any musical instrument, such as the guitar or synthesizer if you own it as a job after 10 online. The same goes for sports, languages, computers, and a number of other subjects that you excel at. You will not only share knowledge but also repeat the lessons of previous classes. All you need is a computer and a strong internet connection. This is one of the popular jobs after class 10.
Content Writer
Working as a content writer is now not only enjoyable but also in high demand. If you enjoy writing, you should consider it as a job after class 10. Content writers create articles, podcasts, blogs, e-books, signatures and web content development, etc. The position requires fluency in English and strong writing and research skills. You may also need proficiency in MS Word and Excel. The job involves flexible working hours as you have to complete the task before the deadline and can work on it at your leisure.
Data Entry
Data entry jobs are one of the most popular 10th-pass jobs available to students. You will either need to enter paper data into the software or transcribe information from phone calls and recordings. This post-10th job does not require any special technical skills, but if you have a fast-typing speed, are familiar with Microsoft Office, and want to work as a data entry operator, this could be a good side job after school. 10. Data entry jobs will give you a real job opportunity and you can earn money both offline and online, making it one of the popular 10th-pass jobs.
Game Tester
Everyone, regardless of age, loves to play games on their smartphones and other smart devices. What if we told you that you can earn money playing these online games? Are you wondering how? There are post-10th jobs online which are offered by some online platforms where you can get paid to play. The only thing you need to do is to play the game and check its quality for your gaming experience. This is because your feedback will help the developers improve the gameplay. Meanwhile, they will compensate you for your efforts. So, when you finished this level of Candy Crush, did you ever imagine that after 10th grade there could be online jobs that pay you for having fun?
Event Management & Planning
One of the 10th pass jobs for outgoing and outgoing students can be in the field of event management and planning. Event management connects you with people from all walks of life, giving you a platform to meet new people and expand your social network. One of the significant advantages of working as an event manager after the 10th is that you will naturally learn to groom yourself and present yourself as smart and presentable, which can help you in your future career.
Modeling
Yes, you read that right! Modeling is also one of the popular post-10th jobs that students can pursue which will bring them both money and recognition. You should make some efforts to get yourself in good physical shape and maintain your appearance so that it is neat and stylish. You can work as a model in various food establishments, product launches, media events, public relations events, exhibitions, fairs, etc.
Also read about the other useful information after 10th exams:
Popular 10th pass jobs in government sectors
Let's have a look at the main sectors for 10th pass government jobs:
Banking
A sector that has seen exponential market growth, both in the public and private sectors, is the banking sector. Offering handsome packages, job stability, and many other related perks and benefits, public sector banks are hiring 10th-pass candidates to fill low-rank vacancies like multi-function staff, sweepers, security guards, etc. The nature of all these vacancies are major and some of the popular vacancies are from the 10th pass government vacancies list.
Defence
India's defense sector consists of 3 forces – the Indian Air Force, the Indian Navy and Indian Army. Every year the Indian defense sector serving all three forces recruits new candidates who have passed the maturity certificate. Multipurpose Staff (MTS), electricians, painters, tailors, cooks, cleaners, fitters, and many more are included in the list of 10th-pass government jobs. Although all of the above positions have minimum eligibility criteria of 10th grade, some may require a Diploma or National Apprenticeship certificate.
Railways
Indian Railways is one of the largest employers in the country, offering employment to deserving candidates with varied experience, starting from the most senior to the most junior level. Railway Recruitment Board (RRB) is recruiting 10th Pass candidates for Group C & D Staff posts which include Fitter, Carpenter, Technician, Welder, Maintenance, and many more in the 10th Pass Government Vacancy List. It is recommended that candidates pass the eligibility criteria as some jobs do require technical training.
Staff Selection Board (SSC)
One of the pioneer recruitment agencies of the central government, SSC releases countless new vacancies every year through various examinations. From the 10th pass government job list, SSC recruits candidates for various posts, the most prominent of which are Data Entry Operators, Lower Division Clerks, and Multi-Tasking Staff to name a few. For candidates who want to get jobs in various government departments, ministries, and boards, SSC is the best way to go. SSC is also an inevitable part of the 12th pass government jobs list. SSC Stenographer and SSC CGL are the most selective exams among the rest.
Police Force
Apart from recruitment for high executive posts in police like Superintendent of Police (SP), Assistant SP, Inspector, etc., there is also a good list of 10th pass government jobs for young candidates. There are a number of relatively lower posts in the police force for 10th pass candidates like senior and head constables and other support posts like firemen, drivers, constable drivers, etc. The minimum qualifications to compete for these posts, – to pass a maturity level and pass a minimum medical fitness test.
List of 10th pass government jobs
Following are the 10th pass jobs in the government sector:
Anganwadi worker
Apprentice
Canteen attendant
Clerk
Constable
Data Entry Operator
Drive
Electrician
EOT Crane Operator
Gram Rojgar Sevak
Gramin dak Sevak
Home guard
Junior Attendant
Junior clerk
Multi-skill staff
Peon
Stenographer
Stipendiary Trainee
Vehicle Mechanic
Wireman
Here are some great exams that candidates can crack to get the best job from the 10th pass government jobs list.
Indian Army Soldier Recruitment (All Arms)
Indian Navy Sailors Matric Entry Recruitment
RRB
SSC MTS
State Public Service Boards
Final words
Hope our examples matched some of your ideas and also built new ones in your mind. If you're still not familiar with some highest-paying jobs and trending careers, go back if you wish. You may still be having doubts about which 10th pass job is best for you or which one to go for.
Consult expert career counsellors who can help you understand your true qualities as well as challenges and guide you in the right direction. It is never late to pick up the phone and call! iDreamCareer is always ready to help young minds like you from 9th class, 10th class, class 11, class 12 with an aim to select their most-suited career choices.
Useful Links:
Discover More by accessing the Free Career Dashboard
This will help us share relevant information with you
Trending Posts


Anushree has 4+ years of experience in the career counseling industry as a Senior Content Writer. She has also worked as a Social Media Marketing Expert for a startup and Content Quality Analyst for Publishing and E-learning Industry. She has done her Master's in Commerce and PGDM in Finance & Trade and Marketing & HR, but she is currently following her passion for writing.