Are you looking for higher study in Hong Kong or other international destinations that has a global reputation, top-ranking universities, developed financial environment, high education standards, and low education cost? There is a place that can offer you all these along with memorable student life, never-ending nightlife and the excitement of Disneyland.
Yes, Disneyland! We are talking about the great city of Hong Kong, which is one of the five places in the world to have an official Disneyland. Steadily climbing the stairs of global education ranking, Honk Kong has today become the 5th best place to study in the world and is in close competition with Singapore for the first rank in Asia and also preferred destination for higher education.
Do you know?

As per the data of QS Ranking, at present more than 89,600 international students are studying in Hong Kong.
The Hong Kong government is determined to make this city an education hub for international higher studies. This dream of the Hong Kong government seems quite reasonable, all thanks to the high-quality education, high-ranking universities, and world-class research. A huge diversity of international students are enrolling in various courses in Hong Kong, and Indians constitute a significant percentage of international students.
Hong Kong, with the blend of the best quality education and an attractive cosmopolitan lifestyle, is the place where the action is! All set?
What all is covered in this post?
To make it easier for you, we have created a quick guide to everything you need to know about the study in Hong Kong.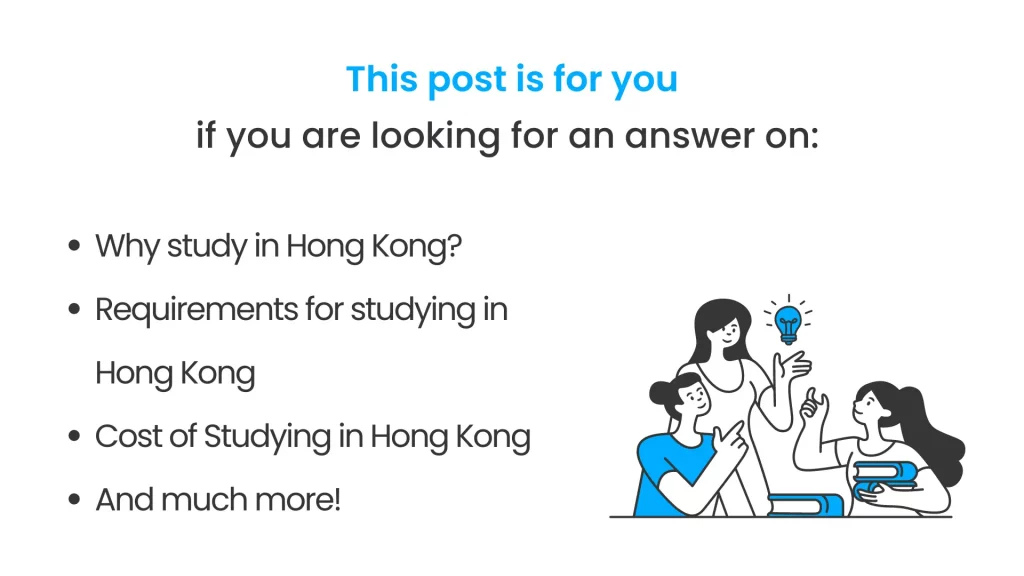 Why study in Hong Kong?
To begin with, there are many reasons why you should choose to study in Hong Kong because of the amazing educational and professional opportunities it offers! So, let's take a look at the prominent pointers that make this city an attractive place to study!
Education Standard and Best Universities
The pattern of higher education in Hong Kong has a high global reputation as it incorporates several key points of western education system like practical learning, modern teaching methods, and the GPA or credit hours system. English is the medium of instruction in almost all the Universities and knowledge of Mandarin or Cantonese is optional.
Hong Kong boasts six universities in the top 300 list of the QS World Ranking, out of these four universities are in the top 100. The University of Hong Kong ranks 23rd in the world and 2nd in Asia.
Part-time Work Option
International students are allowed to gather hands-on experience by doing an internship in the respective field of their education. These paid internships are arranged or endorsed by the universities, and an international student is allowed to intern for the maximum of one academic year. There are also many on-campus jobs reserved for international students. You are allowed to work a maximum of 20 hours per week on these on-campus jobs. You can also work full time during summer vacation.
Lot of scholarships
Academic institutions in Hong Kong provide many scholarships to international students every year, such as government grants, postgraduate scholarships, doctoral scholarships, student loans, etc.
How to study in Hong Kong – Application process
All applicants must apply to the relevant university where they plan to continue their studies. There is no common admission portal, students must visit the university website.
Here is the application process to study in Hong Kong:
Visit the website of the relevant university and select the course you wish to pursue
Candidates are selected based on individual merit.
Some may even invite applicants to an interview, and the best performers are interviewed
In general, the grades you have obtained at your previous institution should be satisfactory to the needs of the institution you wish to apply to.
If English is not your first language, get TOEFL, IELTS or any other equivalent certificate.
Documents required to study in Hong Kong
Here is a list of the required documents required at the time of applying to study in Hong Kong:
A scanned copy of the passport
CV/ Resume
English proficiency test results
Letter of Recommendation
Official academic references
Postgraduate students must submit a translation of the degree certificate if the certificate is in a language other than English.
Reference Letter
Statement of Purpose
Do You Know?

Both Cantonese and English are widely spoken, and both are recognized as official languages.
Popular university to study in Hong Kong
Universities and colleges in Hong Kong, which is home to renowned academic institutions in Asia as well as around the world, are mainly classified into public and self-funded institutions. When exploring study options in Hong Kong, it is important to find a suitable institution that offers programs in your chosen area of ​​interest and can provide you with the information you need.
To help you figure it out, we've created a list of major Hong Kong universities in THE World University Global Rankings 2022: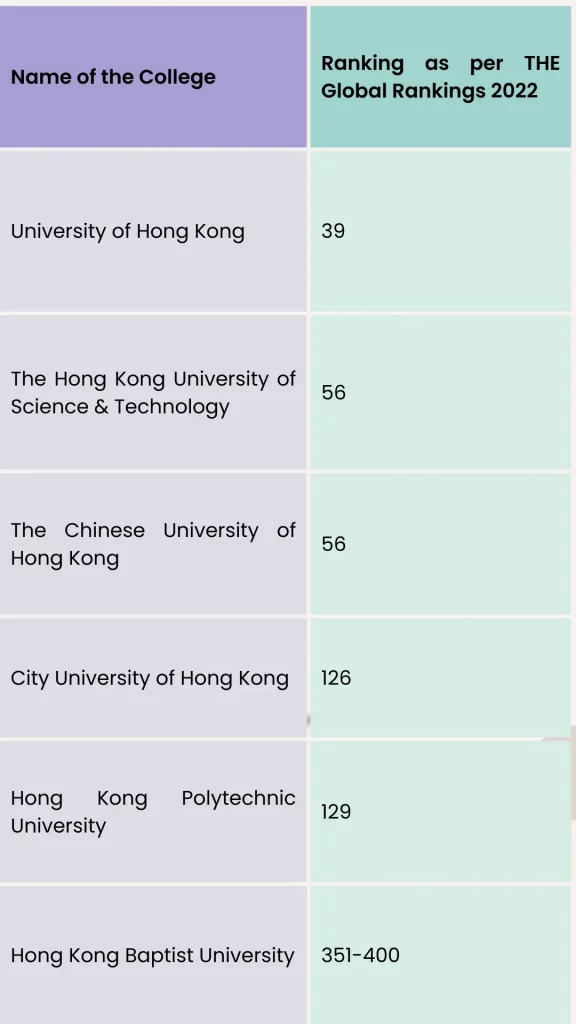 Study in Hong Kong scholarship
Here is the list of top scholarships to study in Hong Kong-
Belt and Road Scholarship
Hong Kong Special Administrative Region Government Scholarship
Outstanding Performance Scholarship
Sir Edward Youde Memorial Scholarship
The Hong Kong Ph.D. Fellowship Scheme
Wong Man Kit Scholarship
Cost of study in Hong Kong
Studying abroad in Hong Kong can be a bit expensive as compared to other Asian destinations but it is significantly reasonable than other major destinations like the USA and UK. The tuition fees vary significantly according to the chosen courses and universities. On average, you'll have to pay around HK$ 90,000 to HK$ 265,000 (Approx. 7.5 to 22 lakhs) per year.
When it comes to living expenses, the high standard of living takes the cost of living as high as London or New York. However, there are a lot of discounts available for international students on certain basic amenities. Transportation, public healthcare and telecommunication are comparatively cheaper.
There is a huge difference in the cost of on-campus residence (dormitories) and off-campus options (rental apartments). On-campus boarding costs around HK$15,000 to HK$45,000 (approx. 1.2 to 3.6 lakhs) annually while rental one-bedroom apartment can cost HK$96,000 to HK$180,000 (8.5 to 15 lakhs) per year.
Study in Hong Kong without IELTS
IELTS is one of the criteria that every student who plans to pursue higher education abroad must fulfill. There are several universities around the world that accept students without IELTS. Students must take pre-sessional English courses if they want to be exempt from IELTS. If you have scored 70+ marks in class 12 in English, are exempted from IELTS.
Study medicine in Hong Kong in English
Hong Kong has eight public universities and two comprehensive medical schools in the city that offer a wide range of medical courses (such as nursing and dentistry) as well as six-year medical programs – the University of Hong Kong's Li Ka Shing School of Medicine and the Chinese University of Hong Kong's School of Medicine. Others, such as Hong Kong Polytechnic University, offer other health courses including physiotherapy, nursing and radiography.
The two medical faculties have world-class reputations, with the Chinese University of Hong Kong ranked 46th in the QS World University Rankings (2015-16). The University of Hong Kong is ranked 30th and also 44th in the Times Higher Education World University Rankings.
Conclusion
Life and more so higher education in Hong Kong can be very interesting for students. Your student life can be a blend of competitive education, practical exposure, and the best cosmopolitan lifestyle. The proximity to India and the close resemblance to Indian sub-tropical weather make it one of the best study destinations for Indian Students. Here you can benefit from the global atmosphere and experience the culture of the whole world. So, get geared up to pursue higher education in Hong Kong.
iDreamCareer is on a mission to reach every state and every child in order to ensure that talent is appropriately delivered into the industry. Talk to our study abroad experts to know yourself in and out! We have helped several brilliant but confused minds with an aim to select their most-suited career choices. Hear the success story of Tapan who got an offer from the top 4 universities and is now studying at DePauw University after getting career guidance from our study abroad experts! And not only this he has also received a scholarship of Rs. 1.3 crore.
Useful links
FAQs
Can someone study in Hong Kong in English?
Except for Chinese language and literature courses, HKU courses are taught in English. HKU's full coursework program is taught in English in the arts, humanities, business, engineering, and natural and social sciences.
Is the university in Hong Kong free?
The education system in Hong Kong is funded by the state. All 12 years of education, from primary to senior secondary school (ages 6 to 18), are free for public school students.
Do you need a visa to study in Hong Kong?
Once you have been accepted to an institution, you must obtain a student visa or entry permit. * All non-local students need one, regardless of whether they are coming on an exchange program or on a full-time basis.

Anushree has 4+ years of experience in the career counseling industry as a Senior Content Writer. She has also worked as a Social Media Marketing Expert for a startup and Content Quality Analyst for Publishing and E-learning Industry. She has done her Master's in Commerce and PGDM in Finance & Trade and Marketing & HR, but she is currently following her passion for writing.