Wondering about the difference between TOEFL vs. IELTS? Confused about TOEFL and IELTS? Not sure which of these is a better choice? In this post, we explain the key points about IELTS vs. TOEFL, that is, how they differ. Getting to the latter part of this post, we would also make recommendations regarding the two based on your strengths and weaknesses. We will compare the scoring systems of the two as well. First off, internet-based TOEFL can take up to 4 hours to complete, while the IELTS is 2 hours and 45 minutes long. There are multiple other points to bear in mind about IELTS vs. TOEFL so don't miss out on checking in a little further.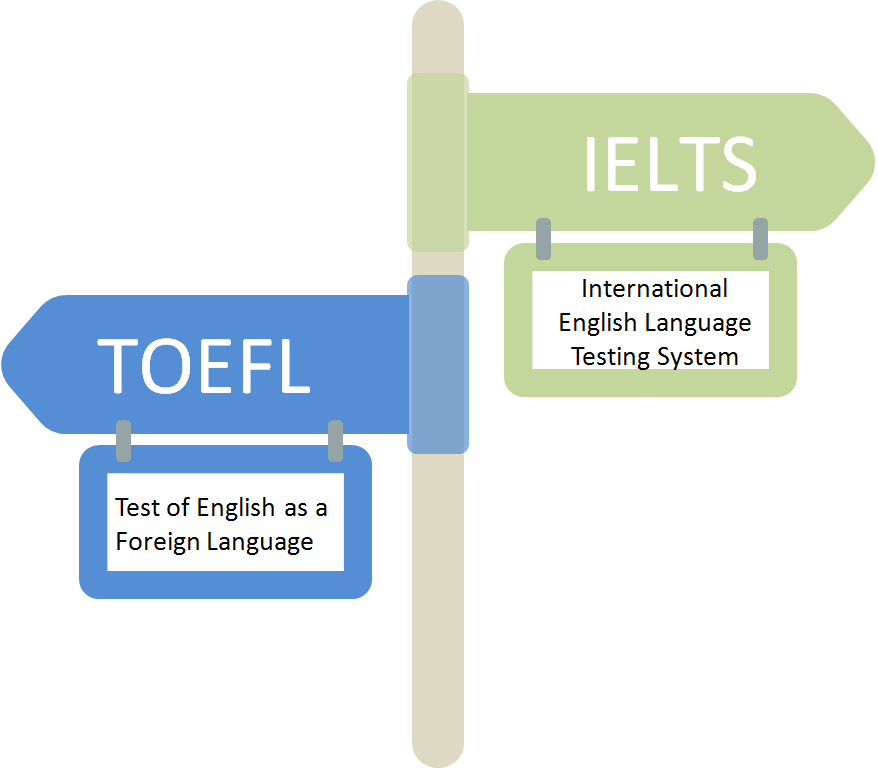 What is IELTS?
IELTS is International English Language Testing System. It is an English proficiency test.
IELTS has 2 formats: Academic IELTS and General IELTS.
Academic IELTS is for those planning to study at a higher education level abroad.
General IELTS focuses on social skills and workplace contexts.
The IELTS test uses British English. It consists of 4 parts:
Reading
Listening
Writing
Speaking
It takes 2 hours and 45 minutes to complete IELTS. This includes the transfer time from one section to the next.
The IELTS is widely accepted in thousands of institutions in more than 140 countries. However, each institution however has its own requirements for IELTS scores.
After taking the test, you can then select up to 5 organizations where copies of your IELTS results will be sent free of charge.
What is TOEFL?
This is the Test of English as a Foreign Language. It is also an English proficiency test.
TOEFL was developed by an American company, Educational Testing Service or ETS.
TOEFL measures an individual's proficiencies in American English with respect to 4 similar verticals:
Reading
Speaking
Writing
Listening
TOEFL scores are accepted in over 900 universities in over 130 countries.
TOEFL iBT or Internet-Based Test is the most popular. You can register and take the TOEFL iBT at designated centers in almost all countries and it takes 4 hours to complete.
The TOEFL paper-based test (pBT) is offered in places where the TOEFL iBT is not available. The pBT is taken by just 3% of students who choose to appear for TOEFL.
TOEFL vs. IELTS: Introduction
IELTS vs. TOEFL, the stand-off does not really apply when we compare the test formats as both testing patterns consist of the same 4 sections:
Listening
Writing
Reading
Speaking
IELTS has two versions: IELTS Academic and IELTS General.
Typically, we would compare TOEFL to the IELTS Academic version as both test your proficiency in academic English mostly with an objective to have you well-placed in an English-speaking academic environment.
Now, remember, IELTS General Test is considered easier (to both IELTS Academic and TOEFL), with the IELTS General Reading and IELTS General Writing sections simpler than both IELTS Academic and TOEFL. The other 2components, Listening and Speaking, are the same for both the formats of IELTS Academic and IELTS General.
If given a choice to pick out of TOEFL and IELTS General Test, by all means, go for the latter for obvious reasons and higher chances at a better score. TOEFL is an academic exam and so is the IELTS Academic module. The General IELTS module is easier than both TOEFL and Academic IELTS.
Now, wondering about the difference between TOEFL vs. IELTS Academic. Further down here, we shall discuss a few key points (6 factors to be specific) about TOEFL vs. IELTS Academic, if given a choice, which would you pick and why?
First off, let us go through an overview before we dig into the 6 factors. The following table and figure compare the two testing systems, TOEFL vs. IELTS with respect to different parameters without considering any particular version of the latter.
IELTS vs. TOEFL: Difficulty level of the tests
The jury is still out on which out of the two is easier or more difficult to take, there are mixed views that can be considered. We will discuss them shortly.
IELTS is shorter than TOEFL and gives you the option to physically write down your essay answer (TOEFL makes you type your essay). IELTS also gives you the opportunity to see the questions beforehand. You will be interacting with a human being in IELTS, much like appearing for an interview.
TOEFL, on the other hand, is more of a multiple-choice format, and you will be interacting with a computer in this, rather than a human being like in IELTS.
Major points of difference between TOEFL vs. IELTS
Those who have already taken one or both of these tests would know that IELTS is more inclined towards UK or Australian English, while TOEFL is more towards American English.
Basis the above, you will have to decide which speaking test you'd be most comfortable with.
You will interact face-to-face with the examiner who is also the rater in IELTS, in TOEFL you will be talking into a microphone.
TOEFL test scores are available to view online within 10 days post the test date.
IELTS releases results within 13 calendar days. IELTS test centers are supposed to post the test report form. You can also collect your test report in person from the test center.
IELTS enjoys better acceptance in Europe and Australia, and TOEFL is what most programs in the US would look for.
TOEFL vs. IELTS: Important Points
Difference between TOEFL vs. IELTS Academic– List of 6 Factors
Factor 1
Which type of English is tested in the two?
In order to know this, we need to understand who conducts these tests. Who created these tests?
The first (TOEFL) is conducted by ETS or Educational Testing Service, a company in the US, and pretty obviously tests your knowledge based on American, or rather say North American English lexicon.
The latter (IELTS) is jointly managed by the University of Cambridge ESOL Examinations, British Council, and IDP Education Australia.
If you are more comfortable with the North American (typically the predominant US) version of English, go for TOEFL, if not, you'll be better off with IELTS.
However, you must know that the Listening sections of both tests play recordings of different accents including British, Australian, US and New Zealand. But you do have other sections too, right? That determines your total score.
The US and British versions of English have 95% commonality but again, the 5% can come down pretty hard on you. Keep in mind, the variation in spellings, expressions and/or usage contexts of the two versions. So this really depends on how conversant the test-takers are with either of the two versions.
Factor 2
Length of the two testing Systems?
TOEFL takes about 4 hours. It is longer than IELTS. Some of the sections vary in duration and depend on the test taker's abilities and so the whole duration of the entire TOEFL test varies. But in general, the TOEFL is about 4 hours long.
The IELTS on the other hand is a shorter exam. About 2 hours and 45 minutes. It doesn't necessarily mean it is easier but definitely shorter, yes.
Now let's examine the 4 sections of IELTS vs. TOEFL and compare the two.
Factor 3
Reading Sections?
Duration of the Reading Sections
In the TOEFL, the Reading section lasts anywhere between 60 minutes to 100 minutes. Some students are given a shorter version of the test and some longer.
You have no control over that.
If you have the shorter version, you will get 3 passages and for each, you have 20 minutes. So the shortest you could take is 60 minutes.
The longest you could get is 5 passages and each for 20 minutes. Hence, the longest running time for this section is 100 minutes.
That's right. You have no control over the number of passages so you cannot do anything about the duration of the Reading section of the TOEFL.
The Reading section of the IELTS is always the same length for everyone with 3 passages and 20 minutes for each so everyone gets 60 minutes for the entire length of the Reading section in the IELTS.
In terms of the types of questions
The level of English for both tests is the same. It is academic.
TOEFL
In the TOEFL, all the passages in this section are of the same difficulty level.
All questions in the TOEFL Reading section are of Multiple Choice Type with 4 options with each question.
You don't have to write anything or pick any word from the passage, just choose from the options given to a question.
IELTS
In the IELTS, the difficulty level changes as you progress through questions and it is computer-adaptive which means your answers will decide the difficulty level.
The computer adapts to your rhythm of answering and poses more difficult questions if you get the previous ones correct and less difficult questions if the preceding ones are incorrect.
There are about 10-12 questions after each text.
In the IETLS however, you can have all types of questions in the Reading section.
There are Multiple Choice Questions types, True False Not Given types (TNFG), etc.
For some, you have to actually choose words from the passage to answer questions. Some students find this difficult and so the more you practice, the better it is.
Factor 4
Listening Sections?
The Listening sections are quite different in the TOEFL and the IETLS.
Duration of Listening Sections
The TOEFL Listening sections are about 40 to 60 minutes long. In the IELTS, it is about 30 minutes, i.e. half an hour.
So, IELTS Listening sections are shorter but it's different in terms of the types of questions asked. So shorter doesn't always mean easier, remember that.
You have to try out and see what works for you.
Question types – TOEFL
The TOEFL Listening section consists of campus conversations and academic lectures.
In all cases of the TOEFL recordings, you listen, you take notes, and after that, you see the questions and answer them accordingly.
All of the questions here are multiple-choice types and you have to choose the right answer.
The accents in the recordings are generally American or Canadian.
Question types – IELTS
In the IELTS however, it is completely different.
You listen to the passages and you write the answers as you go along.
In some cases, you are filling in blanks.
In some other cases, you are matching terms or filling out a chart or as in some cases, you may have multiple choice options and choose from them.
There are a variety of different types of questions in the Listening passages of the IETLS.
Again, all the accents in the IELTS are British or Australian mostly.
Factor 5
Speaking Sections?
Again, the Speaking sections are also quite different in IELTS vs. TOEFL.
TOEFL
The Speaking section in the TOEFL consists of you sitting facing a computer with headphones on, which are attached to a microphone.
You are asked to record your answer to 6 different kinds of task types that are given to you.
You have to speak for 45 seconds in some cases.
The longest you have to speak for in any of the tasks is 60 seconds.
So, you have 6 tasks in total for the TOEFL Speaking section, all of which are recorded.
This entire section may last for about 20 minutes.
IELTS
For the IETLS, it is a completely different picture.
In the IELTS Speaking section, you will be sitting with a human examiner. You will face something like an interview with this examiner. This entire section will last for about 11-14 minutes.
IELTS Speaking section has 3 stages.
Every test is recorded.
Stage 1 – Introduction & interview
In this part, the examiner introduces him/herself and checks your identity. They will then ask you general questions on some familiar topics such as home, family, work, education, and your interests. To ensure consistency, questions will be taken from a script.
Questions like where are you from, what's your name, what do you do, what do you like, what are your hobbies and things like that are asked.
You may be asked about your hobbies, reasons for taking IELTS exam as well as other general topics such as clothing, free time, computers and the internet or family.

Stage 2 – Long turn
Part 2 is the individual long turn. The examiner will give you a task card that asks you to talk about a particular topic, includes points to cover in your talk and instructs you to explain one aspect of the topic. This shall be a monologue where you are the speaker.
You are given 1 minute to prepare your talk and are given a pencil and paper to make notes. The examiner will ask you to talk for 1 to 2 minutes, will stop you after 2 minutes, and will ask1 or 2 questions on the same topic.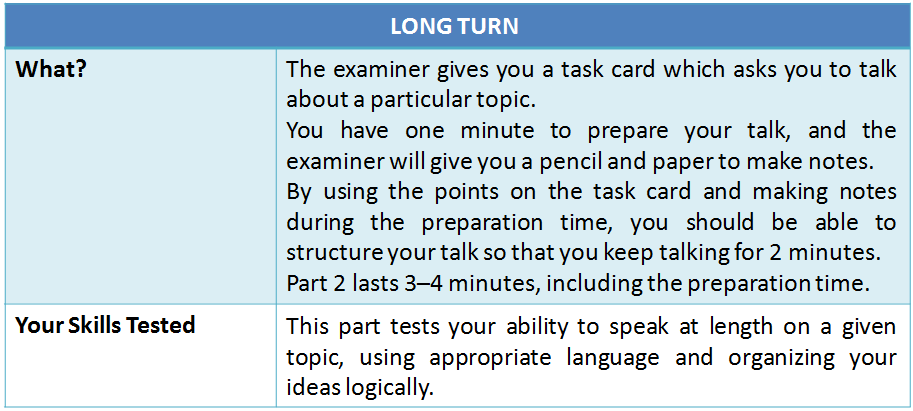 Stage 3 – Discussion
In Part 3, the examiner will discuss with you issues related to the topic you were given in Part 2, in a more general and abstract way and also in greater depth.
This part of the test focuses on your ability to express and justify opinions and to analyze, discuss and speculate about issues.
This 3rd part involves a discussion between the examiner and you, generally on questions relating to the theme that they have already spoken about in section 2. This last section is more abstract and is typically considered the most difficult.

Factor 6
Writing Sections?
Writing sections of IELTS vs. TOEFL have some common elements and some differences.
The common element is that in the TOEFL and IELTS, you have to write an essay. There are 2 tasks in this section for both TOEFL and IELTS.
In the TOEFL Writing Task 1, you have to write a 5 paragraph essay. You have about half an hour to write about 300-350 words. You have only one topic and you have to write on that topic.
In the IELTS Writing Task 1, you also have to write one essay on a topic given to you. This will be at least about 250 words (any less would be penalizing) and you have 40 minutes. So yes, you have a longer time to write. So that part is a little easier. Your essay will be about 4-5 paragraphs in length for the IETLS Writing Task 1.
The second task is quite different for TOEFL and IETLS Writing Sections
In the TOEFL:
Task 2 is an integrated task. What does that mean? Integrated means various skills are tested together.
First, you are given a short passage of about 3 paragraphs to read. It is usually something academic from a textbook. You read that for about 3 minutes and then you listen to a lecture about the same topic.
Now, the lecture may support the reading or may contradict the reading. It depends. You have to take notes, which is very very essential in this part without which you will have nothing to write about.
The last thing you have to do is to answer the question they ask you integrating information from the reading passage and the listening portion (notes specifically) into a response of about 150-225 words.
In the IELTS:
The IELTS Writing Task 2 gives you a table or a graph or a chart, and you are asked to describe the information that is given in that item.
IELTS Writing Task 2 needs a certain kind of preparation to know exactly the vocabulary of movements, of graphs or how to describe trends etc.
TOEFL vs. IELTS: Comparing Their Scores and Marking Schemes
A key element in your admissions process is your English-language proficiency test scores.
There was a time when it was only TOEFL in this segment, now it faces stiff competition from the IELTS.
One thing common among is that they measure your ability as a non-native speaker to speak, write, read and hear the English language.
TOEFL will rate you on a range from 0-120 and the IELTS uses a rating scale of 1 to 9. The higher the test score, of course, the better it is. However, there is a certain figure that can push up your chances of getting accepted into the program of your choice. Check on this with the university or institute you are planning to apply. All these scores are valid for two years.
The figure here shows a comparison between total TOEFL scores and overall IELTS band scores.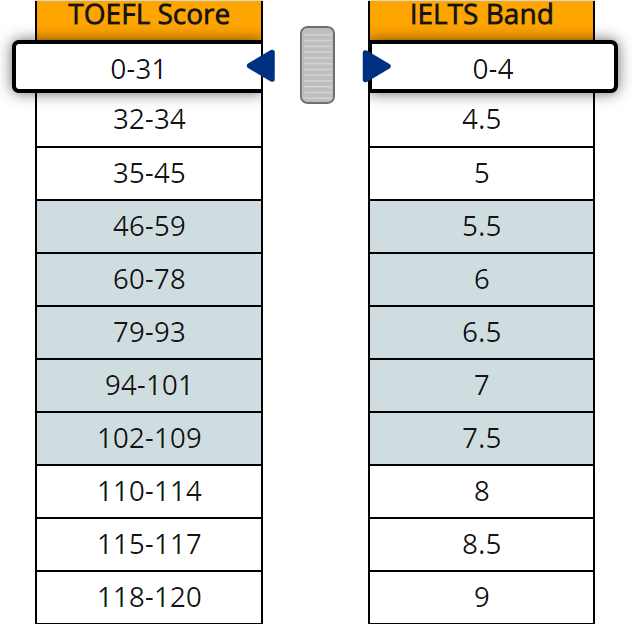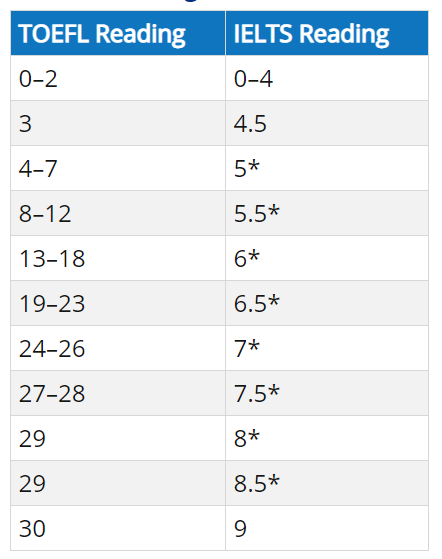 Below are score comparison tables for each of the 4 sections of the TOEFL test and the IELTS modules.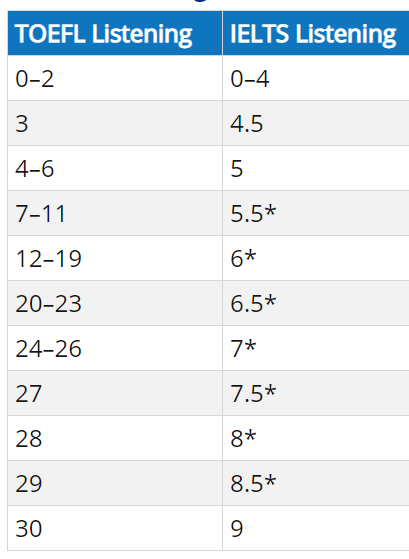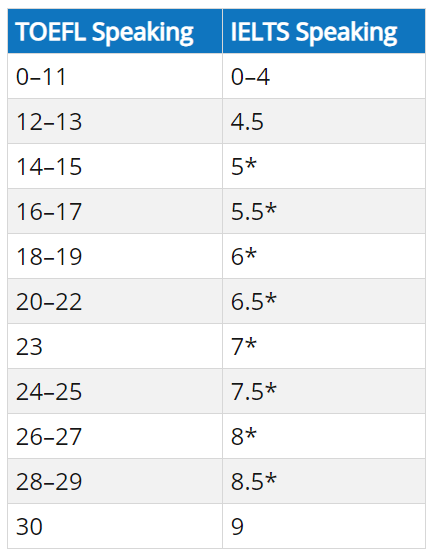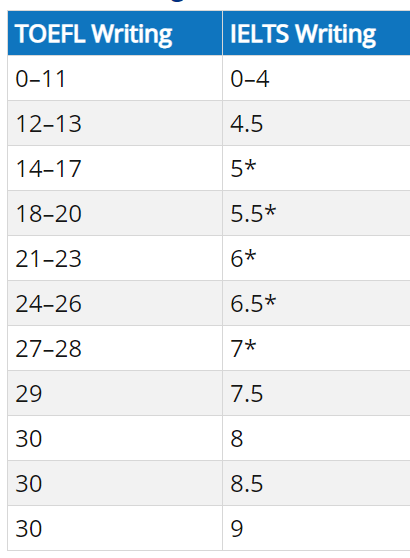 For USA/UK, Which is Better TOEFL or IELTS?
It totally depends on what test your university or institution is seeking. Some universities as Harvard Business School, INSEAD, Yale etc. make it difficult when they state that they accept any one of the two.
It is commonly believed by most ex-test takers and experts that the IELTS score is better accepted in Europe which includes the UK and Australia. The TOEFL sees better reception from the institutes in America.
TOEFL vs. IELTS: Recommendations from us
IELTS has two versions: IELTS Academic and IELTS General. (restating the versions, if you've missed this earlier in the post)
Now, remember, the General IELTS Test is considered easier (to both IELTS Academic and TOEFL), as the General IELTS Reading and General IELTS Writing sections are simpler than both IELTS Academic and TOEFL. The other 2 components, Listening and Speaking, are the same for both the formats of IELTS Academic and IELTS General.
For the General IELTS module, the writing task, you only have to write an essay and a letter. The reading passages also are a little bit easier.
If given a choice to pick out of TOEFL and IELTS General Test, by all means, go for the latter for obvious reasons and higher chances at a better score. TOEFL is an academic exam and so is the IELTS Academic module. The General IELTS module is easier than both TOEFL and Academic IELTS.
However, if you have to choose between the TOEFL and IELTS Academic:
You're really going to have to decide on this one based on all the factors we've discussed above and you're level of comfort with any particular question format. This means you need to understand how the two differ before selecting which test to study for and ultimately take. TOEFL and IELTS are different in their structure, approach, and answering criteria.
There are pros and cons for both and that depends on the test-taker really. Pros for someone and cons for another!
IELTS is shorter, basis the length of some of the sections but not implicitly easier. Each student responds in a different way.
The best advice that we have really is
Do a sample of both types and compare your results first. See which one you have the greatest difficulty with.
There are different types of questions in each, with responses required in different ways. Some students have more difficulty with one exam rather than with the other.
Don't think the TOEFL is necessarily harder because it's longer. There are more multiple-choice questions so some students still find it easier.
Also, another factor to bear in mind is that the Listening section (Factor 4 above) of the IELTS requires you to write in the answers and spellings matter. So if you're weak with spellings, this is another thing that you want to keep in mind. Plus, IELTS is more of UK/ Australian English. Whereas the Listening section in TOEFL has just multiple choice type questions, so spellings don't count, okay?
Another small point, before we wind up, is that the TOEFL Writing section (Factor 6 above) has to be written on the computer. Everything is about you and the computer there.
Whereas, the IELTS Writing section requires you to write out physically, remember that. So if for some reason, you're not comfortable with keyboarding (typing), your typing skills are not very good or fast or efficient (typing is mandatory in TOEFL), then you might prefer the IELTS because you get to write out this section.
So students choose IELTS over TOEFL or vice-versa for a variety of reasons. So please practice tryouts, sample tests and consult guidebooks to see which format you're more comfortable with. No matter what age you belong to, every test-taker will prefer the easier format but the definition of 'easier' is different for each one of us, right?
Which is better TOEFL or IELTS for you?
As mentioned earlier, if you are planning on studying in the UK, you have no choice but to take the IELTS.
But if you are planning on applying to institutes in Canada, Australia, or America, you have a choice to make because universities in those countries accept both.
To keep it simple, if you are more comfortable with multiple choice questions and if you find speaking into a microphone easier, as well as if you wish to apply to an institute in the US, then the TOEFL is better suited for you.
If you feel better suited to talking to a person rather than into a microphone, and if you are comfortable with confronting a variety of different question types during the exam, then the IELTS is better for you.
It will be helpful to take a practice exam before you begin studying so that you can assess your baseline.
It's really a combination of factors involved.
TOEFL and IELTS: How to prepare for them?
It will be helpful to take a practice exam before you begin studying so that you can assess your baseline.
Practice tests
Always use TOEFL or IELTS practice tests made by the same people who actually created the real ones.
Some IELTS or TOEFL practice tests are shoddy. These are typically made by those not bothered about carefully replicating the real exam.
Find materials that carefully recreate the "real feat." Especially those made by reputable companies
Take practice tests throughout your studying. You can consistently assess your skills and observe how you are escalating.
Find preparation material
How do you find a good test? How to find a test that will accurately measure your baseline? One way is to look online for guides and find good TOEFL and IELTS sample tests. Another way is to trust us.
Your baseline tells you how much you need to improve your overall score.
It also tells you which sections are the hardest for you.
Consider these difficult areas as your target areas. These are the parts that you need to target for extra emphasis.
Register for test day
Choosing the right test date is an important thing.
Setting a date is far more than just making your TOEFL and IELTS plans official. Your test date determines how much time you have to prepare.
Remember you need to get your official score report in time for application deadlines so your choice of test day must also allow you to do just that.
Choosing a test date puts your target in sight. It also ensures a solid deadline that you can work with.
TOEFL vs. IELTS: Useful Links
TOEFL vs. IELTS: Conclusions
All done! We sincerely hope you were served the information you came looking for. Aiming at joining an institution of global repute? IELTS or TOEFL, we can guide you! Try a discussion with our expert educationists with decades of industry experience. Wishing you the best!
Also Read:
FAQs
Which is easier IELTS or TOEFL?
IELTS and TOEFL are basic tests of English language proficiency. IELTS is considered easier than TOEFL according to most participants. Many students find the IELTS reading section easier than the TOEFL reading section.
Which is more accepted in USA TOEFL vs IELTS?
TOEFL scores are accepted at more than 11,000 universities in 150 countries, including the US, UK, Canada, Australia, New Zealand, France, and Germany. TOEFL is preferred in the USA, while IELTS is preferred in other countries.
Which is better IELTS or TOEFL?
TOEFL is more commonly accepted by American institutions, while IELTS is more commonly accepted abroad, but many schools accept scores from both exams. However, the school may have a preference for which test you take, so that's worth checking as well.
What is the difference between the TOEFL and the IELTS?
The difference between IELTS and TOEFL is that while TOEFL tests academic background, IELTS has two parts – an academic module that tests academic background and a general learning module that is for work settings and general immigration purposes.
Does the USA accept IELTS?
The US accepts IELTS scores as proof of English proficiency. Major educational institutions across the US recognize that IELTS provides an accurate reflection of your ability to understand, read, write and speak English.

Anushree has 4+ years of experience in the career counseling industry as a Senior Content Writer. She has also worked as a Social Media Marketing Expert for a startup and Content Quality Analyst for Publishing and E-learning Industry. She has done her Master's in Commerce and PGDM in Finance & Trade and Marketing & HR, but she is currently following her passion for writing.