Thinking of pursuing an MBA in Germany? Looking to learn management and leadership skills from some of the most reputed B-Schools in Europe? Looking to enhance your career prospect by adding an MBA to your list of qualifications? An MBA in Germany is an excellent option.
This article will talk all about an MBA in Germany, top B Schools in Germany, and about all other necessary information.
Why study in Germany?
Many international students wish to pursue their higher studies in Germany. Let us take a look at why Germany is one of the most preferred study destinations in the world:
Reasonable Tuition fees: For international students seeking higher education options in Germany and other countries, one of the most crucial factors in deciding a particular college or university is the tuition fee.
To students perplexed over the questions, MBA in Germany free must know that the tuition fee for most of the public universities in Germany offers higher education for free. Although the top MBA colleges in Germany are private universities, each having its own annual or semester wise fee structure. Even most of the private MBA colleges in German offer affordable fees for international students as compared to the US or UK.
Top business schools: In Germany, there is a host of top MBA colleges ranking in the top 100 Global MBA Rankings 2017, i.e., Manheim Business School (rank 54) and ESMT Berlin (rank 70).
As per the ICEF, higher education in Germany has been ranked as the most attractive study destination in Europe.
Factors like academic teaching staff/ faculty and MBA program structure and other important factors make an MBA in Germany highly reputed. The faculty in top MBA colleges in Germany holds international profiles with a strong academic background, having rich experience in business and administration.
Scholarships: One of the most important aspects of studying higher education in Germany is the availability of several scholarships for MBA programs. International MBA candidates can easily avail of college/ business school scholarships to obtain financial aid. Some of the scholarships are mentioned below.
English is the language of Instruction: According to Destatis data, most international students prefer business and social science-related courses at the top colleges in Germany. Now with the German universities offering MBA to international students in the English language has attracted more students to opt for higher education in Germany.
Advanced course curriculum: The study program/course curriculum for MBA in Germany is built not only to help students gain an independent style of doing business but also in generating innovative ideas and leadership strategies. The advanced MBA program structure focuses on
Should you study for an MBA?
One of the most significant questions before you taking up MBA is that should you study for an MBA? And if yes, then MBA in which major/ specialization and from which college or university? Your selection should aim to find the MBA or PGDM College which fits with your skills, aptitudes, knowledge, and your career plan.
What do you want to do after an MBA? Are you really aware of the opportunities as per your own capabilities? In general, for selecting the best MBA College, you can use the steps shown in the figure below:
List of the Top 10 Business Schools in Germany
According to ICEF, Germany is the most popular and preferred education destination for international students who are seeking higher education. There are several MBA colleges in Germany offering full-time, part-time, executive and other MBA programs.
Let's take a look at the Top Business Schools in Germany:
ESMT, Berlin
IUBH University of Applied Sciences
Frankfurt School of Finance & Management
Mannheim Business School
Munich Business School
WHU – Otto Beisheim School of Management
GISMA Business School
Hochschule fur Wirtschaft und Recht Berlin, Berlin School of Economics and Law
HHL Leipzig Graduate School of Management
EU Business School
List of Specializations offered by MBA colleges in Germany
The B-Schools in Germany offers full-time, part-time, executive and other MBA programs. Some of the top Business Schools in Germany offer subject specializations in diverse fields/ study areas such as:
International Business
Big Data Management
Engineering Project Management
Finance & Accounting
International HR Management
Health Care Management
Hospitality
International Marketing
Global Banking and Finance
Leisure and Tourism Management
Logistics & Transport
Clinical Research Management
Entrepreneurship
Digital Business
Sports Management
Design Management
Blockchain Management
MBA in Germany: Eligibility, Program details & Tuition fee
To apply for MBA in Germany, applicants must take a look at the eligibility requirements and tuition fee of the designated college/ university prior to applying for admission. As most colleges/ universities have slightly different eligibility criteria, let us take a look at the breakup of important details of some of the MBA colleges in Germany: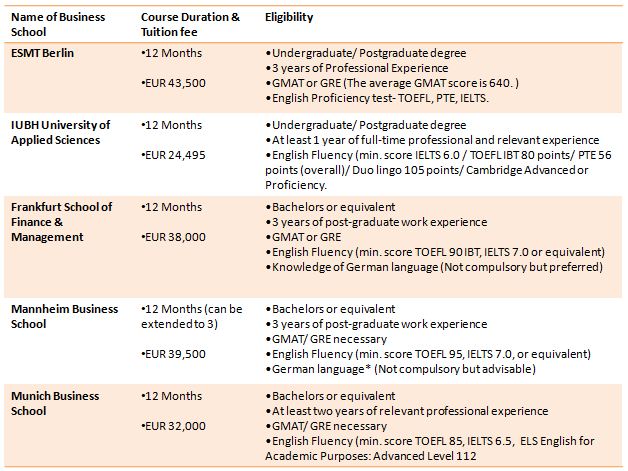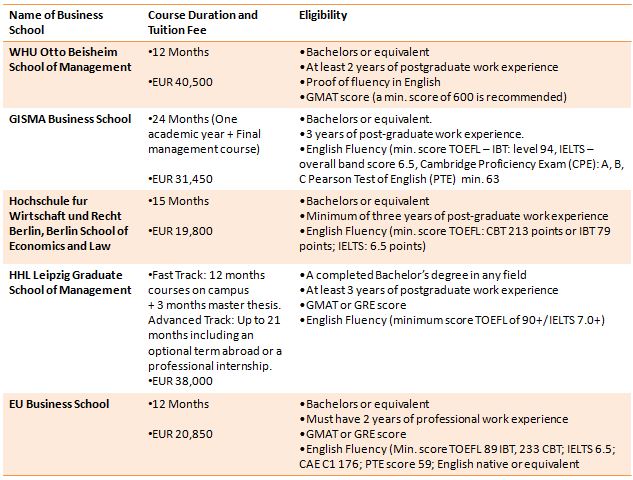 Discover More by accessing the Free Career Dashboard
This will help us share relevant information with you.
Eligibility for MBA in Germany
To be eligible for MBA in Germany, the criteria vary for different Business schools. Look at the following pointers to get a general idea of the eligibility criteria:
Bachelor's degree: Candidates applying for MBA in German business schools must have a graduate degree in any discipline.
Professional Work-experience: To be eligible, most MBA colleges in Germany require prior professional work experience of more 2.5 or more years.
Good GMAT/GRE score: Universities, institutes, business schools in Germany require a good score in GMAT/ GRE. Applicants have to send the scores (GMAT/GRE) directly from the testing service organization by using the codes given on the official website of the designated college/ university.
English Proficiency: Applicants must be able to speak and understand fluently in the English language. To submit proof of English language proficiency, applicants must demonstrate their proficiency by submitting scores from one of the following: IELTS indicator test, or TOEFL.
Applicants must refer to the specific guidelines mentioned on the official website of the designated institute/ university for information regarding minimum test scores and other eligibility criteria.
How to apply for MBA in Germany?
The application process for most of the Canadian institutes/ universities varies as per their admission policies. Take a look at the most common way to apply for admission to best MBA programs in Canadian Universities:
To apply for an MBA in Germany, candidates are requested to select the institute as per choice and apply on the official website.
While applying for the international study program, candidates are requested to make sure they provide their personal details & scan and upload all the documents (list of documents required in the application process mentioned below) correctly.
The eligibility requirements for most of the top MBA colleges in Germany have been briefly discussed in the table above. MBA applicants also have to submit a list of documentation for the completion of the application process for higher education in Germany.
MBA in Germany: Details of documents required
Take a look at the following list of documents required during MBA application process:
College Application form: Candidates are requested to fill in the respective details and submit the college application form. To be eligible for MBA colleges in Germany, candidates must apply to various Business Schools in Germany and also keeping in mind the eligibility criteria and tuition fee for the said program.

Certified transcripts of all given grades, studies, and activities (translated into English or German): Candidates applying for an MBA program in various German colleges must submit their mark-sheet or scorecard for bachelors' degree or relevant as per the college's eligibility criteria.

CV or Resume: Candidates must have a resume or CV displaying his/ her educational qualification as well as the necessary eligibility criteria as mentioned on the official website of the college.

Letter of motivation (professional and personal reasons for wanting to participate in the Mannheim MBA program; one page only): Candidates have to submit a letter of motivation or Statement of Purpose as a mandatory part of the entire application process.

GMAT/GRE score: To be eligible for top MBA colleges in Germany, candidates must attain a higher score in GMAT and GRE.

TOEFL with a minimum score of 95 or equivalent: Although each college has different criteria for accepting different scores for English Proficiency tests (that has also been mentioned in the above table).

Two reference letters (Use University/ college's MBA reference form): Candidates applying for the MBA program in Germany must submit two letters of recommendation or reference letters.
MBA in Germany: Tuition Fees, Cost of Living, and Other costs
One of the major factors that influences an international students decision of studying MBA in Germany is the tuition fees, the cost of living and other expenses while their stay abroad. The cost of living varies greatly depending on the candidate's lifestyle, budget and spending habits, but the estimated costs below will give the students a general idea of all the costs.
For international students who want to study MBA in Germany, the tuition fee for some of the business schools have been already mentioned in the article. For cost of living and other academic fees excluding the tuition fee, take a look at the following table: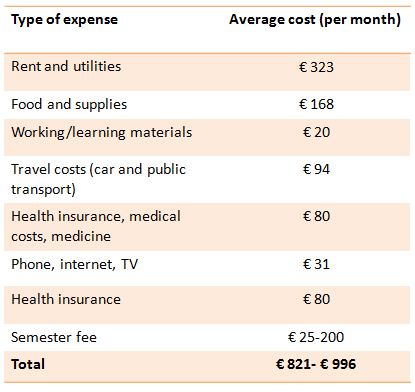 MBA in Germany: Scholarships
Most of the top MBA colleges in Germany offer diverse range of scholarship programs/offers in several specializations in MBA programs. These scholarships offer a number of partial-tuition scholarships, Early Bird Discount, GMAT or GRE scholarships, Women Scholarships among many others, for MBA aspirants.
Take a look at the following scholarships for MBA colleges in Germany:
Central Sector Scheme of National Overseas Scholarship
Global Study Awards
The Financial Sumo Educational Scholarship Program
Job and Residence Opportunities after an MBA in Germany
Pursuing Master's in business administration from Germany prepares the graduates for great employment opportunities. The MBA graduates qualify for various leadership and managerial roles in various international organizations.
MBA graduates from top Germany colleges may find work in industries such as: consulting, banking, finance, automotive, insurance, technology, fintech, etc.
Some of job roles in which MBA graduates may find Marketing Executive, Business Analyst, Executive Assistant, Human Resources Generalist (Executive), Investment analyst, Operations Leader, Senior Product Manager, among many others.
As Germany is a hub of the automotive industry, graduates from top business schools in Germany may find work opportunities with bigger brands such as BMW, Volkswagen, Porsche, Mercedes, etc. and many leading pharmaceutical and engineering firms like Bayer, Merck, and Bosch.
The name of other recruiters for MBA graduates is Alstom, Bosch, Deloitte, Danone, Decathlon, Deutsche Bank, Ernst & Young, Hewlett-Packard, IBM, Philips, Siemens, to name a few.
For students looking for work in Germany after completing an MBA/ other PG degree can extend their residence permit for up to 18 months and look for job opportunities.
To apply for an extended residence permit, students would need the following documents:

Completion of degree certificate or University degree certificate

Health insurance certificate/ document

Proof of financial support
For those with a temporary residence permit must soon apply for a German residence permit or EU Blue Card (it is similar to the US Green Card).
The EU Blue Card is a Work and Residence permit for qualified professionals who belong to non-EU countries. EU Blue Card holders are allowed to a permanent residence permit after 33 months of employment. Moreover, this residence permit has no time limitation.
For those who want to stay and work in Germany permanently must apply for a "settlement permit".
The eligibility for settlement permit is based upon candidates having a residence permit for working in Germany for at least 2 years. The candidate must also have been employed at a job and has paid for the statutory pension insurance fund for 24 months.
How to apply for Visa in Germany?
Describe the purpose of visit: To obtain a German Visa, candidate must first describe the purpose of their visit i.e. either looking for study options, research or job seeking. This article majorly talks about an MBA in Germany; therefore, candidates will be applying for study visa.
Fulfill the admission requirements: Candidates are required to fulfill the general requirement such as passport, proof of financial resources, and other academic degree and qualifications.
Making an appointment at the German Embassy and apply for a visa: After fulfilling all the necessary document requirements, the candidates must and an appointment at the German Embassy and get official permission to enter Germany.
Is MBA free in Germany? Myth or fact?
While most of the international aspirants who wish to pursue an MBA in Germany may have questions regarding the tuition fee for studying Master's in Business Administration in Germany, most the private universities mentioned above under the subheading top Business schools in Germany charge tuition fee as per their academic fee structure and this fee may vary for different institutions altogether.
But the real question is, MBA free in Germany? Well, technically studying MBA for free is not possible. The tuition fee charged in MBA colleges in Germany may be less or in fact free of cost but education entirely is not free.
Students need to pay for the accommodation and other living expenses which may or may not be covered in scholarships. Although, most of the websites claiming that an MBA in Germany is free are misleading students.
Most of these public universities offer Executive MBA programs in various specializations. Entry to these universities is for applicants having 5 or more years of professional experience.
Some of the universities offering such programs in Germany are the Technical University of Munich, Business School of the University of Cologne, and RWTH Aachen University among many others.
In Conclusion
Pursuing higher studies internationally could be both challenging as well as exciting. Challenging with regards to the huge effort one has to put in setting up of all the documents, preparing for Visa and other application process, and exciting because it comes with amazing opportunities and life experiences.
Therefore, one must have a clear thought out plan before preparing to study abroad, take proper guidance, and then select the best and most feasible action plan for their future.
Other blogs you may love to read:
Discover More by accessing the Free Career Dashboard
This will help us share relevant information with you
Trending Posts

Shruti Verma is currently leading the Product Marketing team; building & executing marketing strategies, channelling product launches & setting up brand positioning.