Oktober fest! As we step into the month of October, there is no better place to explore than the land of Oktober Fest; Germany. Does that excite you too like your friends? Thinking of pursuing higher studies in Germany? Looking for a definite list of the best universities in Germany?
Germany is the heart of Europe, not just due to its location, but also because of its technological and economical stronghold. Today, Germany is also counted among the best education destinations due to the exceptional reputation of its universities regarding transparency, innovative study methods, and quality of education.
Do you know?

More than 2.5 million students study at German universities, and more than a quarter of a million of them are international students. About 85 percent of these students arrange their studies in Germany, while the remaining 15 percent come to Germany on exchange programs.
The question arises, what makes Germany an attractive destination for Indian students? One of the reasons could be, that it's known for dominance in the field of technology and proudly homes some of the preeminent car manufacturing companies like Audi, BMW, Mercedes-Benz, Opel, Porsche, Volkswagen, Pegasus, etc.
This isn't it… Let's find out more… Come along!
What all is covered in this post?
To make it easier for you, we have created a quick guide to everything you need to know about the best universities in Germany.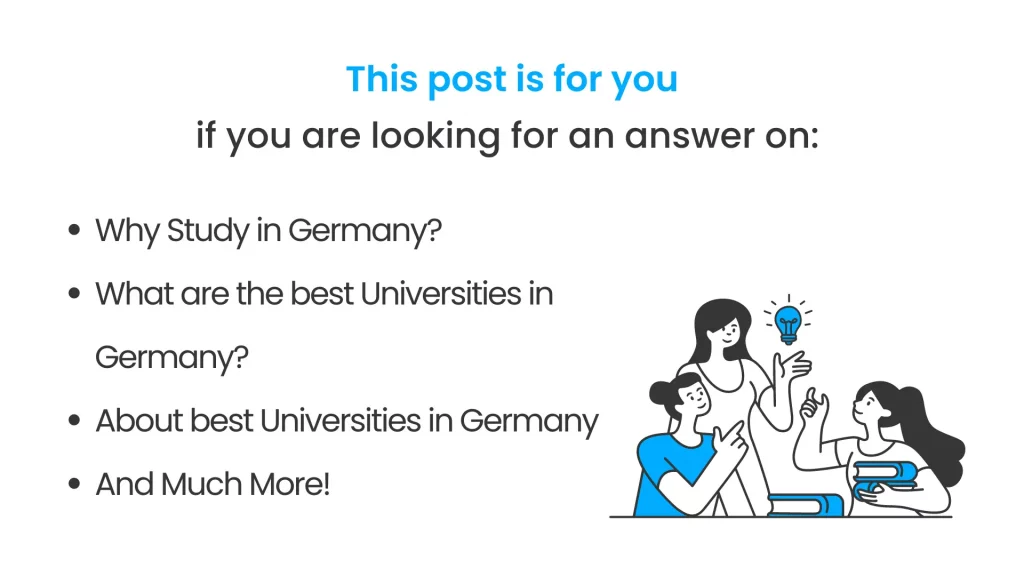 But before we dig in further; let's first understand why study in Germany.
Why study in Germany?
Many international students wish to pursue their higher studies in Germany. Let us take a look at why Germany is one of the most preferred study destinations in the world:
World-class education system
The German education system is lauded all over the world as it incorporates subject knowledge and research orientation in all its courses. Germany is equally known as a virtuoso in technological studies as well as humanities. There are two types of public universities in Germany.
The first type is the general university that emphasizes teaching science and research.
The other type of university is called Fachhochschulen, these universities specialize in applied sciences and believe in preparing the students for practical and professional work.
Fees & Living Expenses
Education is free in Germany! Well, this s not always true, and it depends on the state in which your university is present. The reigns of universities in Germany are in the hands of the prospective state governments. Most Federal States have abolished tuition fees, and the student has to pay only for some additional expenses incurred on infrastructure and other facilities like laboratories or libraries.
Work During & After Studies
An international student can work for a maximum of 120 full days or 240 half days in a year. If a student wants to work more than this, he/she will have to seek permission from the Federal Employment Agency "Agentur für Arbeit." Once you are done with your graduation, you are allowed to stay in Germany for a year to look for a job. If you find a suitable job, you can apply for a residence permit and work for a minimum of 2 years before applying for permanent residency.
What to know?

Germany has around 450 state-accredited universities offering more than 17,500 programs, including more than 1,000 courses taught in English.
10 best universities in Germany
Let's look at the ranking lists of the 10 best universities in Germany.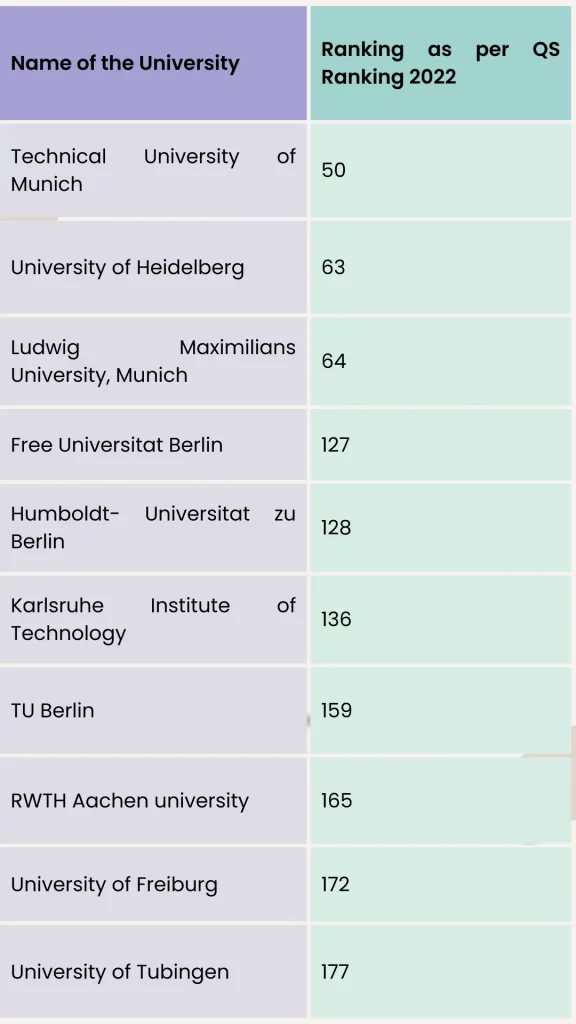 About the best universities in Germany
In this section, we will introduce you to the explanation of some of the top universities mentioned above.
Technical University of Munich
Founded by King Ludwig II in 1868, it is one of the leading and one of the best universities in Europe. The first institution to be recognized as one of the best universities in Germany, TUM offers a variety of undergraduate and postgraduate courses in architecture, science, commerce, medicine, and the social sciences. Below is a list of some of the courses offered by this university:
Bachelors in Civil Engineering
Master of Arts in Architecture
Master of Science in Computational Mechanics
Master of Science in Electrical Engineering and Information Technology
Ph.D. in Management
University of Heidelberg
Registered in 1386, it is an open public research university located in the beautiful city of Heidelberg. An interesting fact about this university is that it is modeled after the University of Paris. It offers a variety of courses in law, biological sciences, medicine, earth sciences, chemistry, history, mathematics, and modern languages. Like other top universities in Germany, Heidelberg University offers the following courses:
Bachelors in Chemistry
BSc in Applied Computer Science
Masters in Mathematics
Masters in Physics
MSc in Economics
Ph.D. in Astronomy and Physics
Ludwig Maximilians University, Munich
This institution, also known as the University of Munich, was founded in 1472. The German Universities Excellence Initiative named it "Germany's Elite University". Its campus includes various research institutes and colleges. Here is a list of some popular programs offered by top universities in Germany:
BA in Political Science
BSc in Business Administration
BSc in Computer Science
Master of Business Administration
MS in Neurosciences
MSc in Economics
Free Universitat Berlin
The Free University of Berlin began as an international institution since its founding in 1948 in Berlin, Germany. With the support of American allies and Berlin policy, the institution was established by students and academics and is now a well-known name in the list of the best German universities. Of the 33,000 students studying at the university, 13% at the undergraduate level and 27% at the graduate level are international students.
Here is a list of some popular programs offered by this university:
MA in Global History
MA Sociology- European Societies
MS in Data Science
MS in Mathematics
Humboldt- Universitat zu Berlin
The Humboldt University of Berlin is a public university in Berlin, Germany. Founded in 1810, it is one of the oldest universities in Berlin. According to THE, the university is ranked 67th in the World University Rankings. It is world-renowned for its famous alumni and faculty, including Albert Einstein and 55 Nobel Laureates in various fields so far.
Like other best universities in Germany, this university offers several programs but Ph.D. in Finance is one of the popular courses.
Conclusion
There you go! You have the info you wanted. Do you want to make a career decision now? Not settled yet? In case, you feel indecisive or confused, do dial us up.
iDreamCareer is on a mission to reach every state and every child in order to ensure that talent is appropriately delivered into the industry.
Talk to our study abroad experts who have 20+ years of experience to know yourself in and out! We have helped several brilliant but confused minds with an aim to select their most-suited career choices. Hear the success story of Aayush who got an offer from the top 3 universities and is now studying at the University in Ottawa in Canada after getting career guidance from our industry experts!
ALSO READ:
FAQs
Why are German universities the best?
German universities are famous for providing high quality education – many of these universities are even ranked among the best in the world. By choosing to study in Germany, you can be sure that you will receive an education that is well above the world average, which will be very useful when looking for a job after graduation.
Is it difficult to study in Germany?
German is an incredibly difficult language to learn, its grammatical structure is very different from English. But even worse, you can't write like you speak German. There is a very special rhythm to writing German, and it's hard to learn if you didn't grow up speaking the language.
What is the age requirement for a student visa to Germany?
No, there is no age limit for applying for study programs in Germany. In fact, Germany is known to have the oldest graduates on the continent, with an average age of 28.

Anushree has 5 years of experience in the career counseling industry as a Senior Content Writer. She has also worked as a Social Media Marketing Expert for a startup and Content Quality Analyst for the Publishing and E-learning Industry. She has done her Master's in Commerce and PGDM in Finance & Trade and Marketing & HR, but she is currently following her passion for writing.