Vacations are over; you are pretty tight on your pocket money! What if we say you can earn some extra bucks and get the learning experience early on? How about you try freelancer jobs for students and get the best out of free hours; refine your CV with the added skills & work experience, and earn on the go? Take some great ideas for your freelancing journey from this article and always stay two steps ahead!
Nowadays, just school or college education is not enough to be able to cope with the challenges and complexities of the future of work. You need to skill up and get a gist of the world of the future.
But before we start discussing the number of freelancer jobs for students, we would like to talk in brief about what is freelancing and why it is a great idea for school/college students.
So, what is freelancing?
Freelancing involves being self-employed and offering services in areas you are skilled at. Based on a project or a contract; freelancing is a flexible working alternate in which you can deliver the projects undertaken without any fixed schedule.
Today, you can find freelance work ranging from data entry to web design & development. But are all freelancer jobs for students relevant? Here's what the difference is. There are plenty of freelancing jobs available but freelancing jobs for college/ school students are different. And there is a reason why!
What are freelancer jobs for students? Are they any different?
More school and college students are ready to work while completing their education or attending college. But not all freelancing work is useful for school or college students. A student must focus on taking up freelancing work which will benefit his/ her career.
For instance, if you are an English literature student, finding freelance projects in content writing and development would give you prior experience required in getting a higher paid job in a similar field later on.
When it comes to freelancing jobs for college/ school students, you must always focus on getting work or projects in the field of your interest that will benefit you in attaining your career goals.
Gaining experience and demonstrating it in your resume gives you a higher edge in receiving better job opportunities. I have discussed the Gig Economy and the rising opportunities for independent workers and freelancers in this article.
Let us now take a look at the list of some of the best freelance jobs for school students/ college students:
List of Top #29 Freelancer jobs for students
Some of the top freelancer jobs for students are:
Copywriting
Data entry
Proofreading
Data Labelling
Editing
Ghost-writing
Creative writing
Graphic design
Photo editing
UI design
UX design
Video editing
Video production
Voice acting
Photography
Translating (written/ oral)
Web design (For design/ programming graduates)
3D animation
Ajax/ Java/ API/ HTML developer (For computer science or related graduates well versed with programming languages)
Administrative support
Virtual assistant
Transcriptionist
Academic writing
Accounting
Bookkeeping
Marketing strategy
Search Engine Optimization (SEO)
Digital marketing
Tutoring
3 Best freelancing jobs for students
In the above section, we have seen some of the top freelancing jobs for school/ college students. But what are the best freelance jobs for students? How can you decide which a good freelance job is and which one is not?
Freelance work or project you take up should be something which you can benefit later on while hunting for jobs in that particular field. Based on the latest trends, these three are the best freelance jobs for college/ school students:
Writing: Demand for online writing jobs for students is rapidly increasing. To be able to make their businesses relevant and understandable to their potential customers, companies need exceptional writers to present their products or services elaborately.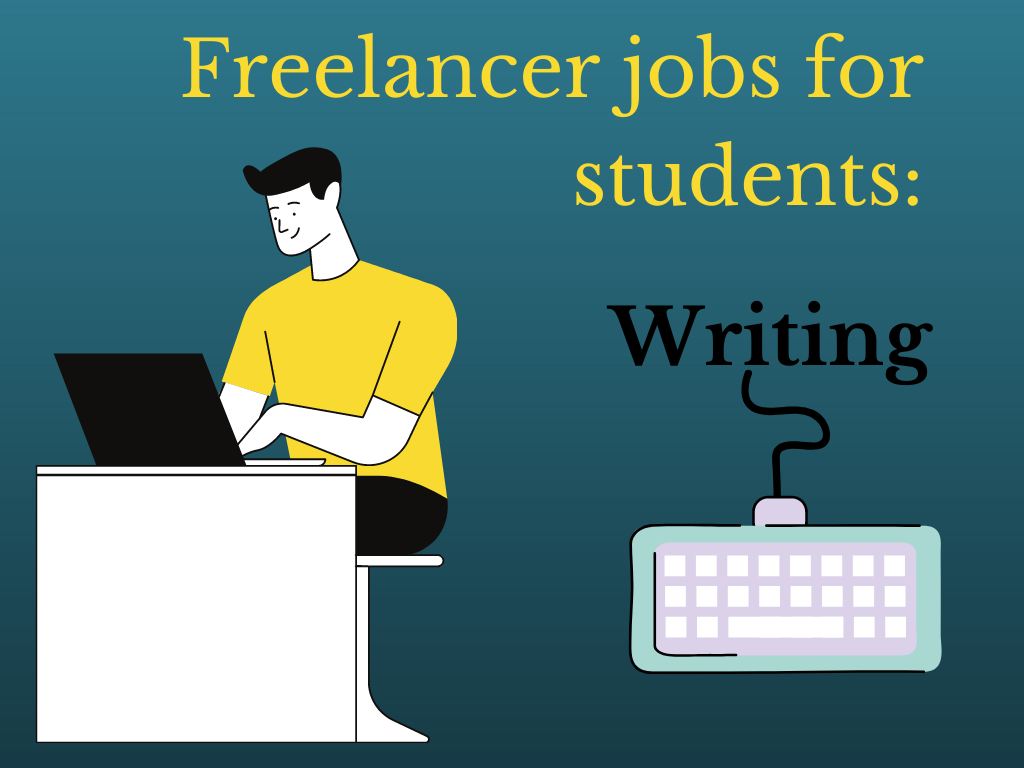 If you are thinking of how to start freelancing, then content writing is the most easily accessible type of work you can start. If you have good writing skills, then you may get many opportunities in this field. Writing is not just limited to blogs; it also includes eBooks, product descriptions, white papers, software reviews (if you know technical field), creative writing, etc. If you are an expert in a foreign language, then you can find work in translation writing as well.
Graphic Design: If you have an eye for detail and are already a pro in design software's like Canva, Adobe Photoshop, Coral, etc. then chances are you may find work in Graphic design or illustration. To kick start your career in design, you must possess a few skills and create a portfolio to pitch your freelance services to a contractor.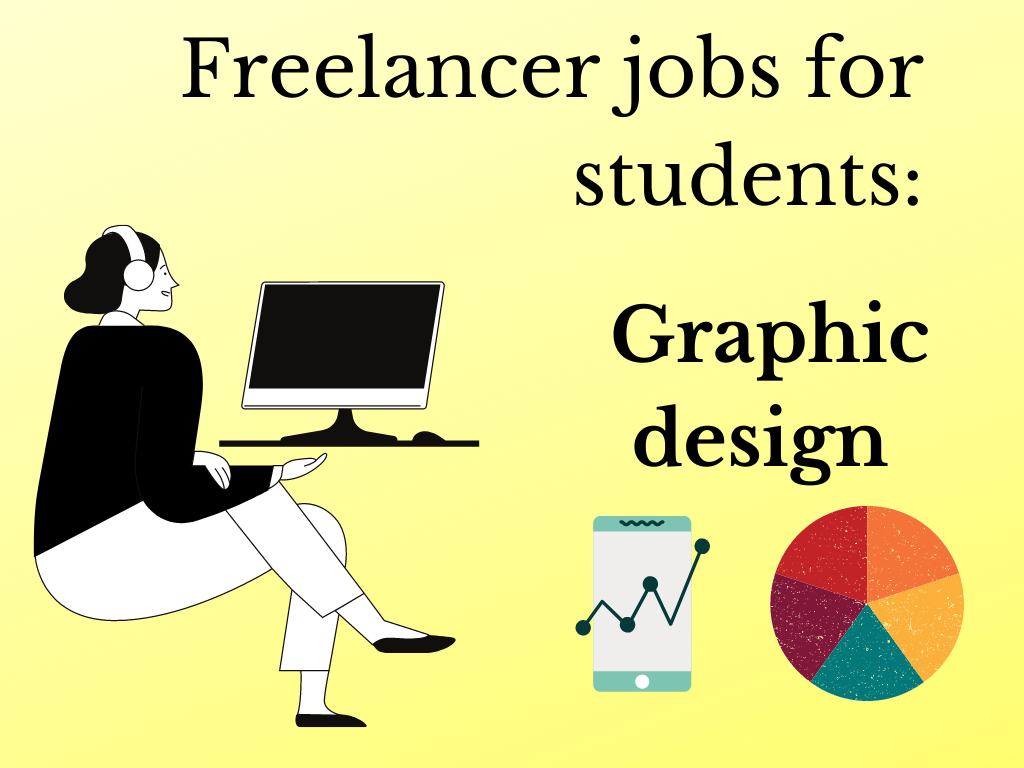 You can also showcase your illustrations or design samples to get better work opportunities. To freelance as a graphic designer you must possess design thinking skills and other basic design skills.
Social Media Marketing: If you are a social media pro and are curious about how the social media channel algorithms work, then social media marketing would give you immense opportunities to explore SEO, SEM, and other analytical tools.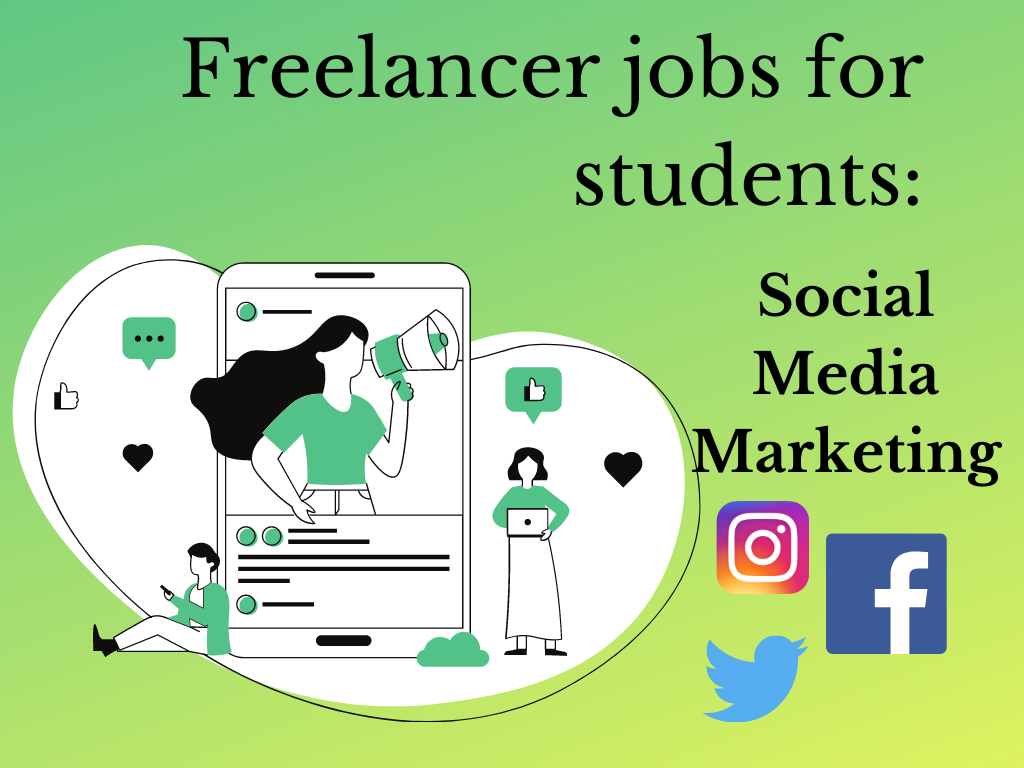 Even though social media marketing involves you to be up to date about new and latest algorithms, you can offer your expertise top media and marketing agencies who hire freelancers for improving their clients' social media presence and much more.
List of 19 Best websites for Freelancer Jobs for Students
There are some of the best online platforms that offer training and skilling programs for you to be street smart and proactive in your career after school or college. Take a look at some of the online platforms offering freelancer jobs for students:
Internshala (Best for finding internships and short freelance projects)
Rockerstop
Fiverr
Tutor.com
skooli
Tutor me
Writerbay
elnacain
Writing creekUpwork
Freelancer.com
Guru
99 Designs
Freelancer
True lancer
Toptal
Talimax
Catalant
TaskRabbit
FlexingIt
Online writing jobs for students
In India, online writing jobs for students are available at various online web portals. Students can easily pick a discipline they are really interested to write upon and get their online freelancer jobs for students
The benefits of online writing jobs for students in India are many, such as: students get the freedom to manage their workload as per their convenience; they get to earn and save while studying and students also get to hone their current writing and communication skills.
But how online writing jobs for students in India works?
To start freelancing for online writing jobs, students can select a freelancing web portal and get registered on the website. Some online writing websites require the student to pass the grammar test with a fixed minimum score. After passing the online grammar test, students can upload their CV/ Resume showcasing their interest areas, and relevant skills in the areas they wish to write.
Some freelancer job portals also demand a portfolio or sample essays to showcase essential writing skills which you can do after working on a few projects.
What are the subjects/topics for Online writing jobs for students?
Freelancer jobs for students in India are offered in a variety of subject topics and discipline areas. Students can choose from any of the following lists:
Economics
English literature
Family studies
Film studies
Accounting
Anthropology
Art & architecture
Business
Communications
Consumer science
Criminal justice
Finance
Gender studies
Geography
History
Law
Management
Marketing
Mathematics
Medicine
Music
Philosophy
Political science
Psychology
Shakespeare studies
Sociology
Statistics
Theater
World affairs
World literature
How much money can you make as a student freelancer?
As a school/ college student, nothing hurts earning a little extra buck for partying with friends or saving for a new smart watch! So how much can you really earn by working as a freelancer? This entirely varies from client to client. The company or person you are offering your services to can charge as per his/ her needs and requirements. As a fresher, with zero to a few projects as an experience, you would have to start by charging minimal or low prices. Once you have built your niche and gained experience, then you can price your work as per your needs.
You must always remember that there are several factors to consider before finalizing what amount you would charge. For example, in writing, you may initially charge Rs. .25 to .5 per word and later on increase the price according to the complexity of the content to be written. Moreover, freelancer jobs for students pay enough for students to manage and earn a little extra while they are still at school or college.
Top 5 reasons why should you go for freelancing
#Be future-ready
One of the major reasons why freelancer jobs for students are good is because it makes you prepare for your future early on. Gaining experience and required industry specific skills makes you ready to cope with the challenges and complexities of the future of work.
The future of work is going to be highly competitive and most of the job roles today are not going to exist in the coming times. Technology has advanced and made several manual job roles irrelevant. Artificial intelligence, Internet of Things, Virtual reality and much more are transforming the way world works today. Imagine what the future holds!
Freelancer jobs for students are a great way to introduce yourself early on.
#Earn extra pocket money
Another reason why freelancer jobs for students are great is because it gives you a chance to earn while you learn!
There are ample reasons why you would need money. You wish to purchase the latest best-seller out in the market but have no pocket money left for the month. What can you do to earn a little extra? A Freelancer job is the best way! Not only you would earn a little extra pocket money, but you would also begin to understand the tricks of the trade early on.
#Start networking
It is never too early to make good connections. Here's why!
Freelancer jobs for students are a great way to not only set out in the professional field of work but also network around with a number of people. You get to learn how to connect with potential clients and build larger networks with people from all around the world. This increases your chances of getting more work in future and builds your own brand amongst your competitors.
#Gain experience
Lead the game in crafting a valuable Curriculum Vitae- CV!
Gaining experience in the field you are planning to pursue your professional career not only adds value to your resume but also gives you an edge while looking for job opportunities in that particular field. Freelancer jobs for students allow them to gain prior work experience before they actually enter the professional world.
Summing Up
After reading the article, you must now be aware of some of the best freelancer jobs for students and know why freelancing could be a great source of earning extra money and work experience while studying. If you are not sure about which skill should you be focusing on improving, then get in touch with our career counsellors! Or take a look at some of the best 21st– century skills to learn now!
Other blogs you may find interesting to read:
Before you start freelancing, take a look at some of the 21st century skills below and learn on the go:
Shruti Verma has an experience of around 2+ years in research and analysis of careers, jobs, and industries. She has a knowledge of diverse fields spanning from career counselling, management consulting, engineering, and technology to science, finance, and humanities.