If you are reading this blog, it is probably because you have taken Humanities in Class 12th and you must have heard the common question, "What are the Career Options after 12th Humanities?" Well, gone are the days when jobs after a humanities degree used to hold little or no scope.
So, today we will provide you with an answer to the question as we discuss the various career opportunities after 12th in the Humanities stream. Without wasting more time, let's dive into it!
What is Humanities?
Humanities are academic disciplines that involve the study of different aspects of human society and culture. These aspects include anthropology, archaeology, classics, human history, ancient and modern linguistics, law and politics, literature, philosophy, religion, performing and visual arts, and many more.
Humanities is all about studying the human condition revolving around socio-economic and political scenarios. It uses critical, philosophical, and analytical approaches in deriving answers, speculations, and premises in understanding humans. Moreover, it prepares you to think creatively and critically, to question and derive answers. All in all, it is a holistic approach to education as it offers an expansive foundation across multiple academic disciplines.
Why study humanities?
Firstly, education in humanities or liberal arts will lead you to a number of career options after the 12th. You will be well equipped with the latest skills such as communication, creativity, critical thinking, problem-solving, etc. that are most in demand by the recruiters.
Also, the world today is rapidly changing as we become more globally connected. This opens the road to various non-automated (i.e which can not be performed by machines) employment opportunities.
Likewise, humanities stream subjects go hand in hand with other areas of study. Moreover, a combination of soft skills and hard skills is becoming imperative in most workspaces nowadays. Therefore, a degree in Humanities or Liberal Arts would equip the students with the skills that are significant to succeed and thrive in the competitive workforce of the future.
As per the latest statistics, 75% of employers consider life skills such as problem-solving and critical thinking as the major employable skills. Employers seek potential workers' ability to think creatively and find solutions to problems. Hence, the relevance of basic life skills and thinking out of the box is higher than it was decades ago.
Last but not least, According to reports by the Association of American Colleges and Universities (AACU), almost 74% of recruiters say that they would recommend 21st-century liberal arts education for students to prepare today's young students for success in their professional lives.
Skills you Develop after Career options in Humanities
According to the World Economic Forum, complex problem solving, critical thinking, creativity, people management, and emotional intelligence are some of the top skills students need to thrive in the future workplace.
Besides, there is a number of high on-demand 21st-century skills that the humanities stream helps develop. Learning these top skills in today's time has become the need of the hour as the career options after 12th humanities are integrated with almost all major disciplines. Therefore, let's have a brief overview of some of the skills you develop after the humanities stream: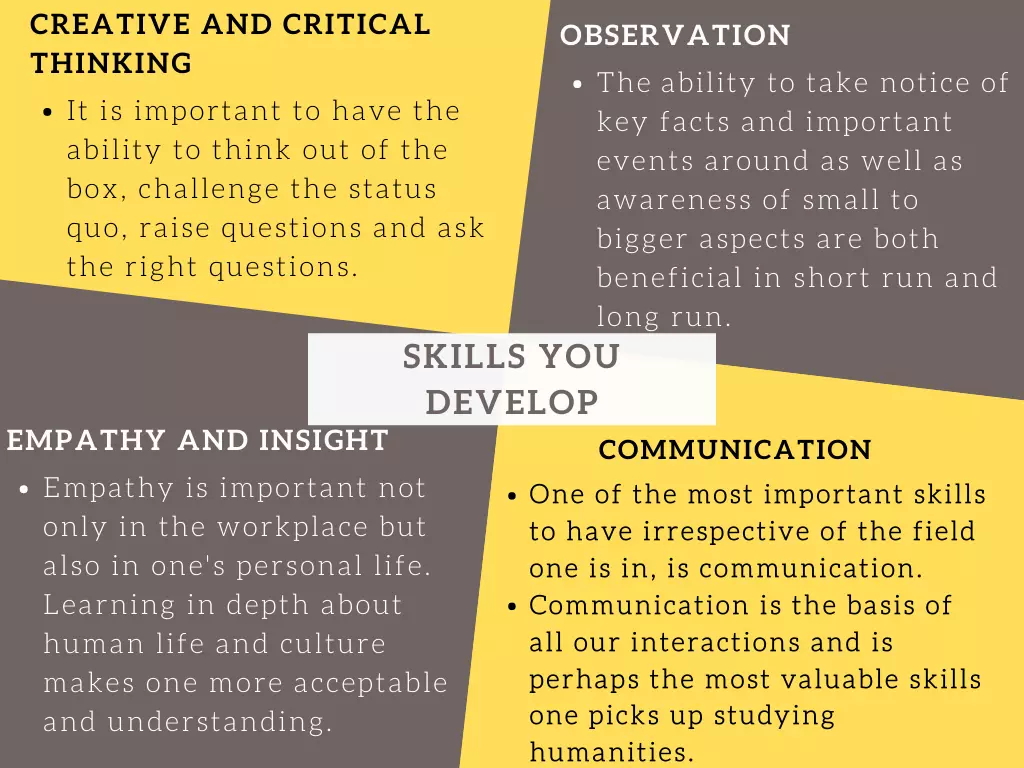 Discover More by accessing the Free Career Dashboard
This will help us share relevant information with you.
Creative and Critical thinking
Critical thinking is the ability to think clearly and rationally to understand the logical and practical interconnection between ideas and concepts.
Also, it is very important to have the ability to think out of the box, challenge the status quo, raise questions, and ask the right questions.
Furthermore, critical thinking skills are one of the top skills for students to be able to adapt to complex workplace structures and environments as a professional.
Besides, to develop a critical thinking approach, you need to learn observation, analysis, interpretation, evaluation, identification, explanation, problem-solving, and decision-making skills. You can learn them through ideas and concepts in humanities streams.
To end with, creative thinking also allows you to expand and discover possibilities in almost every aspect of your life.
Observation
Observation is the ability to take notice of key facts and important events around you. Awareness of small to bigger aspects is both beneficial in the short-run and long run.
Observation is a necessary life skill. Therefore, today's young minds are already well equipped with advanced technology, and observing and being aware of their actions and surroundings becomes vital to living a successful life.
Empathy and Insight
Empathy is important not only in the workplace but also in one's personal life. Also, learning in-depth about human life and culture makes one more acceptable and understanding.
Empathizing is about deeply understanding problems. When design thinking is applied in real life, students learn to empathize and understand themselves and others better.
Similarly, using insights and observing the details, students get to make bigger life decisions more effectively.
Communication
One of the most important skills to have irrespective of any field is communication. Communication is the basis of all our interactions and is perhaps the most valuable skill one picks up after studying humanities.
Communication skills are not something someone is born with but are developed over a while. However, these basic life skills may as well take a lifetime to master.
Effective communication skills will help you a lot while applying for jobs or looking for promotion or even reaching out to your supervisors. Communication skills are required to speak properly at the same time maintaining good eye contact, listen effectively, and present your ideas accurately. Many of these are important life skills that most managers seek.
Now that you are aware of what humanities are and what skills you develop, let us now take a quick look at the list of subjects under Humanities:
Explore different streams career options after 12th
Top 25 Humanities Stream Subjects
After plus two humanities courses or liberal arts teaches you to study engaging and interesting multiple disciplinary subjects. Well, there are more than 100 career options to choose from. But first, understand that these humanities courses after 12th arts are branched from the following list of humanities stream subjects.
Some of the humanities courses after 12th you might take in the humanities stream include: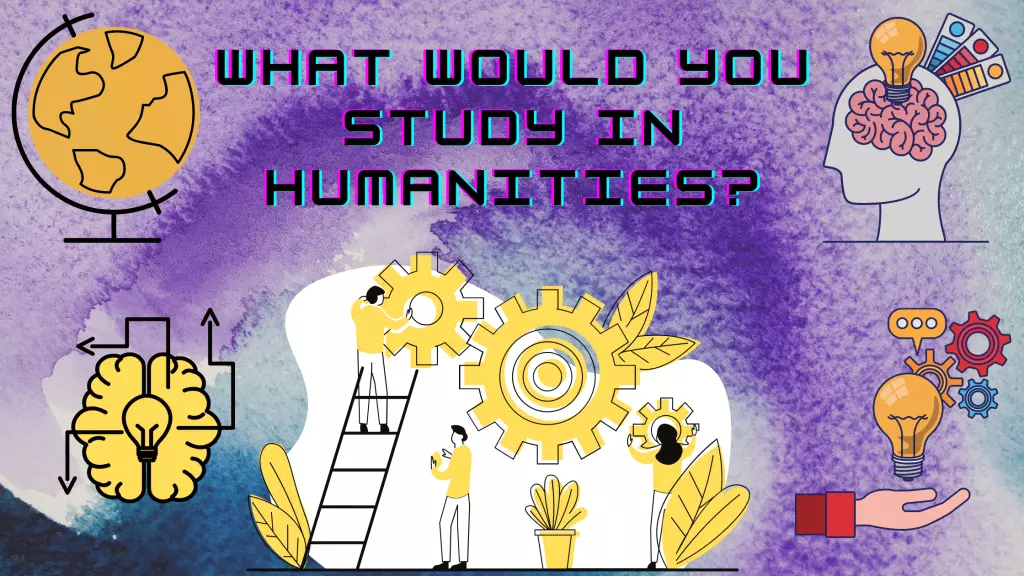 Anthropology
Archaeological Anthropology
Archaeology
Communication Studies
Criminology
Economics
Education
Environmental Studies
Foreign Languages such as English, French, German, Spanish, Russian, Italian, Chinese, Japanese, and other
Geography
History
Home Sciences
Indian Languages such as Hindi, Tamil, Telugu, Bengali, Malayalam, Marathi, Gujarati, Odia, Assamese, Punjabi, Kannada, Maithili, Urdu, Sanskrit, Bhojpuri, Kashmiri, Konkani, and other
International Relations
Liberal Arts
Linguistics
Media Studies
Philosophy
Political Science
Politics
Psychology
Social Sciences
Social Work
Sociology
Women's Studies
These subjects help develop and enhance skills such as communication and critical thinking and an understanding of the workings of the interconnectedness of the world and open a pool of humanities career options after 12th.
Some humanities career options after 12th require you to major in particular subjects, but it is possible to go into some fields such as law and publishing after having studied a variety of subjects.
Must read- 11 Reasons Why Liberal Arts Education is Worth it!
When you're deciding what career options after 12th humanities should you focus on, take both your interests and the subject you majored in into consideration. There are many more career options than those listed below for people with a bachelor's degree in humanities, the following are only a few examples to give one a flavor of the possibilities there are.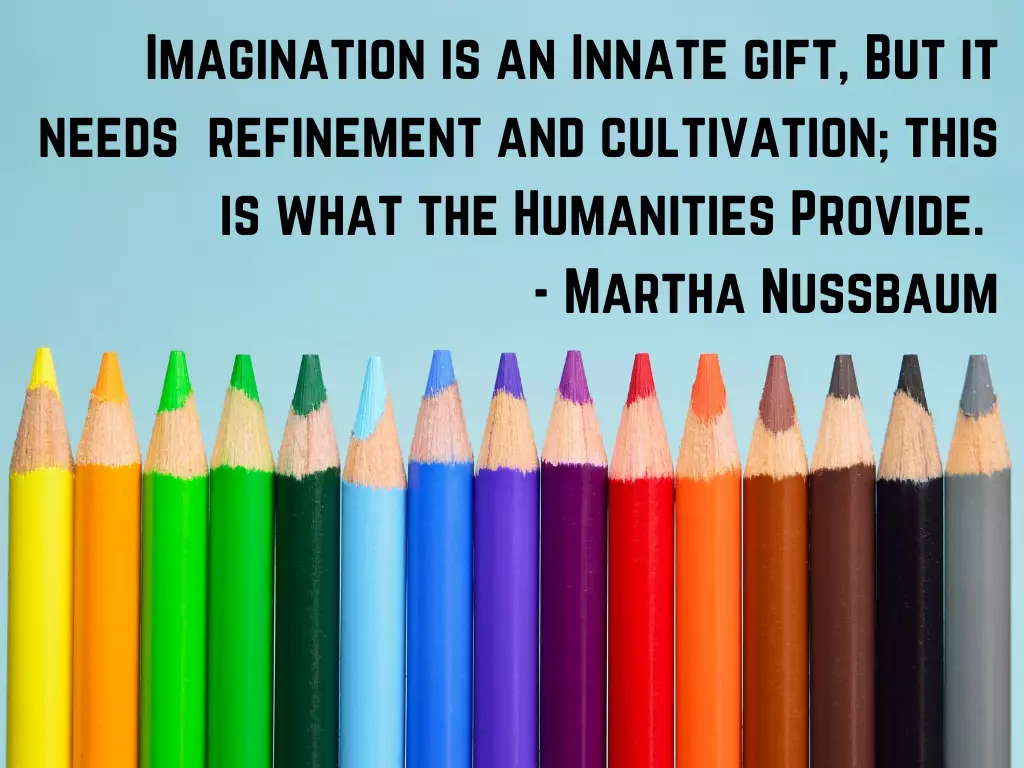 Top 101 Career Options in Humanities after 12th
Not only are there more than 100 career options after 12th humanities but also plenty of scope in each one of them. Moving forward, let's take a look at the list of careers in humanities and social sciences you can choose from:
Archaeological Anthropologist
Art conservator
Archivist
Author
Art Historian
Bio Archaeologist
Biolinguist
Biological Anthropologist
Child Psychologist
Children's Rights Activist
Clinical Linguist
Cognitive Linguist
Communications Consultant
Computational Anthropologist
Computational Linguist
Content Writer
Computational Psychologist
Content Marketer
Counselling Psychologist
Cultural Anthropologist
Cultural Consultant
Cyber Psychologist
Cultural Program Director
Developmental Linguist
Developmental Psychologist
Digital art Curator
Diplomat
Eco Linguist
Education Policy Consultant
Environmental Economist
Environmentalist
Epistemologist
EthnoArchaeologist
Evolutionary Linguist
Experimental Archeologist
Family and Marriage Counsellor
Financial Advisor
Forensic Archaeologist
Financial Economist
Forensic Anthropologist
Forensic Linguist
Fundraising Coordinator
Forensic Psychologist
Geo Economist
Gerontologist
Health Economist
Health Psychologist
Historical Linguist
Industrial Economist
International Economist
Labour Economist
Legislative Aide
Linguistic Anthropologist
Media Correspondent
Medical and Health worker
Medical Anthropologist
Mental Health Counsellor
Museum Anthropologist
Neuro Linguist
Non-Profit Organization Executive
Paleontologist
Political Economist
Political Scientist
Psycholinguist
Rehabilitation Counsellor
Social Psychologist
Social Anthropologist
Social Media Strategist
Socio Linguist
Theologist
Other Career Options in Humanities after 12th
One problem that has troubled students for generations and will continue to do so is when they aren't sure what they want to do later and are confused while deciding on their major. So, even if you earlier had no idea about the 101 career options after 12th humanities, you don't have to worry if you couldn't pick the major you now to pursue a career in.
Well, here's the good news! Here are some more career options after 12th humanities irrespective of what you chose to major in.
Several careers do not depend on your graduate degree or the subject you graduated in. So, here are a few examples of career options after 12th humanities that do not require any specific major:
Law
Journalism
Editing
Publishing
Marketing
Work for not for profit organizations
Indian Civil Services
So, to end with we can say that there is no end to career options after 12th humanities as students with an education in humanities and liberal arts are all-rounders. Moreover, they possess ample knowledge of the world and are better equipped with the top skills that employers want. Hence, with holistic know-how of the world and skills of the 21st century, students in the humanities stream are bound to be successful in the future of the workplace.
Is humanities a good stream: Conclusion
Yes absolutely! Even though people say it is difficult to find a job after a humanities degree and that the humanities are inferior to the sciences, we are assured that there are plenty of career options after 12th humanities.
Whether it is based on the skills you have acquired or on what you majored in there is a pool of opportunities awaiting you. Perhaps a few decades ago there were limited job options available to those who had done a bachelor's degree in humanities, but today that isn't true as we saw in this article.
However, this is one of the most important decisions you will make in your life, and it's important to not make a hasty decision. Therefore, it is important to choose wisely whether after talking to your friends and family, or someone more professional such as a career counsellor.
Well, that's it for today. Hope this article was helpful. Thank You!
Some interesting topics for you:
Discover More by accessing the Free Career Dashboard
This will help us share relevant information with you
Trending Posts


Anushree has 4+ years of experience in the career counseling industry as a Senior Content Writer. She has also worked as a Social Media Marketing Expert for a startup and Content Quality Analyst for Publishing and E-learning Industry. She has done her Master's in Commerce and PGDM in Finance & Trade and Marketing & HR, but she is currently following her passion for writing.