School students need to know about their financial options for higher studies and future career options. Students must be well aware of the financing options like student loans, choosing a career based on financial ability, gaining financial independence, and so on. Whether it's embarking upon higher education or finding a job, with skills in financial literacy, students get ready for anything when it comes to making sound financial decisions.
This article will help you understand the importance of financial literacy for school students and how personal finance for students helps them in making good financial decisions.
Before we understand the importance of personal finance education for school students, let's dig a little deeper into what financial literacy is all about.
What is Financial Literacy?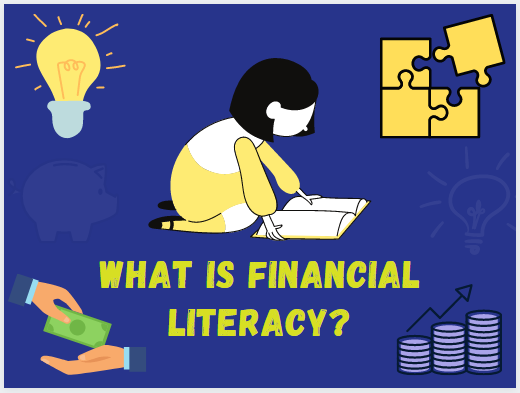 Financial Literacy is the ability to make well-informed financial decisions and encourage financially responsible behavior. In simpler terms, financial literacy enables an individual to think about spending money in a controlled & balanced manner, saving money for further education and other future objectives; understanding the basics of investing early on, and much more.

The primary principles of financial literacy include learning the skills and knowledge for preparing a budget, monitoring spending habits, successfully paying off debts, and planning for retirement.
It also involves an in-depth understanding of financial principles and concepts such as financial planning, managing debt, and beneficial savings methods.

Lack of financial literacy may result in making poor and uninformed financial choices that may disturb the financial standing of an individual. People with low levels of financial competency have far-reaching consequences both in the short term and long term.

Those who are financially competent (those who have a sound understanding of financial concepts like planning and managing money matters) have more control over their finances and are able to make responsible choices when asked the questions such as: how much money can I and do I spend in a month, how much can I lend someone my money, where do I need to stop spending extra, and so on.

School students may not necessarily need to plan for retirement before they finish up their graduation. Instead, they need to be aware of various aspects of basic financial management skills to be able to handle their monthly allowances/pocket money or plan for their higher studies.

Financial literacy skills teach students the basics of money management that are: saving money, planning for higher education studies and student loans, investing money early on, and much more. Students develop practical money habits early on and prepare themselves for a secure future.
Why is Financial Literacy important for school students?
As per the OECD International Network of Financial Education (INFE) reports, National surveys show that the lowest levels of financial literacy have been found in young adults. Students, from an early age, need to develop the skills to help choose between career and education options and manage their monthly allowances or other sources of funds effectively and efficiently.
Financial literacy is a core life skill to be able to adjust to the changing and competitive world. Students are growing up in an increasingly challenging world where they will eventually need to take charge of their own financial future.
Moreover, as per CNBC, research shows that students who learn to manage money early on in their life are able to better handle their finances as adults.
As students grow into young adults, they would need to make bigger decisions for their careers, live independently, prepare budgets, and make wise financial choices for everyday living. They will need to manage risks, plan and prepare for 'rainy days', avoid unmanageable debts, and invest for their future goals.
As we have discussed above the importance of personal finance education for school students, let us now take a quick look at some of the benefits of financial literacy for students at an early age.
5 Advantages of Financial Literacy for school students
Benefits of learning financial literacy skills at a young age are: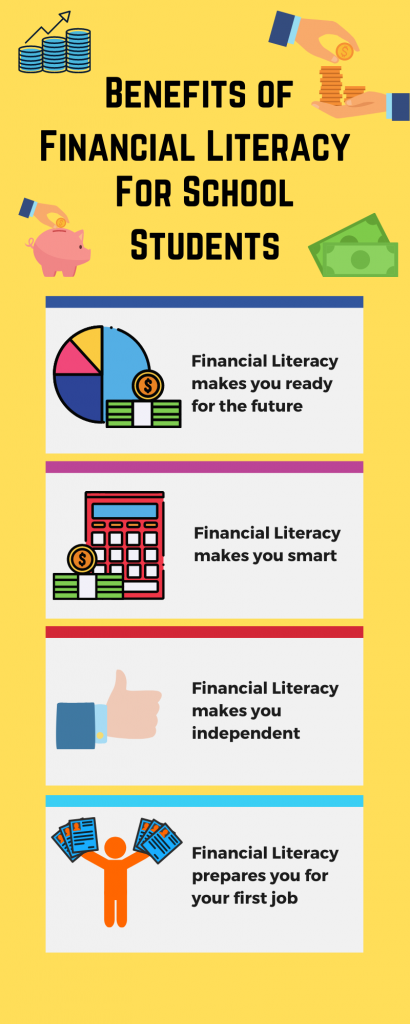 #1 Financial Literacy makes you ready for the future
Financial literacy empowers and equips you with the knowledge, skills and confidence to take charge of your lives and build a more secure future. Basic financial literacy helps you become self-sufficient and achieve financial stability and understand the importance of managing money early on in your lives.
Financial education is an important life skill that you need to thrive and excel in the classroom and beyond. Apart from other core life skills like Critical thinking, creative thinking, communication, and collaboration, you would need a sound understanding of financial management skills to make informed financial choices.
These include being able to save money, knowing the difference between wants and needs, managing a limited budget, and learning to plan for their higher education financial needs.
#2 Financial Literacy makes you smart
Financial literacy empowers you to understand the relevance of money in your life and makes you well-informed on things that money can and cannot buy. You also get to understand the value of money by getting to know the difference between good and bad spending habits and their outcomes, how to control unnecessary expenses and the best methods to invest money at an early age.
According to World Economic Forum, students need a combination of traditional skills and 'Social and Emotional Learning (SEL) which enables them to communicate, collaborate, and solve complex problems. These skill combinations help students in implementing and experimenting with day-to-day challenges and tasks. Financial Literacy also plays a major part in enabling students to make smarter decisions for their future.
Gaining financial literacy makes you smarter in terms of making effective financial choices. It also helps you understand what does manageable and unmanageable debts are and what should you do before taking any financial decisions.
#3 Financial Literacy makes you independent
Preparing for higher studies and making sound decisions in choosing better financing options like student education loans, makes you more independent. Understanding the basics of finances that you are going to need to take care of later in your life enables you to set clearer and meaningful long-term goals.
Financial skills also make you understand the art of budgeting early in your life. The art of budgeting involves planning and fostering short term and long term budget plans like saving money on a monthly basis for a particular goal, or setting aside money for 'rainy days', etc. By creating such short and long term budget enables you to be ready for the challenges of the future.
#4 Financial Literacy prepares you for your first job
Landing your first job is in itself a big feat. Although your first job may not get you the package you desired, still your first paycheck would give you immense happiness. Having learned the financial skills you would need to manage your paychecks, monthly expenses, bills, etc, you would need the skills and knowledge to manage your financial decisions well.
Financial Literacy skills will ensure you are well equipped with the necessary skills and knowledge to plan for your jobs, monthly expenses, pay taxes, understand salary slips, and much more. You get to learn a great deal about managing your finances by gaining the necessary financial literacy skills.
Not only financial literacy prepares you for your first job, but also makes you goal-oriented, how you would want to earn money, how much would you like to get paid, how well will you handle your finances, and so on. Financial literacy teaches you all the important aspects of money handling from an early age.
#5 Financial Literacy allows you to dream big
With the assurance that you will be earning some x amount of money by the time you turn 25 or 30 or plan to buy luxurious items by the time you earn a certain amount of package, instills the feeling of always dreaming more.
Understanding the basics of financial planning from an early age makes you aware of so many possibilities in your future. It allows you to dream big, it makes you want to work hard and plan based on your future aspirations. Financial literacy enables you to be more ready for your future than ever.
In Conclusion
By now you must be pretty psyched to register for a financial literacy course. Before you go ahead and start looking for which financial literacy course should you get yourself enrolled in, we have something more exciting to offer! Enroll in iDX's Financial Literacy course which is specially designed for young students like you.
What are you waiting for? Go ahead and become the smartest amongst your peers and learn the best from the industry experts!
Or are you already skilled in financial literacy and want to gain some more skills? Head on to iDX education courses website and know more about the courses we have to offer!
Some other interesting topics you may wish to read:
Discover More by accessing the Free Career Dashboard
This will help us share relevant information with you
Trending Posts

Shruti Verma has an experience of around 2+ years in research and analysis of careers, jobs, and industries. She has a knowledge of diverse fields spanning from career counselling, management consulting, engineering, and technology to science, finance, and humanities.