The world of education and learning has drastically changed for students. With a multidisciplinary approach in learning, students need the extraordinary skill set to be capable of transitioning into the future of work. Design thinking skills not only help students to understand what they are learning but also help them go beyond and question the work they are doing.
Design Thinking Skills are not just helpful in classrooms; these skills are high in demand by employers all over the world. Let's take a look at what design thinking is all about and why learning such skills is crucial for school students.
What is Design Thinking?
Design Thinking is a human-centered approach to creative problem-solving.In other words, it is a way or a process of finding solutions to real problems using creativity and innovation. It is a process that takes up to five steps to come up with meaningful ideas to solve real-life problems.
It is a process that involves creating new ideas and innovative ideas centered upon solving problems. Design thinking generates new product ideas and services or enhanced processes or efficiencies amongst the business operations.
Imagine a classroom where students create meaningful solutions like products or models that have a huge impact on the world or solve user-related problems. These products or models could be anything; a mobile application that solves the problem of understanding foreign languages; technology that teleports you in a jiffy. Sounds crazy right? It is. Design thinking breaks all the barriers and lets you explore the unexplored and undiscovered places to unveil imagination and creativity.
Solutions and ideas can be infinite, and that's the kind of mindset thinking process enables in students.
Let us take a look at what exactly is the design thinking process and how it helps in creating a user-centered product.
Design Thinking Process: An Overview
Design Thinking has five steps: Empathize, Define, Ideate, Prototype, and Test. Check out the infographic below and understand in detail the entire Process: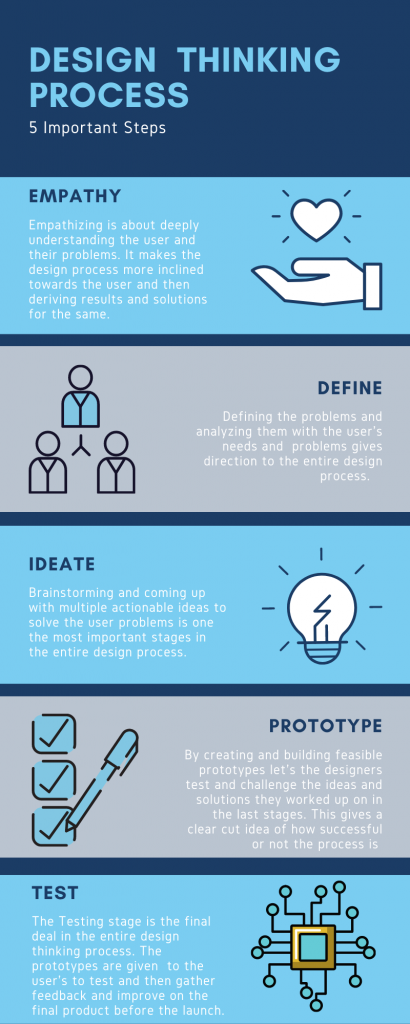 Empathize: Empathizing is about deeply understanding the user and their problems. It makes the design process more inclined towards the user and then deriving results and solutions for the same. Design thinking practitioners use user-based studies, Beginner's mind approach, as well as user research and user interviews to define their project goals.
Define: Defining the problems and analyzing them with the user's needs and problems gives direction to the entire design process. This second stage in the Design Thinking process is built on the observations the practitioners collected in the first stage to channel out ways to design the challenge that is most suitable to take on.
Ideate: Brainstorming and coming up with multiple actionable ideas to solve the users' problems is one of the most important stages in the entire design process. The ultimate goal of this third stage of the thinking process is to channel meaningful ideas. Some of the most commonly used ideation techniques are Brainstorming, Body storming (thinking like a user would), 4-step sketching, modeling, and so on.
Prototype: By creating and building feasible prototypes lets the designers test and challenge the ideas and solutions they worked upon in the last stages. This gives a clear cut idea of how successful or not the process is. The goal of this stage is to make informed decisions keeping in mind the goodness of ideas as well as the meaningfulness.
Test: The Testing stage is the final deal in the entire design thinking process. The prototypes are given to the users to test and then gather feedback to improve and enhance the final product before the launch. Post testing phase, the likes, and dislikes of a user are well defined and provide the thinking process result-oriented evaluations.
Importance of Design Thinking for School Students
You must be wondering why you need to learn Design Thinking skills.
To answer this question, consider the rapidly changing working environment and the path which the future of work is headed towards. To succeed, thrive, and be a part of the future, you will need to be adaptable and skilled. You will need to be ready to cope with the situations you have never seen before. For this, design thinking plays a crucial role in your life. Let's understand how:
#Design thinking teaches you to question
Design Thinking starts with questioning the status quo, it enables you to be at the back front and center of the story and use creative methods to come up with ideas, suggestions, and solutions to various situations, problems, and questions.
Questions like: I have a challenge but how do I approach it? I learned something new but how do I interpret it? I have an idea but how do I build it? II tried something new, but how should I evolve it? It transforms the way you approach the world and allows space for imagining and creating new solutions.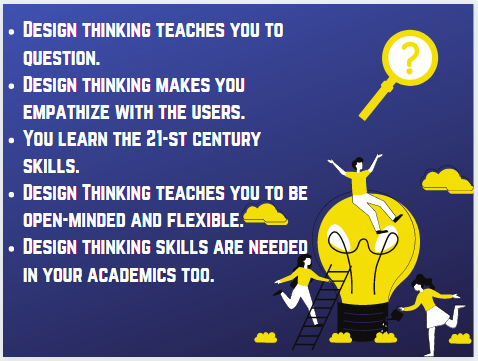 #Design thinking makes you empathize with the users
Empathy is at the core of Design Thinking; it allows students to understand the user develop deeper insights and understandings about of user behavior and needs.
For example, if students are designing a farm using solar energy and other renewable energy forms, they must first understand about the needs of the people who use the energy, what impact will it create on the neighbors, how much would it cost and other practical aspects. Before stepping further, students will first learn about empathizing with the users for whom the product is being designed.
#You learn 21-st century skills
In 21st-century workplaces, collaboration, working on teams, problem-solving, risk-taking, creative thinking, and flexibility are some of the highly valued skills. Design thinking helps you inculcate these skills right from your classrooms to help you transition to professional workplaces.
It does not only help you in enhancing and deepening your learning in the classroom but also prepares you for a competitive and challenging work environment in the future.
21st- century skills like creative thinking, decision making, problem-solving can be learned with design thinking processes. Empathizing, defining, ideating, prototyping and testing are all the stages that prepare you for the skills you will require in tomorrow's workplaces.
#Design Thinking teaches you to be open-minded and flexible
It shapes your approach to solving problems by letting you focus on not just creating one idea but several ideas. Design thinking helps you in defining problems and constructing actionable questions and answers.It gives you the opportunity to generate and visualize ideas using creative processes.
It also stresses imagination, meaning it helps you in generating a lot of ideas. You also learn to be open-minded with the help of thinking processes that involve defining problems; creating prototypes with the help of multiple repetitions of the process till you come up with practical solutions. It gives you an unbiased platform for evaluating and testing their designed solutions.
#Design thinking skills are needed in your academics too
Design thinking skills are not only the prerequisite for 21st-century workplaces; in fact, the design thinking is required in a number of graduate and undergraduate studies. A lot of academic fields like engineering, management, computer science, liberal arts and all the design courses need design thinking skills.
For example, design thinking plays a crucial role in education the new class of engineers who can create a better society by constructing and innovating products and services that actually solve real life problems.
Design thinking has stretched its way forward towards liberal learning in a variety of multiple disciplines. This blended approach in teaching design helps you in adopting a problem solving, critical thinking, and solution-driven approach.
According to Wired, most businesses and organizations are constantly challenged by the changing market trends and advancing technologies, making their business's obsolete if they do not come up with creative ideas and strategies for their business. To make businesses flexible and ready for the complexities of the future, most organizations now look for innovation and creative thinking.
School students learning design thinking skills at an early age can be made future-ready and land their dream jobs as and when they graduate.
Benefits of Design Thinking course for School Students
To understand what all students benefit from Design Thinking Course, let's take a look at the following key points:
Students learn how to have creative confidence in their abilities to adapt and respond to new and difficult challenges.
Students acquiring design thinking skills are able to identify and develop innovative and creative solutions to problems as and when they face them.
Students transform as optimistic, empathetic, and smart working members of the society who can solve complex challenges of the coming future.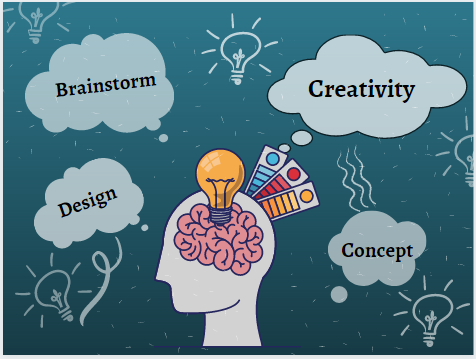 Students learn the fundamentals of Problem-solving with Design Thinking.
Students are able to use and integrate design thinking skills learned to solve real-life problems.
Students get to learn the top in-demand skills like problem-solving, decision making, and creative thinking from top industry experts.
Students prioritize learning as part of the course in design thinking instead of just gaining certificates.
Students take away the benefit of learning the top skills and become future-ready for their dream job.
Solving Problems with Design Thinking is an online course that enables students to learn problem-solving & decision-making skills early on in their life to get ready for the competitive future of work. Learn from industry experts and gain the 21st-century skills to secure your future.
Summing up
Not only are the 21st-century skills going to help you prepare for your future jobs, but will also enable you to implement the creative thinking process in your academics too. By now you must be pretty psyched to learn design thinking skills!
So, if you have begun to understand that your interest lies somewhere in solving problems with creative thinking, then we have got some exciting news for you! Enroll in iDX's Design Thinking course and prepare for your dream career. Your future self will thank you for the skills you acquire today!
Some of the blog topics you may wish to read:
Shruti Verma has an experience of around 2+ years in research and analysis of careers, jobs, and industries. She has a knowledge of diverse fields spanning from career counselling, management consulting, engineering, and technology to science, finance, and humanities.