Want to dig deeper into the cognitive processes that underlie human-computer interaction and play jack-of-all-trades? Well, the time is right for you to land into a career in UX Design or User Experience Design. This article will help you understand all the important aspects and elements of User Experience Design, and why you should consider this newly emerging and exciting field as a career path. So, what are you waiting for? Sit back and read along!
Design is everything
You must have heard UX designers say 'I am a User Experience Designer; I design apps/ websites…' But UX Design is not just limited to a simple device, a website, or an app; it is much more than that. It is everything.
Look around and see everything we use in our day to day life; the chair we sit on, the coffee mug we use to drink coffee in, the smartphone we use, and so on; everything has been created and designed to ease human efforts.
But not every chair we sit on is comfortable and not every mobile app is easy to use & navigate. So is this User Experience Design then? Well, a yes and a no! Let's find what UX Design meaning is all about in detail.
What is UX Design?
UX Design is the process of designing products, processes, services, events, and environments with a primary focus on user experience. The design of a product or service is created to provide meaningful and relatable experience to the users. It involves the entire process of putting together the end product or service which includes branding, usability, design, and function.
In simpler terms, anything which makes the user experience smooth and easy is UX Design.
The end goal of UX Design is to make the entire experience of the users natural and instinctive. The design process is not driven by a single design discipline, instead, it encompasses a cross-discipline view that considers layered perspectives of the brand/ business/ product or services starting from integrating the product till its final development.
Are the terms -UI UX design- similar?
User Interface/ User Experience- UI/UX design are terms that are used interchangeably but they do not mean the same things.
The major difference between UI and UX design is that while the UI or User Interface Design is all about the look and feel of the website/ app or any product; the User Experience Design focuses on the overall experience of the user when they use the product.
Now that we have answered what is UX Design, let's move on to understanding some of the significant elements of User Experience Design.
Important Elements of UX Design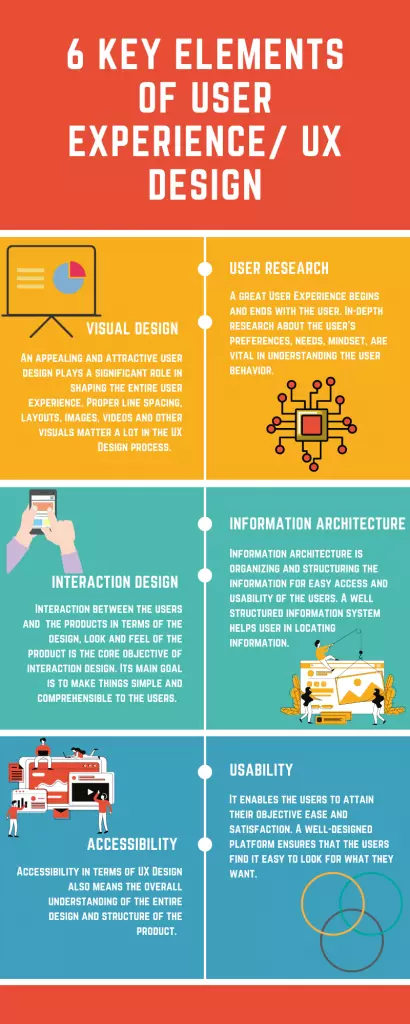 User Research: A great User Experience begins and ends with the user. In-depth research about the user's preferences, needs, mindset, is vital in understanding user behavior.
Visual Design: An appealing and attractive user design plays a significant role in shaping the entire user experience. Proper line spacing, layouts, images, videos, and other visuals matter a lot in the User Experience Design process.
Information Architecture: Information architecture is organizing and structuring the information for easy access and usability of the users. A well-structured information system helps the user in locating information.
Interaction Design: Interaction between the users and the products in terms of the design, look and feel of the product is the core objective of interaction design. Its main goal is to make things simple and comprehensible to the users.
Usability: It enables users to attain their objective ease and satisfaction. A well-designed platform ensures that the users find it easy to look for what they want.
Accessibility: Accessibility in terms of User Exoerience Design also means the overall understanding of the entire design and structure of the product.
UI UX Design: Some facts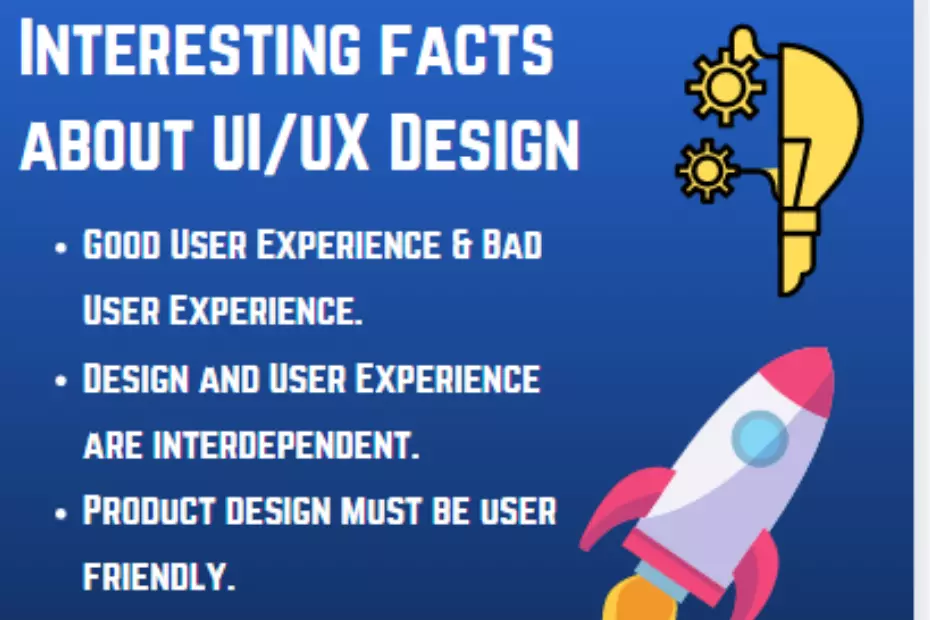 Good User Experience & Bad User Experience
In an ideal world, a user lands on a shopping website, navigates to the products he/ she is looking for, adds to the cart, makes the payment, and gets the product delivered in a hassle-free manner. This is what is called a good user experience.
On the other hand, a user lands on a website that takes a lot of time in loading finds it difficult to locate the products he is looking for, is unable to place an order, and finally exits the page without purchasing anything. This is an example of a bad user experience.
Design and User Experience are interdependent
A good or bad user experience completely relies on the design. And this is usually the responsibility a UX Designer holds. UX Designers take into account every bit of detail and element of User Experience to make the experience of the users as easy and smooth as possible.
Product design must be user friendly
Whether it is a digital product like an application or a website, or a physical product like a smartphone, the UX designer's job is to make sure the user finds the product easy to use.
The UX designers focus on market research, product development, design and strategy to build exceptional user experiences. They help in connecting the end product with the customer to achieve business goals.
Now that you are familiar with the terms like good and bad user experience, UI UX design, and what is UX design, let's take a look at what exactly a UX designer does?
What does a UX designer do?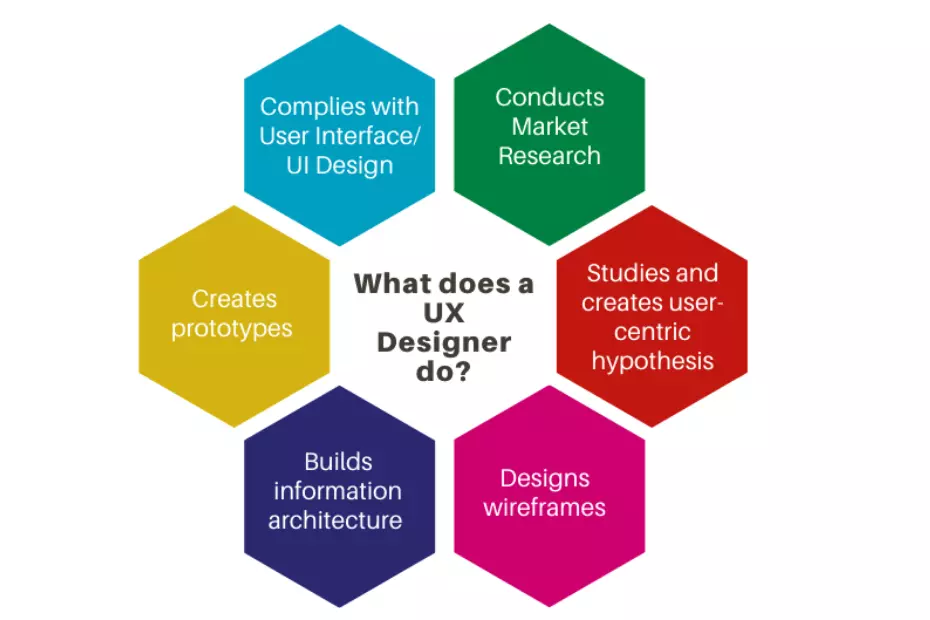 User Experience Design is user-centered. Meaning, the job of a UX Designer is to design user-friendly products. They are usually involved in user research, creating personas, designing wireframes& flow charts, and interactive prototypes as well as testing the final product designs.
Although the job of a UX Designer may sometimes differ depending on the need and demand of the organization, typically a User Experience designer focuses on the user-centered approach in designing the entire product.
After understanding UX Design meaning in detail, it is now time to understand what exactly a user experience designer does:
Research: A UX Designer conducts user research to understand user behavior and user needs. This is the first step towards creating a user-friendly User Experience Design phasing out the scope of the project. This step also allows the team to understand why and how of designing a product.
Studies and creates user-centric hypothesis: After conducting research on the user intent and needs, the designer then creates user personas. User personas are hypothetical situations created to understand customer needs and preferences.
Designs wireframes: Designers create user flows and wireframes to chart out the entire path a user takes while using a product. Wireframes are an important step in the User Experience Design as it provides a two-dimensional overview of the product before the actual user uses it.
Building information structure: They work out the most well-structured information layout keeping in mind the ease of accessibility and usability of the users. A great information structure enables the user to navigate from one page to another in a smooth transition.
Creating prototypes: Testing and creating prototypes is one of the many important tasks before the launch of the final product. A prototype is a model or testing version part of the product which is developed to test the final designs for bugs and other technical issues.
Coordinating with UI designers: As the visual design is one of the most significant elements of the entire User Experience design, the designers usually coordinate with visual designers or UI designers to integrate the product with the ultimate end goal.
Top 5 Skills to Become a UX Designer
As we discussed what is UX design in detail in the above article, let's understand what are the skills required to become a User Experience designer: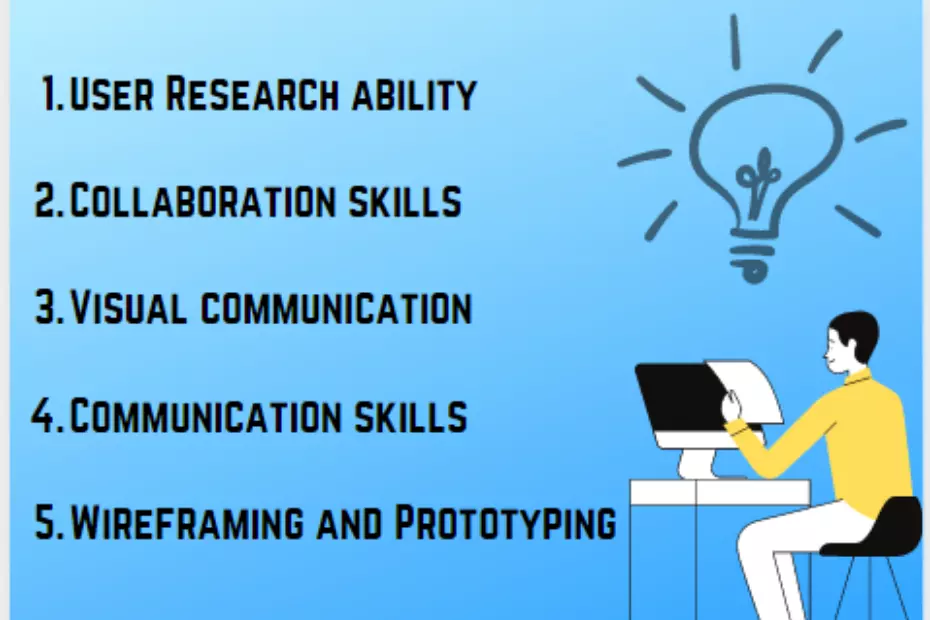 User Research ability: Research ability is one of the most in-demand skills for User Experience designers. A User Experience designer focuses on the user-centered approach in designing the products which require exceptional research skills in understanding the user behavior and user needs.
Collaboration skills: User Experience design encompasses collaboration with the entire team involved in product development; from the business stakeholders to the design team, a designer must interact with other team members in achieving the objectives of the product.
Visual communication: The job of a User Experience designer requires impeccable visualization skills as all the designs are graphic in nature. A clear understanding of visual communication is a basic requirement to become a good User Experience designer.
Communication skills: To manage all the aspects of written and oral communication while collaborating with other team members, designers should have strong communication skills.
Wireframing and Prototyping: This one skill is an additional yet most important skill you can learn or develop, as wireframing and creating prototypes of products is vital to the entire User Experience design process. These skills help designers in communicating the ideas more effectively. From hand-drawn sketches and three-dimensional product models, UX designer jobs require a great deal of knowledge about wireframing and prototyping.
How to become a UX Designer?
To become a User Experience designer in India, you must have a Bachelor's degree in Design with a core/ minor subject in UI UX Design. You can also go for a UX/ UI Design course at Bachelor's and Master's level. (If you have doubts about which subject to choose in graduation, you can try career counselling after 11th-12th here!)
At Undergraduate level you can go for UI UX courses such as B.Des. in User Experience Design/ Communication Design/ UI Design and Development/ Interaction Design/ Visual Communication/ UI and Graphics Design or similar courses.
At Postgraduate level you can go for M.Des. in User Experience Design/ Interaction Design, UI UX Design/ or similar courses.
Apart from degree programs, you can also pursue diploma courses in UI/ UX design. Some popular diploma courses in UI/ UX are Diploma in Web UI design, Certificate in UX/ UI Design, Post Graduate Diploma in User Experience Design and Development, etc.
If you are a school student and want to start early in a Design career, think about learning design thinking skills from design experts and gain relevant skills! Learn from top industry experts and start your Design Thinking course offered by iDX education.
Discover More by accessing the Free Career Dashboard
This will help us share relevant information with you.
Top 12 Design Colleges in India
Many design colleges mentioned below offer UI UX courses at the undergraduate/ postgraduate level or offer a UI UX course as a minor/ major subject in Bachelor's in Design or Masters in Design. Students can go for a B.Des. and pick a major in UX Design or pursue a course specialization in User Interface or User Experience Design or similar courses at the Master's level.
Take a look at some of the Top Design Colleges in India:
IDC School of Design, IIT Mumbai
Department of Design, IIT Guwahati
National Institute of Design (NID), Ahmadabad, Gandhinagar, Bengaluru, Kurukshetra, Vijayawada, Jorhat
Shrishti School of Art and Design, Bangalore
UID, Karnavati University
Chitkara School of Art & Design, Chitkara University
Symbiosis Institute of Design
MIT Institute of Design Pune
Apeejay Institute of Design
Sushant School of Design, Ansal University
UPES School of Design, Dehradun
Asian Institute of Design, Bengaluru
List of Top UX Design Courses
UI UX courses are also offered online by various eLearning portals. We have discussed some of the most preferred UI UX online courses below:
User Experience: The Beginner's Guide
UX Designer from Scratch
User Experience Research and Design
Information Visualization
Introduction to User Experience Design
Design Thinking: The Beginner's Guide
Psychology for Digital Behaviour Change
User Experience Design Course
Interaction Design Specialisation
Product Design (UI/UX)
UX Research & Strategy
Foundations of UX: Prototyping
Foundations of UX: Information Architecture
Foundations of UX: Logic and Content
Foundations of UX: Making the Case for Usability Testing
User Experience Design Tools: Axure
User Interface Analysis
Diploma in UI/UX Design
Intro to the Design of Everyday Things
Problem-Solving with Design Thinking* (Best for school students)
List of Topics Covered in UI UX Course
About UX
What is User Interaction
What is Mental Model
What is Cognitive Model
User Experience (UX) Design and its use?
Elements of UX Design
Elements used in User Experience Design.
What is Persona in User Experience Design
User Experience Design Process
Defining the User Experience Design Process and its Methodology.
What is User Research in User Experience Design?
What are the User Needs and Goals
What are the Tools and Method used for Research
How to deliver a research and it phases
Visual Design Principles
Information Design and Data Visualization
Interaction Design
Wire framing & Storyboarding
Elements and Widgets
Screen Design and Layouts
User Experience Design Improvement & Delivery Process
Understanding the Usability Test findings
Applying the Usability Test feedback in
How to communicate with implementation team
UX Deliverables and its process
Top 5 User Experience Design Learning Platforms
To ease your search for the best online learning platforms for UX Design courses, we have done the hard work for you! Check out the top online learning platforms for UI UX courses:
Take help from career experts and find your true calling!
Top 20 UX designer Jobs
The UX designer jobs are very much in demand with most of the business operations switching to digital platforms for user interaction and communication. UX Designers may find job opportunities in a variety of industries such as Advertisement, Media, Information Technology, Financial Services, Banking, Insurance, Education, and Hospitality so on.
UX designer jobs may vary, some of the most common job profiles are:
User Researcher
UX Research Analyst
Design Manager
UX Designer
UI Developer
UI Designer
Information Architecture (IA)
Interaction Designer (IAX)
Product Designer
UX Tester
Interaction Designer
Visual Designer
Usability Analyst
Web Designer
UI UX Game Designer
Automotive UX Designer
Chat UI Designer
Voice UI Designer
Wireframe Expert
UI UX Expert Designer/ Researcher at various senior executive roles
UX designer Salary
As per the data collected by Glassdoor, the UX designer salary at an average range from
Rs. 3, 20,000 to 16, 55, 000 per annum. As an entry-level UX Designer, you would earn a starting salary of around Rs.35, 000 to Rs.40, 000 per month.
In conclusion
By now you must have a pretty fair idea of what UX Design is and how you can pursue a career in this creative field. If you still have doubts or want to go for an expert's opinion about the industry trends, then set up a meeting with a career counsellor and get all your doubts cleared about a career in design or any other career field!
Hey, before you go, check out the Problem Solving with Design Thinking course by iDX Education! This course is specially designed for young students like you who want to start early on and learn the most in-demand skills at the comfort of your home.
Some other interesting blogs you may like to read:
Discover More by accessing the Free Career Dashboard
This will help us share relevant information with you
Trending Posts

Shruti Verma has an experience of around 2+ years in research and analysis of careers, jobs, and industries. She has a knowledge of diverse fields spanning from career counselling, management consulting, engineering, and technology to science, finance, and humanities.