Innovation, creativity, critical thinking, risk-taking, and turning ideas into action are some of the skills entrepreneurs possess! But are these entrepreneurship skills important for school students too? If yes, then why? What are the advantages of entrepreneur courses for school students at an early age?
Young Entrepreneurs like Ritesh Agarwal founder of OYO rooms; Trishneet Arora, founder, and CEO of TAC Security Solutions are some of the many examples of top young and successful entrepreneurs in India, giving the school students enough reasons to master their entrepreneurship skills.  
These 'must-have' skills for school students have become an interesting topic of discussion, so why waste time? Let's find out how school students can benefit from learning entrepreneurship skills.
What is Entrepreneurship?
Entrepreneurship is the process of developing and running a business that is built around an idea to solve a problem or address an issue in a unique way. Entrepreneurs identify problems or issues in our business, consumer, or social life and build a business to solve the problems or address the issues in a unique way. In the process of doing so, they take risks that might be different and bigger than a regular business.
The key tasks of the entrepreneurs include:
Identifying an opportunity for building a business to solve a key problem or address a key issue in business/consumer / social life. An entrepreneur may also identify an opportunity to solve a key problem or a key issue in a unique way, better than the way it is being done now;
Developing a business plan;
Sourcing and using financial, material, human resources, and other resources to implement the business plan;
Providing leadership to the people in the business;
Planning for uncertainty and ensuring business continuity.
Do you know ride sharing (Uber, Ola), apartment sharing (Airbnb), iPhones, iPads, credit cards, online learning, are all examples of entrepreneurial ideas that got converted into products or services?
Top 7 reasons why School Students should learn entrepreneurial skills
An entrepreneurial mindset is a 21st-century skill for school students as an early intervention of entrepreneurship skills enables them to turn ideas into action. It includes creativity, innovation, and risk-taking as well as the ability to manage and lead the projects to achieve the objectives.  
To become relevant for the future world of challenges, school students must learn entrepreneurship skills early on because:
#1 The future is uncertain; you need skills to adapt to unknown challenges
We live in a world that requires constant upgrading of knowledge and skills. To cope with the challenges of the future, you need skills to adapt relevant skills-set to cope up with the complexities and challenges of future workplaces.
You need to be well equipped with the skills that allow you to navigate in complex situations. Entrepreneur courses or entrepreneurship skills teach you these skills. It provides you with the ability to solve problems, think creatively, take risks, and offer creative solutions to problems.
#2 You need design thinking, creativity, and innovation in schools
You need to develop design thinking skills, creativity and innovative ideas to transition well from high school and college to a professional working space. Entrepreneurship courses empower you to be creative, innovative and collaborative; the three skills to adapt to the exciting and challenging working environment of the upcoming future workplaces.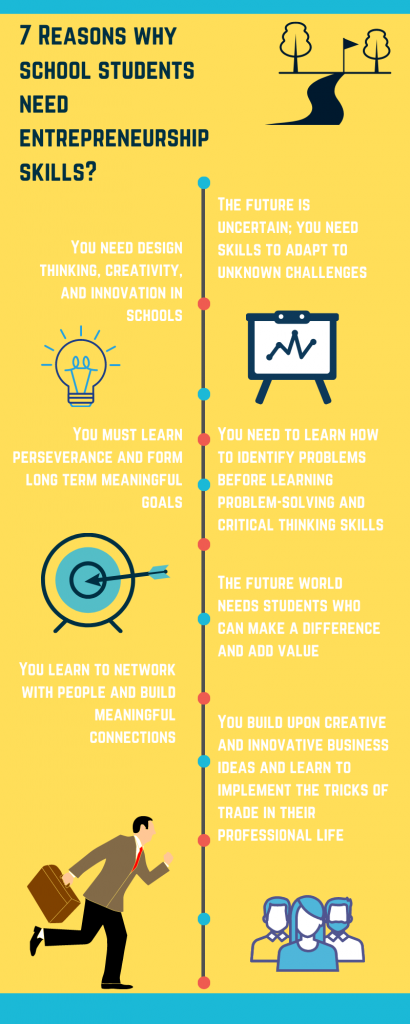 #3 You need to learn how to identify problems before learning problem-solving and critical thinking skills
Before you learn complex problem-solving skills, it is important to first identify what are problems and how to come up with creative solutions with design thinking practices. The first step towards solving any problem is to address and identify the problem, the basic skill required to arrive at solutions.
Entrepreneurship courses teach problem identification skills and problem-solving skills that are the core aspects of entrepreneurship. Business ideas and goals are created by first identifying and analyzing problems and then coming up with creative solutions.
#4 You learn perseverance and form long term meaningful goals
To be successful and achieve meaningful goals in life you need more grit. Grit is the ability to persevere in something you are passionate about in life. You must learn grit through entrepreneur courses as the courses teach them basic life skills that are vital in life.
You will be able to learn perseverance and from long-term meaningful goals through entrepreneurship as the process is extremely challenging. You will get well equipped with life skills before you finally graduate or enter a new phase in life. Therefore, teaching entrepreneurship skills not only hone your ability to master the necessary life skills but also enable them to form long-term meaningful goals at an early age.
#5 The future world needs students who can make a difference and add value
The world sees entrepreneurs as creators, innovators, and doers. When students acquire such meaningful value to add skills, they become more valuable. Entrepreneurs look for solutions to problems and create innovative ways to do so, if you learn these practices at an early age, you can make a difference and add immense value to either your own venture or to someone you are entitled to work under. Both situations require skills that can make a difference and add value to the generated results.
The future belongs to innovators and creators, those who can actually make a huge difference, and entrepreneurship skills provides vital life skills to school students in the 21st-century.
#6 You learn to network with people and build meaningful connections
Entrepreneurship skills teach you how to network and build meaningful connections. Networking is not just a core aspect of entrepreneurship but is also a significant life skill which school students must learn at an early age. You get to interact and meet with other peers who have similar or different mindset and ideas which enable them to learn and value others' perspectives and opinions.
#7 You build upon creative and innovative business ideas and learn to implement the tricks of the trade in their professional life
Learning entrepreneurship skills trains young minds to develop and build upon their own business ideas, and create operational, financial, and marketing plans for their businesses. Team activities and assignments give you hands-on experience in working with people and collaborating with others to come up with creative and innovative business solutions.
Entrepreneurial mindset allows you to start your businesses later on in your life or equips you with relevant skills to apply your experiences in jobs.  
4 Essential Entrepreneurship Skills for school students
Some of the essential entrepreneurship skills for school students are discussed as below:
Problem Identification skills
Problem-solving ability benefits not only students in their academic or professional lives, but also helps them in building a positive attitude in tackling everyday life challenges. Entrepreneur courses help students instill the ability of problem identification and problem-solving skills.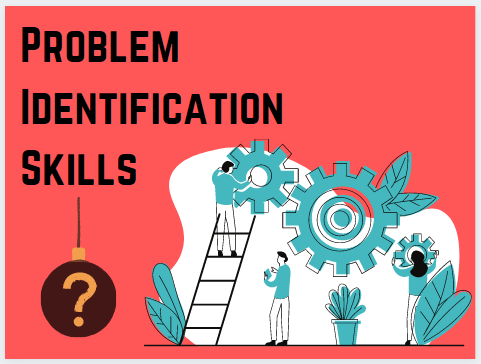 The basic step is to identify the problem and understand the underlying issues. School students get a chance to explore their creative capabilities and think and research in-depth about the problems and coming up with innovative solutions. Along with problem identification skills, students get to expand their creativity, researching skills, emotional intelligence, decision making, risk management, and communication skills.
Team Building Skills
Team building is the ability to know how to help and work as a group where all the members feel they have an important part to play. With essential entrepreneurship skills, school students learn how to build effective teams, how to manage and set team targets and goals, how to deal with team conflicts and many more.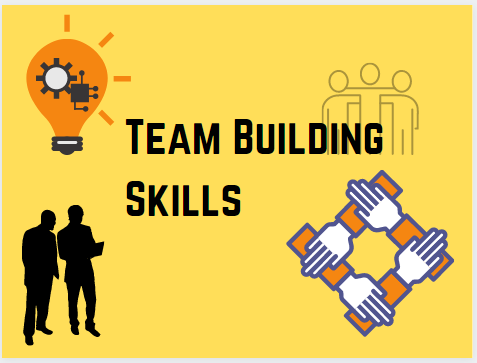 Students also get to learn environment monitoring, problem-solving, technology implementation and use interpersonal, and organizational skills.
Financial Modeling Skills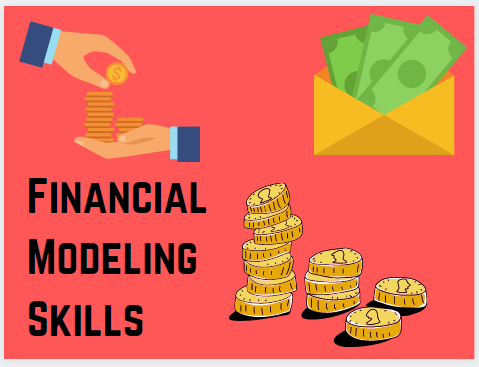 Financial Modeling skills help students understand and evaluate the investment tangents of businesses, identify investment opportunities, mergers & acquisitions, raise capital, or assess the financial performance of the business. School students get to learn the fundamentals of understanding how to build a forecast and prepare strategic business financial goals.
Innovation and Creativity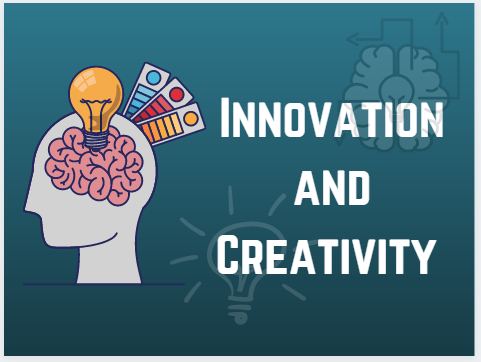 Entrepreneurs must have an agile mindset, meaning they must be quick-thinkers. They must have an aptitude for solving complex problems with creative and innovative solutions. They must have the ability to the following skillset: self-control and discipline, risk management, innovation, persistence, leadership, change management, network building, and strategic thinking.
In Conclusion
By now, you must have understood why entrepreneurship skills for school students are necessary in today's competitive world. If learning entrepreneurship skills are on top of your mind too, then enroll for iDX's Young Entrepreneur Program and learn from top industry experts like Rishab Malik. 
Apply here directly to the Young Entrepreneur Program to start learning!
Some of the blog topics you may wish to read:
Shruti Verma has an experience of around 2+ years in research and analysis of careers, jobs, and industries. She has a knowledge of diverse fields spanning from career counselling, management consulting, engineering, and technology to science, finance, and humanities.