Wondering which country is best for you to study in Europe? We've got your back, so don't worry. This blog includes a list of the top 5 European nations to study in! Continue reading to learn more about them.
But first, let us go through the advantages of studying at a European University.
Why is it popular?
Some of the advantages of studying at European universities are listed below.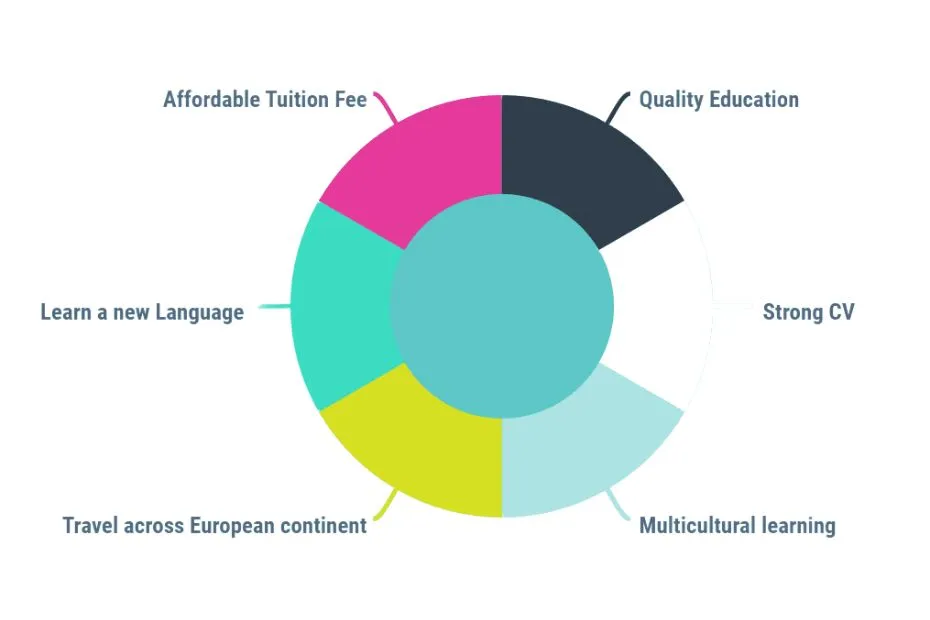 5 best countries to study in Europe 
Since the European Union's inception and with the globalization tendency, it has resulted in a major emphasis on higher education taught in a common language-English.
Germany
Germany is an amazing study abroad location, with world-class education, vibrant metropolitan life set in gorgeous landscapes, and warm culture that welcomes individuals from all over the world. For students who desire to study in Europe, Germany is the most popular choice.
Part of Germany's growing popularity can be attributed to the expanding number of English-language courses available. Another benefit of studying at a German university is that most public universities have zero tuition fees.
France
For international students, France is one of the top attractions. The quality of education, relatively inexpensive tuition fees, and lovely French culture & lifestyle are just a few of its primary benefits. In the ranking of the top European countries for international students, France ranked fifth. The country's education system includes about 3500 higher education institutes including public universities. Even the tuition fees at French public universities are very minimal because the government subsidizes education.
Netherlands
The Netherlands has the highest no. of English speakers in-country in contrast with the other European nations with over 2,000 university programs taught in English.  There are 55 universities, including state-funded universities and private universities which are further divided into two categories: universities of applied sciences and research universities.
Every year, the Netherlands welcomes a large number of international students, who are trained to become experts in their fields, in order to keep the international talent in the country, the Dutch government is committed to offering post-study work permits to international students which allows them to stay in the country for a year after their graduation.
Italy
Italy is the ideal blend of breathtaking history, academic heritage, and cutting-edge research and education. Many of Italy's institutions are now among the best in the world. It is ranked 10th among the top European nations for international students, with popular courses in the arts & design, international history, and architecture. The tuition fee ranges from 850 to 1,000 euros; however, the Italian government also grants regional and national scholarships between 5,000 to 12,000 euros approx. to help students with the cost of their education.
Finland
Finland is the world's eighth most educated country and ranked third in the Education Ranking by countries in 2021. Its world-leading higher education system offers more than 500 English-taught bachelor's and master's degree programs in 13 universities and 22 universities of applied sciences (UAS). Universities and colleges here provide high-quality education, and a fantastic quality of life in a safe environment and the cost of living is also affordable for most students, thanks to numerous student discounts on food and transportation around the country.
Switzerland
Swiss universities have an exceptional international reputation. In fact, seven of them are among the top 200 in the QS World Rankings. There are eight Universities of Applied Sciences and the Arts (UASAs) that provide scientific and professional education, and twenty Universities of Teacher Education (UTEs) that provide practice-oriented teaching education.
In contrast to other European countries, Switzerland does not have a uniform tuition fee system. The annual price for international students at regular universities is from EUR 650 to EUR 1,000, with few exceptions. More than 20 Nobel Laureates have graduated from Swiss universities, and previous students include Albert Einstein.
Best courses & colleges to study in Europe
In this section, we will discuss the best courses and colleges to study in Europe. 
Top universities/colleges in Europe
Some of the best universities to be considered in Europe for studying based on overall rankings
Germany 
Technische Universität München
Ludwig-Maximilians-Universität München
Ruprecht-Karls-Universität Heidelberg
Humboldt-Universität zu Berlin
Freie Universität Berlin
France 
Universite PSL (Paris Sciences & Letters)
Ecole Polytechnique
Sorbonne University
Centrale Supelec
Sciences PO Paris
Netherlands
TU Delft-
University of Amsterdam
Eindhoven university of technology
Leiden university
Utrecht university
Italy
Politechnico Di Milano
Bocconi University
Rome Business school
Universita Di Pavia
Finland
University of Helsinki
Aalto University
University of Oulu
University of Turku
LUT-Lappeenranta-Lahti University of Technology
Switzerland
ETH Zurich-
Ecole Polytechnique Fédérale de Lausanne
University of Zurich
University of Bern
University of Geneva
Best courses to pursue in Europe
Due to its cultural diversity and shared economic market, Europe is a one-of-a-kind region of the world. Some of the popular course choices are listed below
| | |
| --- | --- |
| Engineering & Sciences | Architecture |
| Finance | Medicine |
| Hotel management | Law |
| IT & Technology | Language & Literature |
| Data Sciences | Business Administration |
| International relations | Culinary arts |
List of the cheapest countries to study in Europe
The listed countries are not only affordable study-abroad destinations. These countries are home to some of the world's best colleges, they are also known for providing international students with high-quality education along with high employability rates.
Austria
Belgium
Poland
Germany
France
Norway
Sweden
Ways to study in Europe without IELTS
There are a variety of courses that do not require you to take the IELTS. However, alternatives to the English language test, such as an audio-video interview done by universities or verification of a previously completed educational certification in the English language from a recognized university or institute. Moreover, if you can demonstrate that English was the medium of instruction for your undergraduate degree or High school can actually save you from taking IELTS or any other test for admissions.
Countries accepting students without IELTS exams are listed below
UK
Germany
Poland
France
Denmark
Sweden
Belgium
Cyprus
Conclusion!
No wonder studying in Europe can be a fantastic experience. The financial support system through scholarships makes European nations the most affordable study-abroad destinations that come with rich history, breathtaking sceneries and good quality of life. But it's also an overwhelming process that involves more research, more confidence level and an informed decision.
All these factors are to be considered while deciding which country and university to attend. Do you know this process can be made simple? Connect with the professional now! iDreamCareer is on a mission to reach every state and every child in order to ensure that talent is appropriately delivered into the industry. We try to help young confused minds from 9th class, 10th class, class 11, class 12 with an aim to select their most-suited career choices.
Also, you can read more about
Links to Top Universities
Bushra Irfan is an experienced counselor and holds expertise in the academic counselling of students. She is an alumna of Jamia Millia Islamia and has done her Master's in Applied Psychology. She has conducted career guidance workshops for brands like Amar Ujala, Dainik Baskar, Smile Foundation, and more. And loves to paint and plant at her leisure.