MBA in Europe is a great option for those looking to further their education and advance their careers in business. With a wide range of top-ranked programs and a diverse cultural experience, Europe offers many opportunities for MBA students. While the cost of tuition can vary, there are also many funding and scholarship options available to help offset the cost. Graduates of MBA programs in Europe have a variety of career options available to them and can go on to work in top multinational corporations or start their own businesses.
With around 4,000 European universities and colleges to choose from in over 30 different countries, Europe has always been one of the most sought-after study destinations for international students. Of these, business schools in Europe are the best choice for MBA candidates. The best business schools in Europe immerse students in the real world of business with curricula focused on career goals and individual needs.
What all is covered in this post?
To make it easier for you, we have created a quick guide to everything you need to know about the MBA in Europe.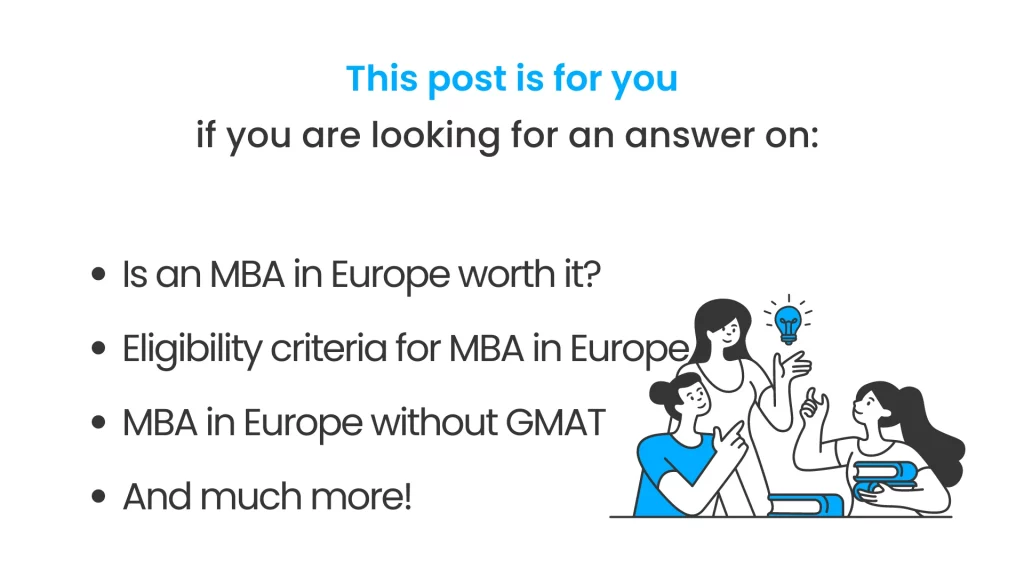 Is an MBA in Europe worth it?
No wonder, studying in Europe is definitely worth it. The same is the verdict for getting MBA in Europe. Internationally accredited universities, high post-graduation employment rates, and excellent teaching await you. If you're looking for specific reasons that make Europe a great choice for an MBA, consider the following:
World-renowned business schools: In global rankings, EU business schools lead the way, offering international qualifications and preparing students as best as possible for the job market after graduation. There are European business schools that rank high among well-known American schools for the quality of their MBA programs.
Career opportunities: You will find some of the world's most renowned business schools in Europe and receive excellent academic and professional training in your field. That's why if you choose a business school wisely, your degree can lead to many career opportunities as well as a lucrative career.
Affordable tuition: You can study for an MBA at a surprisingly low tuition fee in Europe. The availability of MBA programs in Europe has resulted in many international students around the world choosing EU business schools for their MBA.
A diverse student body: Many international students choose Europe as the best place to get their MBA because of the diversity of the student body. In Europe, you can meet and study with students from all over the world. Because admission to business schools in Europe is rigorous, you'll also have the opportunity to study with the smartest peers.
Eligibility criteria for MBA in Europe
The eligibility criteria for MBA programs in Europe can vary depending on the program and the business school. However, there are some general requirements that are commonly found among most programs. Here are some of the typical eligibility criteria for MBA programs in Europe:
Bachelor's degree equivalent (3- or 4-year course).
Minimum age must be 21 years.
Basic knowledge of a European language is mandatory.
Minimum 60% marks for Indian students.
Some universities conduct their own entrance exams for MBA admissions.
Work experience
Necessary documents
Requirements for MBA programs may vary from one university to another. Although some requirements are the same for all universities. Almost every university requires the following mandatory documents:
A recognized bachelor's degree.
Statement of students' grades.
Proof of language proficiency (English or German)
2 to 3 years of work experience, which is an optional requirement.
Letters of recommendation and motivation, which are not mandatory.
MBA in Europe without GMAT
European business schools require GMAT scores as part of their admission requirements. However, some universities make exceptions for GMAT scores and accept students who have not taken the exam. Generally, universities or business schools that do not prioritize GMAT scores in their admissions requirements focus on other elements such as work experience and academic qualifications.
Some of the European business schools that do not require GMAT scores as part of the admission requirements are
Geneva Business School
Technical University of Munich
University of Stuttgart
Witten/Herdecke University
Durham University Business School
Birmingham City Business School
Anglia Ruskin University
Charles III University of Madrid
Best MBA Colleges in Europe
There are many highly ranked MBA programs in Europe, and the best program for you will depend on your personal goals and interests. Here are a few top programs to consider:
| | |
| --- | --- |
| Name of the University | QS World Ranking 2022 |
| HEC Paris | 4 |
| London Business School | 6 |
| IE Business School | 7 |
| INSEAD | 7 |
| IESE Business School | 10 |
| Esade Business School | 13 |
| Said Business School | 13 |
| Judge Business School | 17 |
| Imperial College Business School | 21 |
| SDA Bocconi School of Management | 23 |
Cost of MBA in Europe
MBA tuition varies greatly depending on which institution you choose. In Europe, they range from €11,000 to €40,000 (for executive and international MBA programs the fee may be higher). So it can be much cheaper than an MBA in North America, for example.
Application fee
Most MBA programs have an application fee of up to €100, depending on the institution. Others will charge an administration fee for non-EU students. Once accepted into the program, you will most likely have to pay a non-refundable deposit to secure your place, but this will then be redeemed against your tuition fees once you start the program.
Other fees and costs
Sometimes educational institutions charge additional fees for student services, either optional or mandatory. International students must also have appropriate health insurance and must sign up for a policy through their institution. For information on living and accommodation costs, consult our student guides to living in European countries.
Conclusion
Graduates of MBA programs in Europe have a wide range of career options available to them. Many go on to work in top multinational corporations or start their own businesses. The skills and knowledge gained through an MBA program can be applied to a variety of industries and roles, including consulting, finance, marketing, and more.
Still confused? Why don't you talk to our study abroad professionals? iDreamCareer aims to reach every state and every child to ensure that talent is properly delivered to the industry.
Talk to our study abroad experts to find out for yourself! We have helped several brilliant but confused minds to choose the most suitable career. We have helped many students like Anjana Prasanna who was not very confident about her abilities. Later, with the help of career guidance and moral support from our study abroad experts, she received an offer from King's College London! We have helped several young confused minds like Aayush and Tapan to choose the most suitable career for them.
Must Read: Best Countries to Study in Europe
MBA in Europe: FAQs
What are the admission requirements for MBA programs in Europe?
Admission requirements for MBA programs in Europe typically include a bachelor's degree, a strong GPA, and GMAT or GRE scores, and some may require work experience. Some programs may also require additional materials such as transcripts, essays, or letters of recommendation as part of the application process.
How much does it cost to get an MBA in Europe?
The cost of tuition for MBA programs in Europe can vary significantly, but in general, you can expect to pay between €30,000 and €100,000. Some programs, such as INSEAD, have a higher price tag due to their prestige and reputation.
Is work experience required for an MBA in Europe?
Work experience is not a universal requirement for an MBA in Europe but some programs may require a certain number of years of work experience before applying.
Is an MBA in Europe taught in English?
Many MBA programs in Europe are taught in English, but there are also programs taught in other languages such as Spanish, French, or German.
Is it possible to study part-time MBA in Europe?
Yes, it is possible to study part-time MBA in Europe, some universities and business schools offer evening and weekend classes to allow students to continue working while studying.

Anushree has 5 years of experience in the career counseling industry as a Senior Content Writer. She has also worked as a Social Media Marketing Expert for a startup and Content Quality Analyst for the Publishing and E-learning Industry. She has done her Master's in Commerce and PGDM in Finance & Trade and Marketing & HR, but she is currently following her passion for writing.