Life is like mathematics, to work out your life, you need formulas that suit your uniqueness. The same is true of a career. A well-planned career is instrumental in a happy and satisfying life. Parents, having gone through this process can help their children from making mistakes in selecting a career. They need to be facilitators and not influence their choices. Hence, the role of parents in our life holds a lot of value and importance.
On the one hand, a parent's experience can help in the career selection process, on the other hand, sometimes it might hinder it. Although, parents have gone through this process, however, the times have changed and their children have a very different environment to deal with and sometimes their choices don't match with today's reality.
Not surprisingly, early learning and nurturing directly from parents helps children develop their social and emotional parts of the brain. This helps them gain mental stability and career success later in life. But a properly stimulated and engaged child is more likely to work and make good career achievements with the help of proper unbiased career guidance.
What all is covered in this post?
To make it easier for you, we have created a quick guide to everything you need to know about the role of parents.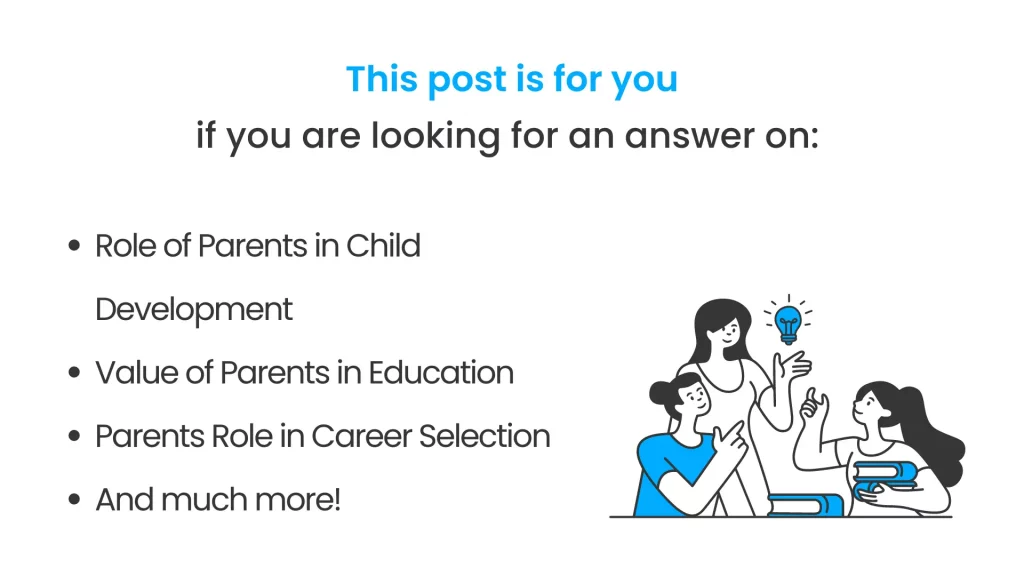 Role of parents in child development
Education and child development go hand in hand. The proverb that the apple doesn't fall far from the tree and that the branch grows as a twig can well describe the impact of parenting styles on a child's growth and development.
All buildings are interconnected and cannot be defined under waterproof categories. So, let's focus on how parents can be actively involved in ensuring a dignified child's growth. The role of parents in the development of a child is responsive, responsible, and endless.
It guides the child's responses, actions, thinking, and decision-making in the following areas.
Cognitive development
As children grow, positive parenting improves their cognitive, social, and problem-solving skills. Positive parenting also affects their response and helps them grow into better people. Interaction and stimulation are very important in the early years. It's all about recognizing problems, dealing with any situation correctly, and acquiring the traits of discipline, time management, and effective problem-solving with simple procedures at home.
Socio-cultural development
Children observe the interaction of husband and wife and how quarrels are settled in the family. It teaches them a variety of good values ​​that they imbibe and are crucial to growing up. The child learns how to behave with others, play towards a common goal, team spirit, choose the right friends, and much more.
Physical development
Achieving milestones is not the only goal. Through play and learning, children learn to be healthy, exercise regularly, be team players, eat right and grow in a supportive environment. Proper guidance from parents can instill in children the right exercise and diet regimen to achieve ideal physical development. Parents should remember that children lead by example.
Mental development
Parenting styles help a child learn in new ways by accepting and overcoming failure, understanding discipline, accepting feedback, and the concept of reward and punishment. It guides their response to stimuli, thus shaping their minds.
Spiritual development
Understanding religion, prayer, distinguishing between good and bad, compassion, correct ethical values, honoring parents, and strengthening purposefulness release a free spirit in children. Teaching children to be more accepting and believe in the greater good can help them gain a sense of purpose. Try not to force them into any particular religion and let them explore spirituality on their own.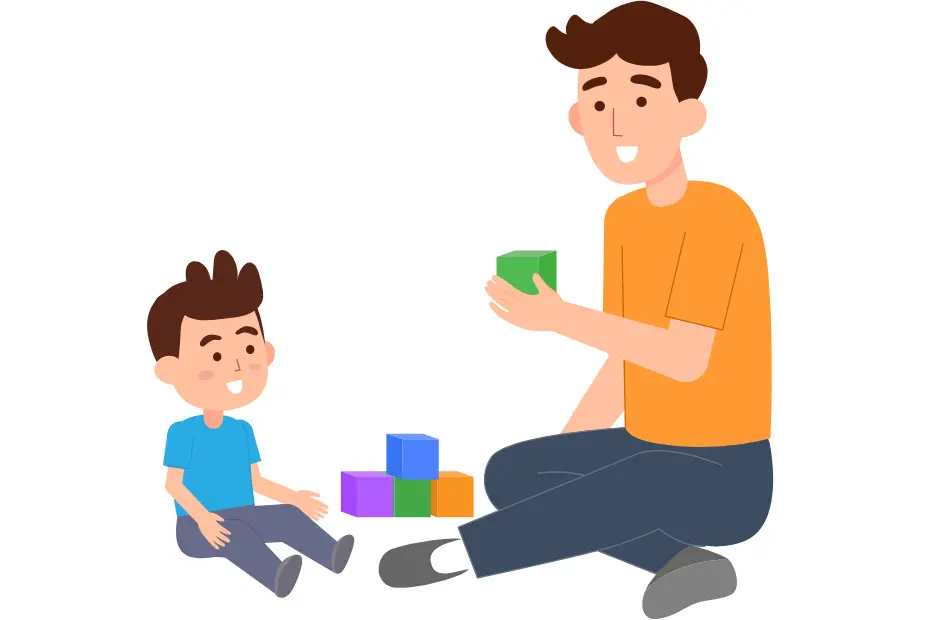 Role of parents in education
Although most structured learning takes place within the confines of the school, this does not mean that parents cannot take an active role in their children's education. On the contrary, parents can encourage, motivate and even influence their children to do well in school.
Following are the important roles of parents in the education of their children:
Evaluate your child's aptitude, strengths, and weaknesses.
Help your child in discovering his/her own passion.
Motivate your Child in pursuing his/her passion.
Inform your Child regarding all aspects of the career.
Help the Child understand the work-life in the chosen career by associating with professionals in the field.
Stop your child from falling prey to peer pressure and herd mentality.
Gain your Child's confidence and motivate them to discuss their queries with you.
Seek professional help whenever required.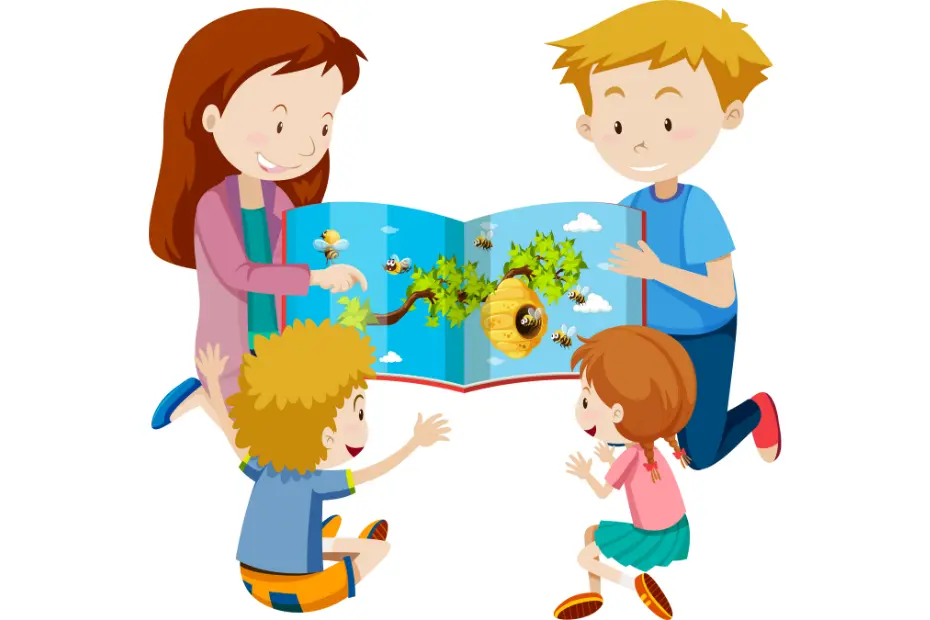 Changing value of parents in choosing a career
Today, parents are more than just authority figures. They are a friend, philosophers, and guides. With a more dynamic educational environment wherein, the children are taught to be independent and to take decisions on their own, the parent's role diminishes. Involved parents know their children the best and along with vital information about new career paths and career choices they can facilitate the process of career selection for them.
Therefore, as time changes, the role of parents in helping their children decide which career to choose and what career field is good for them is now of significant importance. These days the role of parents in child development has made career choices and other life decisions a slightly complex process.
As parents want their children to opt for a career they know well about, but what their child wants or aspires to become, can be two completely different things. Thus, the role of parents in the education and career selection of their children is of the utmost importance.
Conclusion
To understand it better, the role of parents in child development is vital to a child's future planning. Therefore, you as parents need to understand your role and its importance in making your child open and aware of various opportunities available for them in whichever career field they choose.
If you are a parent & looking for career guidance for your child, please reach out to us! iDreamCareer is always ready to help young minds from 9th class, 10th class, class 11, class 12 with an aim to select their most-suited career choices.
Also Read;
FAQs
What is the role or importance of parents in our life?
Parents are some of the most important people in young children's lives. Parents include mothers and fathers, as well as other caregivers who fulfill the responsibilities of parents. From the moment children are born, they rely on their parents to provide them with the care they need to be happy and healthy, and to grow and develop well.
What is good parenting?
Good parenting focuses on encouragement rather than praise, consequences rather than punishment, and cooperation rather than obedience. This ensures that parenting is relevant to the times in which we live. Good parenting insists that children help at home without pay to learn to give rather than take.
How a parent can contribute to a child's education?
As parents, you must understand what is good for your children and what is not, from the moment they are born. From healthcare and recreation to education, you strive to give your child the best.
However, in your efforts to guide your child to a successful life, dutifully playing the role of parents, you often tend to overlook some important aspects of your child's education that are much more important than your idea of ​​a successful life. So, it is important to hear your child out!
Discover More by accessing the Free Career Dashboard
This will help us share relevant information with you
Trending Posts


Anushree has 4+ years of experience in the career counseling industry as a Senior Content Writer. She has also worked as a Social Media Marketing Expert for a startup and Content Quality Analyst for Publishing and E-learning Industry. She has done her Master's in Commerce and PGDM in Finance & Trade and Marketing & HR, but she is currently following her passion for writing.