Uncertainty can cause anxiety. But it can also be beneficial for those few who dare to take up the challenge. Uncertainty, not necessarily out of confusion, but out of a deep desire to learn what life means beyond the academic path, explore it within and find your true calling. Taking a gap year can be a difficult process, whether you're a student taking an adventurous time out after years of education, or a parent supporting your child as they first start independent travel, study, or work.
But while taking a gap year many of you must have had a question in mind how many years of study gap is acceptable after the 12th or maybe in your academic process? If you are looking for an answer to this question then we must tell you are on the right page!
What to know?

According to Nina Ho Gallagher, director of research and evaluation for ImpactED at the University of Pennsylvania, her university saw a 300% increase in the number of students taking a gap year in 2020 and 2021. Research by Foundry10 found that 20% of students took a break in 2020-2021, compared to just 3% in 2018.
Okay! Without further ado let's get started…
What is a gap year?
The term "gap year" is more commonly applied to students who take a year (or less, rarely more) away from their regular studies, usually between high school (high school) and college (university). Some students may instead take a break before starting their final stage of secondary education (for example A-levels) or even after university to better prepare for entering the workforce.
So, a gap year can be any break between life stages, whether it's between school and university, between the university and a formal job, or when changing careers or retiring later in life.
Advantages of gap year
There are many reasons why you (or your child) may want to take a break from school. Typically, students see it as an opportunity to gain professional or personal experience, achieve specific goals, and/or explore personal interests.
If you're considering taking a gap year, it's important to think carefully about whether it's the right decision for you and what you can get out of it. When you're applying for a university or a professional position, you'll be expected to demonstrate that your year was not only fun but also productive and meaningful.
So, when planning your gap year, you should consider how different activities will help you develop personally and intellectually, contribute to a good cause, gain a deeper understanding of the world, and develop entrepreneurship, maturity, commitment, and independence outside of formal education.
Some of the reasons or advantages of taking a gap year include: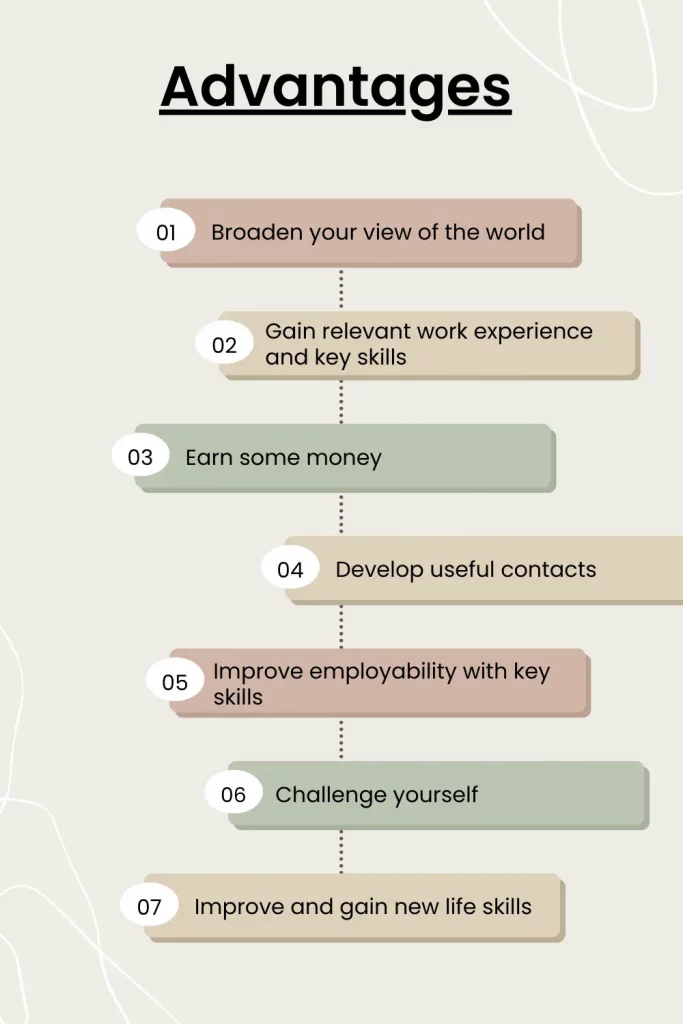 Discover More by accessing the Free Career Dashboard
This will help us share relevant information with you.
How many gap years after 12th is, okay?
This is completely your call. It depends on you whether you will skip a year or be consistent in your preparation to achieve the desired goal or you just want to travel around and sit back free.
Although, there's no point in taking a year off if you don't spend time with yourself and find out what you want to do in life – or at least what you don't mind doing.
What are gap year programs?
A gap year program is one of the best ways for students to expand their education beyond the classroom. With opportunities in fields like language, business, STEM, and more, a college break is a perfect way to supplement a teenager's life after high school.
When it comes to choosing a gap year program, the options are endless: you can choose a pre-arranged gap year program, combine short-term programs, or make your own experience at home or abroad (or both!).
How many years of study gap is acceptable after 12th and know which exam, courses, career you could choose after 12th
What are the best gap year programs?
As we mentioned above the best gap year program is going to benefit you! If you're looking for the best gap year programs, what should you consider? Here are some suggestions that you may consider:
Volunteering
There are many volunteer opportunities in India, from teaching English to medical work and environmental conservation to community development. You can volunteer with local charities and NGOs in India or with global organizations such as UK or US charities. When choosing who to volunteer with, do your research and make sure what you choose is ethical, rewarding, sustainable, and REAL volunteering. Volunteering is the best way to see the real India, learn and begin to understand the culture, customs, and people.
Traveling
Traveling in India allows you to see beautiful cities, incredible landscapes, historic temples, and colorful festivals. Of course, don't miss the famous Taj Mahal in Agra, the Golden Triangle in Rajasthan, and a chance to glimpse Mount Everest from Darjeeling. Take a ride on the famous Darjeeling toy train, visit the bustling cities of Bangalore and Mumbai for shopping, or take a peaceful Kerala backwater cruise. Traveling by train around the country is very easy, affordable, and cheap.
Adventure travel
For those with an adventurous streak, India has plenty to do. You can go on a camel trek in the desert of Rajasthan, look for Bengal tigers in Ranthambore National Park or go trekking through the mountains of Himachal Pradesh. There's something for everyone, no matter what thrill you're looking for, and you'll come away with so many stories to tell for years to come.
Conclusion
The list is not limited! There are many gap year programs for those who want to take time out and think about what they want to do academically or personally.
The best part is that many of these ideas are affordable or free to start. But yet it's a daunting job! If you need help, do dial us up. iDreamCareer experts are always ready to help with career advice with the aim to select your most-suited choices.
Also Read:
Discover More by accessing the Free Career Dashboard
This will help us share relevant information with you
Trending Posts


Anushree has 5 years of experience in the career counseling industry as a Senior Content Writer. She has also worked as a Social Media Marketing Expert for a startup and Content Quality Analyst for the Publishing and E-learning Industry. She has done her Master's in Commerce and PGDM in Finance & Trade and Marketing & HR, but she is currently following her passion for writing.