Do you want to study MBBS in Russia? Or if you are yet to figure out how to study MBBS in Russia, take a ride across this post.
Thinking about the cost of MBBS in Russia or fees? What is the future of MBBS in Russia for Indian students?
This curated guide shall take you through the many depths that you need to be familiar with like admission criteria, duration, fees of MBBS in Russia, and much more!
Why Study MBBS in Russia?
Besides being the largest country in the world by location, Russia is also a popular choice for international students to study MBBS. MBBS in Russia is considered one of the most sought-after courses. There are approximately 57 medical universities in the country. International students choose to study here because the fees offered by universities in Russia are very less compared to other western countries.
Following are some of the reasons for studying MBBS in Russia:
Top medical universities
Affordable fees structure
Global recognition of MBBS degree
Comfortable and well-equipped campuses
Affordable cost of living in Russia
Easy admission procedure
Renowned research facilities
Exciting student life
Course Highlights
| | |
| --- | --- |
| Particulars | Highlights |
| Course Name | Bachelor of Medicine and Bachelor of Surgery (MBBS) |
| Duration of the Course | 6 Years |
| Eligibility Criteria | Minimum 50% in Class 12th with Physics, Chemistry & Biology |
| Requirement of NEET | Yes |
| Requirement of IELTS, TOEFL, or other | No |
| Medium Of Teaching | English |
| Recognition of Medical Universities | Medical Council of India (MCI) and World Health Organization (WHO) |
| Intakes | September & January |
MBBS Admission Process in Russia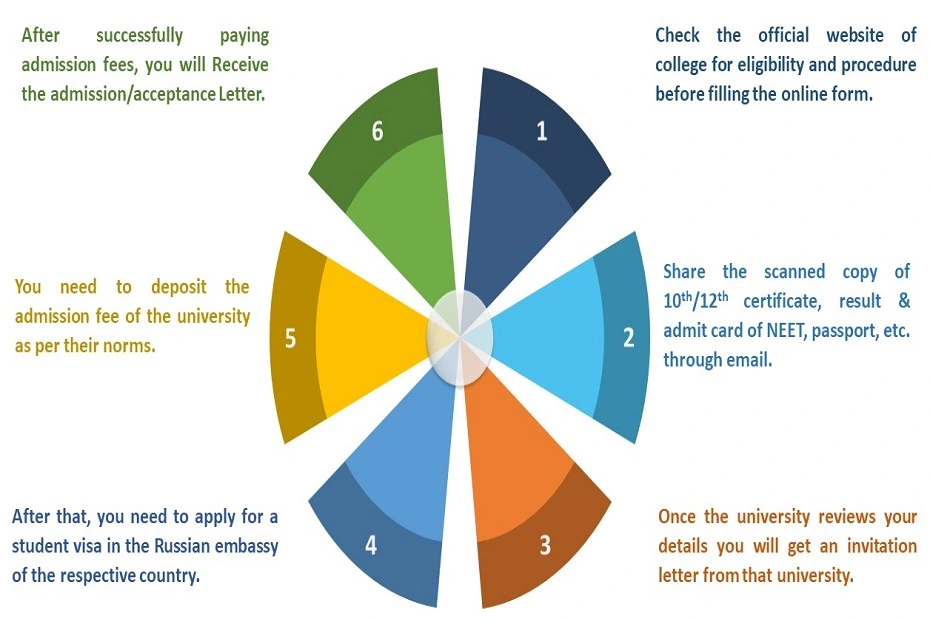 Eligibility Criteria to Study MBBS in Russia
You need to have at least 50% marks in class 12th in science subjects from a recognized board.
You must be 17 years old on 31st December of the year of admission to MBBS in Russia.
The MCI has issued a notice in favor of the Delhi High Court. MCI has announced that those Indian students who will not appear in NEET and who wish to enroll in foreign medical universities in 2019 will need to obtain a Certificate of Qualification issued by the MCI at the time of admission.
Unlike other countries, IELTS and TOEFL are not mandatory to pursue studies in Russia
You are not suffering from any infectious disease such as tuberculosis, HIV AIDS, etc.
Cost of Studying MBBS in Russia (Fees)
PARTICULARS
FEES (in RUSSIAN ROUBLE)
Pre-arrival Fees
(Service Fees; Letter of Invitation; Application Fees; Visa Fees; Document Notarization, Translation Fees, and Pick-up Charges.)
50,000 to 75,000
Average Tuition Fees for MBBS
193,000 to 874,000 per year
Cost of Living
(Accommodation; Meal; Transport cost; Culture, Sports, Entertainment; Internet, Mobile Phone)
20,205 per month
Table 1: MBBS in Russia Fees
Top 10 Universities for MBBS in Russia
Source: QS University Rankings
Lomonosov Moscow State University – Moscow, Russia
Sechenov University – Moscow, Russia
Pirogov Russian National Research Medical University- Moscow, Russia
Pavlov University – St. Petersburg, Russia
Saint Petersburg State University – Saint Petersburg, Russia
Novosibirsk State University – Novosibirsk, Russia
Tomsk State University – Tomsk, Russia
Kazan Federal University – Irkutsk, Russia
RUDN (Peoples' Friendship University of Russia) University – Moscow, Russia
Belgorod State National Research University – Belgorod, Russia
About Medical University in Russia
In this section we will discuss the top Medical Universities in Russia in detail:
Lomonosov Moscow State University
Lomonosov Moscow State University, located in Moscow, is the first Russian university, founded in 1755. It is known as the best Medical University in Russia. Most courses at the university are taught in Russian. An entrance test is conducted, based on the results of which students are enrolled in a bachelor's or master's program. It is the only Russian university among the top 100 universities in the world in two international rankings: ARWU and QS World University Rankings. Candidates can check the eligibility and admission criteria for the courses here.
Sechenov University
The First Moscow State Medical University named after IM Sechenov, located in Moscow, is the oldest medical school in Russia. Many university graduates have received international recognition for their outstanding contributions to global medicine and other related fields. Some of them are Pirogov N.N., Chekhov A.P., Sechenov I.M., Botkin S.P., Korsakov S.S. It offers medical students an undergraduate degree in general medicine as an integral part of the medical courses offered at the university. Candidates can check the Eligibility Course Framework here.
Pirogov Russian National Research Medical University
The Pirogov Russian National Research Medical University is one of the oldest and leading universities in Russia and is well-known throughout the world. The university offers a diverse range of medical courses, including a six-year general medicine program for clinical medicine enthusiasts.
Pavlov University
The first St. Petersburg Pavlov State Medical University was founded in 1897 as a medical institute for women. The most advanced methods of diagnosis and treatment are implemented in the clinics and departments of the Women's Medical Institute (JMI). More than 5,000 Russian and foreign students study at 75 departments. Many of the university's graduates work in leadership positions in various medical and educational institutions and have become leading medical experts.
Kazan State Medical University
Kazan State Medical University is one of the leading universities in Russia. This medical university is most well known for its core educational pedagogy. The intensive training process and use of modern medical equipment sets it apart from others. This Kazan State Medical university is located in the central part of the city of Kazan and facilitates 65 medical faculties. This medical institution ranks 3rd among the top 10 medical universities in Russia. Students are offered global exposure that allows an influx of 6,500 Indian students each year.
Links To Top Universities
Duration of MBBS in Russia
MBBS in Russia for Indian students brings to the table a high standard of education provided by highly qualified professors. The duration of MBBS in Russia is 6 years including practical training. You can also opt for 7 years Russian Medium MBBS program which has an additional 1 year for training in the Russian language.
Scope of MBBS in Russia for Indian students
Most Indian students prefer to return after completing their MBBS in Russia. They will be required to appear for an NMC test, which is also known as the Foreign Medical Graduates Examination (FMGE), to practice in India. The test is conducted twice a year i.e., in June and December and at least 50% on both papers is required to pass the exam. After completing the exam, you will need to go to a compulsory one-year internship.
You can continue practicing as a Doctor in Russia after graduation with a work permit. This permit is valid for 1 year. If you practice in Russia, you may expect to earn an average salary of 550,000 Russian Rubles per year.
You can also continue to be a resident for 2 years after completing MBBS in Russia to become a specialist in various fields such as neurosurgery, cardiology, psychiatry, paediatrics, gynaecology, etc.
Epilogue
Are you ready to become a doctor? Teaching methods at Russian universities will leave a lasting impression on your career as a doctor. Few places allow you to earn an MBBS degree at an economic expense – Russia is one of them. So, what are you waiting for? Do you still have questions?
Don't Worry! Do reach out to us. iDreamCareer is on a mission to reach every state and every child to ensure that talent is appropriately delivered to the industry. We try to help young confused minds from 9th class, 10th class, class 11, class 12 with an aim to select their most-suited career choices.
Useful Links:
FAQs
What is the cost of MBBS in Russia?
The cost of MBBS in Russia ranges from INR 15 lacs to INR 50 lacs (full course) depending on the choice of university. The cost of MBBS in government medical colleges in India ranges from INR 11,000 to INR 7.5 lakh and in private colleges, it ranges from INR 25 lakh to INR 1 crore.
How many years for MBBS in Russia?
The duration of MBBS in Russia is 6 years.
What is the qualification to join MBBS in Russia?
Candidates must have passed 10+2 or equivalent in Physics, Chemistry, Biology, and English. A student should have 50% marks in aggregate and 50% marks in PCB subjects. As of December 31, 2022, candidates must be 17 years old.
Is NEET required for MBBS in Russia?
Russia is becoming a popular student destination for MBBS. However, the country allows students to study MBBS without NEET. NEET is a widely recognized exam and a mandatory requirement for students who wish to pursue MBBS both in India and abroad.
How to get admission in Russia for MBBS?
For MBBS in Russia, applicants must score at least 50% PCB in the 12th standard. Also, each of the candidates has to clear NEET to get admission and they have to produce the required documents at the time of visa processing.
.

Anushree has 4+ years of experience in the career counseling industry as a Senior Content Writer. She has also worked as a Social Media Marketing Expert for a startup and Content Quality Analyst for Publishing and E-learning Industry. She has done her Master's in Commerce and PGDM in Finance & Trade and Marketing & HR, but she is currently following her passion for writing.