Do you proudly wish to become a doctor too, like many of your mates? Are you aiming at an MBBS in India? Or have you already begun your preparations? Whichever it is, this post welcomes you to take a ride across. See you on the other side!
MBBS is in Latin and stands for Medicinae Baccalaureus Baccalaureus Chirurgiae(Surgery), although we commonly refer to as"Bachelor of Medicine, Bachelor of Surgery", which abbreviates to BMBS though!
Currently, NEET is the only exam in India that regulates admission to MBBS courses. NEET scores arealso accepted for various other programs such as BDS, BHMS, BAMS, BUMS, BNYS, and BSMS too but tell me what your top choice is if you are thinking about appearing in NEET? It's MBBS, right?
This curated MBBS guide will take you through the many depths that you would definitely need to know about, before you start warming yourself up for your next fight towards an MBBS.
This will be all about the MBBS course in India,minor details aboutMBBS entrance exam (NEET), entirely about MBBScourse duration, subjects during MBBS course, NEET eligibility, admission process, MBBS fees, jobs and prospects (future opportunities). Yes all of it in one place!
"Medicine is an art whose magic and creative ability have long been recognized as residing in the interpersonal aspects of patient-physician relationship"

Hall, Roter & Rand, 1981
MBBS Admission
MBBS is a 5 and ½ year long course in India.
To begin with, you must know that National Eligibility cum Entrance Test (NEET) is the only national level entrance exam for admission toMBBS courses in India.
The admission to MBBS courses in AFMC (Pune), AIIMS (New Delhi), JIPMER (Pondicherry) and all other medical INIs (Institutes of National Importance) are also made through NEET. This has been made effective from the academic year 2020.
In the state of Maharashtra, however, besides MBBS, NEET scores are also considered for induction of students into BPT (Bachelor of Physiotherapy), BOT (Bachelor of Occupational Therapy), BASLP (Bachelor of Audiology, Speech & Language Pathology), BPO (Bachelor of Prosthetics & Orthotics), and B.Sc. Nursing courses too.
India at a Glance
| | |
| --- | --- |
| India Population | 1/5th of the world Population |
| Overall health system performance(quality and accessibility of healthcare) | 145th out of 196 Countries; after China, Bangladesh, Sri Lanka & Bhutan |
| Doctor-Patient Ratio | <1 Doctor for every 1000 population, less than WHO standards |
| Illiterate population % | 34% (highest number of illiterates in the world); 2nd Place China (11%) |
(Table) Source: 1.Kumar S., Implementation of new curriculum in UG (M.B.B.S): A dream project of medical education technology. Int.J.Med.Sci.Educ 2019;6(3):8-12
2.TOI, India
MBBS Course: Introduction
MBBS (Bachelor of Medicine, Bachelor of Surgery) course is 5 and ½ years undergraduate degree with 4.5 years of course study and 1 year of mandatory rotational internship in various fields of medicineat hospitals, health centres, and health camps organised by non-profit organisations (NGOs).
To secure admission to an MBBS course in India, you must possess a minimum score of 50% or above in Class 12 in Physics, Chemistry & Biology with English mandatory.
Brief Description
The entire MBBS course is divided into 4 phases of around 50-56 weeks each and approx. 1400 teaching hours(according to the new curriculum by MCI) in which you will gain an overview of all the subjects includingGeneral Medicine, Respiratory Medicine, Pediatrics, Psychiatry, Dermatology,General Surgery, Ophthalmology, Gynaecology, Orthopedics etc. during the whole course. These 4 phases dovetails intoa compulsory rotational internship of 1 – 1½ years.
Now, while you are in a certain phase, you can move to another subject in the same phase (horizontal integration) or another in a higher phase (vertical integration). This is subject to your performances in various formative assessments.
During the MBBS course, you will witness new teaching learning methodologies including:
Didactic Lectures
Small group discussions
Problem based learning
Case based learning
Demonstrations
Direct observation, assisting and performing independently
Formative Assessments
Dawn of a New Era Paradigm Shift – Major Change in UG Curricula for MBBS in India
The Government of India has introduced a new competency-based curriculum for MBBS from 2019 with a much higher focus on skills and competencies.
Dedicated time has been allotted for self directed learning and co-curricular activities.Formative and internal assessments have been streamlined to achieve the objectives of the curriculum.
The intention of this change is to produce MBBS doctors who can recognize "health for all", provide preventive, promotive, curative, palliative & holistic care to her patients as well as enable medical graduates to be prepared for the unknown (understand, investigate, treat & prevent new emerging diseases).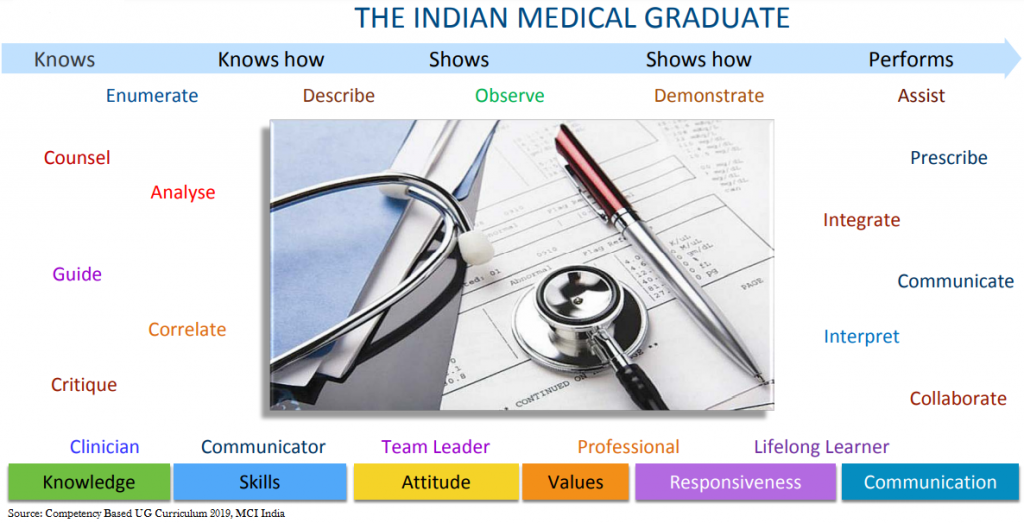 Competency Based Medical Education (CBME):
A new curriculum
The new curriculum clearly enunciates the competencies you, as an MBBS student, must be imparted and mustlearn, and clearly defines teaching-learning strategies and effective methods of assessment.
Besides, you will be trained to effectively communicate with patients and their relatives in a manner respectful of the patient's preferences, values, beliefs, confidentiality and privacy and to this purpose, an entire assessment framework as"Attitude, Ethics and Communication module (AETCOM)" has also been designed for MBBS students.
This is believed to be a change that is going to change the 'shape' and 'face' of undergraduate medical education in India to make it timely relevant, purposive, need based, consequential and impactful.
After MBBS Course: "NEET-PG" or "NEXT"?
Now, according to Govt. of India's directive that the NEET-PG (which is still the entrance test for Master degree medical courses) will be replaced by a common licentiate examination called 'NEXT (National Exit Test)' which is to be implemented by 2022 and will be mandatory for all final year MBBS students. In this respect, thenew curriculum is of crucial importance.
NEXT will be the exam to obtain a practice license (entry into medical registers and be recognizes as a doctor) as well as procure admission into PG medical courses in India, if you want.
The licentiate exam NEXT, which would have theory and skills components, is being designed to be administeredright after 4 and ½ years of the MBBS program, so that you can focus on acquiring practical knowledge during your internship rather than spending time on coaching for NEET-PG (to be scrapped) or NEXT.
MBBS Course Eligibility for NEET
Your age shall mandatorily be between 17 (at the time of admission) to 25 years (as on the date of examination).
Indian Nationals, Non Resident Indians (NRIs), Overseas Citizen of India (OCI), Persons of Indian Origin (PIO) and Foreign Nationals are also eligible for admission through NEET subject to regulations as the case may be.
You must have passed in Physics, Chemistry, Biology/Biotechnology/ Zoology/ Botany and English individually and must have obtained a minimum of50% marks taken together in Physics, Chemistry and Biology/Biotechnology.
If you have passed Class 12 from Open School or as a private candidate, you shall not be eligible to appear for NEET.
MBBS admission process
Youneed to clear NEET for admission. NEET is conducted by the National Testing Agency (NTA).
Registration for Entrance: you should register by logging in to the web portal, entering your personal details like your name, date of birth, mobile number, email ID, etc.
Form Filling and Documents Upload: Once the registration is done, you have to fill the application form online by providing personal and academic details. Post successfully filling the form, you will have to upload all the documents required.
Payment of NEET Application Fee: you will have to pay the application fee after successfully filling the form up.
Download Confirmation Page: After paying the application fees, ifit shows 'Confirmed', take a printout of yourapplication form & the confirmation page.
Admit Card: admit cards will be issued to eligible candidates only.
Entrance Exams: First, you need to appear for the exam and qualify with a good score.
Counseling: Selected candidates will be invited for counseling session based on rank. If successful in NEET, you need to select the college of your choice from the colleges offered to you based on your rank. Once you have opted for your preferred college, you need to present necessary documents authorities have asked for.
NEET Application Process
Step 1
Download the information bulletin & replica of application form. Read carefully to ensure your eligibility. Practice on the replica that you've downloaded.
Step 2
Register online using email ID and mobile phone number.
Step 3
Fill in the application form online. Make a note of and record the system-generated application number.
Step 4
Upload the following scanned JPG/ JPEG images:
Passport size photograph(10-200 kb)
Postcardsize photograph (50-300 kb)
Your signature (4-30 kb)
Your left/right thumb impression (10-50 kb)
Class 10 pass certificate (100-400 kb)
Step 5
Pay the fee through Debit Card/Credit Card/Net-banking/UPI and retain proof of payment.
Step 6
Download and save (you may print later) copies of the confirmation page after your payment.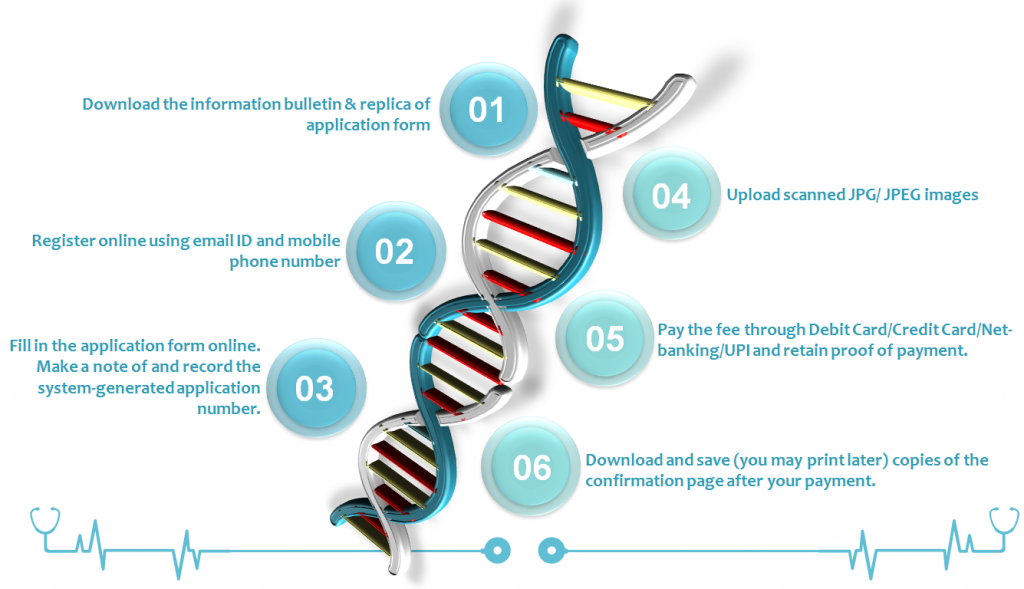 MBBS Admission: What after NEET Exam?
The responsibility of NTA is limited to inviting online applications for NEET, conducting NEET, declaration of results and providing an All India Rank (AIR) to successful candidates. These are the steps before counseling & admission.
After the results of NEET are published, counseling for admission into the MBBS courses is done for the candidates who score above the qualifying cut-off score, as announced by the NTA.
Counseling for admission to the all India quota seats areto be done by the Medical Counseling Committee (MCC – link in 'Conclusions' section) for MBBS courses and respective state councils for domicile admissions. For all more details, you can check out the online counseling process (link in 'Conclusions' section).
Medical Admission Committees or Councils of various States conduct the counseling for the State quota seats at various medical colleges in the States.
MBBS Admission: NEET Qualifying Criteria for an AIR (All India Rank)
To secure your position in the rank list:
You have to obtain a minimum of marks corresponding to 50th percentile in NEET if you are in the General category. (40th percentile for SC, ST & OBC).
In case of a tie, your performance will be subjected to a tie-breaking process.
In case you score the same marks along with 1 or more candidates, the following order will be adhered to for dissolution of parity.
Higher marks/percentile score in Biology (Botany & Zoology)
Higher marks/percentile score in Chemistry
Less proportion of number of attempted incorrect answers and correct answers in all the subjects
Seniority in age
MBBS Admission: NEET Counseling
All India counseling: 15%seats in all medical colleges (under MCC & AACCC). Counseling is held in 2 rounds.
For national medical colleges, online counseling will be conducted by the MCC of the Directorate General of Health Services for Undergraduate Medical Courses
State level counseling: 85%seats in all medical colleges in a State. State counseling authorities conduct seat allocation on the state quota seats for domiciled candidates. This includes2 to 3 rounds.
Any query from a qualified candidate regarding MBBS course can be referred to:
The Assistant Director General (ME)

Directorate General of Health Services,

Nirman Bhawan, New Delhi-110 108

E-mail: aiqpmt-mcc@nic.in
MBBS Subjects
Total course (5 & ½ year): 4 phases of around 50-56 weeks each and approx. 1400 teaching hours(according to the new curriculum by MCI) + compulsory rotational internship of1 – 1½ years.
Now, while in a certain phase, you can move to another subject in the same phase (horizontal integration) or another in a higher phase (vertical integration).
Integration (movement across phases) is subject to your performances in various formative assessments.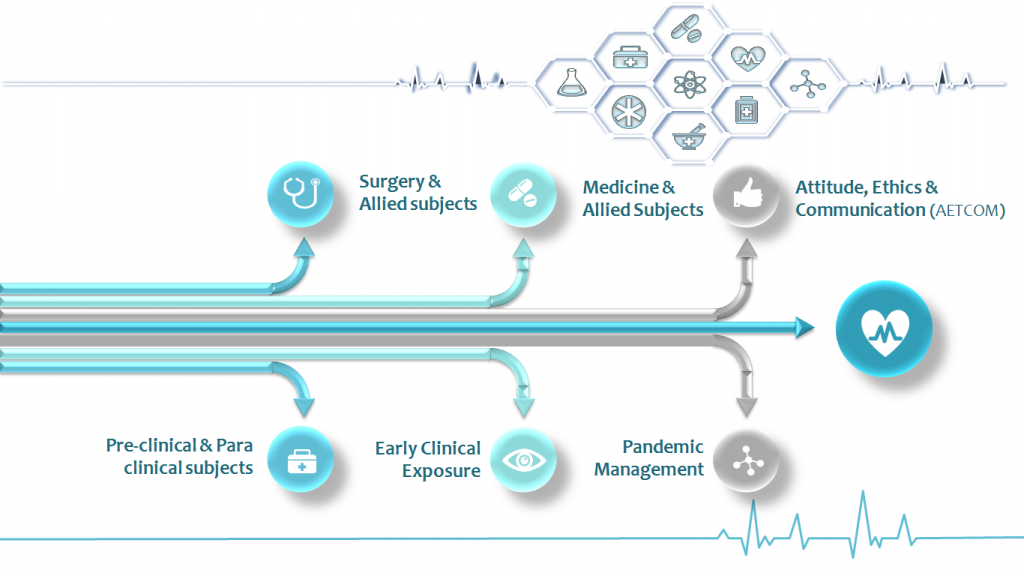 The 5 & ½ year new CBME MBBS curriculum is extensive, consisting of:
Foundation course

Orientation

Medical profession & physician's role
Healthcare system
National health priorities
Allied health sciences
Principles of family practice
Alternate healthcare systems

Skills Module
Field Visit
Professional Development including ethics
Language , Computer Skills
Sports & Extracurricular

Pre-clinical and Paraclinical subjects:

Human Anatomy
Physiology
Biochemistry
Pharmacology
Pathology
Microbiology
Forensic Medicine & Toxicology

Medicine and Alliedsubjects

Community Medicine
General Medicine
Respiratory Medicine
Pediatrics
Psychiatry
Dermatology, Venereology & Leprosy
Physical Medicine & Rehabilitation

Surgery andAllied subjects

General Surgery
Ophthalmology
Otorhinolaryngology
Obstetrics &Gynaecology
Orthopedics
Anesthesiology
Radiodiagnosis
Radiotherapy
Dentistry

Early Clinical Exposure (ECE)
Attitude, Ethics and Communication module (AETCOM)
Alignment and Integration Module
Skill Training Module
Electives Module
Pandemic Management Module
MBBS Course Fees
MBBS course fees vary depending on government and private colleges, with average MBBS course fees ranging from INR 10,000 to INR 6 Lakhs. Few examples are given in the table below. These are top MBBS colleges in India.
| | | |
| --- | --- | --- |
| COLLEGE | LOCATION | AVG ANNUAL FEES |
| AIIMS | New Delhi | Rs 1,628 |
| JIPMER | Puducherry | Rs 5,000 |
| Institute of Medical Sciences (Banaras Hindu University) | Varanasi | Rs 10,400 |
| Armed Forces Medical College | Pune | Rs 31,900 |
| Christian Medical College | Vellore | Rs 48,530 |
| King George's Medical University | Lucknow | Rs 55,000 |
| Grant Government Medical College & Sir J J Group Of Hospital | Mumbai | Rs 60,000 |
| Seth GS Medical College & KEM Hospital | Mumbai | Rs 91,650 |
| St. John's Medical College | Bangalore | Rs 5.5 Lakhs |
| Kasturba Medical College | Manipal | Rs 14.4 Lakhs |
(Table) MBBS Course Fees
Top 20 MBBS colleges in India (NIRF Ranks 2020)
1. All India Institute of Medical Sciences
2. Post Graduate Institute of Medical Education and Research
3. Christian Medical College
4. National Institute of Mental Health & Neuro Sciences
5. Sanjay Gandhi Postgraduate Institute of Medical Sciences
6. Banaras Hindu University
7. Amrita Institute of Medical Sciences & Research
8. Jawaharlal Institute of Post Graduate Medical Education & Research
9. Kasturba Medical College
10. King George`s Medical University
11. Institute of Liver and Biliary Sciences
12. Madras Medical College and Government General Hospital
13. Sri Ramachandra Institute of Higher Education And Research
14. St. John's Medical College
15. Aligarh Muslim University
16. Vardhman Mahavir Medical College & Safdarjung Hospital
17. Maulana Azad Medical College
18. Christian Medical College
19. University College of Medical Sciences
20. JSS Medical College
(Table) Top 20 MBBS colleges in India (NIRF Ranks 2020)
What to study after MBBS?
Today the competition is so steep that,after MBBS,getting yourself trainedin some broad-specialty is almost a necessity.
This (training in broad specialties) can be done in 2 ways: Master degree or Diploma.
After MBBS
PG medical education in broad specialties is of 3 years duration in case of degree courses of MD(Medicinae Doctor)/ MS (Master of Surgery) after MBBS (MD is for physicians and MS is for aspiring surgeons).
It is of 2 years in the case of a Diplomacourse after MBBS.
Instead of MD/ MS (which you will pursue in government teaching hospitals), you may opt for "DNB" (Diplomate of National Board), which you will pursue in large private specialty hospitals.
DNB and MD/MS are considered equivalent in terms of academic worthiness of a candidate. However, you will find the majority going for government colleges instead of private hospital.
You may also do adouble Master's like a DNB after MD/MS, to specialize in a particular area. For an example, you may do MD in Internal Medicine and then go for DNB in Cardiology. There may be multiple other combinations depending on the area you want to specialize in.
After a Master degree in a broad specialty, to become a "super-specialized" doctor or a surgeon:
You have these options:
DM and M Ch are degrees obtained after MD and MS respectively. DM is for doctors/ physicians and M Ch is for surgeons. The subjects at this level are called "super-specialties". This is not possible if you have a Diploma after MBBS.
However, one way to continue your education after Diploma can be if you do double post-graduation. Say suppose, you do a 2 year Diploma in Pediatrics and then a 3 year MD in Pediatrics followed by a higher degree of "DM"in Pediatric Cardiology. Now, this is only an example of a specific area of study. There can be many more combinations.
If you have done DNB after MBBS, then your next option will be to complete super-specialty training through "FNB" (Fellow of National Board). FNB is considered equivalent to DM/M Ch.
Remember that by the time you complete a DM / MCh / FNB, you will have at least 8 years of practice experience, first as a junior resident (3 years during MD/MS / DNB), then as a senior resident (3 years during DM/MCh/ FNB) and considering 1 year gaps between MBBS and MD/MS / DNB and then another 1 year gap between MD/MS and DM/MCh/FNB.
Jobs and Prospects after MBBS
Now, most lucrative prospects are concentrated for students with specialty training in any field of medicine. Most hospital doctors aspire to become a consultant. Consultants are specialized in their respective specialties.
MBBS doctors are not really worth a piece of cake in the competitive environment today. Anyhow, you will definitely have options of continuing independent practice right after MBBS and your licentiate exam (primary healthcare).
While you are interning, work shadowing or observing doctors is very helpful to get an idea of what your future work will involve.
The entry-level salary of an MBBS graduate is between Rs 20,000-35,000. However, it can range up to Rs 8-10 Lakhs (for post graduates only) depending upon your training experience and knowledge.
As an MBBS degree holder, youmay start your career as a General Physician/ Junior Consultant Physician/ General Practice Doctor/ Primary Care Physician in various enterprises like:
Government hospitals and healthcare facilities
Private hospitals and healthcare facilities
Residential nursing homes
The military forces (possible only if you graduate from AFMC, one of the most prestigious colleges in India)
Overseas aid agencies
Voluntary & charitable organizations
Research institutes
Clinical trial organizations
Pharmaceutical companies
There are also multiple opportunities to progress into academic or medical research within your specialist area but further qualifications will be required.
List of 7 other options after MBBS
Combined Medical Services (CMS)

For recruitment into government institutions like Railways, Municipal Corporations as Medical Officers.
Conducted by UPSC every year in the month of July/August
You can appear after clearing the final year of MBBS degree
This is a good option if you want a permanent job with the government as part of the administrative workforce of the hospital.
M. Sc
M Sc is yet is another option. Then PhD is also a choice.
As an MBBS graduate, you can take up M Sc in:
Aerospace Medicine
Anesthesia
Anatomy
Dermatology, Venereology & Leprosy
Biochemistry
Geriatrics
Forensic Medicine
ENT and many more
Clinical Research
There is an immense demand for clinical researchers in India especially. This option is pretty lost in the background and unknown to many. Lucrative prospects exist after training experience in CR.
Some institutes that offer research opportunities are
CCMB (Centre for Cellular and Molecular Biology)
CIMAP (Central Institute of Medicinal and Aromatic Plants)
ICMR (Indian Council for Medical Research)
St. John's Research Institute etc.
Many institutes like AIIMS, PGI, NIMHANS, Tata Institute of Fundamental Research, Mumbai (TIFR) offer a Clinical Research Ph.D. degree.
Masters in Health Administration (MHA)
MHA is a 3-year post-graduate degree (M.D.) in Health Administration.
You can acquire skills required in managing big specialty hospitals, clinics, insurance companies, etc.
This is certainly a career option that pays back in loads.
M.Tech in Biomedical Engineering and Biological Sciences
This is different from attending patients, obviously.
It is offered in the IITs for aspirants who want to pursue careers in inventing & innovating healthcare devicesand instruments for ease-of-use, patient compatibility & assistance.
Currently, this is a huge market for AI enabled designs and innovations.
Masters in Medical Science and Technology (MMST)
This is a similarly interesting option, also offered by some IITs, which deals with bioinformatics, medical biotechnology, healthcare imaging, etc.
Masters in Public Health
Particularly in the current situation of COVID, the significance of Public Health is being recognized increasingly.
MCI has also introduced a pandemic management module in the MBBS course, as already discussed above.
Taking up a Master's in Public Health is an interesting alternative.
After you complete new "CBME" MBBS course:

Skills for your CV
Along with the vocational skills you acquire when undertaking an MBBS degree, you also develop a range of other transferable skills through your course, such as critical appraisal, listening, observation, logical reasoning and decision making. These skills are crucial when working as a doctor.
Other transferable skills include:
Personal qualities such as emotional resilience, commitment to caring for others, resourcefulness and stamina
Eagerness to accept responsibility:towards making decisions about patients
The skill to prioritize:having a busy workload and work under pressure
Perseveranceand motivation
Written and oral communication skills: from completing assignments, taking histories and writing medical reports
Demonstrating empathy and reflection
Team-work and leadership skills
Negotiation skills: to reach solutions to complex, and often competing, needs
Problem-solving skills: thinking ahead and planning for different contingencies, anticipating different situations that might occur
The confidence to justify your decisions in high-pressure situations
Time-management
Flexibility: Anelastic approach to work and the ability to consider all factors before reaching a decision.
The new MBBS curriculum in India:
Discussions
| | |
| --- | --- |
| KEY ELEMENTS | FEATURES |
| CISP | The curriculum in GMR, 2019 is competency driven CBME (Competency Based Medical Education) |
| Foundation Course | Explore and train the newly admitted to develop all type of skills, creative thinking, stress management and sensitize them for their future role of Indian Medical Graduate (IMG). |
| AETCOM Module | Mainly emphasizes on Attitude, Ethics & Communication skill which is helpful to achieve IMG Goal. |
| ECE (Early Clinical Exposure) | Recognize the relevance of basic science in diagnosis, patient care and treatment. It also improves understanding, interaction and problem solving skills. |
| PBL (Problem Based Learning) | Problem based Learning enhances the knowledge in specific area at micro level |
| Integrated Teaching | Horizontal and vertical integration between and among disciplines. Basic and laboratory sciences (integrated with their clinical relevance) |
| Basic Research | Platform of all disciplines, working like a Consortium (Facilitation of Collaborative Research) |
| Self-Directed Learning | Interactive sessions, practical, clinical, group discussion, problem oriented approach, case studies |
| Electives | Opportunities to students to acquire diverse learning experiences |
| Reflection and Metacognition | Opportunity to reflect on their diagnostic approach, and think about what they could be missing |
(Table) Source: Kumar S., Implementation of new curriculum in UG (M.B.B.S): A dream project of medical education technology. Int.J.Med.Sci.Educ 2019;6(3):8-12
MBBS in India:
Conclusions
After all of that mind-bender, you must be full with facts now!
You came looking for information about the MBBS course, MBBS subjects, MBBS course eligibility, and the MBBS admission process. We've served you a heck much!
The undergraduate MBBS program is the foundation of the health delivery system in India. India has the distinction of having the largest number of medical schools as well as a large pool of health educators and numerous young Indian medical graduates joining the undergraduate medical education program.
It is a prestigious affair, being part of the healthcare fraternity as a care-provider (doctor). You are entrusted with a Godly duty! The race of securing a seat in one of the many MBBS schools in India is long and tedious.
Are you sure your best bet is becoming a care provider?
Understanding the intricacies of any career is not child's play. It requires experiential assessment of your competencies (skills, abilities, knowledge & a lot more). So, career planning is an indispensable tool of your life and we can certainly help you with that. Plan now!
Must check these
Additional Info-Packed Links
[latest-selected-content limit="8″ display="title" titletag="b" url="yes" linktext="Dig in.." image="thumbnail" elements="5″ css="four-columns align-left as-overlay tall dark hover-zoom" type="post" status="publish" id="1352,14188,12840,12902,13928,13915,13730,11039," orderby="random" show_extra="author,taxpos_author_after-title"]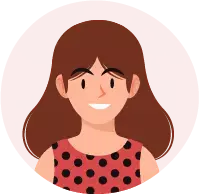 Currently associated with iDreamCareer's (India) in-house Research & Data Team. She holds a Masters in Biophysics-Biostatistics and was previously engaged in computational prediction proteomics before switching to full-time Industry Research at iDC.