Studying an MBA abroad is a great option and a great opportunity for networking and new business opportunities. No wonder Italy offers world-class business schools, English-taught degrees, and Fashion designing courses. But very few know that MBA in Italy is one of the best options for management aspirants. Yes, you read it right! The beautiful country is also known for some of the best MBA schools. All schools offer advanced studies and a modernized curriculum to students visiting Italy from around the globe.
Do you know?

Italy ranks 7th in Gross Domestic Product (GDP) and 17th in Human Development Index worldwide.
Italy has some of the oldest and best universities in the world. International students who wish to obtain an MBA from Italy are welcome, appreciating the diversity of Italy, which is one of the founding members of the European Union. The Master of Business Administration, MBA degree is designed to enhance the education of business school students in many areas, namely finance, marketing, human resources, strategy, and operations management.
Let's get started…
What all is covered in this post?
To make it easier for you, we have created a quick guide to everything you need to know about studying MBA in Italy.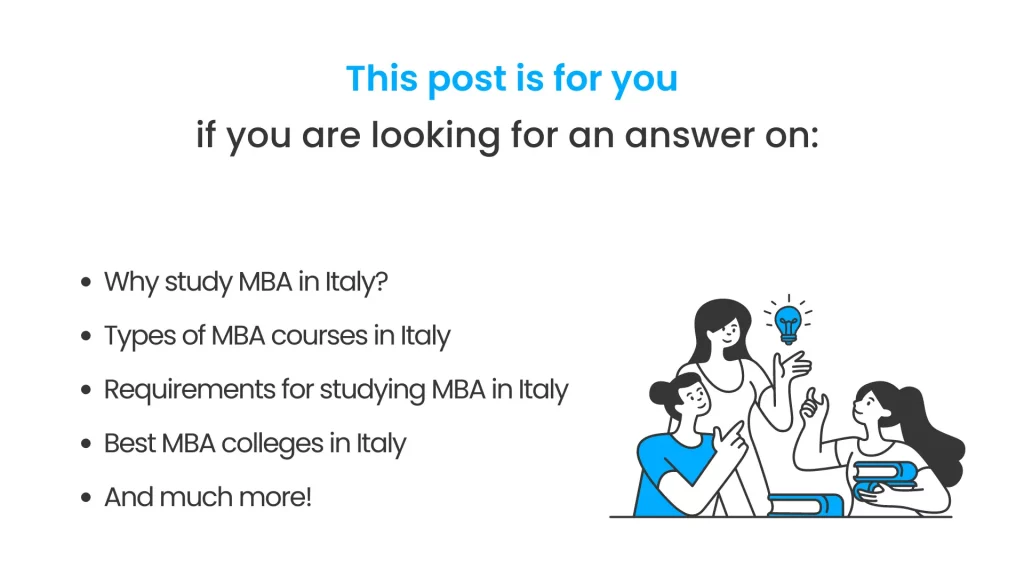 Why study MBA in Italy?
B-Schools Italy can give you a lot in terms of education and growth. One of the most important aspects of an MBA is that it should have a competitive course structure. This is one of the main aspects to consider when it comes to studying in Italy. The curriculum is competitive with the most advanced developments in the business. There are several reasons why many students around the world choose Italy as a center of education. Here are some of the most important reasons:
Italy is the 8th largest economy in the world – a blessing for MBA graduates
One of the best universities in the country. These universities have an impressive and advanced environment of international standards that offers the best education available in the world.
In terms of cost, Italy is considered an affordable destination for students. The cost of living and course fees are very low.
The communication system in the country is excellent and offers easy ways to move from one place to another.
The country has various places to visit and learn about new cultures and heritage. There are several places worth visiting in the country that makes the country one of the most pleasant places to live.
Teaching is in English, making it easy for international students to choose courses.
Teachers of Italian universities help to become successful managers and businessmen.
Types of MBA courses in Italy
Peer-to-peer learning differentiates an MBA from conventional master's programs. An MBA involves interacting with successful business people and among students from diverse backgrounds. Pursuing MBA from Italy's leading universities can help students become well-rounded businessmen not only in one specific field but also in several fields. An MBA is a degree that prepares graduates for the next big leap in their business careers.
The following are the types of MBA courses you can study in Italy:
MBA in Accounting and Finance
MBA in Capital Master of Business Administration
Executive MBA
MBA in Film Production
GEMBA Global Executive MBA
International Flex Executive Master of Business Administration
International Full-Time Master of Business Administration
International Part-Time Master of Business Administration
MBA in Maritime and Shipping Management
MBA in International Business
Admission requirements for studying MBA in Italy
To study an MBA in Italy, international students must demonstrate their command of the Italian language and submit the relevant documentation. To apply for an MBA in Italy, the minimum eligibility criteria are as follows:
The student must have a bachelor's degree or equivalent from any recognized university in their home country
GMAT and the same qualifying score.
Student must have relevant work experience (years vary depending on B-schools)
If the student resides in a non-native English-speaking country, then the student must have a valid IELTS score or equivalent. The minimum score depends on the B-school you are applying to.
Documents required to study in Italy
Requirements for MBA programs may vary from one university to another. Although some requirements are the same for all universities. Here is the list of documents that are required to study MBA in Italy:
Almost every university requires the following mandatory documents:
A recognized bachelor's degree.
Statement of students' grades.
Proof of language proficiency (English or Italian)
2 to 3 years of work experience, which is an optional requirement.
Letters of recommendation and motivation, are not mandatory.
Passport
Best MBA colleges in Italy
Although Italy stands out for its art and design schools, it is also a good option for an MBA, not only because of the high-quality educational institutions available but also because of the relatively low cost of studying for an MBA in Italy.
Finding the right university for your chosen MBA degree is an important decision that requires careful research. To help you choose the best university for an MBA in Italy, we have compiled the best business schools in Italy along with the Tuition fees:
| | |
| --- | --- |
| University | Total fees in EUR |
| Bologna Business School Bologna | 35,000 |
| CIMBA Paderno del Grappa | 45,187 |
| ESCP Europe – Torino Campus | 69,900 |
| Fondazione CUOA | 25,000 |
| Luiss Guido Carli | 27,000 |
| MIB Trieste School of Management Trieste | 25,000 |
| POLIMI Graduate School of Management | 39,000 |
| SDA Bocconi School of Management Milan | 65,000 |
| St. John's University | 45,006 |
| Universita Cattolica del Sacro Cuore – Alta Scuola Impresa e Società (ALTIS) | 21,800 |
| University of Pisa | 8000 |
Also, read: Public Universities in Italy
Cost of studying MBA in Italy
Compared to other European countries, the cost of an MBA in Italy is much lower, both in terms of tuition fees and cost of living. ​​​​​​While MBA tuition fees vary from school to school in Italy, the average cost is between 16.55 lakhs and 50.52 lakhs. Italians live on a lower cost of living than other Europeans. The average cost of living in Italy is between €700 and €800 per month, which is roughly INR 61,000 to 70,000 for an Indian student.
Cost of living in Italy
The total cost of living for international students in Italy ranges from €700 (INR 56095.93) to €1000 (INR 80137.05) per month. These costs include accommodation, meals, public transport, local travel, or entertainment.
Living in Italy is great and affordable at the same time, but if you choose Rome or Milan, they are quite expensive. Below are the monthly costs for a foreign student studying an MBA in Italy:
Meal – Rs. 673-1,262 (Per Meal)
Personal Expenses (Basic Utilities) – Rs. 13,637 per month
Rented Apartment – Rs. 19,892- 39,784 per month
Student accommodation – Rs. 19,892- 23,870 per month
Transportation (Monthly Pass)- Rs. 2,945
List of scholarships for studying in Italy
The scholarship is awarded to students based on past academic records and work experience. Scholarship eligibility varies from one college to another. However, students with sufficient merit may receive scholarships. Here are the best scholarships to apply for an MBA in Italy –
Alma Graduate School Africa MBA Scholarship Program (100% cover of tuition fees (EUR 27,000) and a grant of up to EUR 10,000 to cover travel to Italy)
Center For Cultural Diplomacy Studies Scholarships For BA, MA, MBA & Ph.D. Programs (Total or partial fee waiver)
Durham University Business School (Awards up to £5,750)
Forté Fellows Program (Awards up to £26,000)
MBA Tuition Fee Waiver Competition at MIP Politecnico di Milano Graduate School of Business (Total or partial fee waiver)
SDA Bocconi MBA Scholarships for African and Mediterranean Students in Italy (Total or partial fee waiver)
Study Executive Scholarship for Online MBA (Awards up to £6,000)
Epilogue
International students who want to stay in Italy after graduation will find many employment opportunities in the country or in India. Individuals must, however, improve their language skills in English and Italian in order to work in Italian companies. Ferrari, Lamborghini, Unicredit, Atlantia, and other famous Italian firms hire new MBA graduates with a good salary scale. So, you are now aware of all the details of getting an MBA in Italy. So, start the admission process and get ready to start a new chapter of your life.
iDreamCareer is on a mission to reach every state and every child in order to ensure that talent is appropriately delivered to the industry.
Talk to our study abroad experts who have 20+ years of experience to know yourself in and out! We have helped several brilliant but confused minds with the aim to select their most-suited career choices. Hear the success story of Aayush who got an offer from the top 3 universities and is now studying at a University in Ottawa in Canada after getting career guidance from our industry experts!
Also, read;
MBA in Italy: FAQs
Is it expensive to live in Italy?
Prices for accommodation and other amenities may and may vary from region to region. As a rule, for shared accommodation, the price ranges from 150 to 300 euros, and for separate accommodation, the price ranges from 200 to 500 euros.
How many hours is a student allowed to work on a student VISA?
According to Italian rules and regulations, a student is allowed to work 4 hours per day and 20 hours per week.
Can I work part-time in Italy?
To work part-time in Italy, you need to know the Italian language. Part-time work is that you can look for work in bars, and restaurants, distributing newspapers and brochures, which depends entirely on the location.
Should counselors be considered when choosing any particular university?
Students should be careful enough to choose the right counselors who provide them with decent and transparent information about the particular university and not cheat you.
How to choose a university for MBA?
A student should be careful enough in choosing a university depending on its ranking in the world and at the national level.

Anushree has 5 years of experience in the career counseling industry as a Senior Content Writer. She has also worked as a Social Media Marketing Expert for a startup and Content Quality Analyst for the Publishing and E-learning Industry. She has done her Master's in Commerce and PGDM in Finance & Trade and Marketing & HR, but she is currently following her passion for writing.