Italy is a nation steeped in history, art, and culture. It's a country that can boast not only of its historical past but also of its historical institutions, carries the feel of the past, constantly evolving with the present, and is fully equipped with modern infrastructure and technology. Imagine what it would be like to be part of a culture that values both the past and the present, a culture that encourages you to expand your horizons. Are you planning to study in Italy? Want to know about the procedure for obtaining an Italy student visa? Well, you are in the right place.
Italy is a top destination for students from all over the world. With several top-notch courses in fashion, architecture, design, engineering, travel, and tourism, as well as management courses, the country is a student hub. With an Italy student visa, you can enter the country for academic courses, research, and other related activities.
Without further ado! Come along to know the process…
What all is covered in this post?
To make it easier for you, we have created a quick guide to everything you need to know about the student visa procedure in Italy.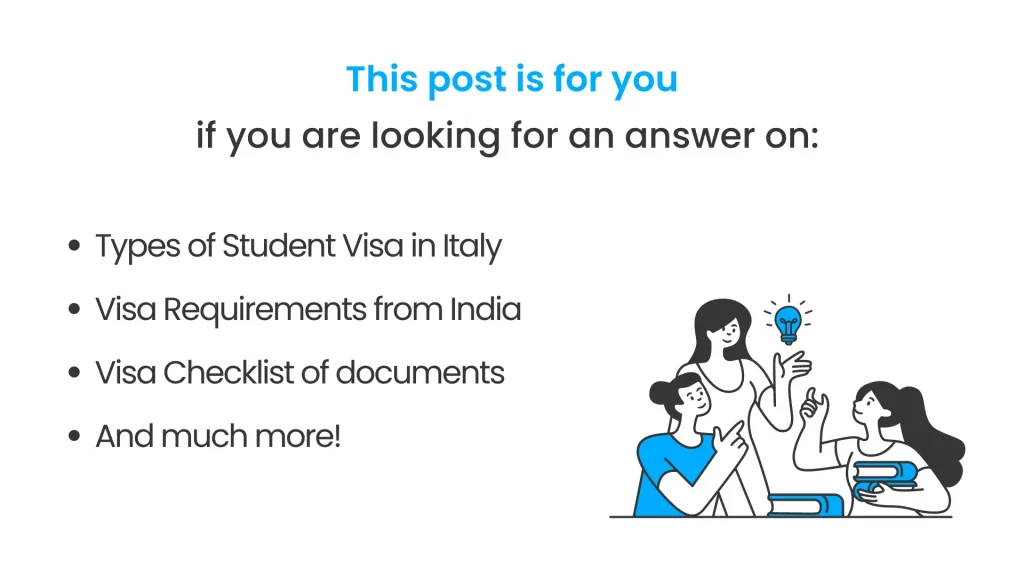 Types of Italy Student Visas
Italy is part of the union of 24 European countries known as the Schengen group. This group includes 22 European Union (EU) countries such as Germany, France, Spain, etc. Once you get a Schengen visa, you can use it to travel to any of the 24 Schengen countries. Four main types of Schengen visas can allow you to enter Italy. These are:
Uniform Schengen Visas (USVs)
The requirements for the Italy student visa are different from the Uniform Schengen visa because the latter consists of visas of category A or C. This allows you to stay in any Schengen country for up to 90 days. While category A is also known as an airport transit visa, category C is the visa most tourists apply for when visiting Schengen countries such as Italy. This Category C visa consists of single-entry, double-entry, and multiple-entry subcategories. In addition, multiple entry visas can be valid for 1, 3, or 5 years.
Limited Territorial Validity (LTV) visas
This type of Schengen visa restricts your travel to one or more Schengen countries according to the specifications of the visa guidelines. In most cases, if you apply for an LTV visa for Italy, you will only be allowed to travel within Italy. This means that you will most likely not be able to visit neighboring Schengen countries with this visa.
National visas
It's also known as Schengen visa category D, allowing you to both study and work in Italy. It is important to note that these are single-entry visas and you cannot return to your home country between work or study periods. If you want to get a multi-entry national visa, there are some strict criteria that you must meet.
Student Schengen visa
Finally, the Schengen student visa is something you should consider if you plan to live in Italy for higher education. This type of visa is specifically for third-country nationals whose sole purpose of visiting Italy is to complete an educational degree or course. To apply for this visa, you will need to complete an Italy student visa application form, and once approved, it is valid for 3 months. If the duration of your studies is longer, you need to apply for a long-term Schengen student visa.
Who needs an Italy student visa?
Almost everyone needs a visa to study in Italy for more than three months.
Only nationals of the following countries are exempt from obtaining an Italian student visa to enter Italy:
European Union Countries
Switzerland
Norway
Liechtenstein
Iceland
However, even for the aforementioned countries, you need to obtain a residence permit for staying in Italy for three months.
If you are a citizen of a Schengen visa-exempt country and the course lasts less than three months, you do not need an Italy student visa. However, if the course lasts more than three months, you must apply for an Italy student visa from your home country.
If you are already in Italy with a Schengen visa, you need to leave the country and apply for a long-term visa in your home country.
Non-EU nationals cannot apply for a residence permit in Italy without a long-term Italian visa.
How to apply for a student visa in Italy?
To obtain a student visa in Italy, as an Indian citizen you need to follow the following process:
Step 1
Higher education institutions confirm admission only if you have a student visa. Other types of visas are not accepted. Therefore, before applying to an Italian college or university, visit the Italian embassy or consulate to submit a pre-application. They have the authority to check and let you know whether you meet the visa requirements or not.
A few things that will work in your favor when you apply for an Italy student visa:
You already have a suitable place of residence in Italy.
You have enough funds to support yourself in Italy and cover your tuition and other expenses during this period.
You have already purchased a valid return ticket to return to your country at the end of the study program, or you have enough money to purchase one.
You are entitled to medical care in Italy or already have a health insurance policy.
Read more about Top Universities in Italy
Step 2
To apply for a visa, you need to go to the nearest Italian consulate with the following documents that you would have received at the Italian institution where you enrolled:
Letter of acceptance
Enrollment letter
Insurance letter and
Course Schedule
Italy Student visas are issued only for the duration of studies.
Step 3
Non-European citizens must apply for a study permit at the local police station (questura) within eight days of arrival in the country. The applicant must apply to the police station at the place of stay with the following documents:
A valid passport with a study visa to Italy
Proof of finances
Documents on health insurance
If the candidate has to move to another city in Italy, even for a temporary stay, he must notify the police station of his change of address within 15 days.
If students travel outside Italy during their studies, they will only be allowed to re-enter if they have a valid residence permit.
Step 4
All international students in Italy coming from non-European countries should be vigilant about the simultaneity of their residence permits and study visas.
At least 30 days or a month before your residence permit expires, you will need to apply to the Questura or police station to renew your permit for the whole year. For this, you must have proof of financial status, a certificate of enrollment issued by an Italian higher education institution, and all other documents related to the issuance of a residence permit.
Study visas and residence permits for international students are renewed only if they pass at least one exam in the first year of the study program and at least two more exams in subsequent years. However, if a student has taken only one exam during the study visa period due to serious reasons such as very poor health, their residence permit can also be extended. However, in no case will residence permits be issued for more than three years after your chosen study program.
Documents required for Italy Student Visa
Applicants will need to bring the following documents with them to the visa center for a study visa in Italy. These include: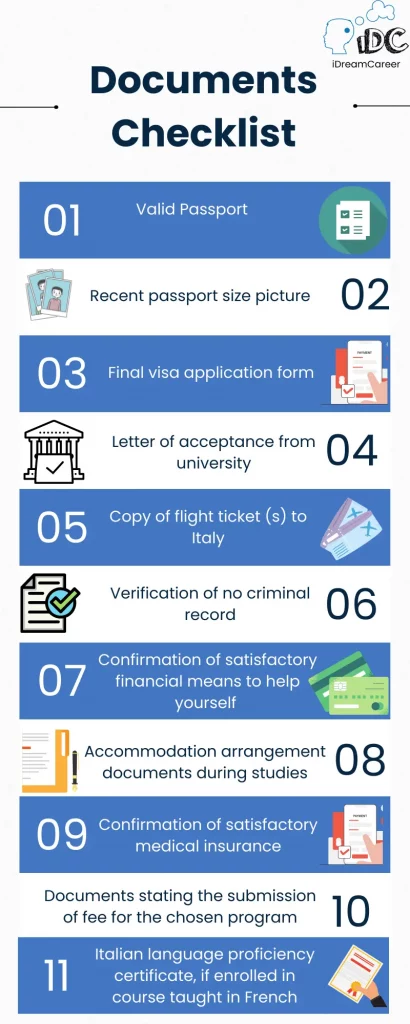 Note: A valid passport with at least two blank visa pages and valid for at least three months after the expected end date of your study program.
Cost of student visa for Italy from India
The amount of the fee should be checked directly on the website of the Visa Center, as the exact cost varies due to fluctuations in the currency exchange rate. The price is charged in euros and varies for different types of visas. Fees also vary by visa type. The cost of a Schengen visa for less than 90 days is less than that of Indian students.
The cost of a visa to Italy for an Italian D student visa is €76 (INR 6,800), while the application fee for a C or visa for less than 5 years is €81 (INR 7,000). Italy's student visa refusal rate was 8.2 percent in 2017, rising to 9.6 percent in 2018 and then again in 2019 to 9.9 percent.
Conclusion
Now that you are armed with this information, we hope you're ready to make your next big career decision! Still confused? Do dial us up.
iDreamCareer is on a mission to reach every state and every child to ensure that talent is appropriately delivered into the industry. Talk to our study abroad experts to know yourself in and out! We have helped several brilliant but confused minds to select their most-suited career choices. We have helped many students like Anjana Prasanna who was not very confident about her capabilities. Later with the help of career guidance and moral support from our study abroad experts she got an offer from King's College London! We have also helped several brilliant but confused minds like Aayush, and Tapan with an aim to select their most-suited career choices.
Also Read:
FAQs
What is the success rate of Italian student visas for Indians? 
Italy is a popular destination among Indian students. Although there is no accurate data on the success rate of obtaining an Indian student visa to Italy, every year more than thousands of students fly to Italy for higher education. However, according to the latest statistics, the current success rate for obtaining an Italy student visa for Indian students is 98.23%. The number seems to assure that you can also get a visa, but this is not your escape to rest your head. Make sure you meet all the requirements for an Italy student visa.
What is the rejection rate for an Italy student visa?
Recently, the rejection rate for Italy student visas has increased. Italy's student visa refusal rate was 8.2 percent in 2017 and increased to 9.6 percent in 2018, with a further increase to 9.9 percent in 2019. An important reason for this increase is the growing consciousness of Italy, which allows them to filter only the best of the best candidates in their country.
What are the financial requirements to obtain a student visa in Italy?
To obtain an Italian study visa, the student requires confirmation of appropriate financial support. Therefore, the bank balance to meet the financial requirements of the student visa in Italy per month is approximately €448.07 per month for the academic year, for a total of €5,824.91 per year. A minimum of 3,000 euros per 6 months is required.
What is the Italian student visa processing time?
The processing time for a student visa to Italy is from 1 to 3 weeks. The Italian Embassy takes approximately 14 days or more to process the application, schedule the interview, and verify all the documents submitted by the applicant.

Anushree has 4+ years of experience in the career counseling industry as a Senior Content Writer. She has also worked as a Social Media Marketing Expert for a startup and Content Quality Analyst for Publishing and E-learning Industry. She has done her Master's in Commerce and PGDM in Finance & Trade and Marketing & HR, but she is currently following her passion for writing.