Apart from sand dunes, skyscrapers, world-class shopping malls, and oil reserves, Dubai is gradually but surely becoming a popular choice for international students looking to study abroad. Dubai is often absent from our wish list when we are thinking of pursuing a degree on foreign soil, but it is definitely not a location to miss out on. If you are thinking of pursuing an MBA from Dubai, we will help you figure out some best MBA Colleges in Dubai.
Along with job seekers, the city is well-liked by students interested in learning more about business-related careers. The education system in the United Arab Emirates is heavily inspired by western higher education practices, thus candidates would graduate with a degree that is acknowledged worldwide. The best thing is that Dubai is home to a number of prestigious MBA institutions. To learn more about the best MBA programs in Dubai, keep reading.
What all is covered in this post?
To make it easier for you, we have created a quick guide to everything you need to know about the best MBA Colleges in Dubai.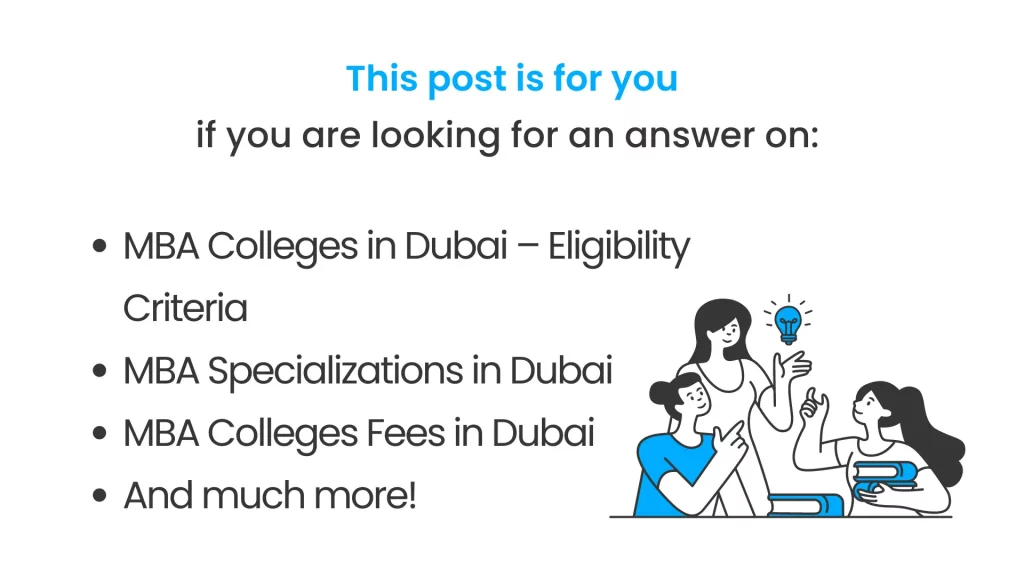 MBA Colleges in Dubai – Eligibility Criteria
Candidates must meet these prerequisites in order to apply to study in Dubai. Before applying, candidates are urged to carefully review the MBA Admission Process of particular universities in detail.
Candidates with a minimum GPA of 2.5 (out of 4.0) and a recognized Bachelor's degree are required to apply to the MBA program in Dubai.
Candidates must have a suitable level of English proficiency in order to pursue an MBA in Dubai. And as result, students must take English proficiency exams like the TOEFL or IELTS.
For entrance, the majority of universities demand GMAT/GRE scores.
In addition, candidates applying to MBA programs at various colleges in Dubai will need to have a minimum of 2-3 years of work experience (according to the university's admission requirements). The admissions procedure for programs like Full-Time MBA, Executive MBA, or Global MBA will include a need for work experience.
Note – Click here for more details regarding MBA in Dubai.
MBA Specializations in Dubai
For students wishing to study in the UAE, here is a list of the best MBA specializations in Dubai.
MBA in General Management – It provides a thorough insight into the fundamentals of business, including accounting, management, finance, and marketing.
MBA in Supply Chain – It is often a 2-year program that combines a standard business administration curriculum with supply chain management-specific coursework.
MBA in Human Resource Management – It is a two-year degree program that teaches students how to find and manage the best employees.
MBA in International Business – The goal of this one- or two-year course is to give students information and abilities in areas such as international trade, overseas investments, export management, foreign policy, and risk management in the foreign exchange market.
MBA in Project Management – It is a program focused on everything from product conception to brand design.
MBA in Business Analytics – The major goal of this program is to develop deep competency in the abilities required to oversee and implement data-driven business decisions, including gathering, managing, describing datasets, drawing conclusions and predictions from data, and coming to the best and most reliable conclusions.
MBA in Healthcare Management – This program prepares students to manage a variety of activities in hospitals, pharmaceutical businesses, and other healthcare organizations.
Top MBA Colleges in Dubai for Indian Students
Names of some famous top colleges for MBA in Dubai along with their details are;
London Business School, Dubai
The London Business School, one of the most well-known business schools in the UK, established its first campus in Dubai in 2006. London Business School is listed as the third-best business school in the world by Financial Times. Only the Executive MBA program is available at the London Business School location in Dubai, which is primarily designed for those looking to expand their professional networks and develop their leadership abilities. For people who have had prior work experience, the curriculum is best suited.
| | | |
| --- | --- | --- |
| UNIVERSITY | GMAT SCORE | FEES |
| London Business School | 700 | AED 403000 |
Hult International Business School, Dubai
Hult Business School, Dubai is one of the few colleges in Dubai to be accredited by three organizations, including the Association of MBAs (AMBA), the European Quality Improvement System (EQUIS), and The Association to Advance Collegiate Schools of Business (AACSB). As a result, the list of the top MBA colleges in Dubai would be incomplete without it.
| | | |
| --- | --- | --- |
| UNIVERSITY | GMAT SCORE | TUITION FEE |
| Hult International Business School | 600 | AED 257000 |
S.P. Jain Institute of Global Management, Dubai
Mumbai, Singapore, and Dubai each host a branch of the SP Jain school of global management. Candidates must pass an English proficiency test and have an undergraduate degree from an accredited university in order to be considered for admission. In addition, candidates must submit their test results from any of the management entrance exams, including the CAT, MAT, and GMAT.
University
GMAT Score
Tuition Fee
SP Jain School of Global
Management
650
AED 174000
Cass Business School, Dubai
One of the best MBA schools in Dubai is Cass Business School in the UK. The teaching style used at the UK campus is also used at the Dubai campus. Because it has AMBA, EQUIS, and AACSB accreditation, the Executive MBA at Cass Business School in Dubai is more sought after by students looking to pursue an MBA in Dubai.
| | | |
| --- | --- | --- |
| University | GMAT Score | Tuition Fee |
| Cass Business School | N/A | AED 282000 |
American University, Dubai
The institution, which was founded in 1995 and is among Dubai's best MBA institutions, enrolls students from all over the world. The greatest MBA specialties, including those in management, finance, and marketing, are provided by American University.
Students can apply online and upload their academic transcripts, GMAT, TOEFL, or IELTS test results. Candidates must get minimum TOEFL IBT scores of 79–80 and IELTS 6.5. Students must also submit a minimum of two years of prior work experience, their CV, SOP, and LOR.
| | | |
| --- | --- | --- |
| University | GMAT Score | Tuition Fee |
| American University | Above 600 | AED 3800/credit |
MBA Scholarships in Dubai
Scholarships to Study in Dubai: The high cost of education mixed with extravagant daily living costs is one of the main inconveniences of studying abroad. Candidates who are unable to pay for their education outright might turn to scholarships and student loans to help them pay for their education. There are many merit-based scholarships available for applicants on the official websites of specific universities.
Dubai Education Loan: A scholarship wouldn't be available to everyone. What do you then do? Candidates who want to pursue their aspirations of studying abroad can apply for an education loan. Candidates can learn more about education loans for studying in Dubai by using our education loan search.
Top Scholarships in Dubai for Indian Students
Here is a list of some famous scholarships in Dubai for Indian and international students.
Outstanding Academic Excellence Scholarships
Masdar Institute Fully Funded Master Scholarship
International Student Tuition Scholarships
Master Research Teaching Scholarships
Zayed University Undergraduate Scholarships
The Indian High School Dubai Scholarships
The SKP Scholarship
Multicultural Student Scholarship
MBA Jobs and Salaries
Dubai has been one of the top cities for finding work over the years. Jobs are being produced every day as a result of the economy's rapid growth. The main industries, well-liked jobs, and incomes that one might anticipate when working in Dubai will all be covered in this section.
Education
Popular Occupation: Assistant/Associate Professor, Academic Advisor, College Director, Dean, English Teacher, Education Lead, Education Consultant, Faculty, Graduate Student Recruitment Specialist, Primary Teacher among others.
Salary Range: AED 15K to AED 200K
Engineering and Construction
Popular Occupations: Architect, Architectural Designer, Accountant Construction Industry, Construction Supervisor, Cost Manager Construction Workers, Consultants, and Senior Consultants – Construction Claims Quantity, Construction Foreman among others.
Salary Range: AED 50K to 300K
Hospitality
Popular Occupation: Restaurant Manager, Housekeeping Supervisor, Laundry Attendant, Spa Attendant, Bartender, Guest Relations Executive, Front Office Receptionist, Chef, and Revenue Manager among others.
Salary Range: AED 50K to AED 200K
Information Technology
Popular Occupation: IT specialist, iOS developer, Network engineer, QA engineer, Project manager, System analyst, Software developer, Java, and angular developer, Network Administrator, and Python developer, among others.
Salary Range: AED 42K to AED 300K
Marketing and Advertising
Popular Occupation: Marketing Executive, Digital Marketing Executive, Advertising Sales Executive, Digital Analyst – Performance Advertising, Marketing, and Business Development Manager, Digital Marketing Assistant, Strategy Planner – Advertising, Brand Manager, among others.
Salary Range – AED 50K to AED 250K
Conclusion
Given your newfound clarity of the various MBA colleges in Dubai, you may be considering seizing this opportunity as soon as possible. We hope we were able to address all of your questions after succinctly summarising everything for you.
Still in ambiguity? Why not talk to our highly experienced counselors at iDreamCareer?
In order to make sure that talent is properly given to the industry, iDreamCareer is on a mission to reach every state and every child. To fully understand yourself, speak with our study abroad consultants, who have over 20 years of expertise. Aayush, Tapan, and other intelligent but perplexed individuals were assisted by us in making the best professional decisions.
Also Read:
MBA Colleges in Dubai: FAQs
Is it good to do an MBA in Dubai?
The city is well-liked by both job seekers and students considering career options in business studies. The best thing is that Dubai is home to a number of elite MBA institutions, like American University, Manchester Business School, and HULT International Business School, to mention a few.
What is the duration of an MBA in Dubai?
MBA programs in Dubai typically last between one and two years, with several alternatives for the first year. Dubai also offers fantastic professional chances for anyone seeking international exposure.
Which branch of the MBA has the highest salary?
Computer and information systems management, financial management, marketing management, and human resources management are some of the highest-paying management professions.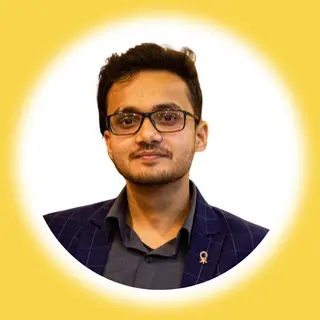 Sushant has been writing since his early days of childhood and currently, he's serving as a Content Writer with iDreamCareer. Sushant has two start-ups of his own and he has been writing content for them since their inception. Apart from that he is passionate about writing which is why he is following his passion for writing with iDreamCareer.